It's fair to say our TV viewing habits have changed quite a bit over the last generation.
Gone are the days when we all settled down for the same 'event television', with many of us binge-watching our favourite shows on Netflix or using TV catch-up services.
This has been represented in viewing figures, with data from the Broadcasters' Audience Research Board (BARB) showing a decline in the most-watched broadcasts in recent years.
Indeed, while the top shows of the '80s and '90s generally drew an audience of 20m or higher, not a single broadcast has hit that benchmark since 2012.
We've gone back through the last 25 years' worth of data – from January 1992-December 2016 – to see which TV moments have been the most popular with British audiences.
There are some unsurprising entries, with Only Fools and Horses among the shows to feature prominently, but some of the inclusions are less easy to explain - still, the public are never wrong, right?.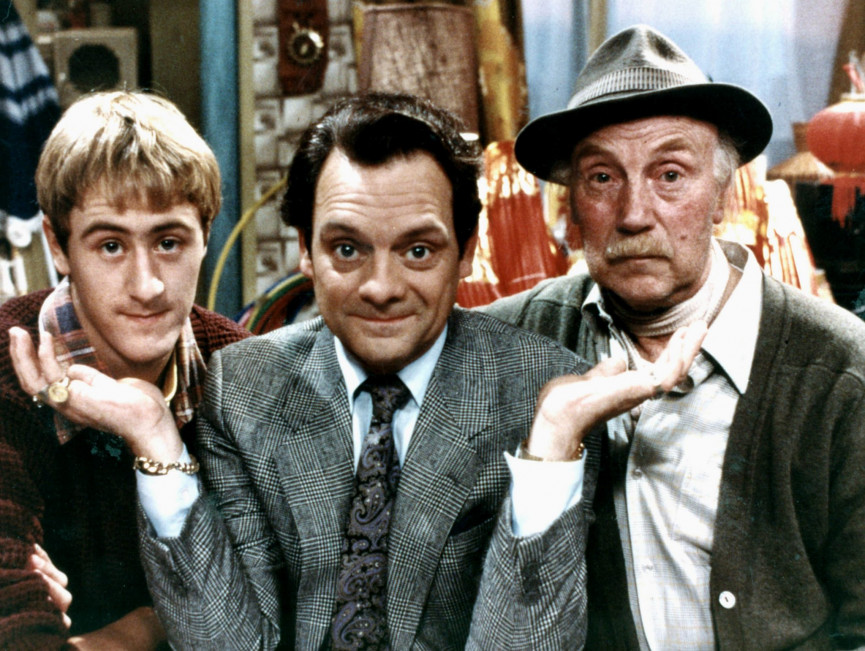 1.

Olympic Closing Ceremony, August 2012 (24.46m viewers)

The end of a memorable games in London, which had begun with a hugely popular opening ceremony, saw more people tune in than any other broadcast of the past quarter-century

2.

Only Fools and Horses, December 1996 (24.35m)

Only Fools and Horses Christmas specials almost define 'event TV', and this is far and away the most-watched episode of any drama, comedy or soap over the last 25 years. 'Heroes and Villains' (pictured) might be the more iconic segment, but 'Time on Our Hands', the third part of the 1996 Christmas trilogy, attracted the largest audience.

3.

Olympic Opening Ceremony, July 2012 (24.24m)

Many went into the Olympics with a healthy scepticism, but the opening ceremony turned that around for anyone who had their doubts.

4.

Olympic Ice Dance Championship, February 1994 (23.95m)

Nearly 24m people tuned in to watch Jayne Torvill and Christopher Dean go for gold in Lillehammer. The pair came close in the February final, eventually taking the bronze medal – one of only two won by Great Britain at the 1994 games.

5.

England v Argentina, June 1998 (23.78m)

The moment that turned David Beckham into public enemy number one was the most-watched football match in the UK since BARB's records began in 1981. 

6.

Panorama Special: Princess Diana, November 1995 (22.78m)

The Princess of Wales was interviewed by Martin Bashir in 1995, and the broadcast remains one of the best-remembered Panorama episodes to this day.

7.

Only Fools and Horses, December 2001 (21.35m)

By 2001, Del Boy and Rodney had been off our screens for five years. It was no surprise, then, that their return in 'If They Could See Us Now' was so popular.

8.

Coronation Street, March 1993 (20.73m)

Corrie has been a regular fixture in end-of-year lists, but no episode was more popular than the one in which Gail found herself interviewed by the police over Carmel's accident.

9.

England v Portugal, June 2004 (20.66m)

If we've learned anything from these figures, it's that more England fans tune in when expectations have been raised to a near-unsustainable level. More than 20m saw Ricardo's penalty eliminate Sven-Goran Eriksson's team from the Euros.

10.

Coronation Street, January 1992 (20.45m)

We've looked at synopses and honestly we can't figure out why so many folks tuned in to this one. I guess there wasn't as much to do back in the early 90s.

11.

England v Italy, June 2012 (20.34m)

It was all going so well for England, who had won their Euro 2012 group with seven points from nine. Hopes were high for the game against Italy, so naturally the Three Lions lost. On penalties. As usual.

12.

National Lottery Live, November 1994 (20.17m)

The first ever National Lottery broadcast aired in November 1994, with Noel Edmonds as the host, and millions tuned in.

13.

Only Fools and Horses, December 1992 (20.14m)

Another Christmas Special, 'Mother Nature's Son', attracted more viewers than any episode in the last regular season of the show.

14.

EastEnders, April 2001 (20.05m)

It seems surprising to only see one EastEnders episode in the top 20, but we should be less surprised to learn which one – it was the climax of the 'Who Shot Phil?' storyline.

15.

One Foot in the Algarve, December 1993 (20.01m)

The 1993 special of the Richard Wilson vehicle, set in Portugal, was also notable for being one of Peter Cook's final roles before his death in 1995.

16.

The Worst of Alright on the Night, February 1992 (19.92m)

When do you reckon the last episode of It'll Be Alright on the Night was on TV? You're way off. It was last on as recently as June 2016, but the viewing figures didn't come close to the glory days with Denis Norden at the helm.

17.

Coronation Street, March 1999 (19.82m)

Ian and Sharon's wedding was the top show of 1999, just edging out an episode of Who Wants to Be a Millionaire? which aired on the same channel on the same day and falls just short of this top 20.

18.

Coronation Street, February 1996 (19.80m)

Jim and Liz's relationship finally came to an end in February 1996, and it was the second-most viewed episode of anything all year.

19.

Coronation Street, February 1994 (19.68m)

The 1994 Valentine's Day episode was a big one, just creeping into the top 20.

20.

Only Fools and Horses, December 1993 (19.59m)

Rounding out the top 20 is 'Fatal Extraction', the last episode of Only Fools and Horses before its first hiatus.
(Images: BBC/ITV/Rex Features)