ShortList is supported by you, our amazing readers. When you click through the links on our site and make a purchase we may earn a commission.
Learn more
Best Podcasts 2020: as chosen by listeners (and a few from Shortlist)
From true crime to political debate, we've got the very best of 2019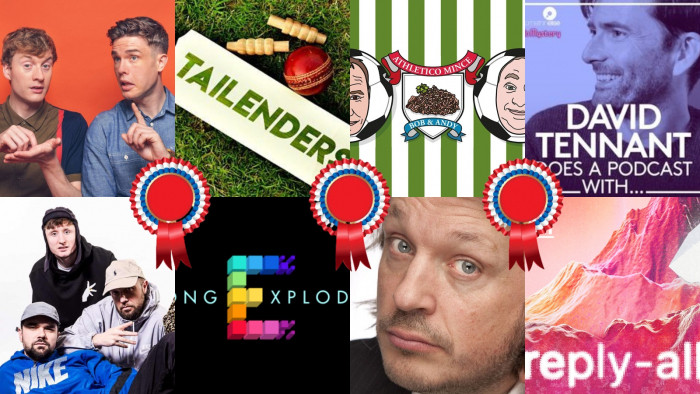 The best podcast 2019 results are in. Yes, it's time for us to reveal which gripping podcast offerings have found themselves upvoted by fans and crowned your favourite podcast pick of the year.
The world of podcasting has exploded over the past few years, with an incredible number of new offerings arriving on the scene. It's also safe to say the range of formats, topics covered and original material on offer has reached an all-time high.
It goes without saying that as podcast fans, we've spent countless hours trawling through the various platforms on the hunt for the ultimate entertainment - whether that be true crime, celebrity, political, interview based or plain old comedy. Our picks have then been up and down voted by you, the listener, and the cream has well and truly risen to the top.
UPDATE:If you're looking to help support a great charity in vital need of support whilst having a good old giggle a the same time, look no further than CALM charity's Friday Night Lock-In. The charity has teamed up with a host of celeb pals including Off Menu's Ed Gamble and comedy overlords Kurupt FM for a night of laughs, lyrics and all-round merriness. Supporting the charity's hotline which has seen a 37% increase in calls relating to suicide and loneliness since the Covid-19 lockdown,
Providing an impressive 7 hours of free entertainment from the world's funniest, most musically adept and downright joyful personalities, the event takes place between 5pm and midnight (the opening hours of CALM's hotline) on Friday 3 April and is set to be broadcast on Instagram Live.
We've skimmed each category, picking the winner and the runner up to join this elite podcast power-list. And as if that wasn't enough, we've selected a handful of offerings we really think you ought to try. Shortlist certified.
So, without further ado, these are the podcast worth listening to right now:
Best true crime podcast Serial
The beginning of our current true crime podcast epidemic, the first season of Serial is the gold standard against which we now measure other documentaries. Presented by Sarah Koenig, Serial is an investigation into the murder of teenager Hae Min Lee in 1999. Adnan Syed, the man convicted of her murder, still protests his innocence, and Koenig's breakdown of the case is a compelling listen as she looks at evidence and speaks to witnesses. There's no easy or right answers here but Serial definitely asks some of the right questions.
Listen now (Apple Podcasts)
Best true crime podcast (runner-up) My Favourite Murder
Sure, non true crime fans might sit slightly further away when you tell them My Favourite Murder is the name of your favourite podcast. But that's no reason to ban Georgia Hardstark and Karen Kilgariff from your ears. The pair bring some much needed humour and light into the darkness of the subject as they each choose a new crime tale to discuss each week. Frank mental health discussions, listener 'Hometown' tales, and an obsession with a Siamese cat called Elvis mean you'll be a Murderino in no time.
Listen now (Apple Podcasts)
Best interview podcast The Adam Buxton Podcast
You may remember Adam Buxton from the Adam & Joe Show, and while the humour is still there, this is a more thoughtful show where Buxton just chats with interesting people in an informal, relaxed way. You'll have heard of most the guests, so the best way to enjoy is just to dip into the ones that interest you – but you'll almost certainly be back for the ones you've not heard of once you're done.
Listen now (Apple Podcasts)
Best interview podcast (runner-up) RHLSTP With Richard Herring
First launched under the title of Richard Herring's Leicester Square Theatre Podcast, this award-winning series has become something of a cult favourite. Chatting with some of the biggest names in comedy, Richard Herring talks candidly with the likes of Stephen Fry, Steve Coogan, Russell Brand, Sarah Millican and David Mitchell to name but a few. With a catalogue amounting to 200+ episodes, this show shows no sign of ending.
Listen now (Apple Podcasts)
Best political podcast The Political Party
If you care more about the people who make the decisions, and would enjoy personal anecdotes from life at Westminster, The Political Party is for you. Each month, political comedian Matt Forde meets a current member of parliament for an informal but informative chat in front of a live audience in London. Guests have represented big names of the Commons (Jess Phillips, Anna Soubry) to bigger names from parliaments past (Neil Kinnock, George Osborne). Between the main shows, there are studio-based interviews with interesting academics, journalists and activists to ensure you don't miss it too much.
Listen now (Apple Podcasts)
Best political podcast (runner-up) The Bugle
Sticking with the comedy theme, The Bugle is a longstanding satirical podcast covering the week's news. Formerly starring John Oliver, who left when his HBO commitments became too much, co-host Andy Zaltsman now has a rotating guest co-host with whom to riff on whatever is going on in the world of politics each week. Don't expect anything too serious, but do expect plenty of laughs.
Listen now (Apple Podcasts)
Best comedy podcast Athletico Mince
Athletico Mince started off as a football podcast. And episodes often begin with football chat, but usually devolve into a strange absurdist ramble within a few minutes. Icon Bob Mortimer and comedy writer Andy Dawson are the two hosts. Each episode is them chatting for 30 minutes and, well, that's about it.
Listen now (Apple Podcasts)
Best comedy podcast (runner-up) Off Menu
Funny foodie podcast Off Menu is hosted by comedians James Acaster and Ed Gamble. Each week a celebrity guest is invited to "a magical restaurant" where they get to choose their favourite starter, main course, side dish, dessert and drink. Recent guests include musician Loyle Carner, Fleabag's Sian Clifford and comedian Dara O Briain.
Listen now (Apple Podcasts)
Best celebrity podcast The Ricky Gervais Show
A combination of Ricky Gervais's snippets from his show 'Deadly Sirius' on Sirius FM, including 'Learn Guitar with David Brent', this series is an endorsement of all things Ricky Gervais. Somewhat sporadic but highly entertaining nonetheless, this 'best of' podcast is there to drip feed you Gervais when you need him most.
Listen now (Apple Podcasts)
Best celebrity podcast (runner-up) David Tennant Does A Podcast
David Tennant's ability to entertain has never been in question, but he has been able to attract a whole new audience with his podcast. It features celebrity guests like Jon Hamm, James Corden and Tina Fey to name but a few. Episodes come in at just under an hour and are packed with riveting stories and belly laughs.
Listen now (Apple Podcasts)
Shortlist recommends
Related Reviews and Shortlists