ShortList is supported by you, our amazing readers. When you click through the links on our site and make a purchase we may earn a commission.
Learn more
Best true wireless earphones in 2023: top wireless, in-ear buds
The best true wireless ear buds revealed.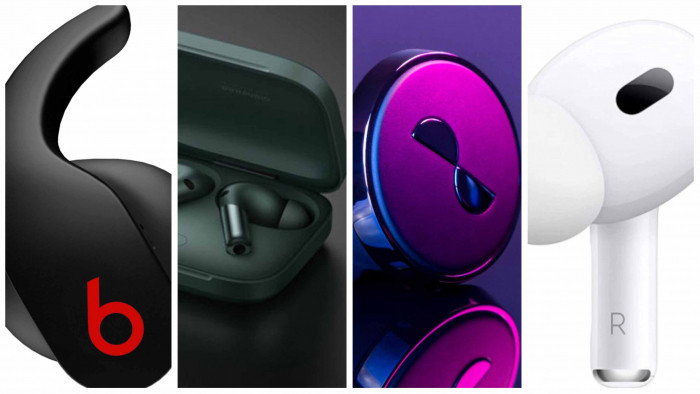 When compiling this best true wireless earphones guide, we suddenly thought: what seemed like witchcraft not all that long ago is now just another consumer durable.
A few years ago, your choice of truly wireless in-ear headphones was extremely limited but, let's face it, we were all just grateful such a thing really existed.
Getting music from your phone to your in-ear headphones without a single wire involved? Oh yes please
Now we're bombarded with choice and thus can afford to be choosy. Choosy about sound quality, about features, about price… and, of course, about the brand we favour. There's so much choice, it can start to feel a little confusing. Which is where this test comes in.
We've spent months listening to the following true wireless earphones and they are the best-sounding, best-specified and best-value true wireless in-ear headphones around right now.
All of the following had been tested by the audio experts at ShortList and where we can we have linked out to our own in-depth reviews so you can do a little more digging if you really want to. You can read how we tested below our best true wireless earphone list.
Best True Wireless earphones
Best true wireless earphones: how we selected To make sure we were testing the best true wireless earphones correctly, we reviewed the most popular, most high-profile, most realistically priced, and most downright desirable true wireless in-ears on the market, establishing the most popular price points and expected features.
And, of course, to separate the merely wireless from the true wireless. Some in-ear headphones are 'wireless' inasmuch as they don't need a physical connection from your music player to the earphones themselves. But the earbuds tend to be wired to each other, usually via a cable that runs around the back of the wearer's neck. That's a test for another day - here we're concerned solely with true wireless headphones, a left and a right earbud connected to nothing but the inside of your ear.
Features-wise, there's more to consider than you might at first imagine. For a product so specific in its function, a true wireless headphone can be absolutely loaded with features. Touch-sensitive controls on the earbuds themselves, for instance: there's not much point in having true wireless headphones if you have to fish out your smartphone every time you want to change tracks or adjust the volume.
Voice-control is a consideration, too. And don't underestimate the importance of battery life, both of the earbuds themselves and the carry-case in which they charge.
Price also plays a big part, naturally enough. While it's possible to pay as little as £50 for a pair of true wireless in-ear headphones these days, the compromises (both in terms of audio quality and connectivity - little is more frustrating than wireless headphones that keep losing their connection to your smartphone) are, we think, too great. No, the real action starts once you get into three figures - that's where big brands with big reputations lurk, as well as the more intrepid specialists.
Ultimately, though, it always comes back to sound quality. Yes, wirelessness is a big convenience - but we can't imagine persevering with a pair of true wireless in-ears if the sound they make doesn't satisfy.
No matter the scenario in which you wear your true wireless earbuds — during a commute, during a workout, during the working day — we've explained what's what to help you select the true wireless in-ears that are perfect for you.
Best true wireless earphones: how we tested As we said, it always comes back to sound quality - and that's a pretty subjective thing. If you like it punishingly bassy, or flat and undynamic, well… it's not for us to tell you that you're wrong. Not overtly, anyway. But in any case, it's sound - frequency response, tonality, bass control, soundstaging, separation and so on - we give most significant weighting to.
Specification is important too. We took Bluetooth codecs into account (they can impact on battery life almost as much as on sound quality), and we considered the quality of the control app. We also considered the simplicity and effectiveness of the touch-controls.
Battery life - actual battery life, rather than that claimed by the manufacturer - is a vital consideration too. And not only the battery in the headphones themselves. Each and every pair of headphones in this list comes with a charging case that stores some additional power.
We've also gone to lengths to test the robustness of the wireless connection - because although some true wireless headphones are quick to pair with your phone and then sound good with music, they can lose their link with your player quite easily if it's in a bag or a pocket. Which, we're sure you'll agree, rather defeats the whole 'wireless' point.
Call quality is a consideration, too. Ideally you'd like to be able to answer (or reject) calls without taking your phone from your pocket or bag - but what are these headphones like in terms of telephony? Can you hear your caller? Can they hear you?
Aesthetic considerations, rather like sound quality, are a subjective area. And, to be frank, it's an area we're much happier to leave to your own discretion. We feel on far safer ground dismissing one pair of headphones against another on the basis of sound than we do on the basis of their appearance.
Related Reviews and Shortlists