ShortList is supported by you, our amazing readers. When you click through the links on our site and make a purchase we may earn a commission.
Learn more
The best watermelon cocktails to make at home this summer
Reinventing vodka, rum and whiskey with the fruit of the season Watermelon is must-eat fruit of the sweltering summer of 2018, and it's not hard to see why. After all, it's refreshing, and refreshing is exactly what you need when heatwave after heatwave is pummelling you into sweaty submission. But you know what goes best with watermelon? Alcohol, as seen in our best rum guide
That's why we asked Chris O'Neil, Bar Manager at London's award-winning Temper, to incorporate watermelon into your favourite drinks. Have them mixed for a crowd at your next barbecue, or just make them for yourself to enjoy in an ice-cold paddling pool - the choice is yours.
Just make sure you have ice, and something from this best vodka guide, as it's going to be a hot one.
The Watermelon Martini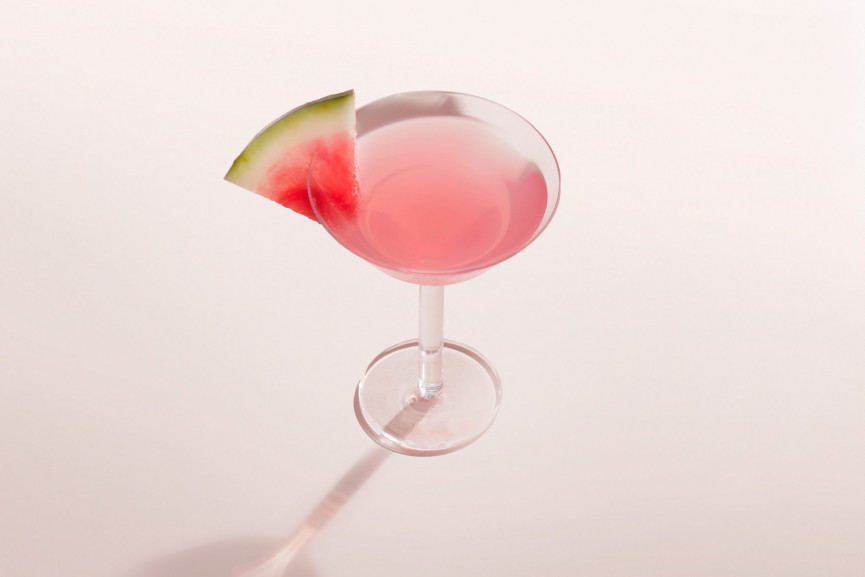 Ingredients
50ml gin (ideally Old Tom)
20ml rose vermouth
2 one-inch cubes of watermelon
Method
"There have been watermelon martinis before, but this is a really posh equivalent. A normal watermelon martini is like a pornstar martini - a bit trashy. This one stays a bit more true to the actual martini recipe.
"You want a gin, like Old Tom, which has a lot more residual sugar – that way, it will be slightly sweeter than your London dry gin. And you want a rosé vermouth, which is somewhere between a red vermouth and a dry vermouth. It's still got a bittersweet element, but it's more towards the sweeter side.
"Put all of the ingredients into a mixing container, then muddle the watermelon in. Add ice, stir it, and strain into a martini glass. Garnish with a slice of watermelon."
The Watermelon Daiquiri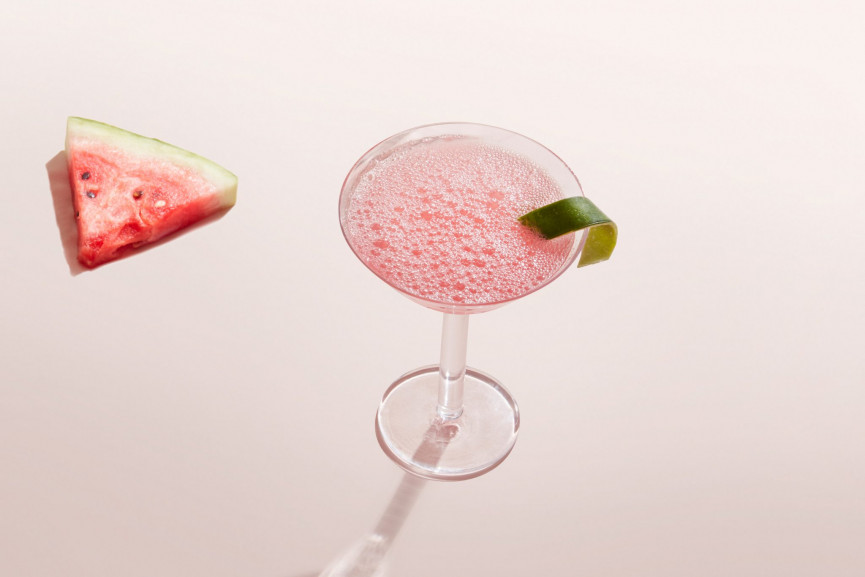 Ingredients
60ml white rum (ideally Havana Club 3yo)
10ml lime juice
For the sugar syrup:
The insides of half a watermelon, scooped out
200g sugar
Method
"Put the watermelon and the sugar into a pan, and let that cook for about ten minutes. As you're cooking it, use a potato masher to mash all the watermelon into the sugar. This will give it a mushy, syrupy texture. You now have a watermelon sugar syrup.
"Add two teaspoons of your watermelon sugar syrup into a shaker tin with your white rum - I would do Havana Club 3yo - and your lime juice. Shake it all up, then strain it into a cocktail glass.
"You'll end up with a beautiful cocktail with a very light pink hue. To save on waste, garnish it with a thin bit of peel of the watermelon you scooped out."
The Watermelon Caipiroska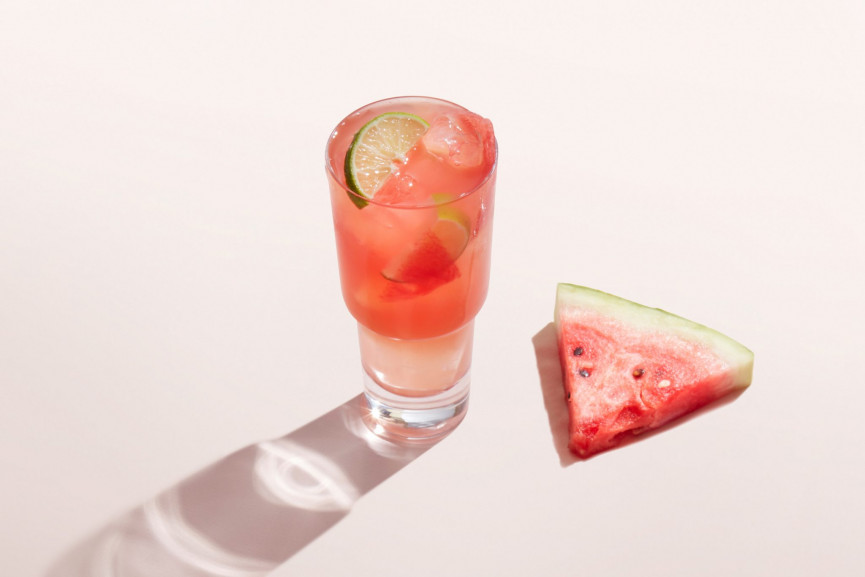 Ingredients
50ml vodka
One large slice of watermelon, rind removed
Two tablespoons golden caster sugar
Half a lime, cut into three segments
Method
"The caipiroska is a classic cocktail, the vodka version of a Brazilian caipirinha. This one is a really simple drink to make. It's so alcoholic but still so fresh, because there's so much melon juice in there.
"Chop up your slice of melon really finely, and put it all into a tall tumbler glass with your caster sugar and your slices of lime. Muddle it around in the glass with a spoon, and then add 50ml of vodka. Add cubed ice, gently stir, and serve as is."
The Watermelon Pisco Sour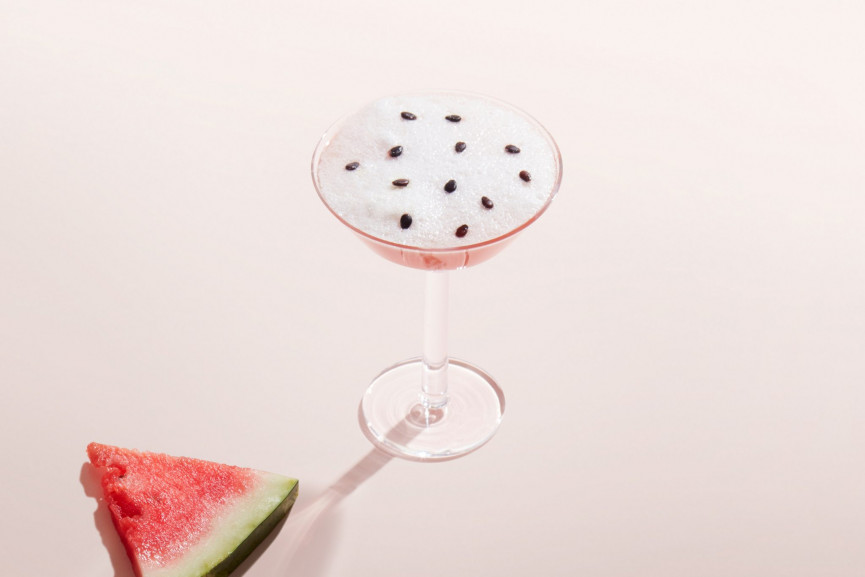 Ingredients
20ml watermelon sugar syrup (see daiquiri recipe above)
50ml pisco
10ml lime juice
One whole egg white
A handful of watermelon cubes
Method
"Add the syrup, the pisco, the lime juice and the egg white into a mixing container. Mash the watermelon cubes in a bowl, and strain them until you have about 20ml of fresh watermelon juice. Add that into the mixer as well, and shake without ice. Then, add ice, and shake again.
"Throw all that into a cocktail glass, and garnish with a really thin slice of watermelon, in a pizza slice shape - if you're getting creative, dust some sugar over it and caramelise with a blowtorch."
The Watermelon Seed Manhattan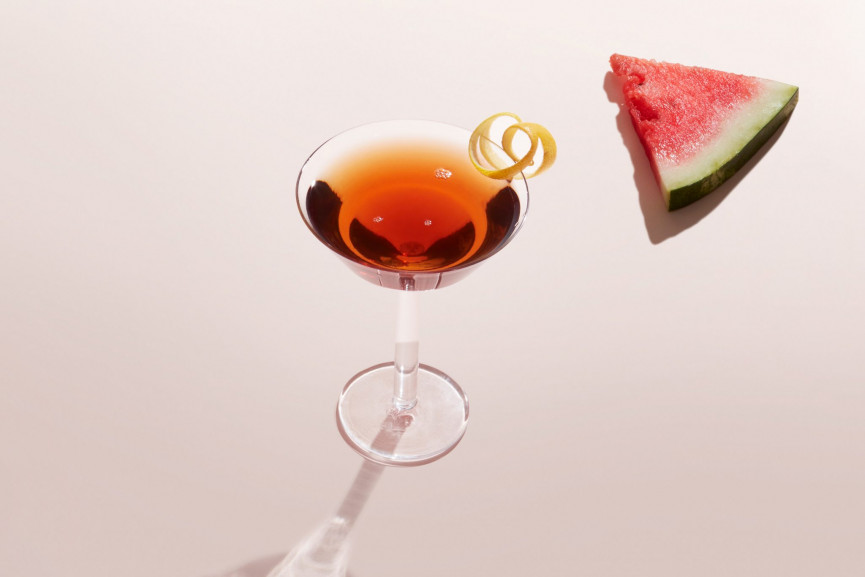 Ingredients
50ml bourbon
20ml dry vermouth (ideally Noilly Prat)
10ml sweet vermouth (ideally Carpano Antica, but Martini Rosso will also do)
For the seed syrup:
The seeds of one watermelon
200g sugar
200ml water
Method
"The Manhattan is my favourite drink of all time, both to make and to drink. At Temper, we hate wasting things, so in the spirit of that I decided to make a cocktail around the one bit of the watermelon you'd normally throw away - the seeds.
"Watermelon seeds have a beautiful flavour, kind of similar to sunflower seeds. Deseeding your watermelon will give you enough for this recipe. Throw those seeds onto a baking tray, and put them in the oven on 70 degrees celsius for about 40 minutes to dry them out. When they're ready, but the seeds in a blender. Then put them in a pan with your sugar and water, and heat and stir until all the sugar has dissolved and the seed aroma is starting to come out. Now you have your seed syrup.
"Add your bourbon, your dry vermouth and your sweet vermouth into a mixing glass alongside 10ml of your syrup. Peel a really big bit of lemon peel, and throw that in too. Stir it well, then strain it into a cocktail glass and garnish with lemon zest."
---
Read more
- 16 best summer BBQ craft beers you need to try
- 17 great summer BBQ burger recipes (according to top chefs)
- Tested: The best pre-mixed G&T cans
- 20 incredible vegetarian BBQ ideas (according to top chefs)
Related Reviews and Shortlists