ShortList is supported by you, our amazing readers. When you click through the links on our site and make a purchase we may earn a commission.
Learn more
The best rum: top rum brands put to the ultimate drinking test
This is the best rum in the world right now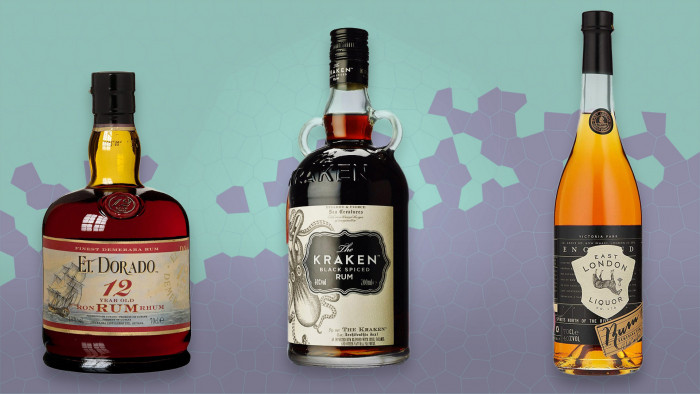 The rum market is booming. It's worth around £12 billion a year, roughly equalling gin revenues. But we'd argue that it's a far more versatile drink and the different types of rum, from aged to spiced, excel in totally different situations.
In its simplest form, rum is a clear liquid distilled from different forms of sugar, including demerara and molasses. However, this is often followed by barrel ageing in oak casks and, like some of the modern craft beers, some also have fruit or spices added.
UPDATE: The world of alcohol-free spirits have come on in big strides over the last couple of years. In just the last month rum master Captain Morgan has announced its 0.0% rum, Spiced Gold. It has been in the works for two years, and gone through more than 400 taste rounds. We can't wait to try this out. Getting that intensity of a spirit in a 0% alcohol version is extremely hard. Have they done it?
This means you can get all sorts of different kinds of rums, like white, golden, dark, navy, spiced and fruit rum - and even combinations of those key types. Traditionally, rum comes from the Caribbean, but these days you can get it from all over the place, including Scotland.
All of the best rums we've selected below have been put to our taste test. But we've got a few super popular new flavoured rums to try soon too that you should take a look at if you're keen to find a quirky rum for a special occasion, like the Finders Oak Aged Chocolate & Coffee Spiced Rum and Rockstar Spirits Banana Bomb Navy Strength Premium Spiced Rum.
Here's our tasted tested selection that we think every rum lover should try.
Additional reporting and taste testing: Marc Chacksfield
---
The best rum: a buying guide Rum is one of the most complex drinks on the market. There are many varieties of rum, made in a number of different ways, but it's a drink that isn't that well regulated (like the whisky world is) which means that there are a lot of mistruths.
Here we will try and give you a rundown of rum and what you should be looking for when buying the best rum for you.
What is rum made of?
This is an easy one: sugar cane. Rum isn't like vodka, where many things can be used to distill the spirit. Rum has to come from sugar cane and depending on where it is distilled and what technique is used, this will change the colour of the rum. But...
Classifying rum by its colour isn't great
Imagine if we classified whisky as being amber, red or yellow. That would be doing the spirit a massive disservice. But that's what many do with rum: break it down by colour.
Yes, there is dark rum in the market and white rum in the market (simply put, this is down to maturation) but look beyond the colour when buying and more at where the ingredients come from and, most importantly, where they have been distilled.
Look at rum by the region and the provenance instead
This is something we learned while on a rum tasting session with Black Tot, one of the rums in our best rum guide.
Mitch Wilson, Black Tot's global brand ambassador, told ShortList that: "We have been bad at educating people. Rum is sometimes described as white, gold and dark - this is a shit way to describe anything.
"Try and drop the simplification and chat about the regions themselves and the provenance of the rums. For example, Black Tot uses Jamaican, Barbados and Guyana for its classification."
Taking this rather brilliant advice, a really simple rule of thumb is as follows (and don't forget that most rums will actually be a mixture of rums from different regions):
Rums from the Americas Rums from the likes of Guyana, Panama and Venezuela will have a much richer, sweeter palette than other rums and this is because, for the most part, they distill using sugarcane honey and not the usual sugarcane juice.
We'd recommend the Diplomatico Reserva Rum, from Venezuela, if you want to try something from this region - it's a dark rum with a real fruity kick.
Rums from The Caribbean If you want to pinpoint the home of rum, then Barbados is a great place to start. Its rum-making techniques make it pretty much the modern home for rum, creating a rum that's usually fruity but well balanced.
A similar rum, but we reckon even fruitier, is one that's made in Jamaica. Then there's the more fragrant rum that comes from Cuba, which is where the likes of Havana Club comes from.
Our personal pick of Caribbean rum would have to be Mount Gay, which is our current top best rum pick and from Barbados. It's recently gone through something of a rebrand and is fruity with a lovely smooth finish.
Rums from elsewhere You can, of course, make rum anywhere as long as you have the right ingredients. Creating rum on the shores of Scotland, though, is quite different from the balmy climates of Barbados so the tastes will differ, a lot.

You have the likes of Don Papa which is made in the Philippines and renowned for its honey-like taste. Then Ableforth's Rumbullion! Is based in Kent but this rum is made from selected Caribbean rum and Madagascan vanilla. There is, of course, Australian favourite Bundaberg which uses its own sugar cane.
How does rum age? Does this affect the colour? It's worth noting that rums made in a colder climate will take longer to mature. It's all about the 'angel share' here - the amount of evaporation that takes place.
When something is aged in somewhere like the Caribbean then this is called, rather obviously, tropical ageing. Here the climate, heat and humidity play a big role in how it ages in a barrel.
To put this type of ageing into context: 5 years' ageing in Barbados is around the same as 10-15 years if it was aged in somewhere like Scotland.
This means that the angel share in somewhere like Barbados would be around 6% compared to 2% in a colder climate.
Ageing rum in a barrel makes the rum darker, although some rum brands will also throw in some burnt sugar to make the colour appear darker, too.
If you like your rum very dark, and packed with caramel tastes, then Gosling's Black Seal Rum is worth a shout, mainly because it is the official rum to use in a Dark'n'Stormy.
Related Reviews and Shortlists