ShortList is supported by you, our amazing readers. When you click through the links on our site and make a purchase we may earn a commission.
Learn more
The best vodka (2021): 11 vodka brands taste tested
Our choice of the best vodka will help you rediscover a classic spirit.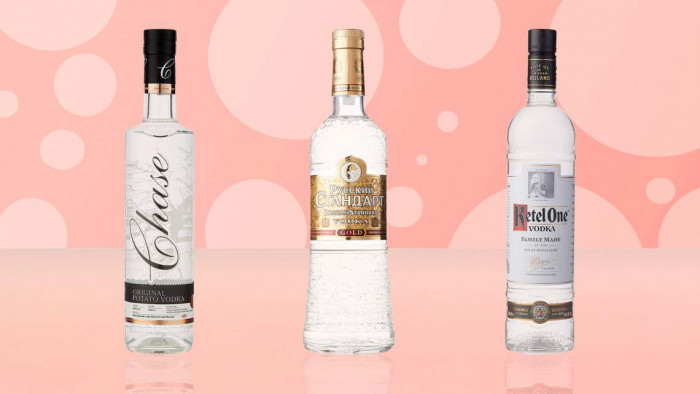 There's nothing simple about vodka, so choosing the best vodka is certainly not as clear cut as it looks.
Yes, gin may be the drink that captures the current love-in for small distilleries and varieties of flavours, but now is time to celebrate its not-so-distant cousin, vodka. Rather than having to navigate those complex botanical flavours in a cocktail, vodka is far more forgiving. It adopts the taste of other ingredients and gives iconic drinks such as Moscow Mules their essential kick.

UPDATE: We've overhauled our best vodka guide, adding in information on what to look for when buying vodka whether you enjoy yours with a mixer over ice or consider yourself something of a connoisseur and take it on the rocks. Given there's a number of vodkas to choose from, a lot of it is down to taste. So you might have to buy a number of different types to find a vodka brand which is right for you.
The latest and greatest addition to our list comes in the form of the Absolut Elyx Single Estate Copper Crafted Premium Vodka. Not only does this bottle look the part with its truly unique bottle and copper coloured finish, the taste steps up to the plate too. With an ABV of 42.3 per cent, it matches many other classic offerings on our list, serving up hints of spice and chocolate that make it a truly warming experience. As the name (and colour) would suggest, this offering is created using distillation on a copper still, creating a smooth, creamy texture that works well alone or with the addition of a mixer. There's also currently an impressive 32 per cent of its RRP only at Amazon, meaning a 70cl bottle currently comes in at £26. While vodka might be filtered to be colour, aroma and flavour-light, as it can be made from different ingredients using various methods, one vodka bears little resemblance to another.
Some makers focus on preserving the taste of the base ingredients while others the flavour of the final spirit. This means that you'll find vodkas that are pleasingly smooth, or those that have a sweet or salty finish.
Pop a bottle in the freezer for a few hours and it'll taste different again. So put your best gin back in the cupboard and make time to become reacquainted with the very best vodkas.
Upvote your favourite vodka.

You may also be needing our list of the best coffee machines after your taste testing. And if you fancy a vodka alternative, then our best non-alcoholic spirits or best flavoured vodka lists are for you.
Buying the best vodka: what to look out for The type of vodka you want to buy will depend on if you are looking to mix the vodka before you drink it, or have it straight and sip it. How vodka is drunk differs from country to country. In Russia, downing vodka is the most popular way to drink the spirit (ice cold, too), in Poland it's more of a sipping drink. And in the west, vodka is usually enjoyed with a mixture or two.
While it's usually thought that vodka comes from potatoes, there are more and more vodkas coming out that are distilled using wildly different produce. It is thought that the best vodka you can buy will come from potatoes. In our taste tests, any vodka using potatoes did have a creamier taste and wasn't as harsh on the palette. Chase Original Potato Vodka proves this, a vodka produced in the UK.
But it's not really the produce used but the quality of that produce and the mash that's created from it - so always try and look at a brand's site to see how their vodka is made. When potatoes aren't used, then vodka manufacturers have gotten pretty clever at making that all-important creamy taste.
Take Black Cow Vodka, its creamy taste comes from using milk in the fermenting process. Ketel One gets its smooth mouthful feel from using Winter Wheat (and they've been producing vodka for over 300 years so have some providence in this). One of the most famous grain vodkas is Smirnoff No. 21, while the likes of Belvedere uses rye - these are best used as mixers, though, as the taste is a little harsher than those vodkas designed to be drunk on their own.
What types of vodka are there? The reason that vodka production is so varied is because there's no industry standard, so the raw materials used will differ between manufacturers.
A rule of thumb, when it comes to taste is as follows: potato vodka is smoother, wheat vodka is sharper with a bigger burn, rye vodka is spicier and corn vodka is the most neutral of all with little-to-no taste.
Whatever the material used, what will be pushed is the purity of the vodka they are selling. This purity doesn't come through maturation but things like distilling through charcoal.

Related Reviews and Shortlists