You can buy all the gadgets you want. But sometimes all you really need to excel in the kitchen are good, high quality basics.
Ice cream makers, food processors and other fancy gizmos are all very well – and often have a very valuable place in the home. But investing in a really good set of kitchen knives? That'll really set you apart from other home chefs. After all, most tasks completed with a knife still have to be done by hand – you can't get a machine to chop your veg or slice your meat.
UPDATE:In kitchen news this week, we've come across this great article on Eater, which echoes some fantastic advice from the late Anthony Bourdain, which is that we don't all need huge blocks of knives in our kitchen. Bourdain said all anyone needs is one good knife. But the generally consensus instead is somewhere in the middle: just a few choice knives will do. The article explains the three kinds of knife you really need are: one with a broad, sharp blade, a small paring knife and a serrated knife.
Decided to upgrade that blunt, five-year-old set of knives currently languishing on your kitchen worktop? Here's our list of the best kitchen knives you can get.
Upvote the knife you'd rather have in your kitchen.

Related: best food processors, tested by our expert

Best kitchen knives
A mid-range option, this is slightly more affordable than some of the higher-grade knives. But that doesn't mean there's a huge dip in quality. Wüsthof is one of the world's premium knife manufacturers, so you're in safe hands.
With a triple riveted handle, the knife is perfectly weighed for ease of use. High carbon surgical steel is used to forge the blade, ensuring not only precision but ease of cutting – it's super, super sharp.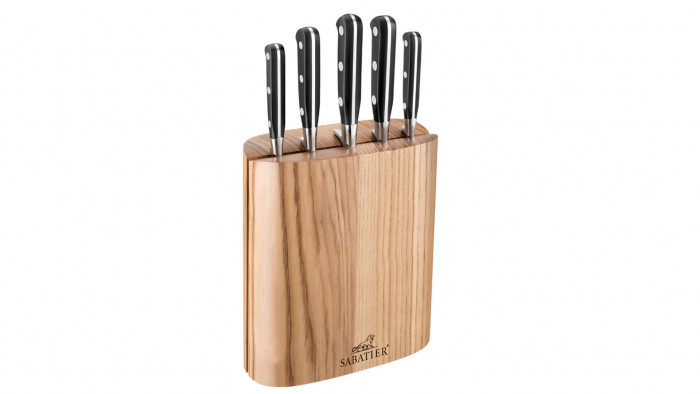 Another set for life, this Sabatier knife block looks brilliant in your kitchen and provides you with a range of uses.
There's a paring knife for precision work, a chef's knife for bigger projects and a utility knife for miscellaneous cutting.
There's also a bread knife (which you'll definitely have heard of) and a Yatagan carving knife (which you probably haven't). It's perfect for larger items like – so whatever it is you're doing in the kitchen, the set has you covered. Sabatier also makes several lower-cost block sets.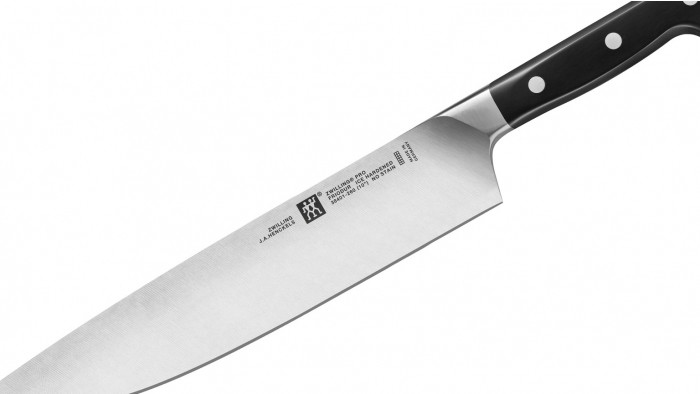 Yes, the Henckels Professional S pricey – but for a reason. This is a professional grade knife, the kind of thing someone would use in a fancy restaurant. It's well worth the investment if you're really into cooking.
It is made of stainless steel, has an "ice hardened" blade, and is weight balanced to ensure smooth handling. It's recommended you clean the knife by hand, but the Henckels Professional S is also machine washable if you don't have the time.
If you want to take your home cooking up a notch, this could be the knife for you.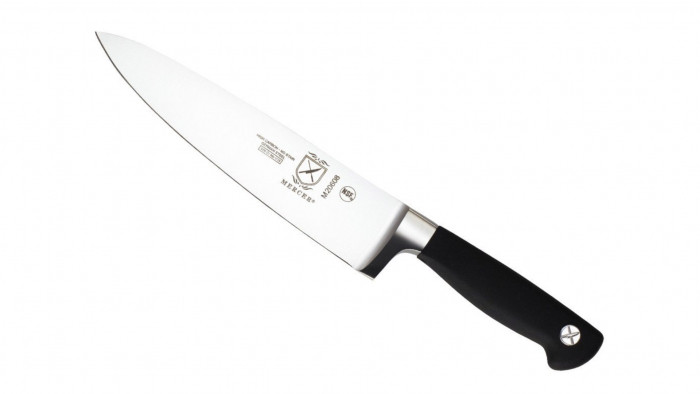 4

. Mercer Culinary Genesis 8-Inch Stainless Steel Forged Chef's Knife

£30

View now at Amazon
An even cheaper option, this might be best for those making their first foray into cooking, or stocking up a new kitchen.
Mercer is well known in the US – it supplies thousands of culinary schools with knives and other kitchenware, so they come with a pretty impressive seal of approval.
As for the specs? Obviously it misses some of the benefits of the more expensive knives on the list – for one, it's a bit heavier and therefore more difficult to handle.
But it's still sharp, and it still looks good in your kitchen – well worth a try for beginners.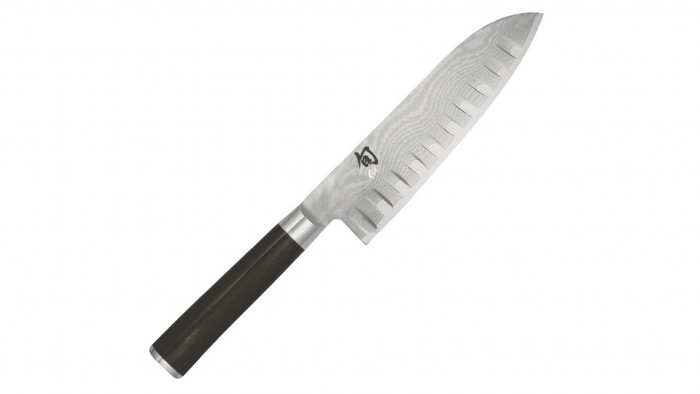 The Kai Shun Santoku knife is as beautiful as it is high-quality. It's a traditional Japanese knife – famous for both their high precision and the way that they look.
The gorgeous surface of the knife doesn't just look nice, either. The scallops create pockets of air, meaning that those thinly sliced veg won't stick to the blade.
It also has two layers of steel: one on the outside and another, stronger, on the inside. This means it'll last for years – so if you're umming and ahhing about such a big purchase, just think of it as an investment.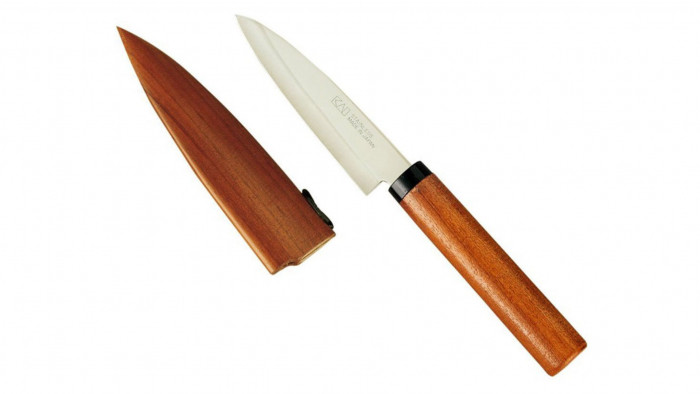 A paring knife is just as vital as bigger options in the kitchen. They can be used for peeling and chopping fruits and veg – but because they're much smaller, they're also more versatile and often feel more precise.
This Kai Paring knife is a great choice. It's not a flashy option. The simple stainless steel blade is understatedly perfect for peeling and chopping fruit. It has a gorgeous sakura wood handle and also comes with a rather nice looking sheath. It looks just as good as it handles.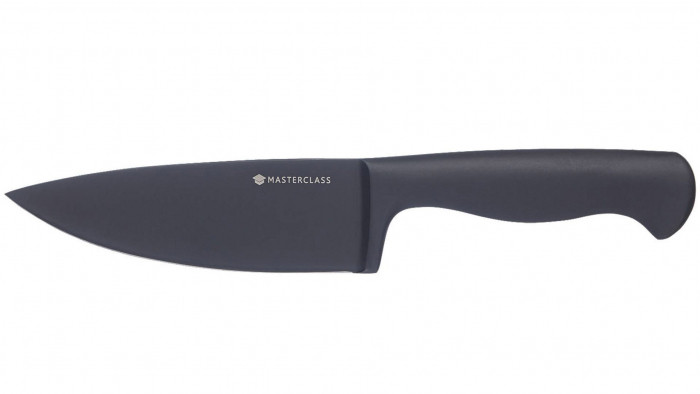 If you're looking for more than one knife, this Masterclass set is a good option. The stainless steel knives are "self sharpening". A sharpening tool is stored inside the storage sheath, so they're sharpened every time you use them. A second coating of steel means the knives will stay strong for years.
The set includes a chef's knife, a utility knife and a paring knife – a really good range of uses. Or you can buy them separately.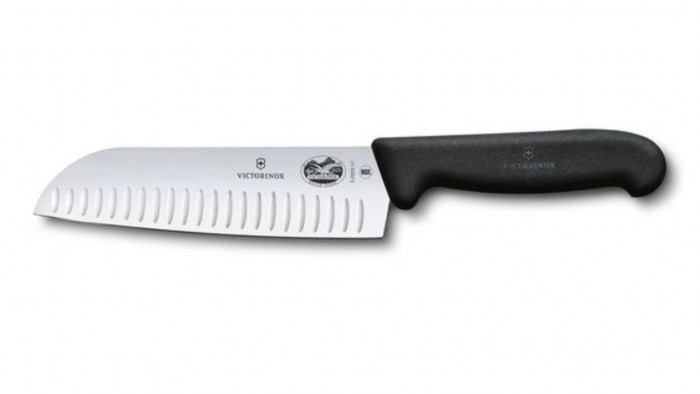 You'll definitely know one of Victorinox's products. The company makes the official Swiss Army knives, which could be the best known knifes in the world. You're in safe hands, then.
Victorinox describe this knife as "perfect for everything". It sounds a bit hyperbolic, but they're not far off. Designed specifically for general purpose, the knife can slice, dice, mince and more. Its 17cm blade is made of stainless steel and designed to be light and balanced – so it's a dream to handle, too.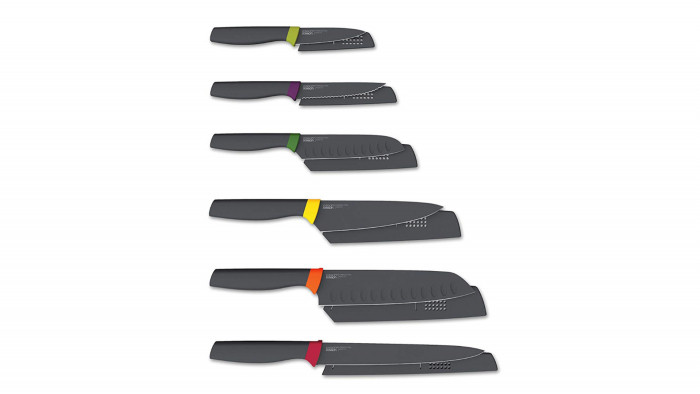 £54 is not an insignificant amount of money, but you do get a lot in this Joseph Joseph six piece stainless steel knife set.
So-called "elevate" technology is used to minimise mess and increase hygiene; what this means in simple terms is that hefty, weighted handles elevate the blades themselves away from dirty kitchen surfaces when you lay them down.
The set contains everything you need – a paring knife, chef's knife, serrated knife, carving knfife and Santokuknife – a general use blade originating from Japan. The design – simple black blades with multi coloured handles – is effortlessly cool.