ShortList is supported by you, our amazing readers. When you click through the links on our site and make a purchase we may earn a commission.
Learn more
Best trainers in 2023: the best sneakers for fashion and beyond
Retro sneakers are the best trainers you need to be seen wearing this year.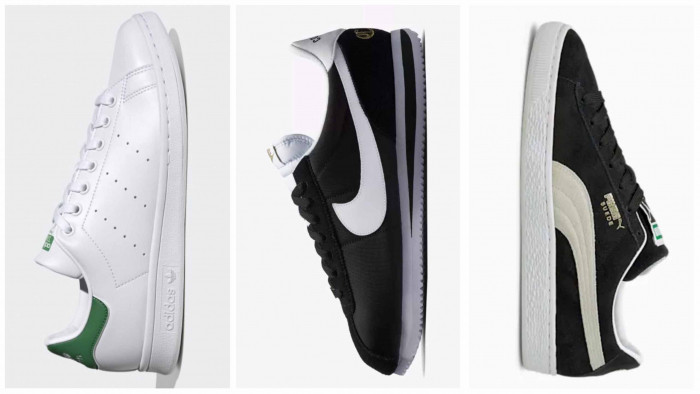 A look at the most iconic trainers money can buy also acts as a history lesson in the last 70 years of footwear design. Styles that were once made for athletes now become a pair you wear to the shops.
But most people want a blend of comfort and style from the best trainers. You don't need to agonise over the details like you might with a pair of the best running shoes. This means personal taste has more of a role to play here – after all, people will see them on your feet far more often than the shoes you're only wearing to the gym or when you're jogging outside.
UPDATE:A legend has entered the building. We have added the classic Nike Air Force 1 to our list of the best trainers. Specifically, we went with the all-white Air Force 1 '07 edition, representing the classic in perhaps its purest form. Love it? Loathe it? Make your opinion known by voting.

In this guide, we've selected our top choices. But do let us know if there are any others you think we need to include, and remember to upvote your favourite pair.
Additional words: Marc Chacksfield; Becca Caddy
---
How to buy the best trainers for you


When it comes to investing in a new pair of trainers there are myriad reasons why you are looking for a new pair. It could be that you have worn out your favourite pair and are looking for a replacement. Or you are looking to add to your burgeoning collection. The following tips will help you in your training buying needs.

Choose a trainer brand that suits you and your feet
Sometimes you are dead set on a brand of trainers and won't want to sway from them, but trying out different brands could open up a whole new area of comfort for you. Each trainer manufacturer has their own idea of comfort and that may not suit your foot type.
For instance, if you are looking for a trainer for wide feet then a brand such as Vionic and New Balance seem to cater for this style more than others. Those who have high arches may want to look at a sportier trainer brand such as Asics or Brooks - both of which make running shoes that take into account a high arch.
Choose a style that suits your needs
There is a big difference in wearing a trainer outside and wearing one in the house. If you are housebound and want a trainer for comfort, then you will be looking for a shoe with a softer cushion and probably one without garish tread markings that can play havoc with carpets. If you are going to be wearing your trainers outside in, say, the winter then maybe bright white isn't the way to go.
Look out for limited edition trainer drops
There are a number of places where you should keep a lookout for trainer news. SoulSupplier is a great UK site that knows all there is to know about trainer limited edition releases and where to find them. There are also a number of Twitter accounts that are worth following, including The Sole Restocks and Sneaker Deals GB.
Taking care of your trainers
Use inserts: if you want your trainers to keep their shape while in storage then shoe inserts are a must. Here are a few options.
Spray away: a decent hydrophobic shoe protector spray will help your trainers keep their clean look - we are a fan of Reshoevn8r Shoe Water & Stain Repellent. As for actual cleaning, then you can't go wrong with Sneaker LAB Shoe Cleaner Kits.
Fight the light: Make sure that you don't store your trainers in direct sunlight as this will fade the trainer's colour. Instead try and keep them in a dark place and, better still, in the box they came in - yes, it's a git for storage but will help with trainer maintenance.
Plastic is not fantastic: again, when it comes to storage, putting them in a plastic box will just encourage mould so it's much better to store them somewhere that has a bit of ventilation. That will also help with any unwanted trainer odours.
Related Reviews and Shortlists