ShortList is supported by you, our amazing readers. When you click through the links on our site and make a purchase we may earn a commission.
Learn more
Top 10 things to buy, drink, stream and do (updated)
This is what Shortlist readers have chosen this week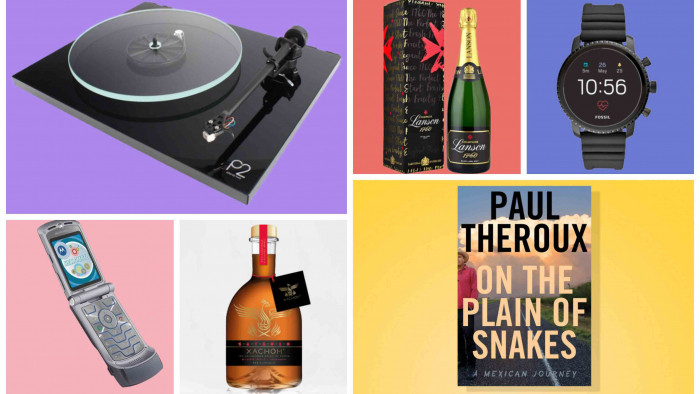 We're all guilty of being stuck in a rut when it comes to a routine - watching reruns of the same show time and time again, buying the same bottle of wine each week - we all have brands we buy simply because they're familiar.
Here at ShortList, we try out products so you don't have to. You can simply rest easy knowing that if a watch, phone or bottle of booze makes it onto our lists - it's one of the good'uns.
This list is made up of the best of the best from our own Shortlists. All these products have either gone through extensive testing in our reviews to come out on top, or they're what we know you're loving right now.
Here are the top 10 things to drink, buy and stream this week - as voted by you.
1. Embrace the nostalgia with this retro phone The Motorola RAZR was the ultimate 00s flip phone. Released in 2004, the RAZR took its name and shape from a cut-throat. If you really want to live that retro moment, you can still buy the V3i model online for £59.99.
Read: Best retro phones: the greatest mobile phones of all time
2. Get a sense of adventure with our best travel book On The Plain Of Snakes: A Mexican Journey By Paul Theroux is definitely not to be used as a guide book. Instead, you follow Theroux as he travels from the country's border with the US through the "culturally rich but troubled heart of modern Mexico".
Read: Best travel books
3. Get everything in one device with this android smartwatch
The Fossil Explorist HR does everything you could possibly want it to. For £269, the smartwatch monitors your heart rate, makes contactless payments and offers GPS, too. It's also waterproof, has a decent battery life and you can swap the straps depending on your mood.
Read: Best Android smartwatch 2019: the best smartwatches for fitness and style
4. Sit back and relax with this non-alcoholic spirit Non-alcoholic spirits have had a massive boom in the last couple of years, and Xachoh is leading our list. The No 7 blend has a fiery rum-like quality. With flavours of ginger, cinnamon and star anise, it is the perfect spirit to pair with mixers such as coke or ginger beer. Available on Amazon
for £28.99
.

Read: Best non-alcoholic spirits: great alcohol-free vodka, whisky and gin alternatives

5. Update your make-up bag with this mascara
When you're choosing a mascara, you often have the option of either volumising or lengthening - the Clarins Supra Volume Mascara does both. There's also no need for a curler because it adds a curl in and can be worn day or night. A perfect all-rounder for £22.
Read: Best mascara 2019: add length, curl and volume to your lashes
6. Rewind after a long week with this Netflix comedy special James Acaster's Repertoire was an instant success when it was released last year. Formed of four parts, it is immensely clever. It's the perfect blend of wit and physical comedy - the perfect way to spend three hours on a Sunday afternoon.
7. Be ready for all weathers with these cycling bib shorts and jerseys The Le Col Hors Categorie Bib Shorts And Jersey has been co-engineered by British racing cyclist Bradley Wiggins, and if it's good enough for him, it's good enough for us. It's made of a strong four-way stretch fabric, which is breathable and specially made to help you get through whatever horrible weather England throws at you. The bib shorts are available for £126.
Read: Best cycling bib shorts and jerseys: for ultimate comfort on the go
8. Get those vinyls out for this record player
The Rega Planar 2 has been around since 1975 (though it has had a few modernising tweaks in that time). It's available in black or white, and is the definition of no fuss. It has no wireless function and can't make copies of your vinyls but what it does do well is play records. It's not the cheapest at £399, but it's an investment you won't regret.
Read: Best record players in 2019: the best turntables for all budgets
9. Every party needs a few bottles of our top-rated champagne At £34, this Lanson Black Label champagne is on the more reasonable end of the scale. It's excellent when paired with shellfish or simply enjoyed while chatting with friends at a party. Its flavour is a delicate balance of floral notes, honey and toast. It's also suitable for vegans.
Read: Best champagne 2019: the ultimate fizz selection - with some top-rated prosecco to boot
10. Christmas preparations start now with these great stocking fillers We've all received a pair of novelty socks for Christmas, but why not this year go for something a little more classy. These Pantherella Monogrammed Cashmere socks are definitely a little more luxurious. They come in a range of colours including lilac, sky blue and damson and can be personalised with up to six characters, though we'd probably just suggest monogramming your initials.

Related Reviews and Shortlists