ShortList is supported by you, our amazing readers. When you click through the links on our site and make a purchase we may earn a commission.
Learn more
World Gin Day takes place 13 June and it's a celebration of all things, well, gin. It's the day of the year when you polish your posh glass and sample fantastic gin the world has to offer.
To celebrate the day, we've been speaking to our gin-based contacts and come up with a few things you need to do, or at the very least, book today - from going on gin sampling sessions to partying the night away.
Below are the the things you should be doing on World Gin Day. If you are just looking for awesome gins to drink then head to the following lists"
---
1. Grab a limited edition cocktail kit The Print Club London Limited-Edition Cocktails & Create Kit is part of Bombay Sapphire's 'Stir Creativity at Home' series. It has been designed to encourage cocktail and art creativity and this particular one comes with original artwork vinyls from Print Club artist, James Daw, as well as a bottle of Bombay Sapphire gin and a collection of creative cocktail recipes.
Buy now for £39 (plus P&P)
2. Try a gin that's got some Celtic roots Cait Sith (pronounced Caught Shee) is a newly launched gin that. according to its makers, Hebridean island distillery Wild Thyme Spirits, it "draws on dark recesses of Celtic Mythology and the Cait Sith, a legendary spectral cat that roamed the Scottish Highland & Islands." The cat would bestow a blessing or a curse on anyone who saw it. This isn't just a fancy name, though, the gin has been made in Old Tom style, is drier than a Dutch Genever, but sweeter than a London Dry, and is bottled at 40%. Taste notes include orange, pink grapefruit and vanilla.

3. Join a gin-based cook-a-long Slingsby Gin has teamed up with influencer Anna Barnett to celebrate World Gin Day on for a live cook-a-long on her Instagram profile. She will be showing you how to make Slingsby Gin drunken apricots with meringue and citrus cream.
As for the ingredients, this is what you need:

Six apricots – halved
One orange – zested and juice added
Two generous slugs of Slingsby's Marmalade Gin
Vanilla pod – halved and scraped out – all added
Two tbsp honey
Five-six sprigs of fresh thyme
Several turns of black pepper
Four meringue nests – crumbled
600ml double cream
One-Two tsp orange blossom
One tsp vanilla bean paste – or use remaining half of pod
Zest of half an orange
Two heaped tbsp of icing sugar – or to taste
The live cook-a-long with Anna Barnett is on the13th June at 6pm on Anna's Instagram channel.
4. Forget the tonic, create a gin lemonade Hendrick's has shared its recipe for Hendrick's Cucumber Lemonade, which is a fairly easy and fun drink to make. You'll need a bottle of Hendrick's for a start, then the following ingredients:
50ml Hendrick's Gin
20ml Lemon Juice
20ml Sugar Syrup
Top with Soda Water
3 Thinly Sliced Rounds of Cucumber
Lemon Wheel
Method: Combine all ingredients in a highball filled with cubed ice. Lightly stir and serve. Garnish with 3 thinly sliced rounds of cucumber and a lemon wheel.
5. Get yourself a Jim and Tonic gift set Jim and Tonic has been doing a cracking job of keeping Londoners watered for some time - and now you can get their boxed gin delights online. Our pick is the Each Hopped & Grapefruit Gin Gift Set Box. This includes: 1 bottle (70cl) Kraft Hopped Gin and an assortment of 15 premium craft tonics.
There's a bit of a discount on the boxes right now and delivery is free.
6. Try some American Gin If you have exhausted all your UK-based gin options, then maybe head Stateside for your next bottle. FEW American gin is from Evanston, IL (near Chicago) and was the first distillery to open up once prohibition ended. Their bottles all have an illustration of the Chicago World Fair and its taste is lemon based with a juniper burst. It's made from white whiskey so it's certainly distinctive.
Buy now for £44.95
7. And some Aussie gin Some of the botanicals found in this gin are finger limes, blood limes, kumquats and myrtle leaf. Yep, we're in Australian territory here, with Brookie's hailing from Byron Bay. 17 of the 25 botanicals are native to the family's regenerated rainforest that surrounds the distillery, so this is one unique gin.
There are a few gins options available so head to their website for more information.
8. Or some Navy Strength gin This one will put hairs on your chest. The gin has been distilled at 59% which means it's Navy strength. Don't think that means that it's harsh, though, as it uses Japanese botanicals that give it a silky smooth finish.
Buy now for £46.
9. Take part in virtual gin tasting on a farm Warner's are hosting a virtual tasting that they are calling an 'interactive Virtual Gin Tasting and Tour Experience'. It's being broadcast live from their Falls Farm distillery which makes 25% of the ingredients that go into their gins. You will meet the gin farmers themselves; founders and husband and wife team Tina and Tom Warner and get a look at their distillery which is in a 200-year-old barn.
The one on World Gin Day itself is currently sold out but you can join the next one which is taking place 21 June. Head to their website for more information.
10. Give wildflower gin a go Cotswolds No. 1 Wildflower Gin is a decent full-strength gin that has a USP: it's distilled with wildflower botanicals of lavender, cornflowers and rhubarb. Given this, it's tasting notes are that it is 'fresh, floral and fruity
'.
It's 41.7% ABV and costs £34.95.
Latest
Food And Drink
The 26 best gins: from Hendricks to Monkey 47
Food And Drink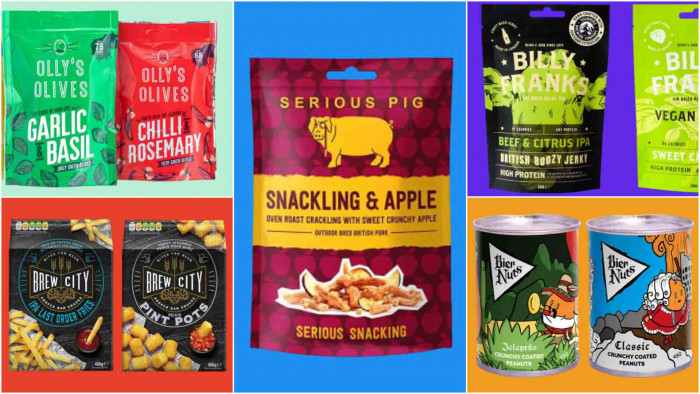 The best beer snacks: brilliant beer pairings
Related Reviews and Shortlists