ShortList is supported by you, our amazing readers. When you click through the links on our site and make a purchase we may earn a commission.
Learn more
7 best new movies and TV shows to watch at home this week
Don't miss these brilliant things to watch while stuck at home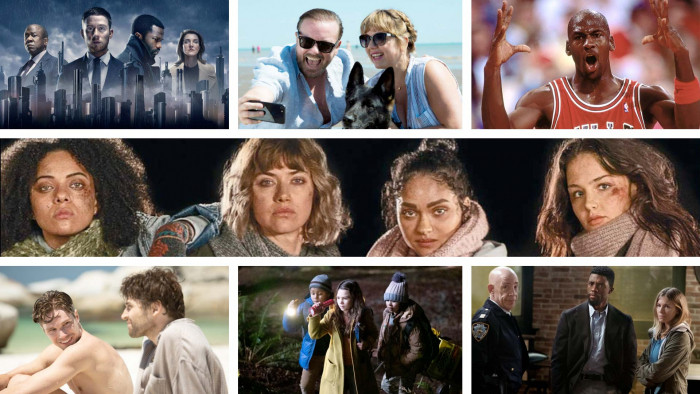 Welcome to 7 Things To Watch This Week, our guide to the best in entertainment to focus your eyes on for the next seven days.
From Gangs of London to 21 Bridges starring Chadwick Boseman and The Last Dance on Netflix we have you covered with bitesize reviews for all the TV and movie releases you should set your sights on this week.
It's time to stop wasting hours aimlessly scrolling through Netflix.

So, without further ado, here are this week's recommendations…
On Now TV from Thursday, April 23 The Raid filmmaker Gareth Evans takes his gritty brand of kinetic violence from the Jakarta slums to the streets of London in this 10-part crime thriller. Gangs of London opens with a feature-length episode, and kicks off with the murder of crime boss Finn Wallace (Colm Meaney). The series follows the ensuing drama as his son Sean (Joe Cole) tries to punish those responsible for it. This causes a ripple of tension and uncertainty among the other crime families and soon even more blood is shed and loyalties betrayed in order to get to the truth.
There is no shortage of beautifully choreographed fight sequences, especially those featuring Sope Dirisu as mysterious ally Elliot Finch. And the Game of Thrones level power plays will keep you hooked throughout lockdown.
We talked to the two leads of Gangs of London to find out what shooting those action scenes was like. Have a read.

New episodes weekly on Mondays on Netflix You don't have to be a basketball fan to know who Michael Jordan and the Chicago Bulls are. The greatest baller of all time and his team are the subjects of this new Netflix documentary series. It explores his final season at the NBA club and the dramatic events on and off the court that led to their iconic victory.
The Last Dance features interviews from Jordan, his teammates, coaches, managers, journalists, and influential people connected to the Bulls. This insight-packed docuseries paints an intriguing behind-the-scenes picture of what goes down at the highest echelons of competitive sport. A truly fascinating look at one of the most exciting teams and players in sporting history.
Available on disc & digital from April 21 Chadwick Boseman takes the lead in this crime thriller produced by The Russo Brothers. He plays NYC detective Andre Davis, a man who orchestrates a manhunt for two cop killers by closing all 21 bridges leading in and out of Manhattan.
However, there's more to this crime than just a robbery gone wrong as evidence of corruption and conspiracy is uncovered and he closes in on the men responsible. The plot is pretty formulaic but with a good ensemble cast including Sienna Miller, JK Simmons, Stephan James and Taylor Kitsch, 21 Bridges will inject a bit of excitement into your isolation entertainment.
Available on Curzon Home Cinema from April 24 This South African drama based on the autobiographical novel by Andre Carl van der Merwe is set during the height of apartheid. It follows Nick, a young man drafted into the military. At boot camp, he learns quickly that the institution is as intolerant of homosexuality as it is towards black people, so when an intimate connection sparks between him and another recruit it is of paramount importance to keep that side of himself hidden.
Some might think focusing on discrimination against white men during apartheid is a bit awkward, but black South African filmmaker Oliver Hermanus manages to convey the brutality of this story sensitively, without melodrama or ignoring the country's more prominent racial struggle.
Available on Netflix from April 24 Ricky Gervais is back as widower and local reporter Tony, who is still getting over the death of his wife Lisa. Having decided not to take his own life at the end of last season, Tony tries to be less angry with the world and do his best to overcome his grief in order to live his life as Lisa would want him to. And the series is far better for it.
Gervais gets to more poignant and emotional places from episode to episode as we see Tony open up more about his sadness. And to be a nicer person to the people around him, recognising others also going through issues, like his brother and editor Matt's (Tom Basden) marital issues and colleague Sandy's (Mandeep Dhillon) familial responsibilities. Afterlife bucks the trend of sequels getting darker and the lightness might be just what you need.
Available on disc & digital now Based on the 1974 horror of the same name, director Sophia Takal and co-writer April Wolfe deliver a slasher-comedy for the Millennial age in Black Christmas. Set at the fictional Hawthorne college during the festive season, the film follows members of a sorority battling against a masked killer picking off feminists.
Gender politics and humour are infused into the script as Riley (Imogen Poots) and her sorority sisters face off against the stalker and try to work if there is any man on campus they can trust. If you liked Happy Death Day then this is just the modern horror fun for you.
Available to stream on Apple TV Plus Nancy Drew meets Veronica Mars in this drama, centred on a nine-year-old investigative reporter trying to solve a mysterious death. Hilde Lisko has also just moved with her family from Brooklyn to her dad's hometown of Eerie Harbour.
Hilde's inherited an eye for a story from her former journalist father Matt (Jim Sturgiss) and she focuses it on the sudden death of a neighbour who was her dad's childhood friend. Was it an accident? Or is it connected to a crime that took place 30 years earlier? Hilde's on the case and this series offers a compelling record of her investigation you'll be more than happy to binge-watch.
Essential Streaming Deals, FREE TRIALS
Related Reviews and Shortlists