ShortList is supported by you, our amazing readers. When you click through the links on our site and make a purchase we may earn a commission.
Learn more
We spoke to the woman making money taking Instagram photos of horrible, discarded mattresses
The more stains the better It should have been me. That money should be mine. Mine! MINE! I should be the Instagram mattress calendar millionaire.
For a few years, I felt like I was the king of photographing abandoned mattresses and putting them on Instagram, which I admit is not a particularly prosperous kingdom to rule, but it was mine. I found it really pleasing in an indefensibly stupid way, documenting this ephemera, keeping a record of ultra-specific information that was of no use to anybody.
Plus mattresses are funny. If you're getting rid of a mattress you've probably either sexed it broken (which is funny), had an 'accident' on it (which, sorry, is funny), got a promotion and upgraded your bed (which is nice) or are an evil landlord replacing it only when you legally have to and then just fly-tipping it because you don't care about anyone but yourself (which is the category into which every mattress abandoned in London falls).
I had a vague idea that at some point I'd build a website called Mike And My Mattresses (the unwieldy, grammatically baffling title appealed for the same reason as the mattress photography itself, in that it was aggressively f*cking stupid) and geotag everything so a user could find out if any mattresses had been seen near where they were at any time over the past few years. Nobody would ever need it, but I had idle visions of it catapulting me to some kind of fame, success, wealth, etc. I've had a lot of idle visions of fame, success and wealth over the years, and this seemed no more far-fetched than the rest of them, so every time I saw a mattress abandoned in the street, I snapped it and posted it, along with the location (in case anyone wanted a dirty, damp mattress, I guess).
At the time, most people seemed to only use Instagram for alluring selfies and photographing their dinner, so this vaguely high-tech uselessness seemed to stick out enough to strike a chord with people – not a huge amount, but enough that I was soon being sent loads of pictures of discarded mattresses, and anywhere I went, my peripheral vision was working extra-hard to find street bedding.
Then I stopped, for a few reasons. I lost my job, which meant I felt my time could be better spent. A break-up meant I had to fly-tip a mattress myself and I had genuinely stressful, pretentious concerns about the idea of crossing some sort of line and becoming my own art. But, mainly, I saw someone else doing it better.
The account doing it better was the Walthamstow Tourist Board, the brainchild of Warpdog, a writer and artist based in the borough who shares my fascination with ditched bedding. While I quit, and now just feel a faint sense of sadness every time I walk past a street-soiled mattress, she carried on, bringing out calendars, magnets, cards and the much-ripped off Celebrities That Look Like Mattresses. With the 2019 calendar (described by The Daily Mail as "the worst calendar yet") currently available for a bargain £7.99, I tracked Warpdog down for an extremely mattress-heavy chat to figure out what the appeal was, why she'd stuck with it where I hadn't, and whether there was ever anything to be learned from our stupid hobby.
How did you first get into mattress photography?
I first moved to Walthamstow in 2009 and saw that there was a lot of fly-tipping. Sometimes the piles of random bits of furniture looked like a scene or tableau from a play so I started photographing them. I noticed that mattresses were the most popular item dumped – sometimes I would see three or four just on my way to the Tube. I think some even followed me, begging to be photographed. Sometimes their stains looked like they told a story.
Is there anything you particularly look for in a mattress?
In the olden days I wasn't particularly fussy, I'd just whip my camera or phone out and snap it. But now the mattress has to really speak to me. It pleases me when they're in the gentrified parts like Walthamstow Village. I like it when the mattress has adopted a human position, like it looks drunk, listless or violent. Obviously the more stained the better. And when there's more than one huddled together it looks like a sordid sex scene and I feel ashamed for looking. Like this one: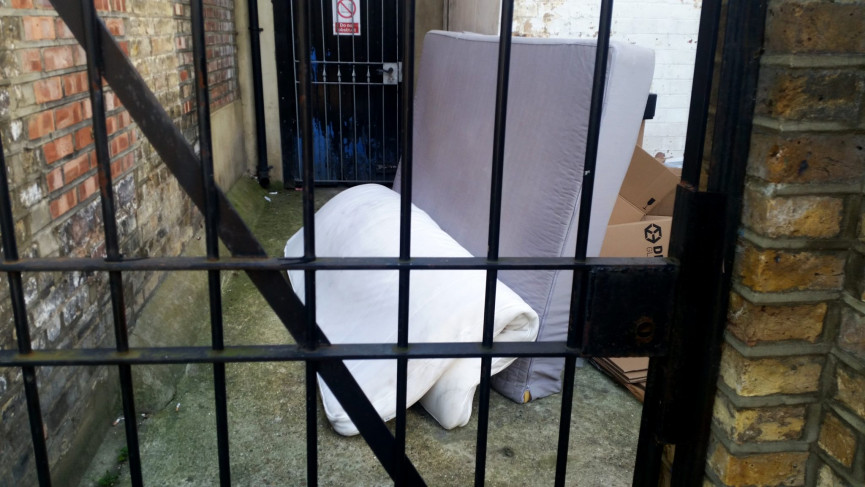 Has the quality of mattress changed as the area's been gentrified?
I feel that they've definitely decreased in quantity in Walthamstow. It might be that I don't walk around so much anymore. I have seen more orthopaedic mattresses in the borough, so perhaps that is an indication of socioeconomic improvements. There's probably a Freedom of Information statistic there somewhere. But you can always find them if you're looking. There are hotspots around Walthamstow where you know they're going to be lurking. It's impossible to walk past those without having a sly peek, like looking before you flush.
I had to fly-tip once. Have you had any incidents where mattresses have suddenly become a real concern?
I had to re-do the flatshare thing a few years ago and moved into a flat that had one of the very typical dumped mattresses you see (cheap with blue check). It was soiled heavily and stank of beef. I put it on Freecycle but nobody wanted it, so I put it on Gumtree and got nearly 80 responses. A very shady looking landlord took it away and I felt very sorry for whoever had to sleep on it. I just bought a new one and left it when I moved. I've always wanted to graffiti mattresses I see on the streets but don't have the nerve because there are random men just loitering about whatever time of day or night. I did it once and brought the wrong sized nozzle so the letters just blurred into each other and you couldn't read it. There was a group of men smoking weed nearby that were probably a bit scared for my mental health.
For a while, the majority of interaction I had with quite a few of my friends was them sending me mattresses. Even now, years after I stopped, I sometimes get them sent to me. Do you get a lot of mattress pics sent your way?
Lots of people send them in to me, and most of them are funnier or better than my own pictures, which is annoying. There have been times where I've rushed out to find the mattress if it's a good one, only to find that the council workers have nabbed it before I got the chance.
How did the calendars come about?
I did the Walthamstow Art Trail in 2011 and framed some photos. I didn't think anyone would buy them (and they didn't, apart from a badly done Warhol-esque portrait of MP Stella Creasy), but I wanted to be able to sell stuff to get my £30 fee back, so I got some shabby postcards made and mocked up some calendars on Vistaprint. I didn't think anyone would buy them, but they sold out and I ended up with a waiting list. I approached a few online shops that sell similarly stupid calendars and they all turned their noses up at them. They probably still would now. A few years ago after the celebrity mattresses thing happened they got a bit of press and people from all over the world started buying them. Weirdos.
I gave up snapping mattresses, but you stuck with it to the point that you've ended up making money out of it. What keeps you going?
It's the people – the people want mattresses! One year when I was expecting my son I was really busy and thought I couldn't be arsed with it, but I got so many messages from people asking where the calendars were. I didn't want to disappoint them – imagine not being able to gaze longingly at soiled bedding all year round!
---
There we go. A viral hit, a few minutes on Vistaprint and the desire to get a deposit back were potentially all that stood between me and calendar-shifting greatness. Humanity needed someone to be the Instagram mattress monarch, and the better person won. I'm happier as a customer of Warpdog, with a space in my kitchen saved for my awesome new calendar, than as a mattress-documenting runner-up, being rubbish out on the street just like the mattresses that filled my thoughts and my phone for so long. Like the opposite of a slum landlord chucking an unwanted mattress into an alley to rot, I'm happy to put the whole thing to bed.
(Pic: Getty)
Related Reviews and Shortlists