ShortList is supported by you, our amazing readers. When you click through the links on our site and make a purchase we may earn a commission.
Learn more
Best garden tools: great garden gadgets
Don't keep up with the Joneses, be the Joneses with the best garden tools.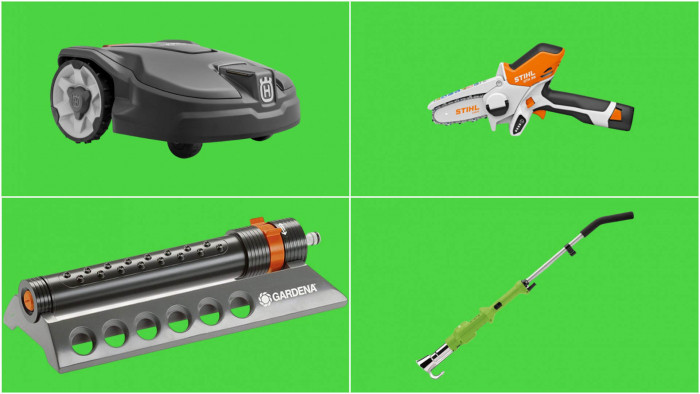 'Gardens are not made by singing 'Oh, how beautiful,' and sitting in the shade,' as Rudyard Kipling once pointed out. So if you haven't done so already, now is a good time to start a love affair with your garden by giving it some TLC and using a selection of the best garden tools.
If you've never planted a seed or pulled out a weed, a blooming garden is achievable and with the right tools and it won't take too much effort either.
We've searched high and low to find the most useful and intuitive garden gadgets around. We've chosen designs that are ergonomic – to avoid backache – and those that are efficient and time saving – to give you more time to enjoy a G&T afterwards.
Whether you're a seasoned pro with fingers as green as the Incredible Hulk, or a novice to all things horticulture, these gadgets will make it easy to get your garden looking luscious in lockdown.
Take a closer look at our pick of the best garden tools below to create a fertile looking lawn and get your flowerbeds ready for action.
---
Best gardening tools: more guides to help with your gardening
We've spent weeks testing some of the best gardening tools - here's a link to some more of our in-depth gardening guides...
Our top choice for a cordless lawnmower If you are lucky enough to have a lawn, then you will probably have been using it quite a lot during lockdown. We have one and we know they are a git to maintain. That's why we spent hours testing the best cordless lawnmower for our guide. We looked at 14 different cordless lawnmowers and the Stihl RMA 235 Compact cordless lawn mower is without a doubt our best value choice. This is thanks to its low weight, as well as its slim and non-fussy design. This means you can steer it through both long and short grass with ease.
Bring your garden indoors with our top choice of house plant The humble house plant has had something of a resurgence of late and we've been buying them up and trying our hardest not to kill them. We are big fans, as our best house plants guide shows, of the Opuntia Microdasys Pallida Cactus. Yes, it's expensive but the Mickey Mouse eared cactus will look great in any home and is easy to maintain, too. You only have to water when the top soil has gone dry and in the winter months this equates to around once a month.
Once your garden is done, then get the BBQ on There is a very good reason you have a garden and, more often than not, it is to entertain. And you can't do better than entertaining with a dam good barbie. When the weather figures out what it is doing, then we recommend the Weber Master-Touch GBS Premium E-5775. This is a fantastic charcoal BBQ that is expensive but is without a doubt one of the best we have ever tested, with its innovative heat system and the overall design of the thing.
Related Reviews and Shortlists