ShortList is supported by you, our amazing readers. When you click through the links on our site and make a purchase we may earn a commission.
Learn more
You can't go more than four strides down a British street without passing a coffee shop, usually one of the mega chains that will sell you some coffee-adjacent muck in a big bucket. But where are the best places to go for not just a great cup of coffee but a great room too? The place that puts even the best coffee machine in the home or best coffee pod machine to shame.
This is our list of the coolest coffee shops in the UK. Might not want to try them all in one day, unless you plan on being awake until next January.
CHECK OUT THE COOLEST BOOKSHOPS IN THE UK
_____________________________________________________________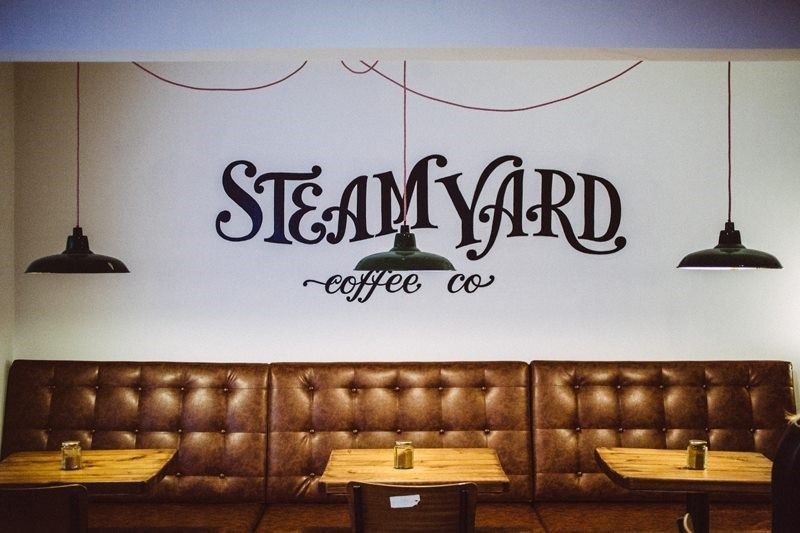 Steam Yard
Unit 1-2 Aberdeen Court, 97 Division Street, Sheffield S1 4GE
There's a storm a-brewin' in Sheffield, and newly opened Steam Yard is at the heart of this recent cafe culture boom. Housed in an an old silver works, the grade II listed building has exposed walls and concrete floors and steel framed leather booths, creating a classic and welcoming interior with a nod to vintage america. But great décor isn't really what makes it a must-visit (though do, ahem, pore over the Instagram account) their coffee is arguably the best in the north with their house and a weekly guest blends coming from the UK's top roasters. Just make sure you try one of their salted caramel doughnuts too. A treat.
---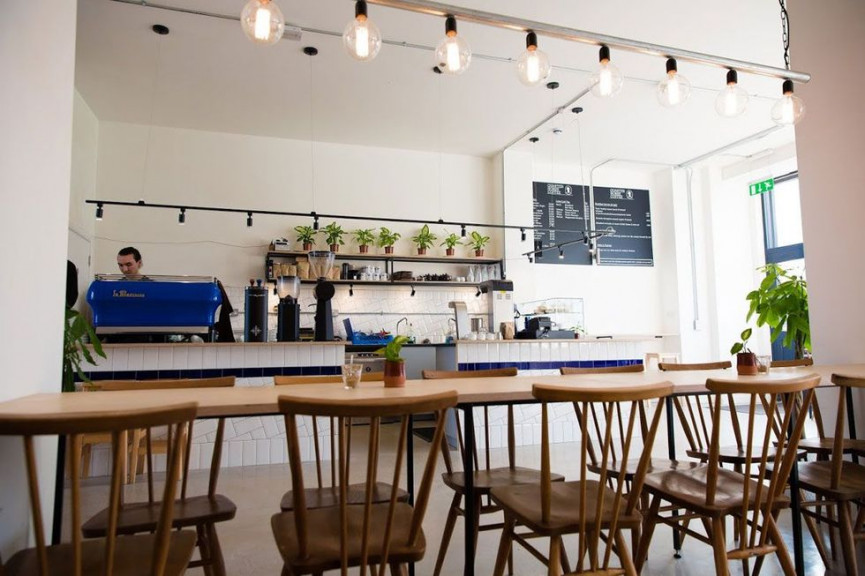 Quarter Horse Coffee
88-90 Bristol street, Birmingham, B5 7AH
Birmingham is experiencing a glut of quality indie coffee houses which combine to give a welcome collective middle finger to the vanilla-infused chains. Urban Coffee, Yorks, The Faculty, Cafephilia and Six/Eight Kafe all deserve a mention, but right now the city is going potty for new kid on the block: Quarter Horse Coffee. The slightly out of the way but worth the journey joint is the only coffee house in Brum to roast their own beans, with a colossal machine on site reminiscent of the evil computer from Superman III. Run by caffeine heads, for caffeine heads, this is serious coffee territory which means you should be brave enough to plum for no frills espresso and let the beans do the talking.
---
Catalyst
A brand new one for 2017, Catalyst is a coffee, craft beer and killer eats outpost that serves up some of the best batch brew filter coffee we've had this side of the afterlife. The chatty cool kids behind the counter are so proud of their specialist coffee that they seem to get genuinely excited when you order one – an excitement you'll share when it turns your 8.30am walk to work from a slow slog into a 500 Days Of Summer-style street strut.
---
The Marwood
52 Ship Street, Brighton, BN1 1AF
The ever-changing collection of gubbins on the wall of includes a looming shark and a 3D Jack Nicholson in The Shining psycho mode. So even if your coffee companion is a bit dull there's always something to talk about.
_____________________________________________________________
Takk
6 Tariff Street, Manchester, M1 2FF
Everyone knows that everything Scandinavian is cool, from their lights to their murder mystery TV to, well, their weather. The Scandinavian theming of this Manchester cafe isn't entirely clearly drawn - not sure a prosciutto and mozzarella sandwich is traditionally Scandinavian - but the laidback interior is very Scandi, as is the giant map of Iceland on the wall. Wear a heavily patterned jumper if you want to hammer home the theme.
_____________________________________________________________
Princi
135 Wardour Street, London, W1F 0UT
It's practically a restaurant, serving everything from lasagne to freshly made pastries to an array of cakes that would take weeks to work your way through, but really it's a cafe, just a very extravagant one. If you leave without trying the ham and cheese rustici then you'd better come back quickly.
_____________________________________________________________
Look Mum No Hands!
The very coolest of the capital's cycle cafes, getting a seat to sup on your expert-made flat white on any given Saturday is a bit of a mission here. Loved by London's riders and in-the-know East-enders, you're best off getting their early doors.
---
The Ship of Adventures
138 Kingsland High Street, London, E8 2NS
It's styled as the inside of a pirate ship. We really have nothing further to discuss here.
_____________________________________________________________
Prufrock
23-25 Leather Lane, London, EC1
Coffee is taken rather seriously at this popular spot on Leather Lane, which isn't that surprising considering one of its owners, Gwilym Davies, was World Barista Champion in 2009. So he is really good at coffee. But the store is also beautiful and the takeaway coffee comes in the best-decorated cups you'll find in London. Not that it changes the taste in the slightest, but still.
_____________________________________________________________
Sampa
A stone's throw from Prufrock, and rendering Leather Lane a trendy caffeine warzone, you'll find this Sao Paulo-inspired coffee shop. Didn't realise quite how hard you'd been missing out on Sao Paulo-inspired coffee shops, did ya? Banana bread, guest filters, Crosstown Doughnuts and cheese'n'leek croissants are the done thing here.
---
Laynes Espresso
Belgrave Music Hall and Canteen, 1A Cross Belgrave St, Leeds, LS1
With two branches in Leeds city centre this mini-chain offers some of the finest brews in the north. The larger branch in Belgrave Music Hall has a roof terrace, so you can enjoy your morning coffee in the sunshine when the weather permits.
_____________________________________________________________
Colonna & Smalls
Maxwell Colonna-Dashwood - who is one of the owners of the cafe, not a cad from a Jane Austen novel - was the UK barista champion this year so he knows his beans. That does mean you might get asked a few more questions than, "small or large" as they take their varieties and seasons of beans (yes, there are seasons for beans) seriously. You get your coffee and you learn a little something.
_____________________________________________________________
Hermitage Rd.
21 Hermitage Rd, Hitchin, Herts, SG5 1BT
Attached to a well-reviewed restaurant in the quaint town of Hitchin, this place offers a great cup of coffee in a beautiful old building. You can pop in for a flat white from 7am but you'll have to wait until a bit later to eat in the restaurant.
_____________________________________________________________
Batch & Co
Like the new kid at school who turns up and immediately becomes captain of the football team, top of the maths class and gets to take the achingly pretty Carley Jacobson to the end of year prom, these guys have only been around for only a few months but already have, atop their heads, a Best Coffee Shop In London crown. Make friends with them. They have epic Caravan coffee, sausage rolls to alter the course of lunchtime forever, and even, even, crockery you'll proper want to stack your own cupboards with.
---
Tina, We Salute You
47 King Henry's Walk, London N1 4NH
That name is a reference to a popular kitsch painting from the 1960s, and that should tell you a lot about this place. It's a bit silly, it's quite artsy (there are micro exhibitions by local artists) and ever so slighly fartsy (you'll pass a lot of creative types on the way to get your hot drink). But it's more fun than most coffee shops and doesn't treat making a latte like it's a matter of world importance.
_____________________________________________________________
Bold Street Coffee
89 Bold Street, Liverpool, L1 4HF
One of Liverpool's most liked coffee venues has a very friendly atmosphere and a personality much bigger than the tiny space. A changing selection of artwork lines the wall and the approach to making coffee is to give you something that tastes great rather than banging on with great reverence about crema and precise milk temperature.
_____________________________________________________________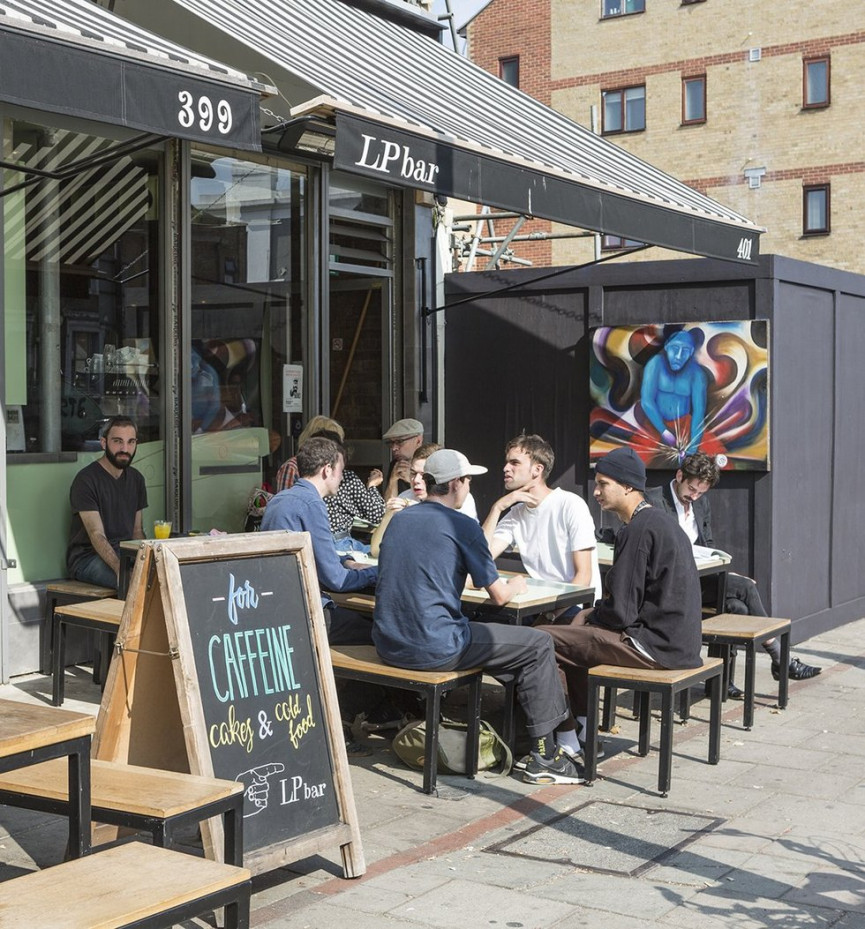 LP Bar
It's been kitted out like a transatlantic airliner because of course it has, complete with airplane seats, doors, windows and the like. You'll get your coffee here during the day, oh boy will you get your coffee, but by night caffeine makes way for Grandpa's Ol' Cough Medicine with boozy cocktails ahoy.
---
The Coffee Works Project
Don't come here on a weekday morning. Not unless you want to see us at our most groggy, slowly reviving our tired brains with their ricotta, blueberry and honey porridge and black filter coffee before heading into work. An early-start life saver, this one.
---
The Black Douglas Coffee House
83 Beach Street, Deal, Kent, CT14 6JB
If the coffee doesn't wake you up, the sea air will. The Black Douglas is a stone's throw from the sea but offers a much better cup of coffee than you get in your usual disappointing seaside cafe. It's positioned right next to a charming old bookshop too. It's not like any of the sleek operations elsewhere on this list but achingly modern isn't the only way to do things.
_____________________________________________________________
Waterloo Tea
5 Waterloo Gardens, Cardiff, Wales, CF23 5AA
If the word 'tea' in the name is confusing you, that's fair enough. This award-winning cafe is primarily focused on many, many different types of tea, but it applies the same exacting standards to its coffee. The food isn't bad at all either.
_____________________________________________________________
East Beach Cafe
Littlehampton, West Sussex, BN17 5GB
Deserves a place on the list even if only because it's the coolest building here. You might not be surprised to learn it's designed by Thomas Heatherwick, the genius behind the London Olympic cauldron and the new London bus. It's more than just a coffee shop, serving proper meals at lunch, but we're keeping it on here because it looks so cool that it would be absurd not to. Ok?
_____________________________________________________________
L'Atelier Dalston
31 Stoke Newington Road, N16 8BJ
The epitome of 'trendy London brunch spot', and if that's enough to put you off, don't let it. This is the archetype, the one they all want to aspire to. And you'll really like it here, with its effortlessly cool decor, suckerpunching coffee and freshly prepared belly fillers.
---
North Tea Power
A cracking cup of coffee, a great name and serves alcohol too (but not first thing in the morning). What more could you want?
_____________________________________________________________
RENZO
Great coffee? Sure. Cool surrounds? Uh huh. "The best avocado cake in Europe"? Get to Shoreditch and go see for yourself.
---
Monmouth
27 Monmouth Street, London, WC2H 9Eu
The coolest of all of London's coffee shops. There are three but the one on Monmouth Street is the best. It's a tiny space, which means that if you want to sit down you need to be prepared to share one of the little tables at the back, but there's nothing wrong with meeting new people, is there? Don't be put off it there's a big queue stretching out the door. It's partly because there's no room to queue inside and it moves very quickly anyway. Practically a landmark now.
_____________________________________________________________
Flat Caps Coffee
13 Ridley Place, Newcastle Upon Tyne, NE1 8JQ
Get it? Because of flat whites and cappuccinos and because northerners traditionally wear flat caps. It's more than a clever-clever name though. This is one of Newcastle's best cafes with a number of accolades to its name. It also claims to serve the "best hot chocolate ever" but you'll have to be the judge of that.
_____________________________________________________________
Brill Cafe
Music, coffee, bagels. Three things you like. Three things your friends like. Three things that people worth hanging out with, like. Gather your mates and enter this super chilled and happy vibes outpost for a Cheese & Everything bagel, your caffeine hit of choice, and a soul-soothing flick through the masterfully curated CDs and vinyl collection they very, very proudly boast from their walls.
---
Artisan Roast
57 Broughton St, Edinburgh, Scotland, EH1 3RJ
There are three Artisan Roast branches spread around Edinburgh and all are equally popular. It fancies itself as a bit more than just a place to pick up a delicious Americano on the way to work. Additional activities offered include a surf club and...er...meditation sessions. Best have your coffee after that then.
_____________________________________________________________
Related Reviews and Shortlists