Bonsai trees. Hopes of England winning an international football competition. Artificial skin. All things that are hard to grow. 
However, a team of Japanese researchers from RIKEN Center for Developmental Biology have just taken a big step forward toward one of the above (hint: nothing to do with the England football team), successfully growing complex skin tissue - complete with hair follicles and sweat glands - in a lab.
To perform the work, the researchers took cells from mouse gums and altered them into stem cell-like structures. In culture, the cells properly developed into what is called an embryoid body (EB)-a three-dimensional clump of cells that partially resembles the developing embryo in an actual body. These in turn were implanted into immune-deficient mice, where they gradually changed into differentiated tissue, which could then be combined with skin tissue. This 'lab grown' skin was then proven to connect with other nerves and muscles, functioning like normal skin. Just like the stuff you see wrapped around Arnie's metal skeleton in Terminator. Which is quite bonkers, see the incredible basic explanation below:
"Up until now, artificial skin development has been hampered by the fact that the skin lacked the important organs, such as hair follicles and exocrine glands, which allow the skin to play its important role in regulation," explained Takashi Tsuji, leader of the lab study.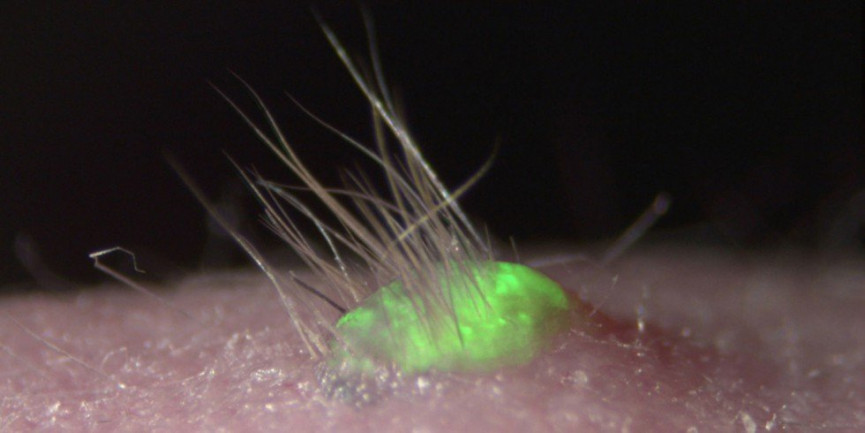 The skin, pictured above, marks a serious progress in the development of creating lab-grown organs that could be used in transplants. "With this new technique, we have successfully grown skin that replicates the function of normal tissue. We are coming ever closer to the dream of being able to recreate actual organs in the lab for transplantation, and also believe that tissue grown through this method could be used as an alternative to animal testing of chemicals."
Still makes our skin crawl though...
[Via: Engadget]