ShortList is supported by you, our amazing readers. When you click through the links on our site and make a purchase we may earn a commission.
Learn more
Pele has paid a wonderful tribute to the late, great Gordon Banks
The former England goalkeeper has died aged 81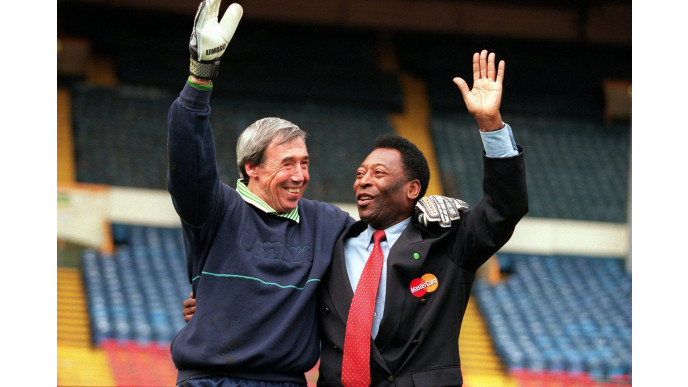 World Cup winner Gordon Banks, the man in goal when England beat West Germany in 1966, has died at the age of 81.
Tributes have poured in from across the football world, giving a good idea of how well-loved he was, with his former clubs Chesterfield, Leicester City and Stoke City among those to pay their respects.
Former teammates have also shared their memories of the goalkeeping legend, but it's perhaps more telling that some of his most famous opponents have done the same.
If you weren't alive during Banks' career – and he retired in 1978 so there's every chance you weren't – you'll probably still be aware of his most famous save.
It came in a game between England and Brazil at the 1970 World Cup, with Banks keeping out a header from Pele against all odds, and the stop was brought to a new audience when the "what a save" commentary was used in Baddiel, Skinner and the Lightning Seeds' 'Three Lions' in 1996.
The save is widely regarded as one of the best ever, and Pele's tribute to the late goalkeeper gives you an idea of the high regard in which Banks is held by his former rival.
"For many people, their memory of Gordon Banks is defined by the save he made against me in 1970. I understand why," Pele wrote.
"The save was one of the best I have ever seen - in real life and in all the thousands of games I have watched since.
"When you are a footballer, you know straight away how well you have hit the ball. I hit that header exactly as I had hoped. Exactly where I wanted it to go. And I was ready to celebrate.
"But then this man, Banks, appeared in my sight, like a kind of blue phantom, is how I described him. He came from nowhere and he did something I didn't feel was possible. He pushed my header, somehow, up and over. And I couldn't believe what I saw. Even now when I watch it l, I can't believe it. I can't believe how he moved so far, so fast.
"I scored so many goals in my life, but many people, when they meet me, always ask me about that save. While it was indeed phenomenal, my memory of Gordon is not defined by that - it is defined by his friendship. He was a kind and warm man who gave so much to people.
"So I am glad he saved my header - because that act was the start of a friendship between us that I will always treasure. Whenever we met, it was always like we had never been apart.
"I have great sadness in my heart today and I send condolences to the family he was so proud of.
"Rest in peace, my friend. Yes, you were a goalkeeper with magic. But you were also so much more. You were a fine human being.
(Images: Getty)
Related Reviews and Shortlists