ShortList is supported by you, our amazing readers. When you click through the links on our site and make a purchase we may earn a commission.
Learn more
Best saves in football history: the greatest saves of all time
More cat-like reflexes than a Whiskas advert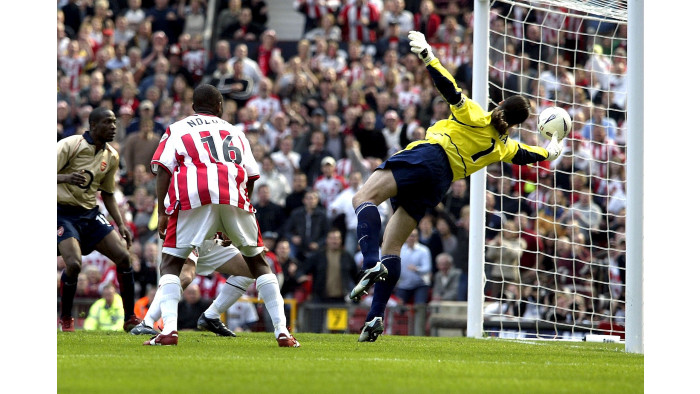 It's a tough life being a goalkeeper: you spend most of the game trying to keep warm and all that anyone ever notices is your mistakes. The only time you can become a hero is during a penalty shoot-out and even then, if you're English, it's going to be the same end result. However, every so often, you get the chance to make a save so incredible, so audacious, that the whole stadium intakes more breath than a fleet of British Gas repair men when asked for a quote.
Here we present 15 of the greatest saves ever made. Read on for more cat-like reflexes than a Whiskas advert.
---
1. Gordon Banks (England)
Where else to start but the save commonly regarded as the greatest of all time? It was the 1970 World Cup: England, the holders, up against Brazil, the hosts, in one of the all-time great games. Jairzinho bursts through, chips a cross to perfection onto the head of Pelé, who powerfully connects and...somehow, Banks saved it. Apparently the exchange between the players after the save went as follows: Pelé: "I thought that was a goal." Banks: "You and me both." Bobby Moore: "You're getting old, Banksy, you used to hold on to them." They don't make them like that any more.
2. Peter Schmiechel (Manchester United)
The great Dane was a legendary figure for United, making a string of important saves throughout his long career at Old Trafford. However, this was probably the greatest, with shades of the Banks save above. A powerful, low header and a giant paw stretches out and pushes it away with incredible strength. And he did it all whilst wearing trousers, which normally means a goalkeeper is awful. Amazing.
3. Fraser Forster (Celtic)
At first glance, this may appear to be nothing more that a routine tip over from a well-struck free kick. But watch from the angle behind the kicker, and suddenly you see a wicked deflection, and Forster acrobatically adjusting himself mid-air, before a using a strong hand to push over: a truly astonishing save.
4. David Seaman (Arsenal)
And talking of adjusting mid-air, here's an incredible effort from David 'Safe Hands' Seaman. Commonly thought of as the second-greatest, after Gordon Banks, this came during an FA Cup tie against Sheffield United. We still have no idea how he stopped this going in.
5. Angelo Campos (Peru)
Having done a 'bit of a Higuita' (more of him later) in going for a ball over the top and completely missing it, it looked like Campos was done for, in this Under-20 match against Uruguay in 2013. But somehow, after a lung-busting spring back, he just does enough to stop the ball on the line. Even then, the situation looked hopeless - but cue a sensational recovery to thwart the attacker once again.
6. Iker Casillas (Real Madrid)
This one is all about anticipation. A low cross along the six-yard line looks certain to be put away, but the Spanish international pounces like a tiger to deny Sevilla a second goal. Superb goalkeeping.
7. Tomasz Kuszczak (West Brom)
Now this is the ultimate in 'making yourself big'. Click play and watch Tomasz turn himself into a human brick wall. It also looks exactly how you'd expect a cat to look if it fell off a ledge (start at 2:25).
8. Gregory Coupet (Lyon)
This is a truly astonishing double save - arcing back to tip a lob onto the crossbar, before reacting quickly to save the followup. You must feel invincible after a making a save like that. Sadly, that will be a feeling we will never experience.
9. Jim Montgomery (Sunderland)
Probably the third best ever after Banks and Seaman, this legendary save happened in the famous Sunderland v Leeds FA Cup Final in 1973. The first save is great, the second is extraordinary. So convinced were they that a goal was certain that both commentators - David Coleman on the BBC and Brian Moore on ITV - both called it as a goal, before having to hastily retract when Montgomery intervened. Astonishing stuff.
10. Eugene Galekovic (Adelaide United)
A corking double save - both of these are straight out of the top drawer (for me, Clive). He does lose a few points for not doing that angry thing that goalkeepers do when they save penalties. Maybe he was just as shocked as the rest of us.
11. Dida (AC Milan)
Brazilian goalkeepers have a reputation for not being the best, but Dida dispels that almost entirely on the strength of this wonder save. Lying prone on the floor after reaction to a blocked shot, somehow he rises off the floor and springs himself, cat-like, towards the ball, to pull off an amazing save. Brazil-liant.
12. Petr Cech (Chelsea)
Coming on cold as a substitute is hard enough. Coming on to face a penalty from Leighton Baines is doubly hard. Then having to jump off the floor to react when your first save goes straight back to him is almost impossible. But Petr Cech - the rock at the heart of Chelsea's defence for a decade - does all of these things. What a hero.
13. Sherif Ekramy (Ahly)
Much like the Fraser Forster save earlier, the majesty of this save only becomes apparent on the third replay. That's when you realise that this was essentially the perfect free-kick, sailing perfectly into the top corner of the net - that is, until Ekramy's majestic dive to palm it onto the post. A sublime piece of goalkeeping (start at 0:20).
14. Ben Amos (Charlton Athletic)
It's hard enough saving a shot when you can see it, but Ben Amos didn't even have that luxury as he pulled off this astonishing save against Shrewsbury in the second leg of their League One play-off semi-final in 2018. Incredible stuff.
15. Rene Higuita (Columbia)
Of course, no list of great saves would be truly complete without the great man, Rene Higuita, and his still-amazing scorpion kick, performed in a friendly against England at Wembley in 1995. Higuita has given us a great many goalkeeping laughs over the years, but he'll forever be remembered for this. Thank god Jamie Redknapp played such a poor cross into the box, or we would have been denied it. Well done Jamie. Well done, for being a bit rubbish.
(Image: Getty)
Related Reviews and Shortlists