ShortList is supported by you, our amazing readers. When you click through the links on our site and make a purchase we may earn a commission.
Learn more
11 of the best Vegan dishes to try in London for Veganuary
Vegan burgers, pizza, pasta, dessert and more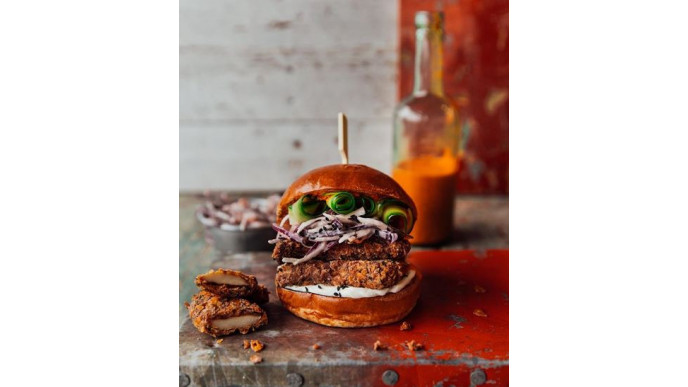 If this is the year you've decided to go vegan, however briefly, you might need a bit of inspiration.
Sure, you might have come up with some recipes to help you through the first few days of January, but you're already second-guessing yourself and worrying about how quickly you'll run out of new ideas.
Fortunately, London is much better than it used to be when it comes to vegan (and indeed vegetarian) options, and we've put together a by-no-means-extensive selection to get you started.
Club Mexicana – Baja Tofish Taco

Club Mexicana took up residence at the Spread Eagle pub in Homerton in early 2018, turning it into London's first fully vegan pub, and the Mexican menu is fantastic all round.
The brunch dishes look excellent, but you can't go wrong with the classic tofish taco, garnished with pickled cabbage, salsa verde, vegan sour cream and pickled chillies.
Homerton High Street, E9 - TheSpreadEagleLondon.co,uk
Daddy Bao – Ginger-braised Tofu Bao
A lot of London's best bao restaurants have vegan options, but not all of them throw homemade kimchi into the mix.
Daddy Bao, a Taiwanese restaurant in Tooting, combines the kimchi with ginger-braised tofu and crispy onions to create a great mix of textures and flavours.
Mitcham Road, SW17 - DaddyBao.com
Full Nelson at Four Quarters – Seitanic Wings and Chilli Cheeze Fries
Peckham's Four Quarters video game pub has gone down the vegan junk food route with its new menu, put together by south-east London's Full Nelson (who have also set up shop in Deptford).
There's plenty of seitan 'chicken', including wings with a choice of sauces, while they've also nailed the chilli cheese fries option without a single animal product involved.
Rye Lane, SE15 - Geocities.fourquartersbar.co.uk/welcome-peckham/
Honest Burger – Vegan Chipotle Guac
Honest's January special allows you to choose between a beef or a Beyond Meat vegan patty with almost exactly the same selection of accompaniments, which is something we wouldn't be surprised to see them do more of going forward.
What are those accompaniments? Tortilla chips, chipotle jackfruit with Frank's hot sauce, vegan gouda, BBQ sauce, guacamole and pink onions The meat version is the same, only with dairy cheese, if you were wondering.
Various locations - HonestBurgers.co.uk
The Pembury Tavern – N'don't Ya
Five Points Brewing Company's new pub in Hackney has an extensive pizza menu, including – unlike many other pizza pubs – several vegan options.
Among these is something we've never seen elsewhere: a vegan take on one of the best meaty pizza toppings, nduja. They combine theirs with broccoli, vegan mozzarella from Black Arts, red onion, rosemary and olive oil.
Amhurst Road, E8 - PemburyTavern.co.uk
Petare – Venezuelan Chip Butty
Venezuelan street food stars Petare have set up shop in Brixton and, as well as their regular meat options, there's a delicious take on the classic chip butty.
Yuca (cassava) chips are paired with plantain and avocado, plus vegan feta and a vegan habanero mayo, all inside a fried arepa. It shows you don't need to compromise on flavours or even go with a super clean eating option to stay vegan.
Brixton Station Road, SW9 - Petare.co.uk
Temple of Seitan – Brekky Burger
You're probably already aware of Temple of Seitan and its Hackney and Camden 'vegan fried chicken' shops, but their options don't just come down to fillet burgers, tenders and wings.
The breakfast option comes with an imitation chicken or beef patty, a vegan egg, cheese, caramelised onions and their house-made 'yolk sauce'. Perfect hangover grub – or, if you're doing Dry January too, just great grub.
Morning Lane, E9 or Camley Street, N1C - TempleOfSeitan.co.uk
Vanilla Black - Fried Shiitake, Pine Nut Purée and Crispy Enoki
Vanilla Black have long been the kings of classy vegan food in London, and this mushroom dish gives you a good idea why.
Paired with marsala and pine salt, this mushroom dish… well, just look at it, OK?
Took's Court, EC4A, VanillaBlack.co.uk
The Vurger Co – The Kentucky

The Vurger Co rolled out a Vegan Christmas burger at the tail end of last year, but their wider menu isn't too shabby either.
Their newest special is another from chef Gaz Oakley, who has paired Kentucky-fried king oyster mushrooms with house-made piri piri sauce, cucumber rolls and slaw.
Cygnet Streeet, E1 - TheVurgerCo.com
What the Pitta – Vegan Doner
A classic of the genre, What the Pitta are wholly vegan and wholly kebab or kebab-adjacent.
Their main event is a soya-based doner 'meat', with all your usual extras, plus tzatziki made with soya yoghurt. Oh, and they also do falafel if you fancy something a little different.
Various locations, WhatThePitta.com
Wulf & Lamb – Creamy Linguine
A proper creamy pasta is something you might be worried about missing out on if you go vegan, but Chelsea's Wulf and Lamb has you covered.
Linguine with a white wine and parmesan sauce, accompanied with seasonal greens. And it's all vegan, like everything else on the menu.
Pavilion Road, SW1X - WulfAndLamb.com
La Gelatiera – Chocolate and Calabrian Chilli
You probably want some dessert after all those mains and snacks, and La Gelatiera in Soho has an assortment of vegan flavours across their ice cream and sorbet ranges.
Perhaps the best of the bunch is the dark chocolate and Calabrian chilli option, combining sweet, savoury and spicy. We're not sure how they've managed to get it so creamy.
New Row, WC2A or West Park Walk, E20 - LaGelatiera.co.uk
(Images via restaurants in question)
Related Reviews and Shortlists