Christmas is catching up with us, so it's a great time to shop for the best alcohol deals around. The festive season brings a catalogue of booze deals for you to spend your hard earned cash on, as these alcohol deals prove.
When it comes to alcohol, Shortlist knows more than its fair share. We have spent weeks, heck months, sourcing the best booze around - taste testing and adding them to our lists, lists you get to rank with your votes.
Now, we have a lot of lists you need to look at. If you don't fancy clicking away, don't fear, as we will showcase all the best alcohol deals on this very page.
If you fancy checking out our booze shortlists, we have the best gin guide, the best pink gin guide, a list of the best whiskey, then there's the best tequila, best cider and best champagne guides that should keep you busy, too.
If you want more, then our best craft beer guide is for you - as is our best rum list.
Whatever your tipple preference, we have you covered and below are the best deals that we have seen so far.
Beer
Whisky
31% off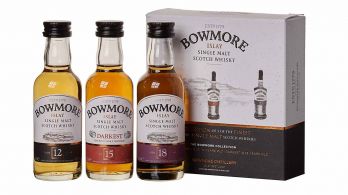 Bowmore Single Malt Whisky Miniature Gift Set
£14.99
This boxset screams Christmas present. It's three miniature bottles of Bowmore, the single malt whisky specialists. In the box you get a 12, 15 and 18 year 5cl bottle - three cracking drams for a fiver apiece.
Buy now from Amazon
29% off Chivas Regal Extra Blended Scotch Whisky
£25.00
Matured in Oloroso sherry casks, this scotch whisky is rich, fruity and has a 'generous sweetness'. With notes of ripe pears, toffee and cinnamon, this whisky has won a number of awards.
Buy now at Amazon
Gin
26% off Bombay Sapphire Distilled London Dry Gin
£30.82
Made from 10 hand-selected botanicals from all over the world, it's easy to see why this is one of the most popular gins around. Interestingly, botanicals are only added during distillation, never after - which makes for a distinctive taste.
Buy now on Amazon
15% off Slingsby London Dry Gin
£33.59
There's 24 botanicals (count 'em) in this gin, 17 of which are sourced in Yorkshire, Harrogate. It's an award-winning gin that offers citrus from the grapefruit base, as well as a bit of juniper and a nice bit of sweetness.
Buy now from Amazon
11% off Edinburgh Seaside Gin
£31.16
Made with botanicals foraged from the east coast shoreline near Edinburgh, Seaside Gin has a delicate balance of sweet and salty. It has bold flavours of juniper with grassy notes and a hint of spice.
Buy now at Amazon
20% off Gin Making Kit
£7.99
Not content with simply buying a bottle of gin? Get crafty with this Gin Making Kit from Amazon Launchpad that turns vodka into 'artisan' gin in less than a week. It includes juniper berries, spices, a cotton filter bag, a testing pipette and paper bottle tags. Oh, and an instruction manual if things go awry.
View on Amazon Launchpad
Rum and Tequila
26% off Appleton Estate Signature Blend Rum
£16
Appleton Estate's Signature Blend is distilled and blended in Jamaica. It's ideal for using in cocktails because of its citrus and fruity notes. Also expect flavours of orange peel, molasses and wood.
Buy now at Amazon
SAVE 9% Kraken Black Spiced Rum
£32.86
This is one of the best-regarded rums around. And its bottle design is just as iconic as the flavour itself.
Buy now from Amazon
27% off Spytail Ginger Rum
£21.99
This rum's process is based on a 19th century traditional recipe of aging French Caribbean Rum barrels with fresh ginger and other spices. The result? Rich flavours of chestnut, ginger and cinnamon - now on offer for almost half price.
Buy now at Amazon
Vodka
32% off Snow Leopard Vodka
£24.99
Made with spelt grain, this vodka has a smooth finish and creamy flavours of vanilla and peppery spice. The additional bonus is that 5% of Snow Leopard Vodka profits go directly to the Snow Leopard Trust.
Buy now at Amazon
Cognac