ShortList is supported by you, our amazing readers. When you click through the links on our site and make a purchase we may earn a commission.
Learn more
The DrinkList: all the gin, whisky and beer news you need to know
What is happening in the world of alcohol, soft drinks and more.
Welcome to the DrinkList, a place where we round-up some of our favourite bits of recent booze news. Here you'll get up to date with all the biggest launches from the world of whisky, gin, beer and beyond.

Whether it's a new blend, a redesign or a craft ale that's caught our eye, we will let you know about it here.
As you (probably) already know, ShortList has been sampling the best drinks the world has had to offer for some time now, so if you are looking for a new tipple, then head to our best-of lists below.
---
1. High five to WIN Kopparberg goodies 15th April was officially National High Five Day, which is a bit of a shame given we aren't actually touching anyone at the moment. To cheer the UK up, though, Kopparberg has a cracking competition where you can win the ultimate summer bundle of Kopparberg products worth over £200. Just head to its Twitter account and retweet (RT) Kopparberg and high five them back digitally. Nice!
Missing that human connection? This #HighFiveDay we're putting positive vibes back out there to kick off Kopparberg Season. To be in with a chance of winning over £200 worth of Kopparberg drinks to share with your mates:
Retweet this tweet ♺
Drop a in the replies
(1/2) pic.twitter.com/ngp6X3S88n
— kopparberguk (@KopparbergUK) April 15, 2021
2. Explore The Lost Explorer Mezcal To celebrate Earth Day on 22nd April, The Lost Explorer Mezcal has teamed up with the Voice For Nature Foundation, a global charity focused on supporting organisations and initiatives pushing beyond conventional thinking to have a sustainable impact on the planet.
The Lost Explorer Mezcal has always been about celebrating earth and currently has three expressions available through Masters of Malt: Espadín, Tobalá and Salmiana. Prices are from £59.95.
3. Peerless Kentucky whiskey heads to the UK It's always good to see a new whiskey launch in the UK. This one is from the Kentucky Peerless Distilling Company and from 26th April you will be able to get your hands on Peerless Kentucky Single Barrel Rye Whiskey and Peerless Kentucky Small Batch Rye.
Given, its whiskey won Best Kentucky Bourbon recently, we are really looking forward to taste testing these.
Peerless Kentucky Single Barrel Rye Whiskey and Peerless Kentucky Small Batch Rye Whiskey will be available from Native Spirits, Master of Malt and The Whisky Exchange at a rrp of £80.
Head to The Whisky Exchange for more information.
4. Beefeater Gin's limited-edition collectors book is a must have Beefeater Gin has revealed a fantastic gift for any gin lover, a limited-edition book that charts the history of the company. Available now, the coffee table book marks 200 years since its distilling heritage began in 1820 and includes insights from master distiller Desmond Payne. It looks fantastic, too, and has been written by drinks writers Joel Harrison and Neil Ridley.
You can get it now for £50 from Beefeater's official site.
5. The Duppy Share brings the Sunshine We all need a bit of sunshine right now so it's great that Duppy Share is bringing out The Duppy Share's Sunshine Syrup Rum Cocktail Kit. This comprises: The Duppy Share's brand new Sunshine Syrup made with tropical pineapple, mango and guava, two branded gold cups, and a selection of mixers from Fever Tree and Dash. The £25 pack contains a 20cl bottle of The Duppy Share Aged rum and the £40 pack includes a 70cl bottle.
Head to The Duppy Share for more information.
6. MALFY Gin brings a little bit of Italy to Harvey Nichols MALFY has brought a nice touch of Italy to the Harvey Nichols' Fifth Floor Terrace in London. It has transformed the space into what it calls "a Mediterranean escape", adorning the area with lemons and Amalfi-style tiles. Called the MALFY Lemon Grove, the area will be serving up MALFY gin cocktails - including an Amalfi Settantacinque which is made MALFY Con Limone, clementine juice, syrup and Perrier-Jouet NV Brut - alongside an exclusive Spring menu.
Head to Harvey Nichols for more information and to book yourself a space.
---
Previously on the DrinkList
Celebrate St Patrick's Day in style, with Hop House 13's Dublin meal kit feast Hop House 13 is filling the St Patrick's Day party void with the perfect at-home food and drinks package. It's teamed up with top chefs, Anna Haugh (Myrtle, London) Patrick Powell (Allegra, London) and Nick Fitzgerald (Tacos Padre, London), to create a meal kit that celebrates the Dublin food scene. We had a taste test and what is included is incredible. There's a fancy take on fish and chips, an amazing black pudding dish and a fantastic spin on crubeen.
You can order your meal kit now (it comes with Hop House 13 lager) for £65, with 20% of that going to Hospitality Action.
Jim Beam Peach brings a fruit twist to the bourbon world Jim Beam has revealed that it has a new flavour of its bourbon. Jim Beam Peach offers "the flavours of fresh peach with woody bourbon undertones". It can be drunk as a highball or with a dash or soda, or lemonade. It's available to buy now and is exclusive to Asda for the next three months. Cost wise, it's just £18.99.
The Cocktail Factory unveils 'cocktails for a cause' The Cocktail Factory is a subscription service that is hoping to help bartenders up and down the country that have been affected by Covid-19 closures and the like. Each month they champion a bartender with a set of recipes per month that are "inspired by their background, personality and passion for their skill". The upcoming box has been created by Stefano Bussi who has worked in many a place including The Rivoli Bar at The Ritz. It costs £30 a month, with 50% of each box's proceeds going directly to the bartender to support them whilst they are out of work. Sounds like a win-win to us!
Head to The Cocktail Factory for more information.
Diet Coke and Readly team up for a marvellous magazine offer Diet Coke has got a great deal going on at the moment, where if you buy a promotional pack you get a two-month subscription to Readly for free. Readly is an app where you can access thousands of magazines on your phone or tablet, so this sounds like a great deal to us. And the bonus is: you have a can of diet coke to drink, too! The packs are available from Morrison, Asda and the like.
El Bandarra Al Fresco is a perfect aperitif for your picnic With the nights getting longer and the mornings brighter, lazy picnics on the weekend are on the horizon (socially distanced, of course). El Bandarra Al Fresco is the perfect picnic partner. We've taste tested the Spanish drink and it's a really nice sangria alternative, offering a mix of high quality local Garnacha wine and natural Mediterranean botanicals. Mix it with tonic and it's a long drink that demands to be sipped in the sunshine.
Midleton Very Rare 2021 is the ultimate St Patrick's Day treat If you want to really spoil yourself this St Patrick's Day, The Midleton Very Rare is for you. This whiskey is now in its 38th edition and is known as "the pinnacle of Irish whiskey". It is a balanced blend of rare and hand-selected single pot still and single grain Irish whiskeys from Midleton's inventory. It includes whiskey aged between 15 and 36 years and all of this is matured in lightly charred ex-bourbon American oak barrels. Taste wise, there is a mild spice mixed with exotic fruit such as kiwi. Oak is the last thing that lingers, showcasing the age of the whiskeys mixed.
You can get yourself a bottle now for 180 Euro. Head to the Midleton's site for more information.
---
Previously on the DrinkList
Fall in love with the new Kopparberg Passionfruit & Orange Cider Kopparberg has taken a leaf out of its rather successful flavoured gin range and tried a new fruit-based concoction for its ciders. The new Passionfruit & Orange Cider is available in Sainsbury's from Valentine's Day and is a hint at the warmer weather to come.
Starlino Maraschino Cherries are a perfect pancake partner Hotel Starlino has taken a break from creating its fantastic Italian vermouth and has put its own special spin on Maraschino Cherries. These cherries are made in Naples, Italy and preserved in Marasca syrup - a perfect topping then for any pancakes you may be rustling up come Shrove Tuesday.
Wild Life Botanicals goes wild with new gift box Low alcohol drinks maker Wild Life has created a new gift box in time for Mothers' Day. It comprises two bottles of its tipples - nude and blush - and each bottle has the artwork of Cornish artist Sarah Trewhella. The drinks contain the likes of Damask Rose, Lemon Balm, Rosemary and Ashwagandha, and are meant to help with boosting mood and the like.
Aviation gin and Wrexham AFC are a match made in heaven Good ol' Ryan Reynolds. Not content with buying Wrexham football club - along with Always Sunny's Rob McElhenney - the Hollywood A-lister has made sure that there's a limited edition Aviation Gin bottle to buy in celebration. That's because Reynolds also owns Aviation Gin, which makes this link-up a match made in heaven.
Masons of Yorkshire's raspberry gin wants to be your valentine Mason's of Yorkshire have created a brand-new gin, just in time for Valentine's Day. The special edition raspberry gin. It joins the company's pear & pink peppercorn as a flavoured gin to try and uses 6.000 raspberries in the distillation process.
It costs £34 and worth every penny (we should no, we got an early bottle to sample).
Jose Cuervo is giving away the 'world's first' Piñata bar Jose Cuervo has revealed that it is giving away the world's first Piñata bespoke bar. The bar will be designed in festive colours and comes with a shelf of Jose Cuervo Especial Gold, bartender's essentials, mixers and garnishes. The chosen winner will have the bar delivered direct to their home in time for this year's festivities, and it's the perfect thing to take out any frustration on you might have, given the way 2020 has gone.
Eligible entrants (over 18 years old, based in the UK) can enter the competition by following the Jose Cuervo UK Instagram page and tagging a friend who they'd enjoy a festive cocktail with.

Rita Ora's Próspero Tequila heads to the UK after US success Rita Ora has had quite the year and she has topped it off with launching he tequila brand, Próspero Tequila, in the UK. She's collaborated with the female master distiller Stella Anguiano for the drink and it comes in a great-looking hexagonal bottle, complete with hand-drawn label.
We've had a taste of the blanco and it's a smooth drink, with the 100% agave coming through, as well a some really nice nutty notes.
Próspero Tequila is available to purchase exclusively from Selfridges, priced at £49.99 for the blanco, £59.99 for the reposado Tequila and £62.99 for the añejo expression.
Santa Teresa serves up the ultimate Christmas Pudding Old Fashioned Santa Teresa 1796 has teamed up with Harvey Nichols, to offer a limited edition gift pack for cocktail enthusiasts this winter. Inside is a bottle of Santa Teresa 1796 and a complimentary Old Fashioned Cocktail Kit, with the option to personalise the label.
Now, we have tasted this cocktail and it is certain to go down a treat with anyone this Christmas - it's rich with all the taste expressions you'd expect from an Xmas pud!
Inside the kit, is a metal jigger and 2cl bottle of The Bitter Truth Cacao Bitters – an exclusive cacao-infused cocktail bitters made using native Venezuelan cacao, which were designed to highlight the subtle aromatic notes of walnuts, coffee and cacao in Santa Teresa 1796. Head to Harvey Nichols now for more information. Label personalisation is in-store only and the limited edition gift set costs £64.50.
Siren has all of the fun of the fair with its new imperial stouts Siren Craft Brew, has launched a new collection of imperial stouts - dubbed 'The Fairground'. These are over two years in the making and have been crafted using a specially designed beer base, and aged in bourbon and rye barrels, resulting in three winter concoctions all at 13.5%.
They are: Helter Skelter (13.5% ABV, with orange zest and a chocolatey base), Waltzer (notes of coffee while echoing hints of rum) and Haunted House (a chocolate explosion from the get-go).
The Fairground is available to purchase online at the Siren Craft Brew webshop – www.sirencraftbrew.com. Priced at £10 for each 375ml bottle or £30 for the trio set.
Three limited-edition Chiva Brothers whiskies have arrived just in time for Christmas
Three exceptionally rare limited-edition collections from the Chivas Brothers single malt portfolio have arrived: The Glenlivet Cellar Collection, The Aberlour Cellar Collection and The Scapa Single Cask Vintage Editions.
These are some of the oldest whiskies to have ever been released from these distilleries. There are only 600 bottles available and for the first time ever they are available for consumers at home - no need to head to the distillery. The Glenlivet Cellar Collection 30 year old and 33 year old can be purchased online, you will have to ring the distillery for the others.
Stella's Mystery in the Life Artois game and beer pack may save Christmas Stella Artois has created a limited-edition mystery evening set, containing everything needed to host a games night and it comes complete with a few bottle of Stella.
The set includes: a role-playing game, Mystery in the Life Artois; a collectible vinyl record of carefully curated, atmospheric soundtrack; four vintage-style Stella Artois Chalices; and four bottles of Stella Artois.
Priced at £52, it is available exclusively from Amazon from 2 December by searching for "Mystery in the Life Artois". We've tried it and it's a lot of fun. Just drink the beer after you've read the instructions on how to play!
New Beavertown beers are Pagan-inspired and food ready Beavertown has released two new beers as part of its Tempus Barrel project. Called The Chariot and The Rule Of Three, they are perfect for the winter nights and, according to Beavertown, have been inspired and timed with the ancient Pagan Wheel of the Year.
The Chariot is a 5.6% refreshingly balanced Pilsner, matured in oak barrels for 3-9 months. This one is good to drink straight away or left to age a bit more.
The Rule of Three is a 5.8% Mixed fermentation Saison, brewed in multiple barrels and then mixed which offers up floral notes.
Head to Beavertown for more on the Tempus Barrel project (expect more beers throughout next year) and you can buy the bottles for £4.50 a pop.
Rampur Asava is a world's-first in the world of whisky Rampur Asava Indian Single Malt Whisky has just arrived in the UK and is the latest single malt whisky from Rampur Distillery. This one comes with an impressive world's first - it's the only Indian single malt whisky matured in American Bourbon Barrels and finished in Indian Cabernet Sauvignon casks. It has notes of orange zest, lychee and black pepper. It's available now and costs £64.
The Sexton unveils 'The Night Before Christmas' crackers The Sexton Single Malt Irish Whiskey has brought some Christmas cheer - something we all need right now - in the form of a limited run of premium 'The Night Before Christmas' crackers.
These, according to their makers are "designed to be pulled on Christmas Eve each cracker contains a delicious ready-to-drink whiskey 'Noctail' created from ingredients that thrive in the night time, a dark twist on the traditional cracker joke written by an award-winning comedian and a chance to win a year's supply of The Sexton Whiskey - oh and of course, the Christmas hat!"
They are available for £20 (4 x crackers per pack), with all proceeds from sales donated to The Comedy Trust to support live comedy throughout the continuing Covid-19 pandemic, which is a lovely thing to be part of.
Gin & Tonic in a champagne bottle? Yep, that's a thing now. The folks at Craft Gin Club has just launched the first ever ready-to-drink Gin & Tonic in a Champagne bottle, which is one of those ideas that you wish you had come up with.
The Classic Gin & Tonic With a Pop contains four to six servings of real, craft G&Ts at 12% ABV, and is made with a premium craft gin from Denmark, ELG Gin.
You can get a bottle now at Craft Gin Club for £19.95.
Langs spruces up its rum with new flavours We're big fans of Langs Banana rum, so can't wait to try out the two new flavours that have just been released: Langs Mango & Ginger rum and Langs Pineapple rum.
Langs Mango & Ginger Rum is, according to its maker, "a spicy-sweet sunburst of ripe, velvety mango". Langs Pineapple Rum "combines succulent pineapple with hints of coconut, caramel, and lime".
You can get both flavours now from Master of Malt with each bottle costing £25.
Hell in Hibernation sounds like the perfect winter ale The wintery twist on Camden Town Brewery's iconic Hells lager is back as the final beer in its 2020 seasonal Hells range.
Hells in Hibernation is the final beer in Camden Town Brewery's Hells lager range and it sounds ideal for the long winter nights. Apparently it's been inspired by "frosty walks through the spruce and fresh pine tree aromas".
Hells in Hibernation has an ABV of 4.6% and is available now from the Camden Webshop - six cans will cost £10.
The Devil's Keep is the most expensive first release of an Irish whiskey Okay, we've checked our bank account and this one is way out of our league but there may be some of you out there that will be interested to know that the Craft Irish Whiskey Co. have launched The Devil's Keep. This is "the oldest ever triple distilled Irish single malt whiskey and the most expensive first release in the history of whiskey". It costs a jaw-dropping €10,000 per bottle.
The 29 year-old bottles of The Devil's Keep are very rare. There are just 333 bottles available right now. There is further 666 planned for next year.
The Devil's Keep is tripled distilled, having been aged in 200 litre 'first fill' American oak casks, 100-litre French Oak barrels and finished in expensive virgin Hungarian oak. These have created a rich vanilla, wild honey and toasted maple syrup flavour profiles.
Head to Craft Irish Whiskey Co now if you fancy an expensive tipple.
The Smokehead Skull Gift Tin brings the Christmas fear/cheer Smokehead Islay Single Malt Whisky has launched a great Skull Gift Tin just in time for Christmas which houses three of its whiskies - Smokehead, Smokehead High Voltage and Smokehead Rum Rebel - all of which are perfect for a winter cocktail or two. We've already added this one to our best gifts for whisky lovers list - there you will find information on the cocktails you can make.
The tin costs £19.95 andis available now.
1800 Tequila offers up a cocktail kit full of festive fun 1800 Tequila has teamed up with Cocktail Porter for a limited-edition Christmas Dinner Cocktail Kit. The cocktails (developed by 1800 Tequila Educator Oli Pergl) combine the sweet and savoury flavours that are reminiscent of Christmas Dinner and contain six 1800 Silver mini bottles, salted rosemary syrup and all the ingredients necessary to create the cocktail.
It's priced at £39.95 for six cocktails included in the kit and you can order them now for them to be delivered to your door. Orders can be placed now.
Scotch Malt Whisky Society could be a great Christmas gift The Scotch Malt Whisky Society (SMWS) offers unique whisky experiences that can be enjoyed at home, which is key right now. The Society offers an ever-changing range of one-off whiskies, released each month. Membership includes access to these whiskies plus a whole bunch of virtual events. Annual membership starts from just £65.
Bushmills Irish Whiskey reveals The Causeway Collection. Bushmills Irish Whiskey is launching a new range of single malt whiskeys inspired by Word Heritage UNESCO site, the Giant's Causeway.
Called The Causeway Collection, the first whiskey is a special 2001 Feuillette Cask, matured in red wine casks. The collection has been nearly 30 years in the making by Master Blender, Helen Mulholland – the first woman to be inducted into the Whisky Magazine Hall of Fame.
There are just 168 bottles available, exclusively from The Whisky Shop.
Good One wants you to have a Good One A new hard seltzer brand has arrived in the UK. It uses natural, raw ingredients and is brewed from scratch. The hard seltzers come in packs of 12, with three flavours in each pack. They are: Cloudy Grapefruit & Thyme, Lime & Cucumber and Raspberry, and Basil & Lime (4 x cans of each). Or, if you like one of the flavours, you can get 12 cans of that one.
They have a couple of festive treats right now. 4x can boxes are available in Christmas packaging and have two flavours: Mulled Soda and Mince Pie.
Head to the Have A Good One's site for more information.


Enhance your tonic with Butler and Brewer Butler & Brewer has come up with an inventive way to flavour your gin and tonic, without using flavoured gin or tonic. It's created a whole host of tonic enhancers that are completely natural, and offer five flavours. The company has been developed over lockdown by husband and wife team Laren and Kirst Foord, and were apparently inspired during their pre covid travels in South Africa.

The enhancers are all handcrafted and pack in citrus, fruit and botanical flavours, but with no added sweetness.

Head to Butler & Brewer for more information.


Bowsaw Straight Bourbon heads to the UK It's always nice to see a new bourbon land in the UK and this one sounds great. Bowsaw Straight Bourbon Whiskey is distilled and matured in the north of Kentucky near the Ohio River, and has a unique mash bill comprising 75% corn, 21% rye and 4% barley. It's also been matured in barrels for three years.
Taste wise, it has a sweet toasted oak aroma with mellow flavours of vanilla and honey with a spicy rye finish.
Head to Bowsaw's website for more information.


Lost Years is saving turtles with its rum Lost Years, the debut brand from independent rum house Cane & Able, is a marine conservation rum which brings the taste of the Caribbean and Latin America direct to British drinkers.

Available exclusively online the hand-bottled range includes authentic aged and un-aged rums from some of the world's most revered distilleries. Not only do they taste great, but they do good too - every bottle sold saves up to ten baby sea turtles.

Lost Years aims to save more than 500,000 hatchlings over the next few years, helping protect one of the world's oldest and most endangered inhabitants. Cash from every sale will be used to fund community-based conservation efforts at key turtle nesting sites across the Caribbean and Latin America.

There are four rums in total: Four Island (40% ABV), £42.95, Arribada (42% ABV), £44.95, Navy Strength (54.5% ABV), £34.95 and Silver Moon (40% ABV), £29.95. And you can only get it from its official site.

Taste-wise, they are classically Caribbean: fruity and aromatic with juicy notes of tropical fruit, smokiness and a grassy freshness that comes from the Rhum Agricole.
Head to Lost Year's site for more information.


Duppy arrived with a Festive Rum Kit The Duppy Festive Rum Kit Mini contains everything need to make delicious rum cocktails at home, according to the folks behind Duppy.

The kit includes: a 20cl bottle of The Duppy Share Aged, a 20cl bottle of The Duppy Share's brand new XMAS Syrup made with festive spices.

If you think someone you know would like one, then on Wednesday 25th November, The Duppy Share is launching. This is a Secret Santa Delivery Service across the UK, where you have the chance to send free rum gifts to someone you love.

If you want to nominate someone, then head to The Duppy Share's Instagram page (@theduppyshare) and comment on the Secret Santa announcement post on the 25th by tagging who you'd most like to share a rum cocktail with post-lockdown.
Head to Duppy Share's site for more information.
Four Pillars' Modern Australian Gin arrives in the UK Aussie gin makers Four Pillars are back with their new bottle. Called Modern Australian Gin, it's the first time the expression has ever been available in the UK and will be heading to M&S stores for £33.50. If the gin sounds familiar then it's because you may have supped it in one of QANTAS' first class lounges (when we were all allowed to fly, obviously).
Head to Four Pillars site for more information.


Glengoyne 50-year-old whisky is a jaw-dropping special dram Glengoyne Whisky has revealed the launch of its oldest ever expression - a 50 Year Old Highland Single Malt. And you can try it!
Priced at £22,500, and with only 150 decanters available in the world, the limited-edition single malt is, according to Glengoyne Whisky, "the pinnacle of the distillery's unhurried and uncompromising approach to whisky making, as Scotland's slowest distilled malt".
Glengoyne has decided to give away a special decanter of this incredibly high aged, rare whisky in 2021. It has opened an online ballot for groups of five or more friends or family to submit an entry alongside a description of their perfect moment for savouring the Glengoyne 50 Year Old together next year.
Entrants have until Monday 14th December to get their submissions in. ShortList has been lucky enough to be given a dram of the whisky and we will be sharing our thoughts on it very soon.
Head to Glengoyne's site for more information.

Limited edition Gibson Martini bottle bundles are available now To celebrate its 5th birthday, the Gibson Bar in London is offering up The Gibson's 5th Anniversary Limited Edition bundle.
"Inside the bundle you'll find a 500ml bottle of Gibson Martini. That's at least 5 martinis, but, they won't be any ordinary Gibson martinis: we've blended 5 vintage alcohols, aged from 50 to 100 years old - 2 rare Gins and 3 vintage Vermouths - in a ratio of 5 to 1 for a wet style martini and we've also added our new saffron-brined, truffled and smoked, homemade onions pickled in a 12 year old balsamic vinegar from Modena," says Gibson Bar.

Head to their Facebook page for more information.
Camden Town Brewery's Beer 2020 is back! Camden Town Brewery's end of year series, Beer 2020, is back for its eighth year. Barrel aged for eight months to create an elegant lager with white wine-like characteristics, it's the perfect way to toast the end of what has been an eventful year.
The aperitif-like lager is available nationwide in Waitrose stores across the country and has an ABV of 10% and is available in 500ml bottles for £8.50.
Beavertown goes crackers with its new stunt Beavertown is offering you the chance to win a specially created, larger than life 2-metre long Christmas cracker. Complete with beers, Beavertown confetti, hats and jokes there are 5 unique crackers up for grabs.
To win one, you can tag a friend or loved one online on Beavertown's Instagram channels. Entries close on Wednesday 2nd December and the 5 winners will be chosen at random.
Siren limited-edition stouts are back! Back by popular demand, Siren Craft Brew has once more brewed its limited-edition collection of renowned chocolatey stouts: Caribbean Chocolate Cake.

First seen in 2018, Siren has brought back this range, but with two new twists on the stout collection. In total there's: Nitro Caribbean Chocolate Cake, Caribbean Chocolate Pancake, Death by Caribbean Chocolate Cake and Barrel Aged Caribbean Chocolate Cake. The beers range from 7.4% ABV to 10.5% ABV.
Caribbean Chocolate Cake can be bought individually or as a four-pack. Nitro CCC and Caribbean Chocolate Pancake Stack retail at £4.50 each; Death by Caribbean Chocolate Cake for £5.50; while Barrel Aged CCC is priced at £6.00. Or you can purchase the four-pack for £20.00. Head to Siren Craft Brew's site for more information.
---
Limited edition Corte Vetusto Ancestral Mezcal revealed A super-posh Mezcal is launching next week. Corte Vetusto is a Mezcal maker that sticks to the traditions of the drink. Its distillation exclusively occurs in wood-fired clay pots using Sierra Negro agave, a rare sub-variety of Agave Americana. The hearts of the Sierra Negra agave are hand-mashed in a canoa (wooden vessel) with wooden mallets and left to naturally ferment in open-topped wooden vats, before the mash is then twice distilled in 4, 60 litre wood-fired clay pots.
Corte Vetusto Ancestral Mezcal will be exclusively available from Harrods, in store and online on 16th November and will cost £250. Only 80 bottles are being produced so get in there quick if you want one.
River Rock single malt Scotch whisky arrives We've been sipping River Rock single malt Scotch whisky all this week and it's a lovely bottle of Scotch. It's a whisky made by people who have worked with The Macallan, Highland Park and The Glenrothes in the past and has a distinctive lack of heat when it goes down and a nose of toasted marshmallows. It's available to buy now and comes in a lovely 'wonky' bottle that is 100% recyclable. And they are even planting a tree for every bottle sold.
You can pre-order now for £35.
Woodford Reserve Baccarat Edition is a stunner The Woodford Reserve Baccarat Edition is is the first American whiskey in French Baccarat and is strictly a limited-edition release. It's priced at £1,500 per bottle - and, according to Woodford Reserve, is the world's finest bourbon, which has been further aged to perfection in hand-selected XO cognac casks at the iconic Woodford Reserve Distillery in Versailles, Kentucky.
Head here if you fancy a bottle and have spoken to the bank manager.
Waterford Organic: Gaia 1.1 is the first certified organic single malt whisky in Ireland Waterford Distillery has revealed it is launching Waterford Organic: Gaia 1.1 which has the boast of being Ireland's first certified organic single malt whisky.
The whisky is part of the brand's new Arcadian Series, which is a provenance-driven range of Irish whiskies made from organic, biodynamic and heritage grains.
It costs £77 and is available now.
East London Liquor Co teams up with Kew Gardens for new gin East London Liquor Co. and Royal Botanic Gardens, Kew have teamed up for Kew Gin.
Created by ELLCo. Head Distiller, Tom Hills, it uses botanicals straight from the Gardens, Kew Gin includes Douglas fir and fresh, floral lavender, which are rounded out by sweet orange peel and earthy liquorice root and fennel seed, hitting all the right notes on your palate. According to its makers it is "smooth yet powerful" and the gin comes in at 42% ABV.
Kew Gin is currently available and it will cost you £29.50.
The Glenlivet 12 YO Illicit Still is so good it should be illegal The Glenlivet 12 YO Illicit Still has arrived and the bottle tells the story of how its founder, George Smith, illegally distilled his whisky in a hidden bothy in the remote Glenlivet valley.
According to Glenlivet, it is best served neat or on the rocks, the liquid can be characterised by its fruity notes of peaches in syrup, poached pears and soft caramel giving it an exceptionally long finish, as well as having fresh, tropical aromas on the nose. We've had a tastes and it really is a cracking drink with those peach notes coming through nice and clear.
The Glenlivet 12YO Illicit Still is available to buy from Amazon, for £45.31.
Cantium Pink Gin The original Cantium Gin take pride of place in our best gin list so we're happy to report that its Kent-based makers have created a pink version of the drink. It's based on the original with Kentish strawberries and raspberries added for the pink colour and sweeter flavour. And it's served in a pink flask. It's 42% ABV and costs £39.95.
---
Bombay Sapphire gin gets creative with its 12 Days of Creativity Calendar Bombay Sapphire and the London Graphic Centre have collaborated to launch a '12 Days of Creativity' advent calendar which meshes gin with world-class video tutorials to bring out your creative spirit. The calendar contains premium quality art supplies and cocktail-making tools and these are housed in a beautiful, hard shell box emblazoned with festive artwork by Gustavo Vono.
The calendar also features a special QR code which people can scan each day to unlock an online hub hosting exclusive video content that features a series of world class artists and the Bombay Sapphire Brand Ambassador & Mixologist, Franck Dedieu. This video series aims to inspire budding creatives and show them how best to use the tools that sit behind each number.
It'll be available from London Graphics' official site and Bombay Sapphire's online store from 17 November.
Ardbeg is setting up a spooky delivery service for Halloween Ardbeg's Wee Beastie cocktails are becoming something of a Halloween tradition and now the distiller is going to be delivering them to lucky competition winners.

According to Ardbeg, its monster delivery service will give fans in London, Manchester, Edinburgh and Islay the chance to receive a Monster Night In pack.
In it are a whole host of Halloween goodies, plus an Ardbeg Wee Beastie smoky cocktail. Some will even get a "Knocktail Experience", where they will get a bottle of Wee Beastie, Amazon Fire Stick and their own personal monster mixologist.
Visit ardbeg.com to enter. Entries open on 19th October and will close on 26th October. Monster deliveries will be made on 29 October (London), 30 October (Manchester), and 31 October (Edinburgh and Islay).
Hobgoblin is here to bug you Speaking of Halloween, there is still time to get your hands on a Hobgoblin Beer & Bugs Snack Pack.

In the pack, four of Hobgoblin beers are paired to crickets. In the pack you get: 16 cans of Hobgoblin beers, four packs of flavoured crickets, the 'Best Sipped in the Dark' eye mask, the Wychwood Brewery 2/3-pint glass and the Goblin's Beer & Bug matching card. All this for just £32.
Camden Town Brewery is having itself a Harvest festival To celebrate Autumn being well and truly here, Camden Town Brewery has brought back its autumnal twist on the classic Hells Lager, Harvest Hells.

According to Camden Town Brewery, it's "a rich, robust take on the all-weather Hells Lager, Harvest Hells is a red lager that's full of flavour".
To celebrate the launch, it has teamed up with The Felix Project for the second year running, which means that 20p from every can sold of Harvest Hells during the month of October will go towards aiding the vital work The Felix Project does.

Harvest Hells has an ABV of 4.6% and is available now as a six-pack at Camden's web shop for £10.
Mount Gay's new Master Blender Collection arrives Mount Gay has revealed its third limited-edition in Master Blender Collection, and the second blend in the series by the Distillery's first female Master Blender, Trudiann Branker. The Port Cask blend, according to Mount Gay, "pushes the boundaries of rum-making by incorporating the use of Tawny Port casks for the first time in Mount Gay's history".

Bottled at cask strength (55% abv), this small batch is so exclusive it will be limited to 2,100 bottles in the US, and it will be available on ReserveBar.com and at select premium retailers for $175.
The Whisky Exchange's Christmas malt has been revealed As traditional as mince pies and a Bond movie over the festive period, The Whisky Exchange has revealed its Christmas malt for this year and this one, according to its makers, "has a delicious sherry-cask character that's rich, dark and spicy but also allows fresh and fruity flavours to shine".

Billy Abbott, The Whisky Exchange, reckons the whisky is "dark and spicy at its core, with a fresh and fruity orchard-fruit edge that dives into richness as it develops".
Christmas Malt 2020 will be available at The Whisky Exchange for £74.95.
Jägermeister and Deliveroo team up for a 'chilling' treat Jägermeister has revealed it is partnering with Deliveroo this Halloween, offering a free Jägermeister Cold Brew Coffee sample with selected orders placed from 26th October until 1st November.

The 5cl mini will feature a limited edition glow-in-the-dark Halloween label created for Deliveroo, and will come with a recipe card instructing how to make the perfect espresso martini.

The offer will be available to customers ordering via the Deliveroo app from participating outlets in Manchester, Leeds, Nottingham, London and Brighton.

Get a transfusion, thanks to the Cocktail Delivery Company Well, this is rather gruesome. The Cocktail Delivery Company has revealed its limited-edition Halloween serve, The Transfusion, is now available for delivery nationwide. There are three versions of the cocktail available - gin transfusion abv 11.4 per cent, tequila transfusion abv 10.2 per cent, vodka transfusion abv 9.9 per cent - and they come in a fetching blood transfusion bag.

The Transfusion will be available to purchase 23rd October – 6th November, priced at £22.49 for four serves.
The Glenlivet's Tartan Tiki service hopes to bring back the sun As the nights are drawing in, we are all probably missing the sun right now. But don't panic too much as Glenlivet is launching its Tartan Tiki delivery service for 20 lucky Londoners to win a Caribbean Reserve Tartan Tiki cocktail kit and have it delivered to their door in a vibrant red delivery truck.

According to Glenlivet, the Caribbean Reserve Tartan Tiki delivery service will be making its way to homes across London on the 5th November, dropping off the cocktail kits' safely at customers' homes.
The kits are available from Creative Cocktails and cost £49.95.

The main part of this kit is The Glenlivet Caribbean Reserve, which is the brand's first ever whisky to be selectively finished in rum barrels.
If you aren't lucky enough to get a visit by the Tartan Tiki service, then you can nab a bottle for £38.59 from Amazon and other retailers.
---
Wild Gorse Tincture unveiled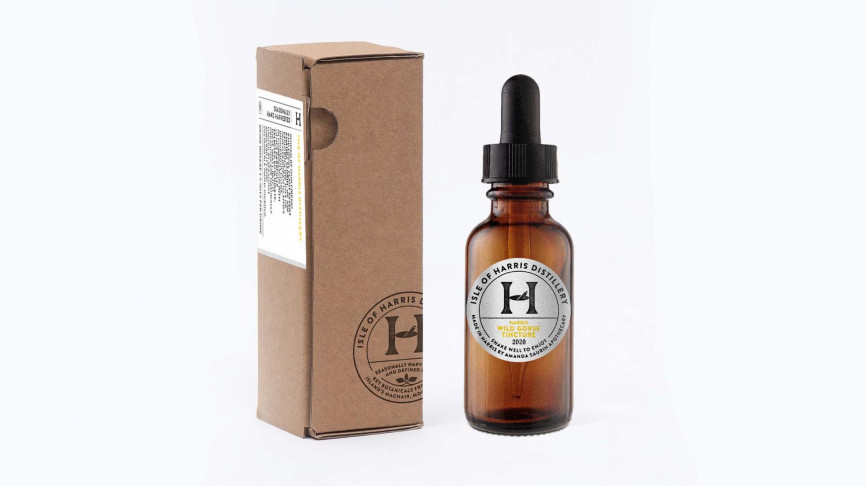 Isle of Harris Distillers has launched a limited, small-batch offering from its experimental apothecary drinks range. Called the Wild Gorse Tincture, Isle of Harris Distillers has collaborated once again with local apothecary, Amanda Saurin. together they have hand-picked fragrant gorse leaves from the village of Rodel, south of the island, and combined their honeyed sweetness with hawthorn and nettle and lemon.
You get 10 servings in a 39%ABV bottle and it's available from the distillery for £20.

Compass Box Whisky unleashes its Peat Monster Arcana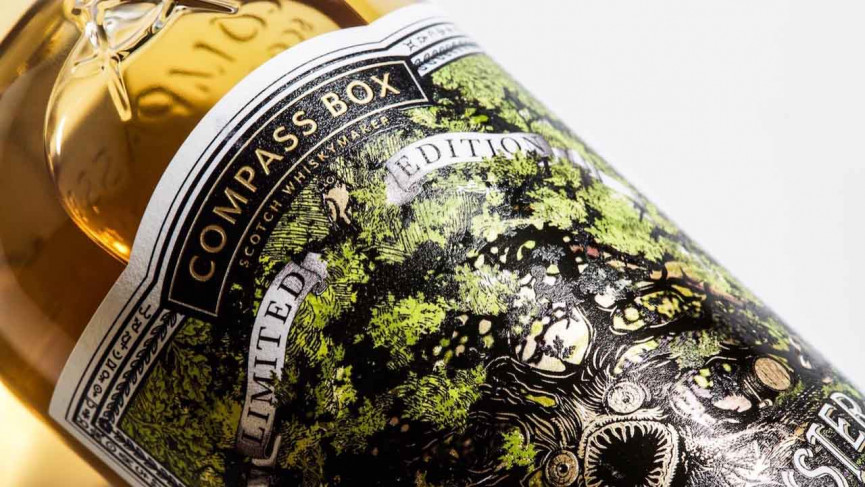 To celebrate its 20th anniversary, Compass Box has unveiled its Peat Monster Arcana. The whisky is "a result of a long-running experiment into the secrets and mysteries of oak and smoke," according to its makers. To make it, a cask strength version of The Peat Monster was matured in three French oak custom casks for another two years, then blended with malt whiskies from the Talisker, Miltonduff and Ardbeg Distilleries.
The whisky is 46% ABV and £75 for a 70cl version. Only 8,328 bottles produced are being globally, including the UK. Head to CompassBoxWhisky's website for more information
Baileys Apple Pie is here for autumn fun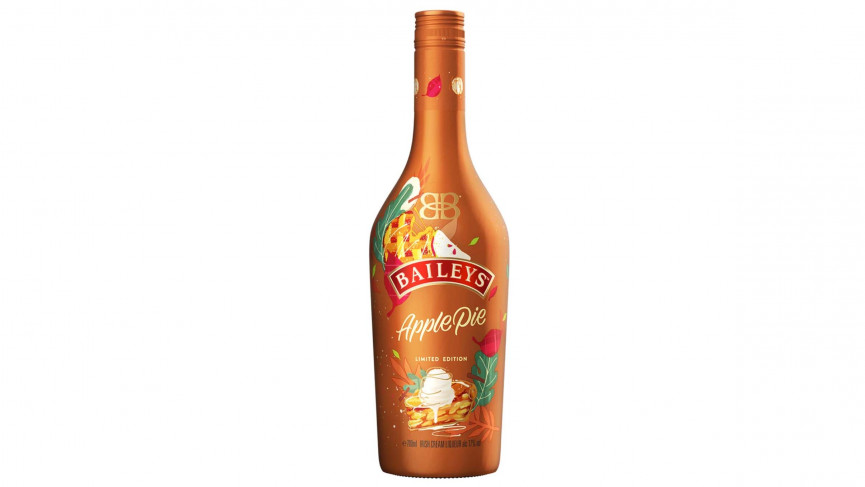 Baileys Limited Edition Ap
Related Reviews and Shortlists