ShortList is supported by you, our amazing readers. When you click through the links on our site and make a purchase we may earn a commission.
Learn more
The DrinkList: all the gin, whisky and beer news you need to know
What is happening in the world of alcohol, soft drinks and more.
Welcome to the DrinkList, a place where we round-up some of our favourite bits of recent booze news. Here you'll get up to date with all the biggest launches from the world of whisky, gin, beer and beyond.
Whether it's a new blend, a redesign or a craft ale that's caught our eye, we will let you know about it here.
As you (probably) already know, ShortList has been sampling the best drinks the world has had to offer for some time now, so if you are looking for a new tipple, then head to our best-of lists below.
---
Jack Daniel's RTD cans are perfect tonic for bourbon fans Jack Daniel's has revealed new flavours for its Can Cocktails range and we've taste tested. The new flavours are: Tennessee Honey Lemonade and Jack Daniel's Tennessee Whiskey Apple Liqueur and Tonic. They come in new-look cans and are as refreshing as you would expect, with a nice hit of JD at the end.
Smokehead Twisted Stout is a chocolate treat for whisky lovers Smokehead has revealed a brand-new limited edition expression which has been finished in stout casks. This finish, according to Smokehead, offers a sweeter, silkier experience on the tongue with flavours that consist of chocolate, treacle, roasted nuts and toasted biscuits.
Excuse us while we salivate over the keyboard!

The new 43% ABV bottle is available now exclusively through Smokehead's official website for £49.99.
Drink like Bond with this ultimate booze bundle With No Time To Die topping the cinema charts, House of Malt have put together a Bond-themed drinks bundle that includes everything you'll need to make all of Bond's signature drinks — including a selection of spirits, liqueurs, wine, beer, and mixers — as well as cocktail-making equipment.
They have even thrown in a set of Bond-inspired recipe cards, so you can learn how to mix the perfect drink.

The bundle costs £500 and is packed with some of the best spirits and drinks around.
Cotton Garden Gin is now available to pre-order Otterbeck Distillery has revealed that pre-orders are now open for its latest gin, Cotton Garden Gin. Created for the Craft Gin Club September Box, the gin is said to include a whole host of English Garden flavours, including: Juniper, Cassia, Cardamom, Yarrow, Elderberry and Coriander Leaf.
Redbreast PX edition will have you pining for sunnier climes Irish whiskey giant Redbreast has revealed its latest bottle, the Redbreast Pedro Ximénez Edition (ABV 46%). It is a single pot still Irish whiskey that has been triple distilled and matured in both ex-bourbon and oloroso sherry casks before being re-casked into Pedro Ximénez hogsheads from the southern tip of Spain for a minimum of 12 months.
This is the first release from the The Redbreast Iberian Series and the maturation offers a nose of fruit, spices and toasted nuts with a zesty fruit and spice taste that lingers sweet on the finish. The Redbreast PX edition is available now for £72.
Bombay Sapphire's small batch Murcian Lemon Gin arrives The Bottle Club is now taking pre-orders now for Bombay Sapphire's latest small batch gin, that's packed with Murcian citrus fruits.
According to Bombay Sapphire, the gin is made with "hand-picked and hand-peeled lemons from a single harvest in Murcia, Spain, as well as mandarins and naval oranges."
Tiempo Tequila's Reposado Cristalino Tequila arrives in the UK Tiempo Tequila launches its first batch of Reposado Cristalino Tequila in the UK. This limited-edition drop has taken six years to get here and it should be worth the wait, with the spirit offering the taste of fresh earthy-sweet agave, mixed with pepper with hints of butter and charred oak. Aroma-wise, there's barrel notes of whisky and aged oak.
There are only 1,320 limited edition bottles, costing £54.99 each. So you better get yours quick.
The Dalmore Decades No.6 Collection sells for over a million dollars! This is pretty special: The Dalmore Decades No.6 Collection, the only known collection of all six extremely rare whiskies, has sold at Sotheby's for HK$8,750,000 / US$1,124,000.
This is the highest lot ever for a whisky sale at Sotheby's this year and the collection has gone to an unnamed private collector.
The Decades No.6 Collection, according to Dalmore, brings together milestone releases from 1951, 1967, 1979, 1980, 1995, and 2000 for the first and only time. To make the whole thing even more special, £100,000 from the sale will be donated to V&A Dundee.
Speaking about the auction, Jonny Fowle, Sotheby's Spirits Specialist, said: "The Dalmore is truly an icon of the whisky world, and this collection encapsulates everything that the Distillery stands for. In today's premium whisky market, it also encapsulates the key elements sought after by collectors.
"Representing yet another benchmark, the result speaks volumes of the strong global demand we have seen over the past two years."
A Night On Earth In Scotland sounds like the perfect New Year whisky We've a few months until 2022 arrives but that shouldn't stop you getting your mitts on A Night On Earth In Scotland by The Macallan.
The single malt whisky, according to its makers, reveals the story of Scotland's world-famous Hogmanay festivities and captures the universal joy of celebrating the change of year. It features illustrations from Erica Dorn (her work has been used in myriad Wes Anderson movies), which makes for a fantastic unboxing.
As for the taste, there's vanilla sweetness, dried orange and spice so great for the upcoming festive season.
Masons of Yorkshire reveals brand-new vodka trio bundle Masons of Yorkshire - best known for its gins - has revealed a trio of new vodkas. The flavoured vodkas are: Classic Vodka, Espresso Vodka and Citrus Vodka and they are available separately or in a bumper bottle pack.
Speaking about the launch, co-founder Karl Mason said: "We're known for our delicious and distinctive range of gins and we're proud to use this spirit of innovation to create our first range of vodkas.
"Just like in our gins, all the flavours come exclusively from the finest botanicals and natural ingredients, with no artificial colours or flavours."
---
Previously on the DrinkList...
PerfectDraft has the perfect Oktoberfest treat for your home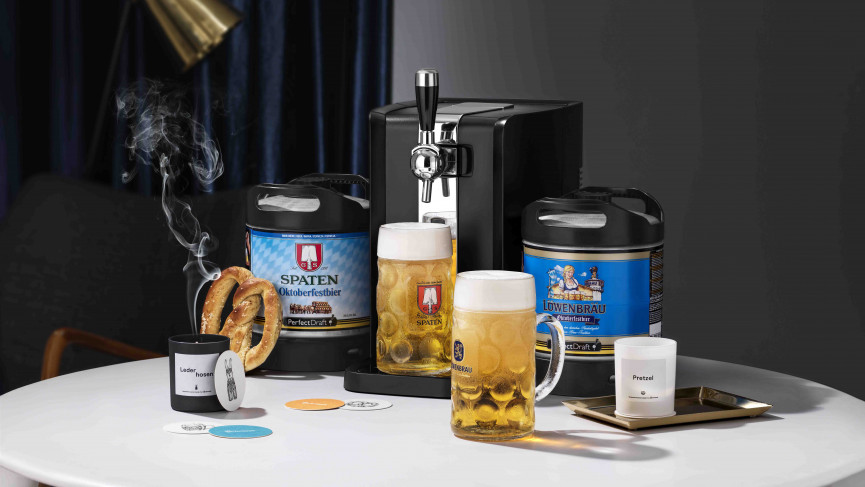 Oktoberfest 2021 isn't taking place in Munich this year which is obviously the right thing to do, given the circumstances, but it's still makes us more than a little sad. Thankfully, PergectDraft is here to cheer the beer world up with this rather tasty Oktoberfest beer bundle.
As mentioned previously, the ridiculously popular PerfectDraft home beer machine is back and ready to chill your keg to that all-important 3 degrees. For those who want to celebrate Oktoberfest in the home, there is a cracking bundle available right now which includes:
1 x PerfectDraft machine
1 x Löwenbräu Oktoberfest 6-litre keg
1 x Spaten Oktoberfest 6-litre keg
1 x Löwenbräu stein
1 x Spaten stein
1 x Oktoberfest Magnet
All of this is available form BeerHawk now for the wunderbar price of £306.80.
Christmas comes early with Firebrand's great mixed cases Firebrand has revealed it has a number of mixed cases available for all your Christmas needs. Obviously you can buy them anytime and we would recommend that you do. We recently had a sample of the Independent Cornish beer brand's selection and were utterly impressed. The Citra Simcoe NEIPA (packed with grapefruit and lychee flavours) is well worth taste testing, as is the West Coast Session IPA (a golden beer with tropical notes). The can designs are top-notch, too!
A taste of Firebrand case is available now for £29.
This Aberfeldy 18 Year Old is a whisky for those who love a drop of red Continuing its French Red Wine Cask Collection, Aberfeldy has released this rather special limited-edition whisky that's been matured in wine casks from the famous Côte Rôtie. Given this is one of the steepest vinyards in France, it lends a robust and elegant taste to this Aberfeldy 18 Year Old. Price wise, this bottle is available for £95 - one to savour, then - and there is a virtual tasting event 30 September.
Camden breaks out the Canapes, reveals unfussy new range If you have been sniffing around Camden Town Brewery's official site, then you may have come across two brand-new releases from the beer giant: The Canape IPA and Unfussy Unfiltered Lager. As always, ShortList has been on hand to taste test and both brews are well worth a taste. The Canape IPA is a lighter-tasting IPA (hence then name), while the unfussy lager is, well, just that with a brilliant, clean and crisp taste.
Buy the Camden Canape IPA and Camden Unfussy Lager now from Camden's site.
The Campari art pack is back and looking fantastic The Campari Art Pack is back and this time you get a lovely bottle of Campari, accompanied by a limited-edition poster by avant-garde artist - and pioneer of Futurism - Fortunato Depero. It all comes in a unique collectable canister and you also get recipes for two cocktails: a Campari Gin & Tonic and, obviously, a Negroni.
All of this and it's just £16 from Sainsbury's while stocks last.
Mermaid Gin and Tonic RTD Cans swim to shore There's another new entry in the bustling RTD G&T market, this time it's from the Isle of Wight Distillery. The 250ml gin cans are plastic-free, 100% recyclable and as for the drink inside, we've taste tested and you get a lovely crisp gin and tonic that's packed with interesting botanicals - including samphire.
They are £2.90 a pop, 6% ABV and available now from the Isle of Wight Distillery's online site.
Highland Park unveils its 15 Year-Old 'Viking Heart' And the best name for a whisky goes to... Viking Heart! This new release from Highland Park is a 15 Year-Old that's been matured in European and American oak sherry seasoned casks. This makes for a fruit-filled taste of pineapples, fruitcake and that all-important peat. At £80, this is a whisky for special occasions, but we won't be the judge of what you deem as 'special'. The whisky is available now from Highland Park's official site.
Raw Turmeric co is ready to give you a Vitamin C & D3 shot boost If you want to give your immune system something of a boost, then the Raw Turmeric Vitamin C & D3 shot from The Turmeric Co is for you. Each shot has a tropical tang and contains "energy-boosting coconut nectar and cinnamon". There's some heat when it goes down (we have been lucky enough to taste test) but it's a decent drink and packed with Vitamin C & D3.
You can get it now from £2.50 a shot from Turmeric Co's official site and there is an option to subscribe to save more money per shot.
---
Previously on The DrinkList...
This Southern Comfort Pride boat party sounds incredible Southern Comfort is setting sail for a Pride boat party on the River Thames this Saturday 11th September. It's teamed up with Sink The Pink, the largest LGBTQ+ collective and club night in the UK, for the boat party which sounds like it will be a lot of fun.
The boat trip comes at a time when Southern Comfort is pledging to donate £1 from every Southern Comfort limited edition Pride bottle sold, available nationwide in selected Grocery stores, to The Unity Fund.
As for the party, it's hosted on a vintage Mississippi paddle steamer boat and is a two-hour cruise, down the Thames in London, that is packed with music, food and drink inspired by Southern Comfort's vibrant hometown of New Orleans.
To make sure everyone on board is on their feet dancing, there will be DJ sets from Melanie Blatt, Mark-Ashley Dupé and Raven Mandella and performances from London's finest Voguing crews and Drag Queens from Sink The Pink.
Southern Comfort cocktails will also be in full flow, as will an authentic New Orleans-inspired food menu - including fried chicken, mac & cheese and vegan Cajun gumbo.
If you want to be part of the party, head to Southern Comfort's Mardi Gras site. Tickets are £25 (plus booking fee) and you get a complimentary Southern Comfort cocktail and ready-to-drink pre-mixed can to be redeemed on entry, plus a choice of food from the New Orleans-inspired menu.
Tomatin's Cognac Edition whisky arrives - and we've taste tested! The French Collection, by Tomatin, is now complete thanks to the arrival of its latest release, French Collection: The Cognac Edition.
Tomatin has been busy this year, releasing four fantastic whiskies all themed by the French casks they have matured in. The first three whiskies of the The French Collection were released all at once, back in April, with the new Cognac Edition now available.
All of the whiskies were distilled in 2008, in oak casks then moved into Monbazillac, Sauternes, Rivesaltes and Cognac casks for their final maturation.
We were lucky enough to taste test the collection and the new Cognac Edition is stunning, with a real honey and heather nose that results in spices and orange flavours on the palette, leaving a note of pear in the finish.
PerfectDraft is back! PerfectDraft is back, after selling out, and we can highly recommend the beer machine. Even though the pubs are back open, with many of us still staying at home for good reason, PerfectDraft is the 'perfect' machine to turn your home into a bar.
There are over 45 beer kegs available for PerfectDraft - Goose Island and Tiny Rebel's range are the ones for us - and the machine will cool the 6-litre beer kegs to 3 degrees, for up to 30 days.
PerfectDraft is available now from BeerHawk, starting at £249. There's a good chance it will sell out again, so be quick!
Camden Ale Marmite edition brings the love (and hate) We've tried this limited edition Camden Town Brewery team-up with Marmite and it's a great ale that has a gentle nudge of Marmite throughout. Obviously if you aren't a Marmite fan, then this one isn't for you but given that Marmite comes from beer yeast anyway, this is one limited-edition team-up that makes a whole host of sense.
You can get the beers from Camden Town Brewery from 13 September.
Signature Brew offers up new fantastically fruit-filled ales These are another couple of beers we have been lucky enough to taste test and they are lip-smackingly good.
The Signature Brew Passion is a brilliant NEPA, while the C-Sharp is a hazy, refreshing sour that's been brewed with real Sicilian lemons and Citra hops.
Both are available now from Signature Brew's official site.
Tia Maria Matcha arrives: Tea-Maria, anyone? Tia Maria has announced a brand-new version of its famous liqueur - the Tia Maria Matcha Cream.
Instead of the usual coffee flavour associated with Tia Maria, this new edition is matcha infused, making for a subtle green pour and a floral and refreshing taste.
The drink is available now from Tesco.
Amplify x Teapigs Cold Brew Mocktails are pig-in' brilliant Distilled non-alcoholic spirit, Amplify, and innovative tea brand, Teapigs, have teamed up together to launch a whole bunch of nonalcoholic cocktail recipes. With names such as Ambient Garden and Mango Iced Tea, these delicious-sounding cocktails are now available to make.
To celebrate the launch of the cocktail recipes, Teapigs has added a discount code for Amplify and Teapigs fans to receive 20% off their order until 30th September - just use discount code 'AMPITUP'.
Head to Teapigs for more information.
Slingsby's brand-new Blackberry Gin is 'berry' good Yorkshire gin maker Slingsby has announced a brand-new flavour to add to its collection. Slingsbury Blackberry Gin arrives for your Autumn serve, with the spirit offering "floral hints of violet, followed by notes of rich blackberry jam and a beautifully sweet finish". According to Slingsbury, it is the ideal base for a delicious Blackberry Sour.
Smokehead's whisky cans are ready to mix up the single malt world We are seeing a nice shift from distillers offering up single malt whisky as a mixer, so it's great to see Smokehead take this a little bit further with its latest launch.
Smokehead has revealed the first-ever pre-mixed single malt in a ready to drink can serve. There are two cans available: a 'Smokehead mixed with Cola' and 'Smokehead mixed with Ginger + Lime'.
OPIHR new Black Lemon spiced gin arrives Here's something you probably don't know: a black lemon is actually a sun-dried lime and it's this flavour that makes up OPIHR's new spice-led gin.
Apparently the spice is usually found in Middle Eastern chutneys and stews, so it should give your G&T a lovely tangy, earthy flavour.
OPIHR Spiced Gin's new Black Lemon expression is
now available in Tesco
, with Sainsbury's following getting some bottles in October.
Hawksbill's new Mango and Pineapple spiced rum has turtle power Hawksbill's new Mango and Pineapple spiced rum flavours have arrived and they have been crafted with fruits that would have otherwise gone to waste. Alongside this brilliant way to reduce food waste, the drinks are also helping out the critically endangered Hawksbill turtle, with 10% of profits from every bottle sold being donated to the Barbados Sea Turtle Project.
You can get the new rum via Hawksbill's website from 6th September. Its original spiced rum is available from Amazon now.
Kraken celebrates the return of festivals with All Points East Kraken Rum put on a fantastic party at All Points East Festival and Field Day recently. Celebrating the return of festivals in style, its Freaky Tiki space was packed with rum cocktails and superb DJs. ShortList headed over to Victoria Park to join in with the celebrations.
Kraken will be bringing the space to more festivals and music areas soon, so keep an eye out for it!
---
Previously on the DrinkList
Gold re-opens the Nags Head! TV channel Gold is raising a glass to the 40th Anniversary of Only Fools & Horses with a faithful reconstruction of the Nags Head pub (not pictured). It's not just its look that is 80s, either, as the pub has rolled back the clock with bargain 1980s prices – 83p for a pint – compliments of Del and Rodney Trotter.
The Nags Head is opens to the public 12pm-9pm, Friday 3rd September and Saturday 4th September. Table booking information available at gold.uktv.co.uk/nagshead.
Smokehead Rulebooks are designed to be ripped up This is fun: Smokehead has created a limited-edition celebs 'rulebook for life' that has been designed to be ripped up (see what they did there?).
The limited-edition book features negative advice given to a host of entrepreneurs and musicians at the beginning of their careers - all of which would have stopped them from becoming famous if they had heeded it. Celebrities that appear in the book include rapper Professor Green, comedian Adam Rowe and photographer Martina Martian.
The rulebook is available now and comes with a bottle of Smokehead whisky, a branded glass and coaster. The idea is that you set fire to a page, capture the smoke in a glass then add some whisky to it. Sounds pretty cool (hot) to us.
Odd Bird is alcohol-free fizz you will want to try While it's been around a while, we only just sampled the Odd Bird sparkling wine and it really is something else - it's so good you wouldn't think that it's alcohol free. The company uses the tag "liberated from alcohol" and we tried the Blanc de Blancs (France) which is a fantastic champagne alternative.
Head to Odd Bird for more.
Laiba cocktails offer fantastic cocktails, bottled A new line of limited edition bottled cocktails, made exclusively in collaboration with the world's very best mixologists, has launched in the UK. The LAIBA Special Edition #01 has been created by the world-renowned Maxim Schulte, formerly of The American Bar at The Savoy and currently the head bartender at KOL Mezcaleria, London.
There are six drinks available in the pack - the Pina Colada Old Fashioned sounds simply stunning. We've tried the original Laiba cocktail set and are big fans of the Earl's Old Fashioned, so can definitely recommend.
Priced at £59 for six 90ml bottles via mail order from LAIBA Beverages with free next day delivery.
Guinness 0.0% is finally back on the shelves After it disappeared for a while, Guinness is back with its rather brilliant alcohol-free version of its drink. We've sampled this one and it is fantastic, tasting as close to a pint of real Guinness as you would be able to get sans alcohol.
The brewers have really worked hard to get this one to where it is, so we're glad that it can now be bought once more. Head to Guinness' official site for more information.
Beluga's Martini Matchmaker offers up 'one-of-a-kind martini experience' Russian Vodka maker Beluga has announced the Martini Matchmaker, which it has launched with the help of five of London and Birmingham's most exclusive bars. The Martini Matchmaker has been created to help us all find the ideal martini - with each bar offering up a different interpretation of the drink.
Each drink is paired with a sweet or savoury snack, for a one-of-a-kind martini experience. The series will take place at the following bars this September: The Coburg Bar at The Connaught, The Bar at The Dorchester, Eve Bar by Adam Handling, 10°Sky Bar at Galvin at Windows and Madeleine at The Grand Hotel Birmingham.
Image Credit: Jolly Thompson Photography

Northern Monk and Ronseal is the team-up we never thought we'd see (but we love it) Well, this is unexpected but brilliant. Northern Monk has teamed up with Ronseal to create a beer that 'Does Exactly What It Says on the Tin'. Two 'no-nonsense' craft beers have been created and they have been dubbed as 'simple, straightforward, honest beer'.
The limited-edition drinks feature Ronseal-inspired packaging, and - this part is brilliant - have even been colour matched with real-life Ronseal Fence Life colours: 'Medium Oak' is a 4.5% Best Bitter, 'Harvest Gold' is a Saison, coming in at 5.8% ABV.
They will retail in 440ml cans at £4.00 for the Best Bitter and £4.60 for the Saison via the brewery's Webshop.
Innis & Gunn VINTAGE revealed - a very limited-edition beer Innis & Gunn has announced it will release 1,000 bottles of VINTAGE limited-edition beer, which has been a massive six years in the making. It's actually the longest the brewer has matured any beer to date so this one is pretty special.
The 9% ABV beer is deep red in colour and priced at £25. The 500ml bottle comes in a specially designed gift tube and 1,000 bottles of Vintage will be available from the Innis & Gunn Online Shop from Wednesday 1st September. Early sign up is available now.
X by Glenmorangie is whisky you will want to mix Glenmorangie has created a whisky that has been distilled in such a way that you will want to mix it. To make sure it got the whisky balance right, it consulted with a range of top global bartenders.
The result - and we have taste tested - is a whisky that tastes of pear, vanilla and honeysuckle to orange sherbet and chocolate fudge. Its sweet taste cuts nicely through whatever mixer you throw at it. This is a really clever idea and will hopefully get more people into whisky.
X by Glenmorangie is available now for £30.
High Point wants to be a 'high point' in non-alcoholic spirits New Cornish drinks brand, High Point Drinks, has launched a rather lovely non-alcoholic fermented aperitif and digestif, High Point Ruby and High Point Amber. We have tried the Ruby version and it tasted fantastic with some tonic.
High Point Drinks have created these drinks without artificial flavours or colours, just Cornish spring water, tea leaves and a bunch of other natural ingredients that are infused, fermented and blended to produce drinks that are layered in flavours.
They cost £19.99 for a 70cl bottle and available to purchase from High Point Drinks and Amazon
Jameson Orange brings some zest to the whisky world Jameson Orange has arrived and it's been inspired by the Old Fashioned. It combines the Jameson Irish Whiskey with natural orange flavouring and the result, according to its distiller, is "a deliciously smooth, zesty, subtly sweet and perfectly balanced expression, bottled at 30%".
Jameson Orange will be available in supermarkets at an RRP of £23.95 from August 2021.
These limited-edition whisky expressions are dram good! Bunnahabhain, Tobermory and Deanston distilleries have revealed a selection of limited-edition expressions. Each one of them are fantastic variants of Distell's award-winning single malt whisky portfolio. We've tasted all of the expressions and they are utterly superb.
First up, the Bunnahabhain expression is a 2011 Aonadh. It's been sherry matured and port finished whisky (56.2% ABV) and is both creamy and spicy.
The Tobermory Distillery has the sweet and ginger spiced Tobermory 2004 Oloroso Cask Matured (55.9% ABV), and peated Ledaig 1999 Pedro Ximenez Cask Matured (55.6% ABV).
Finally, the Deanston is a 2008 Oloroso Cask Matured. This one is bursting cherries, dark fruits and gingerbread, and comes in at 52.7% ABV.
All four limited editions will be available from 1st September 2021, and can be purchased via: Tobermory Distillery, Bunnahabhain and Deanston Malt.
Get ready for the Camden Town Tank Party! Camden Town Brewery's Tank Party is back and they want you to join them at Camden's shiny new Beer Hall to experience it for yourself.
Pouring Unfiltered Hells Lager directly from the brewery tanks, Camden's Tank Party has around 10,000 pints available for thirsty beer lovers. Camden's tank party will also host quality street food, music and events for all ages to enjoy.
It's on Saturday 4th or Sunday 5th September and you can get your tickets now.
Gingeraffe is an alcoholic ginger beer which supports giraffe conservation This 4% ABV alcoholic ginger beer, called Gingeraffe, is the first ginger beer in the world to help tackle the many issues faced by the world's tallest animal, by donating 10p from the sale of every 330ml can to the Giraffe Conservation Foundation.
There will be 2000 first-edition Gingeraffe cans released for the exclusive pre-order – matching the number of Kordofan giraffes said to be left in the wild. Orders can be made now with 100% of profits from the pre-sale donated to the GCF.
Tamdhu Batch Strength No. 006 revealed Tamdhu has announced the sixth edition of its multi-award-winning 'Batch Strength' series. The Batch Strength No. 006 is bottled un-chillfiltered at 56.8% ABV, with a high proportion of first-fill casks.
Bottles are available to purchase via the Tamdhu store at RRP £79.99 per 70cl bottle, as well as from specialist retailers.
---
Related Reviews and Shortlists