ShortList is supported by you, our amazing readers. When you click through the links on our site and make a purchase we may earn a commission.
Learn more
Star Wars: The Skywalker Saga 4K Blu-ray is real and you can pre-order now
27 discs, limited edition and exclusive to Amazon - better get saving!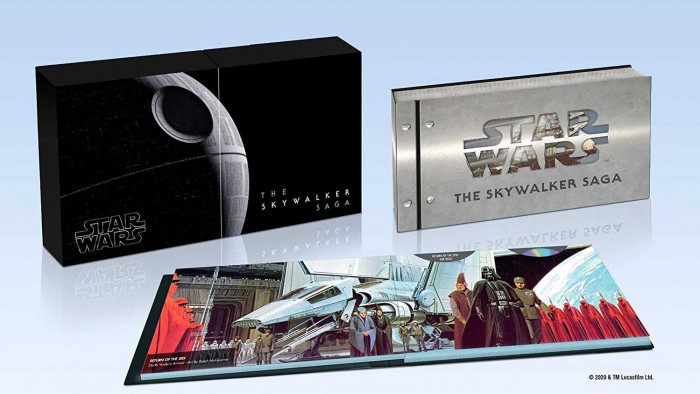 And there was you thinking you would get a break from Star Wars. Don't be silly! The Star Wars: The Skywalker Saga 4K Blu-ray has just landed on Amazon and it is available to pre-order now!
That's right, Star Wars is coming to the home in 4K and it's all thanks to this mammoth 27-disc set that houses all the Skywalker Saga movies (that's episodes I-IX) as well as a ton of supplementary material.
You get all this for the princely sum of £180. That's almost three times as much as the Blu-ray is set to cost, which is £64.99.
So, what do you get for this? Well, you get nine 4K Blu-rays, the movies on ordinary Blu-ray as well as nine bonus discs (which are Blu-ray, too).
The set was spotted by Film Stories and it's confirmed that all the movies will have a Dolby Atmos 7.1.4 soundtrack. As for the bonus material - we're guessing it's a mix of the things that were available in the original Episode I-VI Blu-ray set plus a load of new stuff that spans the latter trilogy.
Given UHD discs haven't exactly set the AV world on fire, here's hoping that something as big as Star Wrs can kickstart people buying the physical format.
As for a Star Wars: The Skywalker Saga 4K Blu-ray UHD release date - there isn't one, but Film Stories reckons March/early April.
Pre-order now! Star Wars: The Skywalker Saga UHD boxset
£180
Exclusive to Amazon, this limited edition (27 discs) boxset comprises all 9 Saga movies on 4K UHD, Blu-ray and Bonus discs (Blu-ray).
Pre-order from Amazon now
Related Reviews and Shortlists