ShortList is supported by you, our amazing readers. When you click through the links on our site and make a purchase we may earn a commission.
Learn more
Knives Out director Rian Johnson's 8 favourite murder mysteries and scandals
Exclusive interview with the director of Knives Out and The Last Jedi.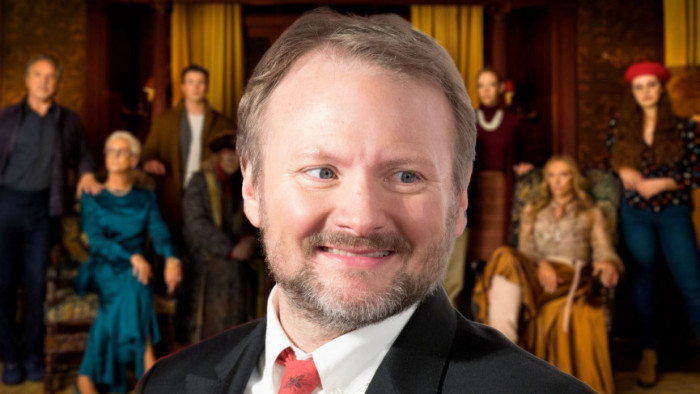 Rian Johnson made Hollywood pay attention with his directorial debut Brick and now, 14 years later and a Star Wars movie to his name (The Last Jedi), he's set foot into the murder mystery genre once more with an ensemble cast to die for.

Starring Chris Evans, Christopher Plummer, Jamie Lee Curtis, Ana De Armas, Don Johnson, Michael Shannon, Lakeith Stanfield and Daniel Craig as gentleman detective Benoit Blanc, Knives Out centres on the elitist Thrombey family whose 85-year-old patriarch, a multimillionaire crime author, dies in mysterious circumstances.
Blanc is faced with solving the murder with reluctant help from the over-privileged family and the deceased's nurse Marta in this modern whodunnit with a darkly comic twist.
To celebrate the release of Knives Out, Johnson shares his own shortlist of detectives, murder mysteries and true crime favourites from the world of film, TV, books and beyond.
Knives Out is in cinemas from 29 November, courtesy of Lionsgate Films.

1. And Then There Were None (1939) "It's not a traditional whodunnit? but I think one of Agatha Christie's best books is And Then There Were None. It's a group of people who seem like they have no relation to each other who are all invited to this mysterious island. And then their host doesn't show up. So it's just them, and then one by one they start getting murdered. It has the engine of a horror movie, and it's got the sense of doom over the entire thing. You can't figure out what's going on until the very last page, it's incredible."
2. The Murder of Roger Ackroyd (1926) "The other Agatha Christie book I always recommend is The Murder of Roger Ackroyd. That was one of her early books and it's funny because I've had people ask about me putting a modern spin or trying to turn the genre on its head with Knives Out but the truth is Agatha Christie, back in the day, was turning the genre on its head with every new book she wrote. The Murder of Roger Ackroyd does something that is so crazy and so innovative in terms of the solution that pissed a lot of people off at the time. People were angry and saying, "That's not fair. You can't do that!" I can't give it away but it's really clever."
3. Gosford Park (2001) "I'm a big fan of Gosford Park. That's one that even more so than Knives Out very effectively uses the murder mystery to talk about class and to talk about the upstairs dynamic. It's Julian Fellowes doing that brilliant upstairs-downstairs thing he does so well."
4. Columbo (1968-2003) "Columbo was one that I love growing up. It had really, really smart writing. And of course, the thing with Columbo, it starts showing the murder and showing who the murderer is, in the first five minutes. The rest of the episode is not about trying to guess who did it, it's trying to figure out how Columbo is going to get the person who did do it, which is brilliant. It's like what Hitchcock thought about the whodunnit? that a big surprise at the end is kind of cheap and what's better is to have it be suspense or have it be a thriller."
5. Peter Ustinov "My favourite Poirot is Peter Ustinov who did Death On The Nile and Evil Under the Sun. For me, Ustinov got the essential clownishness of the character, which I think is really important. For these type of detectives in general, I think whether it's Columbo or Poirot or Miss Marple, they always have something about them that makes you not take them seriously. And that's really important. We tried to do the same thing with Daniel Craig's character in this with Benoit Black, making him slightly buffoonish so that it sets the killer off-guard and you don't quite take him seriously until he's arresting you. Daniel and I talked mainly about the accent. The big part of the characters is this America Southern accent, it's Mississippi, this very pleasant sort of drawl, but then he just kind of went to town and I was just sitting at the monitor trying not to ruin takes by giggling."
6. Game Show Scandals "I'm a big fan of game show scandals, for example, the Who Wants to Be a Millionaire scandal with the coughing and how they caught them. I remember seeing a TV documentary about it but I don't remember it when it actually happened, maybe I read a headline. It's brilliant. [Shortlist: they're doing a TV show of that] Are they? Shit! I wanted to do that. Anyway, that's a weird little sub-genre of True Crime I'm really into."
7. The Last of Sheila (1973) "I'm a big Stephen Sondheim fan, I love his musicals, but he used to throw murder mystery parties for all of his rich friends. When I was a teenager, I tried to throw one but I did that thing where I got everyone together, I went down to the basement and pulled the breakers to turn all the lights off in the house but none of it worked. It was a real disaster. It was way too elaborate.
"Anyway, he wrote a movie called The Last of Sheila with Anthony Perkins. It's a great 70s murder mystery about a famous author who gets all of his friends together to throw a mystery party and it all goes wrong. It's a fantastic film.
"Actually, I was just talking with my cousin who's my composer and we've been making movies together since we were 10 years old, and we keep talking about doing a musical. That could be really fun to do. It would be a blast to do something brand new and original. Write new songs for it and figure out the genre that you don't really see musicals done in and kind of see if you can make two things work together. That's always exciting."
8. Clue/Cluedo "I feel like I end up being Colonel Mustard a lot. I don't know why, but I played it fairly recently and I was a little disappointed because I remember it being this intriguing fun game but there's not much to it, actually. You're just kind of rolling the dice. I'm like, "there's no political context here! There's no subtextual class structure!" But they had a VHS game of it I really liked playing when I was a kid. It was fun. I do want to rewatch the Clue movie. I haven't seen it in a long time and I remember loving it."
Related Reviews and Shortlists