ShortList is supported by you, our amazing readers. When you click through the links on our site and make a purchase we may earn a commission.
Learn more
9 bits of fantastic audio kit to get excited about in 2020
Upgrade your home audio for the new decade.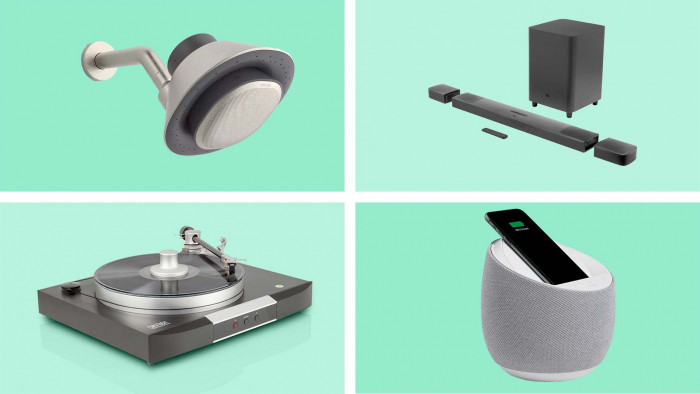 Giant tech show CES 2020 just happened. Every year CES shows us a lot of the tech we'll get to use later in the year.
Audio was a highlight. We've already looked through the top headphones and earphones to get excited about in 2020, but what about the rest?
Below you'll find seven of our favourite upcoming smart speakers, soundbars and record players heading your way. And among them are some pretty compelling alternatives to the big, obvious names.
1. The smart and small Samsung Galaxy Home Mini

Samsung is about to drop its own alternative to the Google Home Mini and Amazon Echo. It's called the Samsung Galaxy Home Mini.
The little blob of speaker was first announced in October at a Samsung conference, but we now know it will be out in "early 2020". But why would you pick one over a Google or Amazon micro speaker?
It has audio signed off but the AKG team, which these days is part of the Samsung empire. And will use infra-red blasters so should be able to control your TV and other gear that uses a traditional remote control. It also has Samsung's own digital assistant Bixby, which is a bit of a contentious character. But the Galaxy Home Mini should let you try Bixby out without splurging too much cash.
2. The straight-talking Audio Technica AT-LPW50PB

A lot of turntables these days try to lure you in with extra features like Bluetooth, USB ports for digital archiving and integrated speakers. Audio Technica strips all that back in the AT-LPW50PB, letting all the money go to the good stuff.
That said, it does have a phono pre-amp, which you need to plug a turntable directly into an amp or wired speaker. The AT-LPW50PB is a purists turntable in one sense, but it's made for the normal buyer, not one who spends half of each Saturday brushing dust off their records.
The price, £379, shouldn't make too many run away screaming either, and it looks the part. Consider this alongside Shortlist best record player favourite the Rega Planar 2 if you want to get back into physical media in 2020.
3. The super-stylish Mark Levinson No.5105
That name. Sounds like a fashion brand, right? But Mark Levinson is an auteur-style US hifi company that to date has only made one turntable, 2017's £9999 No 515.
Good news. The new Mark Levinson No.5105 is significantly more affordable at a mere $6000 (likely £6000), or $7000 with a phono cartridge.
It has an inch-inch-thick aluminium front, an ultra-sturdy vibration busting metal plinth and a digitally controlled motor.

4. The unique Kohler Moxie Showerhead

Here's one of the oddest CES 2020 audio finds. And it isn't even a completely new kind of speaker.
Kohler has made Moxie Showerhead speakers for years now. But this new model also has Amazon Alexa support, so you can ask for tunes while lathering up.
The speaker itself sits inside the ring of a custom showerhead, firing the sound right at you for the perfect watery karaoke experience. As you might guess, the speaker part is water resistant and wireless. Trailing electrical cables and running water aren't friends.
Kohler says you'll get five hours of use per charge. It should last an age unless you have showers long enough to make Greta Thunberg raise an eyebrow.
5. The supercharged Belkin Soundform Elite Hi-Fi Smart Speaker



If you own a Belkin product, it may well be a phone case or a cable. But the Soundform Elite is a lot more ambitious.
Belkin has teamed-up with Devialet, maker of the ultra-dynamic Phantom wireless speaker, to produce this smart speaker and wireless charge dock. You plonk your phone on the slanted part at the top and, if it supports wireless charging, the battery will start topping up.
The Soundform Elite has the good old Google Assistant inside and early reports say it sounds excellent. At $299, so probably £279-299 in UK money, this could be a real smart speaker contender.
6. The Dolby Atmos-toting JBL Bar 9.1
Modular soundbars and wireless rear speakers are nothing new, but the JBL Bar 9.1 has our interest.
It is JBL's first Dolby Atmos soundbar and is a serious setup, priced at $1000. But how do you get 9.1 surround sound out of a soundbar?
Dolby Atmos in the home uses upward-firing height channels to give movie soundtracks a more 3D sensibility. And we are fans of the modular style. Watching Love Island? Just keep the detachable rear speakers fixed to the bar. On movie nights, move them behind the sofa for real-deal surround sound.
These rears are wireless and battery-powered, so switching to movie mode is as simple as placing the speakers. You also get AirPlay 2, Bluetooth and Chromecast, for all-powerful streaming.
7. The AI-loving LG SN11RG


AI, artificial intelligence, is everywhere in tech these days. The LG SN11RG might be the first time we've seen it applied to a soundbar, though.
Room correction for sound is nothing new, but the LG SN11RG is self-calibrating, removing the extra step of going through a laborious optimisation process. In theory, anyway. We haven't tried the soundbar first-hand yet.
Other bits to note include 7.1.4 sound, with those four Dolby Atmos height channels, Google Assistant support and sound tuning by Meridian Audio.
8. The retro god-like JBL L82 Just look at these beauties. Shown off at CES, the JBL L82 Classic is based on the (2018-launched) L100 Classic, which in turn was a modern reboot of the L100 speaker, which was released back in 1970 and JBL's most popular speaker ever. The cabinet on this one is more compact but still has the amazing styling and audio of the original. We think we might be in love. You'll be able to get them in April, priced at £2,000 a pair.
9. The statement-making Q Acoustics 3030i Q Acoustics are renowned for their jaw-dropping audio tech and that trend looks set to continue with Q Acoustic 3030i loudspeakers. These are a mid-point in a range that currently consists of the 3020i bookshelf speakers and 3050i floor standing speakers. They offer a sizeable 6.5-inch woofer and a spacious sound system. The Q Acoustics 3030i will be available from February 2020, priced at £329.
Related Reviews and Shortlists