ShortList is supported by you, our amazing readers. When you click through the links on our site and make a purchase we may earn a commission.
Learn more
9 headphones and earbuds to get excited about in 2020
2020 is already starting to sound good, thanks to these new headphones.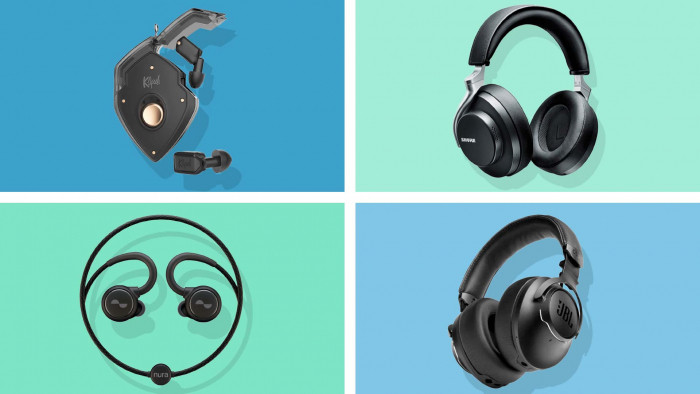 An electronics megastore's worth of headphones and earphones were announced at CES 2020, the annual tech show held in Las Vegas. And we think you should know about a few of them.
We'll tell you about some of our most-anticipated pairs due in 2020. There are a lot of true wireless pairs incoming, as you might expect. But you'll also find out about some full-size headphones that might even challenge our current best wireless headphones group test winners, the Sony WH1000XM3.
Want to know more? Check out eight pairs of headphones to look forward to in 2020.

1. Audio Technica ATH-ANC300TW We have another pair of true wireless earphones to look forward to, courtesy of Audio Technica. The Audio Technica ATH-ANC300TW look like just any other true wireless pair, with a little case and no wires to speak of. But they also have active noise cancellation, aloe vera for your ears if you have to take the train or bus to work.
Battery life of 4.5 hours per charge doesn't get close to matching Audio Technica's best, the ludicrously long-lasting 15-hour ATH-CKS5TW. But if they sound good and make our commutes less stressful, we're in.
2. Sennheiser HD 450BT
It's easy to rave on about how good the latest £300-350 headphones from Sony and Bose are. But they're just too rich for many.
The Sennheiser HD 450BT could be just the right solution, landing at half the price (£179) but with all the same core features. They have voice assistant support, active noise cancellation, a comfy over-ear design and 30-hour battery life.
We'll have to wait to see how they sound, but Sennheiser rarely mucks up that part in its headphones.

3. Panasonic RZ-S500W
Panasonic has made headphones for ages, but there's a good chance you may not have considered a pair before. It is out to change that with the big claims attached to the Panasonic RZ-S500W.
Panasonic says they offer best-in-class noise cancellation, and avoid the wind noise you'll hear in other pairs using a clever tunnel system between the ANC mic and the outside world.
There are three models in this family, including the presumably slightly lower-cost RZ-S300W and Technics EAH-AZ70W. Confused? Technics has been a part of Panasonic since its inception in 1965.

4. JBL Club One
Here's an interesting pair of headphones for the audio fan. The JBL Club One sound, from their name, like the kind of obnoxious super-bassy headphone even Beats doesn't make anymore.
But look a little closer. JBL says the Club One are inspired by the JBL Pro line. And the "Pro" side of JBL made, and still makes, legendary studio monitors that really do deliver music as it should sound.
If JBL nails the Club One, these really could be some of the best-sounding headphones in their class. And it still feels strange to say that about a pair called "Club One". They also have adaptive noise cancelling, support for Alexa/Google Assistant and battery life of up to 45 hours (23 with noise cancelling).

5. Jabra Elite Active 75t
Jabra made one of the first genuinely good pairs of true wireless earphones. We're always keen to see what it has coming next, this time the Jabra Elite Active 75t.
This is a sporty version of the Jabra Elite 75t you can already buy. We expect similar top-drawer sound, but this pair has IP67 water resistance, meaning you can give them a rinse after a particularly gruelling run or gym session.
They outlast most true wireless pairs too, with 7.5 hours' use per charge, or 28 hours when you add the case's own battery power. We'll be testing them for our best running headphones guide soon.

6. Klipsch x McLaren T10 True Wireless
McLaren isn't afraid of the odd techy partnership. It teamed-up with Ultimate Ears and OnePlus to make speakers and phones, and now it's Klipsch's turn.
The Klipsch x McLaren T10 True Wireless are totally wire-free earphones with a funky charge case and highlights using the F1's teams papaya orange colour. It's not all about the branding either.
Klipsch says these are smaller than other true wireless earphones, and they use dual balanced armature drivers. That is a real audiophile-pleaser setup. The price is the only bad news. At $999 they are only for big spenders.
There are a couple of other Klipsch x McLaren pairs, though, the over-ear HP1 ($399) and true wireless T5 Sport ($249). Don't care about McLaren? You can get pure Klipsch versions for $649, $399 and $229 respectively. That tells you exactly how much you pay for the fancy F1 branding.

Even at this price, they could well be a contender for our best in-ear headphones guide.
7. Nuraloop
If you haven't met the Nuraphones before, you're in for a treat. Nura makes headphones that scan your hearing by seeing how your ears respond to sound pulses. And it really works, resulting in some of the most engaging sound we've heard in a headphone.
The company has moved on from full-size headphones to an in-ear pair, the Nuraloop. They pull off the same tuning feats as the Nuraphones, but come in a much smaller form.
Their battery lasts 16 hours, they have active noise cancellation and IPX5 water resistance makes them a good fit for runners. You can pre-order a pair right now for £199 direct from Nura. It says the Nuraloop will ship in March.

8. Shure Aonic 50
Studio audio legend Shure has stuck to its roots more than most headphone-makers. But it has finally gone mainstream with the Aonic 50, a full-size pair of headphones with all the bits you want in a pair to take on holiday, or wear on the way to work.
The Aonic 50 have active noise cancellation, 20-hour battery life, Bluetooth wireless and plush pads. If they sound as good as Shure's wired pairs, we could be onto a real winner here, and they could end up on our best noise-cancelling headphones guide soon.
They are likely to cost around £400, as the US price is $399. Shure also announced the AONIC 215, strange-looking true wireless earphones that let you plug in other Shure earphones if you want an audio upgrade further down the line.
9. Mobvoi TicPods 2 Mobvoi has packed a decent amount of technology into its Apple AirPod rivals. The big USP here is that the TicPods 2 and TicPods 2 Pro earbuds have been doused in AI-Powered features. Those who opt fro the 2 Pro get quick commands that let you change tracks, pause music and answer calls without using a wake word - instead you use head gestures to answer (by nodding) or deny (shake your head) calls. Couple this with 4 hours' battery life (and a near day's charge in the case) and the fact they are sweat proof and what you have are earbuds that could be heading to our best True Wireless earphonesguide when they are officially launched.
Related Reviews and Shortlists