A smart speaker can be a handy helper. This is true whether you remember when all speakers did was play music from your hi-fi, or find yourself expecting every subwoofer you encounter to warn you to get the washing in because it's going to rain soon.
Link a smart speaker to other smart home kit and it will soon be dimming your lights as you drift off, or turning up the heating on a chilly day, while ordering loo roll for you. Or play trivia games with you on a rainy afternoon.
Despite this functionality, most of us primarily use a smart speaker for listening to music. It need to sound great, whether plonked in the middle of a room or parked in a corner. Looks are a key consideration too, with fewer people wanting their tech to look like am obvious gadget.
Finally, when you're buying a smart speaker, consider which digital assistant – Alexa, Google Assistant or Siri – will be the invisible genie granting your every wish. Some of your existing tech may integrate more easily than others.
Vote for your favourite smart speaker.

Related: Best speakers and soundbars to upgrade your TV's audio

Best smart speakers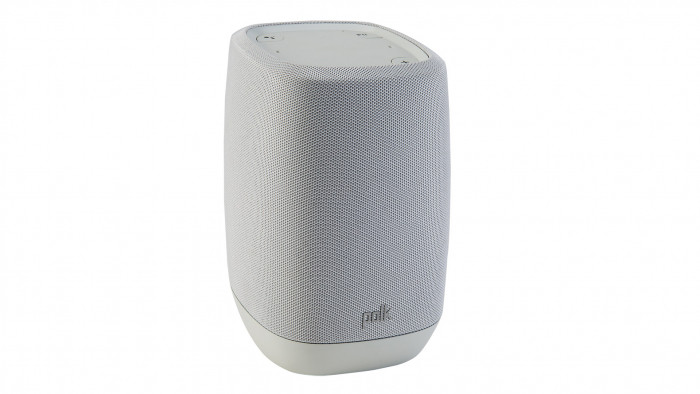 You may not be familiar with Polk, but here are a few facts. Founded by a Mr Polk, its specialty is all-American design coupled with great sound. Oh, and they make a rather nifty smart speaker with Google Assistant and Chromecast built in.
This means that as well as its assistant abilities, you can Cast from compatible audio apps including Google Play Music, YouTube Music, Deezer and Spotify Premium, plus link multiple speakers or Chromecast-enabled devices.
Spare grand in your pocket? Steer away from black, white and grey boxes and towards the beautifully designed Beosound 1 speaker.
Not only does it promise to deliver 360-degree audio, its aluminum exterior and range of finishes set it apart. Inside you'll find Google Assistant, plus integrated access to Spotify, Deezer QPlay, and TuneIn. The Beosound 1 connects wirelessly to other B&O products for multi-room sound. And because it's battery powered, you can even take it into the garden.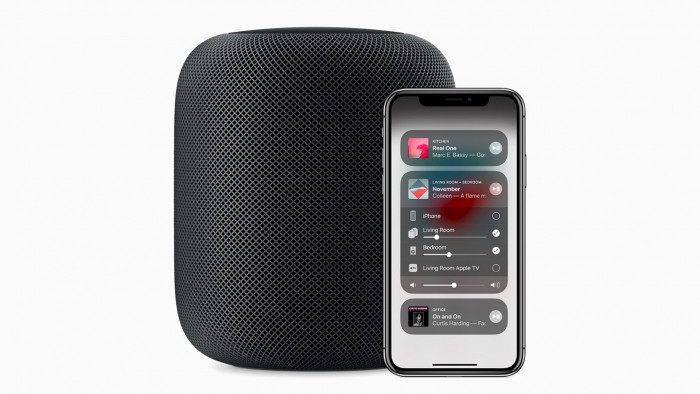 Existing Siri fans may find their smart speaker fit in the form of the charmingly squat HomePod. As well as being able to make phone calls or find your misplaced iPhone, it includes echo and noise cancellation, meaning that you won't have to bellow commands like an army drill sergeant.
It also adapts the sound to its position in the room. However, it works best alongside an Apple Music subscription, so factor in that cost too (£9.99 a month).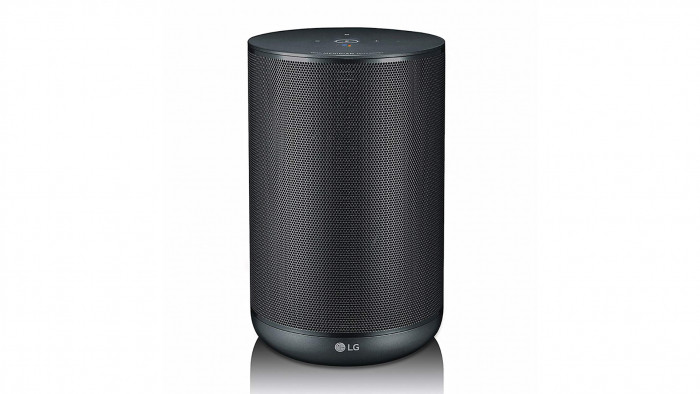 Since launching at more than double the price, the LG WK7 is now under £100. It's brilliant value for what's packed inside: Google Assistant, high resolution sound by audio specialist Meridian, Bluetooth and Wi-Fi for easy peasy streaming, and Chromecast.
There are also a couple of different modes to twiddle with the sound, if you prefer more bass or clearer vocals. But even without these, by smart speaker standards, it's great for listening to your favourite tunes.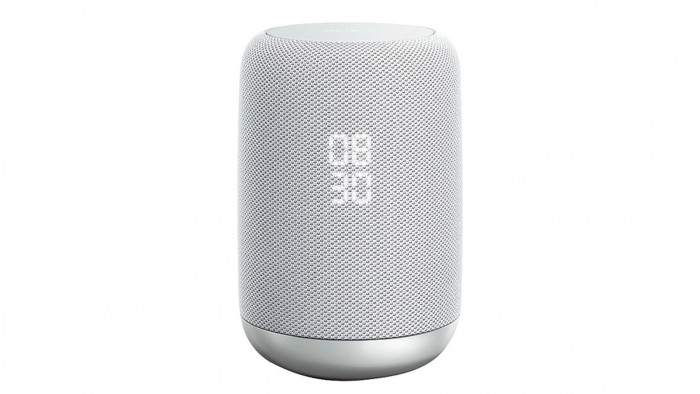 Tired of asking for things? Make use of this speaker's gesture control, which enables you to play, pause and control the volume of music with a wave. It's ideal for the kitchen as it's IPX-3 waterproof-rated so can withstand moisture (you can even remove the cover and rinse it), and displays a clock on the front.
Google Assistant will be the one reading recipes to you or converting imperial to metric, plus there's Bluetooth, NFC connectivity and Chromecast on-board.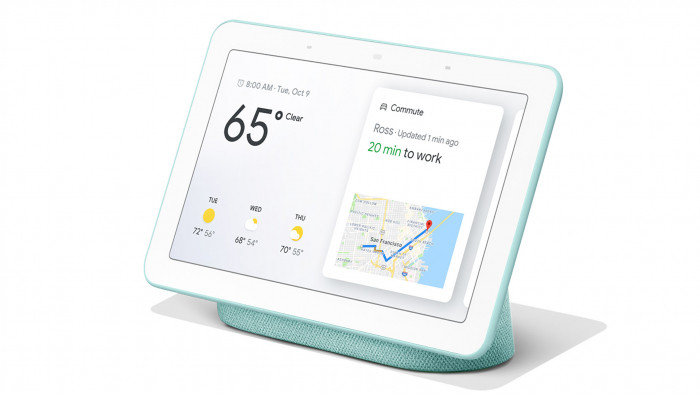 Your digital phone frame might be gathering dust but that's because updating images was always a faff. Now there's Nest Hub with Google Assistant, which will do the same thing, but with photos you ask it for, such as holiday snaps.
It'll even adjust the light and colour to suit your room, so won't ruin your mood lighting. The large screen also doubles up for playing YouTube videos, or you can enjoy music via Spotify, Deezer or TuneIn.
This speaker used to be known as the Google Home Hub.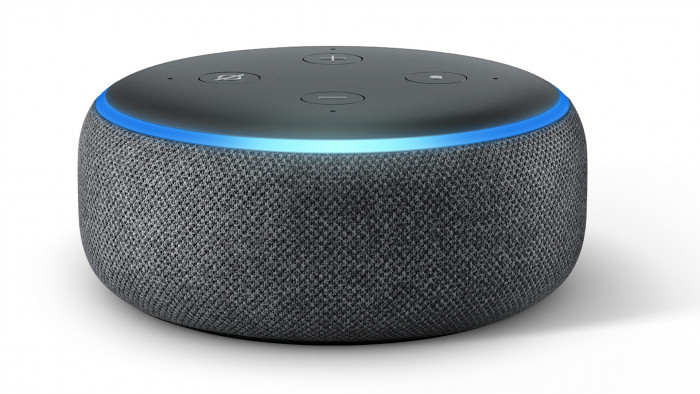 It's been a mere three years since the compact and affordable Echo Dot rolled its way into our lives. Entry-level it may be but this third generation brings lots to the party.
That includes better sound than the second-gen, a tweaked design that makes it look less like an oversized hockey puck, and more like its fabric-covered competitors, and a choice of three shades of grey. It's a great budget-friendly way to try Alexa and the increasing range of skills.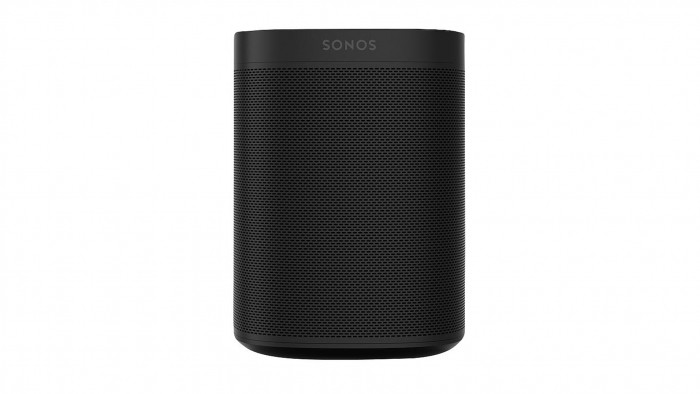 The second version of the One doesn't look much different than the first as it's on the inside where changes have taken place. It has been upgraded, with more memory and an updated processor in anticipation of new features, and low energy Bluetooth to make setting up simple.
Like the original, you'll find Alexa, Apple AirPlay compatibility, meticulously tuned audio, and Wi-Fi streaming, all in a compact speaker that can nestle into any room you like.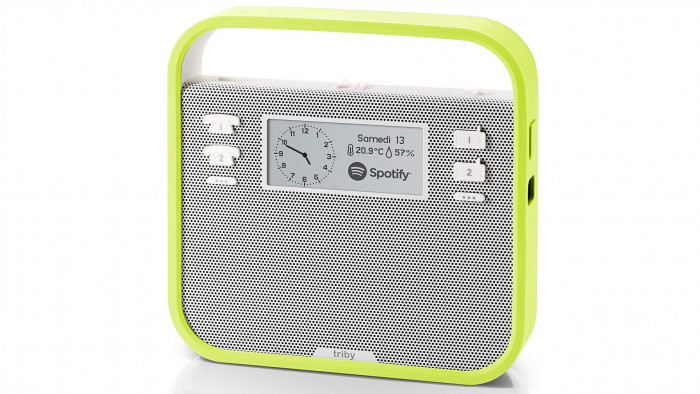 It may come from the Speak & Spell school of design but what this Triby smart speaker lacks in sleek lines, it makes up for in a fun, friendly experience.
As well as Alexa to deal with the daily demands of family life, it includes an e-ink display, so you can use the Triby app to post messages, doodles or reminders on the speaker's screen. Battery power allows it to be carried around the house, plus there's Bluetooth, TuneIn, Spotify, iHeartRadio and online radio access.
This is part of Amazon's Launchpad project, which supports start-ups.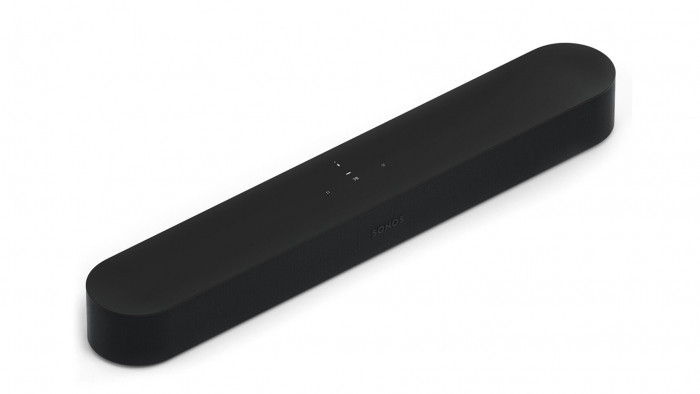 Compact, sleek and not a typical smart speaker, the Sonos Beam is delightfully unobtrusive. It requires just two cables – HDMI to your TV and power – and can even be wall-mounted if you don't have surface space for it. It's incredibly functional too.
Can't find the remote? Use its Alexa voice control to turn on the TV for you, as well as select music from Spotify, TuneIn and Audible, play games or watch TV and films. Plus if you fancy chatting to Siri instead, you can connect it using AirPlay 2.