ShortList is supported by you, our amazing readers. When you click through the links on our site and make a purchase we may earn a commission.
Learn more
10 amazing gadgets we'll see in 2020: fantastic tech revealed
We've seen the future and it's filled with drink coolers, VR and spinning TVs.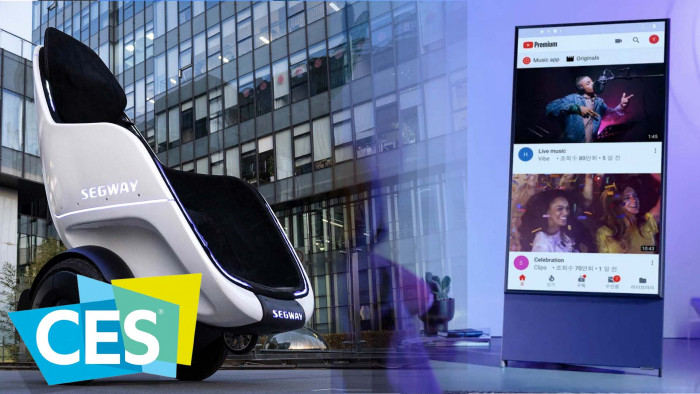 CES is the biggest technology of the world, where the geeks and gadgets collide in the city of sin, Las Vegas. This year we have seen a heap of TVs, foldable screens and fitness trackers in its wake.
CES has always served as a preview of what's to come later in the year and, for 2020, we've had everything from thermoelectric drink coolers to steampunk VR goggles and lifesaving smartwatches. Oh, and a few novel new forms of transportation.
What were the biggest trends? It's difficult to answer that question this year, with few clear through lines. However, that means there's a good variety of gadgets to soak up. Here are the 10 coolest things we saw in Vegas this year.
More 2020 preview coverage from CES:

Juno drink cooler
Ok, this one's literally a "cool" pick: Juno is a gadget that can chill a can or bottle of drink in under five minutes. It makes use of a thermoelectric phenomenon called the Peltier effect. The Juno removes heat from a can or bottle by spinning it in water. But all you need to know is that your beer will be ice cold in just a couple of minutes - five if you're chilling a bottle of wine.
Panasonic VR glasses
We've strapped far too many VR visors to our faces in the name of journalism, but none that look as good as Panasonic's VR glasses. These steampunk-esque goggles produce an eye-blisteringly sharp, HDR-ready picture, and Panasonic even hopes you'll one day disconnect them from the PC and take them outside for some AR tourism. We just might. Sadly though, these are still at the prototype stage and probably won't launch for at least another year.
Segway S-Pod You already know Segway, but its latest creation is unlike anything the company has built before. Inspired by the gyrosphere ride in Jurassic World (err, did they see how that ended?), the S-Pod is essentially a big chair on wheels. A fast chair, mind, as this thing can hit speeds of up to 24 miles per hour, all while balancing your weight on just two wheels. It will be available to businesses first this year, then for consumers later.
Withings ScanWatch Wearables have had another big year at CES, but the Withings ScanWatch impressed us most. The company reckons its new hybrid smartwatch can accurately detect signs of atrial fibrillation and sleep apnea - which would give even the Apple Watch a run for its money. It's waiting for regulators to OK it as a medical device, and if that happens as planned, you'll be able to buy one in Q2 of this year.
Neon Samsung-backed Star Labs started teasing its "artificial human" days before the show, and now we've seen it we can tell you… it's creepy. Neon's digital avatars behave like advanced chatbots, but they'll get smarter as the company builds in more intelligence over time. Think hotel concierges on a screen that you can talk to like a real human, and you're basically seeing Neon's vision. Don't expect to see these in the wild for at least a year.
Samsung Sero TV It's not CES without Samsung trying to reinvent the television, and this year it's appealing to those pesky youths. Its new Sero TV rotates on its axis to turn the screen vertically, so you can watch TikTok videos and other smartphone-centric content in your living room. No Snapchat pals? Just use it to show off artwork when you're done binging Bachelor in Paradise. The Sero will go on sale later this year at an as-yet-unknown price.
Lenovo ThinkPad X1 Fold Foldables were always going to be huge at CES and we've seen plenty on the show floor, but Lenovo's built the first proper foldable tablet - or is it a computer? Either way, it's a real product, not a concept, that will ship mid-2020. This 13-inch OLED slab runs Windows and can be contorted in all sorts of ways – but at $2,499 it won't come cheap.
Alienware Concept UFO Nintendo has a good thing going with the Switch, but what if it were powerful enough to run PC games? That's what Alienware's new portable concept device can do. While far off launch, the UFO was playable at CES, running games like Rocket League and Mortal Kombat 11. Like the Switch, the UFO's controllers are detachable and there's a dock should you want to play on the TV instead.
Sony Vision S Sony got the biggest "WTF" of CES when it announced a fully electric car. We weren't expecting it, but the Sony Vision-S impressed us with its ludicrous number of touchscreens, cameras and sensors. It's just a prototype right now, and Sony says it doesn't have plans to put it into production, but maybe if we all shout loud enough we'll convince it to change its mind.
Samsung Galaxy S10 Lite When Samsung isn't talking TVs, it's talking smartphones. It brought a cheaper version of the S10 to Vegas. The new phone is actually larger than its flagship namesake but the display isn't as sharp and it does cut a few corners elsewhere. Still, we expect it to sell well and Samsung also launched a Note 10 Lite alongside it – that one even has a headphone jack.
Related Reviews and Shortlists