ShortList is supported by you, our amazing readers. When you click through the links on our site and make a purchase we may earn a commission.
Learn more
Here's all the best non-football action from the Super Bowl
Spongebob, Adam Levine's torso, and Skittles. It can only be the Super Bowl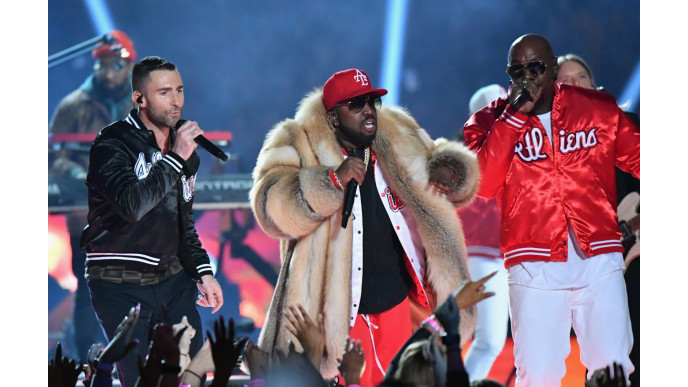 I recently heard a comedian talk about American football who said 'The Americans took sport, and added adverts, as far as I can tell.'
That's a pretty good summation of last night's Super Bowl: as happens every year, America has managed to concentrate their consumerism so much so that the news the day after a sporting final is all about the brands that took out ad space, and the half time performance.
When I was in New York last year, the first advert I saw in the back of a yellow cab from the airport to my Airbnb (because obviously their cabs have TVs) was for cash. Just an advert, pre-Christmas, for giving….cash, as a gift. Is this advert inception?! Bottom line, our pals across the pond love being told what to buy.
Plus, of course, the big performance, the Half Time Show. In the past, Janet Jackson has been exposed by a very faux-shocked looking Justin Timberlake, Beyonce pretty much changed history, and Lady Gaga astounded us all last year.
So what did this year hold for non-football fans? Here are the highlights:
Maroon 5 half turned up for half time
Maroon 5 and their frontman Adam Levine were the half-time performance for this year and, well, they were there, is about all we can say. The Moves Like Jagger singer seemed sort of into his own performance at best, and even guest spots from Outkast's Big Boi, Travis Scott, and a gospel choir couldn't get the energy up, never mind when he ripped his top off and threw it into the crowd. Janet Jackson must be reeling.
Plus, Spongebob Squarepants was involved. As a tribute to the show's late creator Stephen Hillenburg, who passed away in November, an online petition asking Maroon 5 to include Spongebob in their performance gathered 1.2 million signatures. But when Spongebob was just used as an intro to Travis Scott singing Sicko Mode, instead of actual-song-featured-in-Spongebob Sweet Victory, the internet went into meltdown and turned on Adam Levine and his tattooed, naked torso.
What. Is. Happening? Leave half-time shows to the women from now on, please. All this prompted, of course, an onslaught of memes:
Toy Story is back!
Just when you thought the entire Western world was a dumpster fire and you feel like you might go to your grave with Brexit never being resolved, this thirty second teaser for Toy Story 4 played last night and you think 'You know what? Maybe everything will be OK. Maybe Tom Hanks will be the next president?'
Jordan Peele's new film looks good too
Jordan Peele is back, after his smash hit comedy-horror Get Out, with a new horror film, Us. A trailer aired last night during the Super Bowl and, we're guessing, probably scared all the kids watching it half to death. Peele himself stars, alongside Lupita Nyong'o, as a family whose doppelgangers descend on their house to terrorise them. Can someone turn the lights on please?
The Avengers gave us another teaser clip
Find out what it all means here.
Skittles sent themselves up
Skittles were, perhaps, the heroes of this altogether quite dull Super Bowl, sending themselves up in a musical parody advert that talked about how much we hate, well…adverts. It worked, I really want to taste the rainbow now.
In summary, Spongebob memes are still ruling the internet and only a few people truly understand what's going on. Maroon 5 were more beige than maroon, and there's some good films coming out.
Oh, and the Patriots won again, for the sixth time, or something.
(Image: Getty)
Related Reviews and Shortlists