ShortList is supported by you, our amazing readers. When you click through the links on our site and make a purchase we may earn a commission.
Learn more
'The Simpsons' showrunner Al Jean apologises for Apu character leading to bullying
He hinted the character might yet return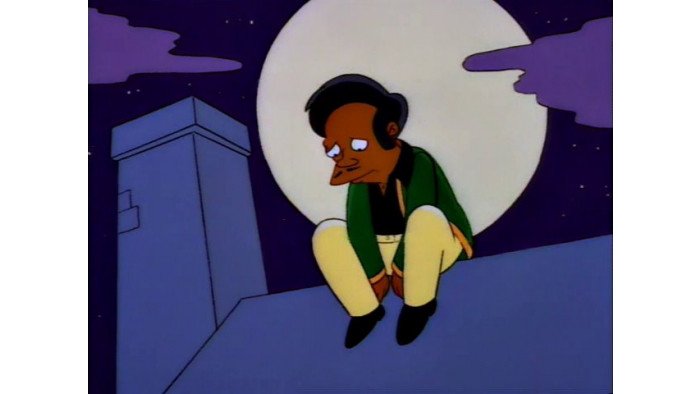 Towards the end of 2018, we learned that The Simpsons might be quietly retiring Apu after years of controversy over the character.
The Kwik-E-Mart owner, an Indian character voiced by white actor Hank Azaria, had been the subject of a documentary from comedian Hari Kondabolu which gave more of a voice to South Asians who had experienced links between the character and some of the bullying they had suffered.
Some of those associated with the show didn't handle the debate especially well, but showrunner Al Jean has now addressed the issue in a manner that goes beyond the suggestion – perhaps unwisely pushed through the character of Lisa – that "Something that started decades ago and was applauded and inoffensive is now politically incorrect".
Al Jean  worked as a writer on The Simpsons from the very first season and took over as showrunner for some of the most iconic episodes of the show's 'Golden Era' in the 1990s.
The 58-year-old spoke about Apu in a wide-ranging interview with The Daily Beast and, while he didn't go as far as apologising for how the character appeared on screen, he did express sympathy for those who suffered due to Apu's ubiquity for more than two decades.
"I apologize for anyone who was bullied because of Apu," Jean said, before going on to reference some of the positive impact the character has had, paying particular attention to this Bhaskar Sunkara article in The Guardian.
"I hate bullies. I was bullied, and if you're a bully I'll kick your ass, so certainly that was wrong. But as a writer, I always wanted to make Apu an original character—more noble, more hardworking, and more intelligent than the average Simpsons character.
"I think there are a lot of things about Apu that have made South Asians very proud, and it's a very complicated issue. But no one should be bullied because of him, and I'm very sorry about that."
When rumours of Apu's retirement first surfaces, Jean was adamant the character would not be gone for good, and he has provided an update in the Daily Beast interview.
When asked if the character of Apu had been modified in the wake of Kondabolu's The Problem With Apu, he revealed that it was "a work in progress," which many have taken to mean a return for the character might not be too far away.
Azaria has already suggested he'd be willing to step away from the role, leading to speculation that Apu could return with a South Asian actor voicing him. Jean also addressed the controversy over The Simpsons' decision to pull its Michael Jackson episode – 'Stark Raving Dad' – following the allegations levelled at the late singer on the Leaving Neverland documentary.
"What saddens me is, if you watch that documentary—which I did, and several of us here did—and you watch that episode, honestly, it looks like the episode was used by Michael Jackson for something other than what we'd intended it," Jean said.
"It wasn't just a comedy to him, it was something that was used as a tool. And I strongly believe that."
While he said the decision to remove the episode from circulation didn't make him happy, he is in no doubt that he believes it was the right thing to do.
"I don't believe in going through and making judgments on every guest star and saying "this one was bad, that one was bad," but the episode itself has a false purpose, and that's what I object to about it now."
(Images: Fox/Getty)
Related Reviews and Shortlists