ShortList is supported by you, our amazing readers. When you click through the links on our site and make a purchase we may earn a commission.
Learn more
One of the best TV shows of all time has come to Netflix
It's time to reconnect with this classic...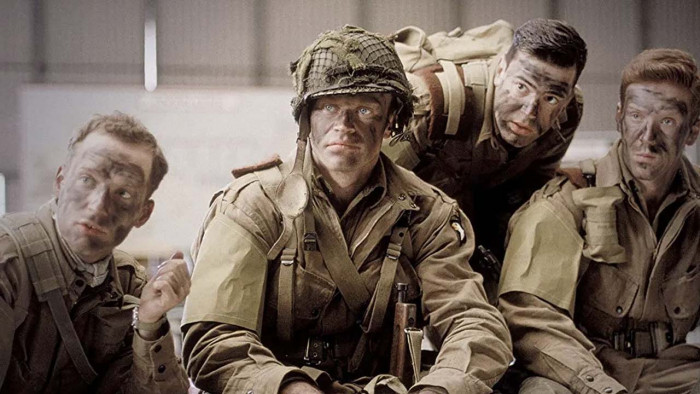 One of the most highly-rated TV shows ever made has come to Netflix.
You don't have to take our word for it either, as it currently sits at number four on the IMDb list of the top 250 TV shows, with a 9.4 rating after 495,000 reviews. Or number two if we just look at fiction shows. We are, of course, talking about Band of Brothers.
The show first aired back in 2001, when it caught attention for — among other things — the involvement of Saving Private Ryan director Steven Spielberg.
He and Tom Hanks, who previously worked on that classic war film together, are credited as this show's creators, while Hanks would go on to direct one of the episodes.
The show is comprised of 10 episodes that follow the wartime experiences of an Airborne parachute regiment, dubbed Easy Company, during World War 2. At the time this was one of the most expensive TV series ever produced, with an estimated budget of $12.5 million an episode, $125 total.
Band of Brothers was a poster child of HBO TV values, series where quality trumps all, and a big budget is often simply part of the deal.
A profoundly intense experience

If you're reading this from the UK, you can watch Band of Brothers on NOW, as we're talking about US Netflix today, folks.
"A profoundly intense experience that outshines any other World War II epic ever seen on television -- or, for that matter, in any Hollywood feature film," said CNN, back in 2001.
If you're yet to see Band of Brothers, now is the time. It's also a good time to head back for a rewatch if your Band of Brothers memories rest on having seen an ancient DVD box set of the show.
HBO followed up Band of Brothers with The Pacific in 2010, which shifts the view of WW2 over to Japan and the islands involved in the Pacific theatre. Guess what? The Pacific has come to Netflix too.
It didn't have the same cultural impact as Band of Brothers, and is a darker show that features less camaraderie, more of the horrors of war. But it is also well worth a watch once you're done with the original.
Related Reviews and Shortlists