ShortList is supported by you, our amazing readers. When you click through the links on our site and make a purchase we may earn a commission.
Learn more
LEGO dreams big with new DreamZzz TV show and sets
Like Ninjago before it, this is an original LEGO idea.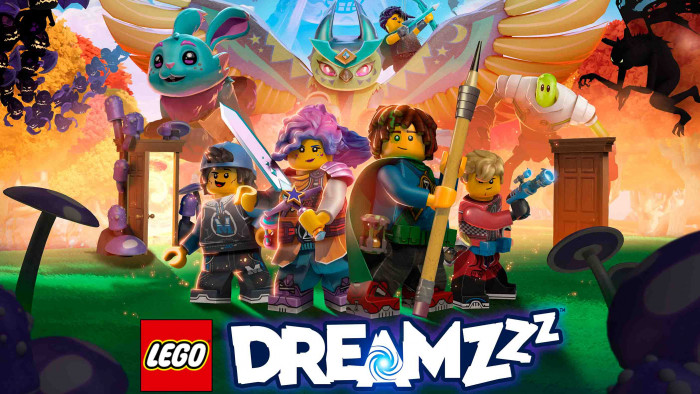 LEGO may be best known for its link-up with the worlds of Marvel, Star Wars and DC but it also does a decent job of creating its own IP - hello, Ninjago - the newest of which has just been revealed.
DreamZzz is perhaps LEGO's most ambitious world-building adventure yet, set around the premise of a group of kids that find out the world in which they dream is a real one.
DreamZzz feels like Saturday TV of old, with its tale of Mateo, Izzie, Cooper, Logan and Zoey - kids who get special powers when they dream - who find a way to enter The Dream World, while figuring out how to deal with the evil Nightmare King.
ShortList was lucky enough to see a preview of the first two episodes and, from the off, the show really does capture the essence of the dream-like brilliance of children's imaginations. But LEGO hope the show will inspire everyone. "We decided to go for a theme that we all have in common no matter who you are, no matter how old you are. Everyone dreams and and that's something that is just close to home and it sits in a very interesting and realistic little space," said Tommy Andreassen, concept developer at LEGO, at the launch of DreamZzz.
"It's the perfect canvas for imagination," explained Cerim Manovi, Creative Director at LEGO. "Whatever you dream can become real and so when we when we showed this to kids, they just thought the idea was wonderful and imaginative."
That's right, children were involved in the process of making the show (and subsequent LEGO sets) and LEGO wouldn't have done it any other way.
"We never do anything without asking kids because they're basically our employers at this point," said Andreassen.
"So it was all about bringing this in front of the kids. And, you know, interestingly enough they couldn't shut up about it once they got going. They were just full of ideas. And that's part of the thing that we really feel about this... this inspires that creativity."
LEGO DreamZzz launches worldwide from May 15th, on Netflix, ITVX, YouTube and Amazon Prime in the UK - it's the biggest launch LEGO has done for one of its shows - with further episodes and products to follow in August. About those products. There will be 10 LEGO DreamZzz sets to begin with, all focused with the idea of bringing the show to life. They are...
71453 - Izzie and Bunchu the Bunny (RRP £18.99)
71454 - Mateo and Z-Blob the Robot (RRP £18.99)
71455 - Grimkeeper the Cage Monster (£31.99)
71456 - Mrs. Castillo's Turtle Van (RRP £42.99)
71457 - Pegasus Flying Horse (RRP £46.99)
71458 - Crocodile Car (RRP £57.99)
71459 - Stable of Dream Creatures (RRP £74.99)
71460 - Mr. Oz's Spacebus (RRP £84.99)
71461 - Fantastical Tree House (RRP £94.99)
71469 - Nightmare Shark Ship (RRP £119.99)
LEGO has weaved the dreamlike world into not just how the sets look an operate, but how they are built, using 'choose your own adventure' storytelling throughout the building process, with a choice near the end of the build as to what you want the finished set to look like.
We saw how the Crocodile Car set could be a normal car or a battle car, depending on which 'adventure' you choose.
LEGO is also hoping to get more children on board, using their ideas for further projects. It has revealed a competition where a child can become a Chief Dream Creator, for the first time and will be flown to Denmark to literally make their dreams come true.
It is encouraging children aged between 6-12 years old to submit their own dream creation – either a simple drawing or picture of a LEGO build they've made themselves– showing a creature or vehicle they have dreamt of.
Entry for that opens on 20th May (and ends on 20th June). Head to LEGO.com/dreamzzz for more details.
LEGO DreamZzz is available to watch on the LEGO YouTube channel from May 15th.
Related Reviews and Shortlists