Running is a cheap and easy way to get moving. It can be great to run during the winter months if you time it right – although running in the rain can be very satisfying. If you want to get involved, a new pair of trainers is a good place to start – there's nothing like the best running shoes on your feet to shave a few seconds off of your time and a good-fitting pair is vital for avoiding injury.
UPDATE: You're advised to replace your running shoes every 300 miles or so. For the average runner, you might get a good few years out of them. For more advanced runners, they won't last long. You know what that means? A lot of waste. That's why it's great to learn that Reebok has created a new plant-based running shoe. It's called the Forever Floatride GROW and it's made from plants in a bid to reduce the use of petroleum-based plastics in footwear. Here's a sneak peek at what the new running shoes will look like when they're released next year: With a massive selection of running shoes available, and plenty of technology most will have never heard of, the choice isn't simple. We checked out the latest shoes on the market and took them for a spin. After all, unlike running watches and fitness trackers, there's no surefire way of knowing when they need a recharge (or in this case, just lobbed in the bin).
Below you can read what we liked and disliked with all the running shoes we tested but, for clarity, the best running shoes for value we tested were the Saucony Jazz 21. The best running shoes overall were the Brooks Adrenaline GTS 19.
Best running shoes: overall and value
Best Value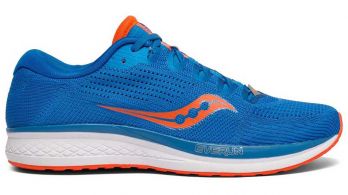 Saucony Jazz 21

£47.19 (From)

A great choice for runners of any ability, the Saucony Jazz 21 is a comfortable shoe that provides cushioning and flexibility at a great price.

View now at the Saucony

At just £100, the Saucony Jazz 21 is a great value running shoe that provides pretty much all you need. It offers a nice, balanced combination of cushioning and flexibility that makes it a comfortable shoe that's suitable for a wide range of runners of any ability. Whatever your level or the surface you run on the Saucony Jazz 21 is a good choice.

Best overall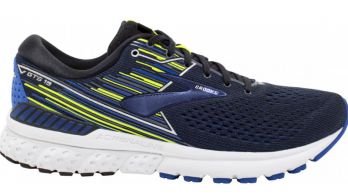 Brooks Adrenaline GTS 19

£68.89 (From)

Suitable for beginner and experienced runners alike, the Brooks Adrenaline GTS adapts to a runner's style to control movement and offer comfort that is second to none.

View now at Amazon

From beginner to accomplished marathoner, the latest generation Brooks Adrenaline GTS provides everything runners require. Its clever guide rail support system means most runners will find the shoe adapts to their running style and gently guide the foot to the most efficient and natural position. This shoe helps control pronation movement, where the foot roll inwards. Top quality build means its step-in comfort is second to none.

We've tested shoes from adidas, Brooks, Nike and Asics, as well as other top running shoe brands.
The Shortlist: The best running shoes for every kind of runner