ShortList is supported by you, our amazing readers. When you click through the links on our site and make a purchase we may earn a commission.
Learn more
Super Bowl LIV: How to host the perfect Super Bowl party
There's a party in the USA this Sunday for the NFL Super Bowl 54.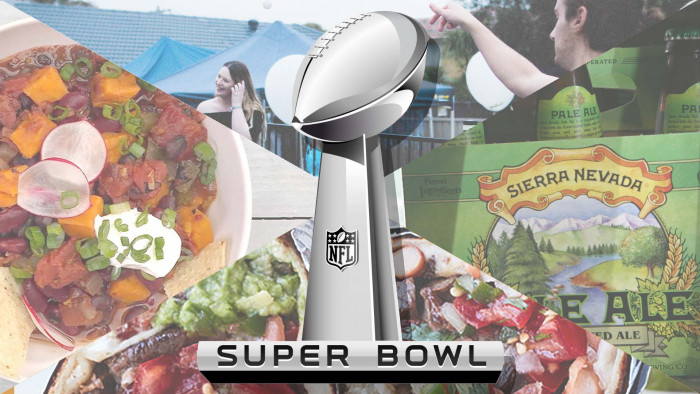 The Super Bowl takes place this Sunday in Miami. Kansas City's Chiefs take on the San Francisco 49ers, and it's the biggest American football event of the year.
As the NFL's popularity continues to snowball in the UK, more Brits than ever are likely to tune into the game on Sunday night. And why not? It's a fresh match-up between two of the most exciting teams in football, and for once the New England Patriots aren't involved!
The game is available on free-to-air television on Sunday night. Coverage starts at 11:00pm on BBC2, before switching to BBC1 for the kick-off shortly before 11:30pm.
Back in the US, Super Bowl Sunday is up there with the fourth of July and Thanksgiving in magnitude, whether you enjoy the NFL or not. It's an entire day of food, drink and fun. If you're having friends over for the game, here's how to host a US-style Super Bowl Party.
The food

It may be the 49ers vs the Chiefs on the TV, but in the living room its Man vs Food. As is tradition in many other American families, we like to adopt the dishes of the cities represented in the big game.
This year, Kansas City vs San Francisco means BBQ ribs versus Mission Burritos. Both are great football foods because of their handheld nature, which lets you gesticulate wildly without stabbing someone in the eye.


Kansas City-style BBQ ribs Get the recipe at Kevin's Cooking

Barbeque lovers couldn't have hoped for a more worthy Super Bowl 54 participant than the Kansas City Chiefs. One of the most popular regional BBQ styles, Kansas City is known for its sweet, tangy, tomato-based sauce.
Ribs can take ages in the smoker, but you probably don't want be outside manning the grill all day in February, so this oven-based recipe from Kevin's Cooking will do the trick. For your veggie / vegan guests, king oyster mushrooms make a great substitute.
San Francisco Mission-style burritos The Bay Area's take on the classic handheld Mexican burrito is named after the San Fran's traditionally Latino Mission district. This style is renowned for its sheer size and propensity to have everything associated with Mexican food stuffed in.
Rice, beans, salsa, refried beans, guacamole, pepper jack cheese, fried green peppers and onion are all packed in there with the meat (or substitute). This NYT recipe is a good starting point, but you can customise as you wish.

All the wings City-themed menus aside, you just can't do the Super Bowl without wings. Delish has 30 chicken wing recipes to choose from with various sauces and cooking styles (oven, slow cooker, air-fryer, deep fry etc.).
For the non-meat eaters we've been going crazy for these buffalo cauliflower wings lately. You could also assign a wings recipe to each guest, and make it a cook off. Just don't forget the celery and carrot sticks, and blue cheese dressing.
Chili and everything else…

Slow cooker full of vegetarian chili The Super Bowl goes on for absolutely ages, from the build-up to the presentation of the 
Lombardi Trophy. Even half time takes about an hour, so you're going to need to keep everyone fed. A slow cooker full of vegetarian chili goes a long way on Super Bowl Sunday, especially when topping a hot dog. So make those too.
A 7-layer dip or a queso dip is a perfect appetizer with a buttload of nacho chips. Snacky handheld foods are the best for the Super Bowl and what's more American than the combination of Big Macs and Egg Rolls?
Drinks If you're keeping it city or state-themed, San Francisco is easy. Sierra Nevada Pale Ale and Anchor Steam are both native to the Bay Area, delicious and readily available in UK supermarkets. Missouri (where Kansas City is located) is the home of Budweiser. Sorry, craft fans.
If neither of those tickle your fancy, it's common to get a keg for the big game. Your local brewery will probably sell them. You could also serve up some Missouri Mules. It's the state animal and a damn fine bourbon-based cocktail. Iced Tea was also invented in Missouri. The caffeine buzz should keep everyone awake during the second half as we head into the wee hours.
Gear The 49ers have a good following in the UK, dating back to the Joe Montana and Steve Young days of the 80s and 90s when the NFL was on Channel 4. Newer fans might have been struck by Kansas City's incredible young quarterback Patrick Mahomes.
If you don't have an NFL team yet, this is the perfect time to nail your colours to the mast. These great young teams should be in the running for the Super Bowl for the next few years. If you order quickly, you can still get your new Chiefs or 49ers gear in time for the big game from Fanatics UK.
Madden NFL Tournament The EA Sports Madden series is how many of us learned about the NFL, and especially the rules. A Madden tournament before the game is a must at your Super Bowl party. Keep it friendly, though. No-one needs an Xbox controller through the telly before the game starts.
Buy Madden NFL 20 from Game

Party Games: Beer Pong Image credit: Photo by Blake Lisk on Unsplash

Everyone can enjoy Super Bowl Sunday, football fan or not. That's largely thanks to the food, the famous half-time show – this year's features Jennifer Lopez and Shakira – and the traditional Super-Bowl commercials.
America's biggest brands will spend $5.6million for 30-second TV slots during play breaks. Sadly, we don't get them in the UK (although the best will be online before or after and here are 15 of the best ever), so we'll need a little more entertainment.
You could run a friendly sweepstake, like the one here, for first touchdown, total points scored, number of field goals, most yards and so on. You could also indulge in a game of paper football with LEGO goalposts. If you wanna get real 'Merica with it, there's also beer pong (a good use for that Budweiser mentioned above) and flip cup.
Get the OFFICIAL beer pong rules at bpong.com
Related Reviews and Shortlists