Rather play Assetto Corsa instead of Mario Kart? A great racing wheel is the number one upgrade we recommend.
If you haven't used one before you may assume it's all about the simple immersion of a wheel between your hands, rather than wiggling a thumbstick. There's a lot more to it.
All but one of the entries in our best racing wheel round-up below has force feedback. This is where a motor fights your turns, to simulate the effects the tarmac would have on a real car.
It feels bloomin' marvellous, and makes realistic racing games about 10 times more enjoyable.
Upvote your favourite to crown the winning wheel.
Related: Best racing games

Best racing wheels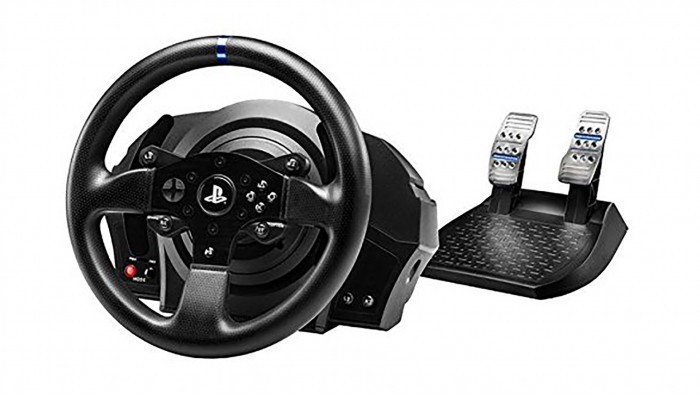 We have recommended the Thrustmaster T300RS racing wheel to friends a bunch of times. It's pricey but not outrageous, and it feels fantastic. You get strong, smooth force feedback, a tough-feeling wheel and controls optimised for your PS4. Have an Xbox One instead? You need the Thrustmaster TX.
Pedals are the only real weakness. They are part-plastic and slightly flimsy compared to the wheel. But you can always upgrade later as this is a modular system.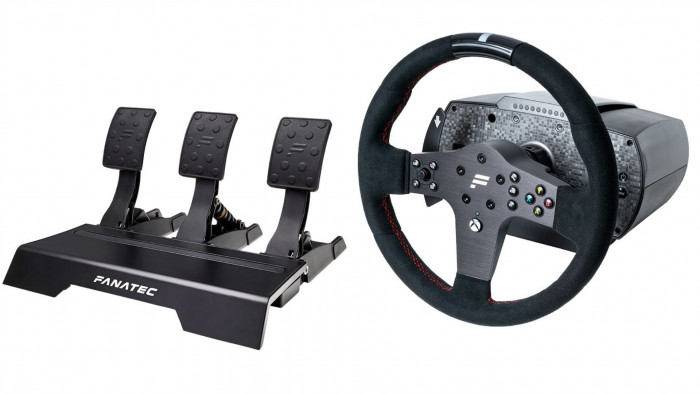 This is a real enthusiast's pick. It's not even Fanatec's fanciest racing wheel but still costs upwards of £500.
But, trust us, this one's good. Its force feedback is fast, powerful and precise, for an even more realistic feel. And while the wheel may not look like much, it is tough as nails. Fanatec also offers a bunch of add-on wheels if you want something a little spicier-looking.
Fanatec's pedals are excellent too, including a particularly realistic brake.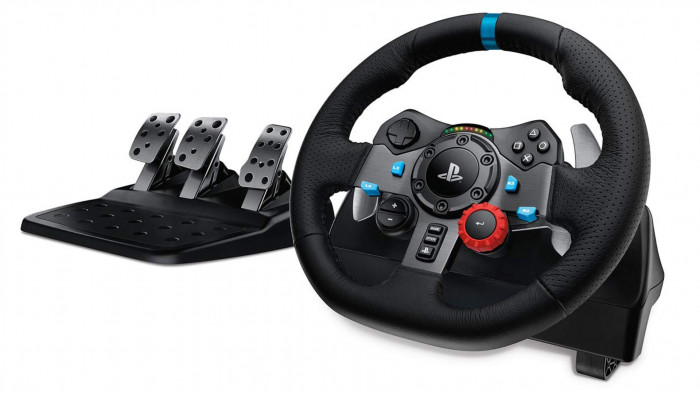 The Logitech G29 is the obvious first place to head for many. It's frequently on sale, doesn't cost a packet when it isn't. And unlike the Thrustmaster, both the pedals and wheel are rock solid.
What's not to like? There's one weakness. Logitech's wheel rotation feels less smooth than that of the other top racing wheels as it uses a geared system rather than belts.
Real racing snobs may think it's not realistic enough, but it is still great fun to use. The wheel also feels fantastic, perhaps even better than the Thrustmaster T300 RS's.
This is the PS4 version. If you want the Xbox One, hunt down a Logitech G920.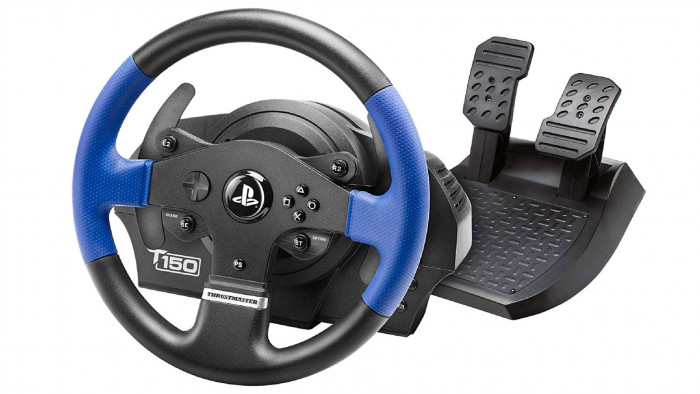 Want to keep your spend sensible? The Thrustmaster T150 RS is an entry-level force feedback wheel. It's a lot like the T300 RS, but with slightly worse build quality all-round, and less responsive force feedback.
However, it gets you at least 85 percent of the best bits of the racing wheel experience at half the price. If you have a suspicion your wheel might end up gathering dust after a few excited weekends, get this rather than a mega-price one.
And if the shaky-looking pedals put you off, Thrustmaster also offers an upgraded "Pro" version for a little extra. It comes with a better set.
This is the PS4 version. For the Xbox One wheel, seek out the Thrustmaster TMX.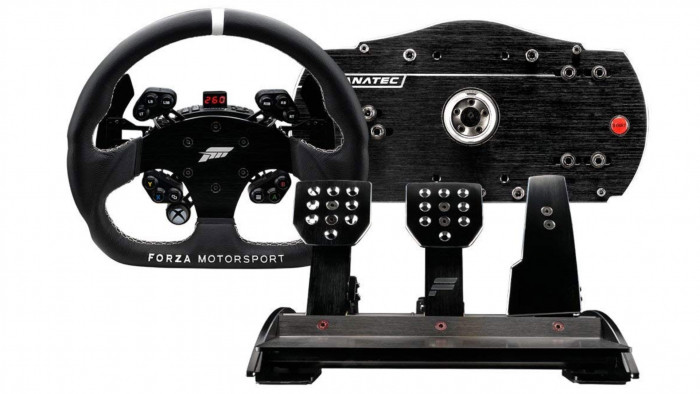 Ready to get serious? A while after the PS4 and PC-only CSL Elite, Fanatec teamed-up with the Forza Motorsport team to create this monster.
It has upgraded force feedback, incredible metal pedals and a metal shifter. At 1499 Euros this is out of the realm of possibility for many of us. But race fanatics will drool over this Fanatec.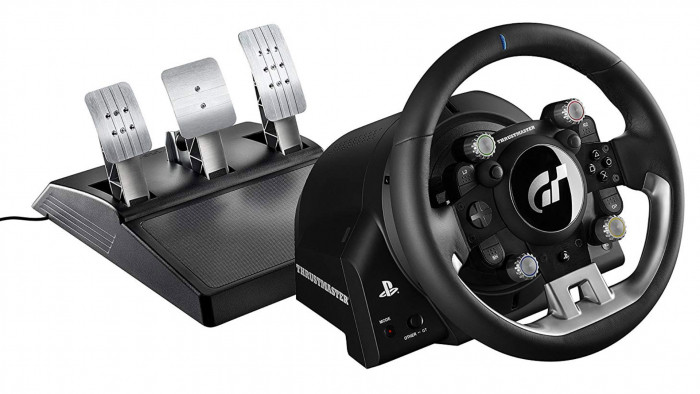 This is Thrustmaster's flagship racing wheel. It's £700, for the wheel and pedals. Yep, more than your console.
For that you get extremely quick feedback, a super-high quality leather coated wheel and decent pedals. And an on-wheel menu system with a display built into the wheel's arc. Mad, right?
Fanatec's force feedback is a little smoother, has a larger bundled wheel and its brake feels more realistic. But the Thrustmaster certainly looks more polished.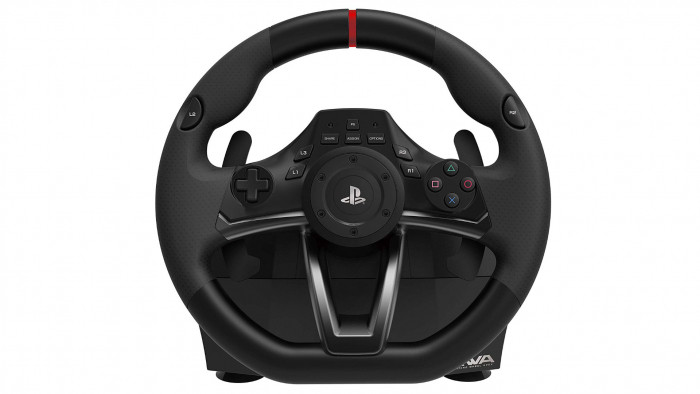 If you're left, mouth wide open, wondering why we're asking you to spend all this cash on, well, a toy, there's the Hori Apex.
This is a lower-cost wheel for PS4 and PC. It won't get you the realistic feel of the others here as it does not have force feedback. Instead, it has a cord inside that adds tension to your turns and makes the wheel flip back to position when you stop gripping it.
It makes racing games more fun, with a real arcade vibe. But if you dream of setting up a racing wheel in your living room (and potentially risking divorce or a life of eternal solitude), you may want to upgrade to the Thrustmaster T150.