A PS4 has been one of the most popular Christmas presents ever since the console arrived in 2013. Black Friday and Cyber Monday are the perfect time to get hold of a bundle, or just a game, before the end of the year.

However, we reckon bundles are where the money's at, with some pretty impressive bargains to be had. There are already some great deals to be had pre-Black Friday which are set to continue into the weekend.
UPDATED:We've updated the best PS4 deals on Black Friday with some fantastic PS4 deals, PSVR deals and PlayStation 4 controller deals. And there's also Spider-Man on PS4 for really cheap.
We've trawled the internet for the best Black Friday deals around - the best of which you can find below. From consoles to controllers and headsets to games like Hitman, there's a range of offers to suit even the fussiest gamer.
Either way, if you're looking for gifts for that gamer in your life, it might be worth taking a look at the best Nintendo Switch games as compiled by the team while you're at it.
save £10 Sony DualShock 4 red
£29.99
Want a bolder-looking pad? The red DualShock 4 is a stunner, and really sticks out underneath your TV.
Buy now from Amazon
save £10 Sony DualShock 4 green cammo
£32.99
Green cammo is one of the more out-there designs from Sony's standard pad line-up.
Buy now from Amazon
save £10 Sony DualShock 4 black
£32.99
The original. And best? If you want a straight replacement for the pad that came with your console, this is the one to buy.
Buy now from Amazon
Save £15 Sony DualShock 4 rose gold
£34.99
This colour is exclusive to Amazon, and we think it's classier than the plain gold.
Buy now from Amazon
8% off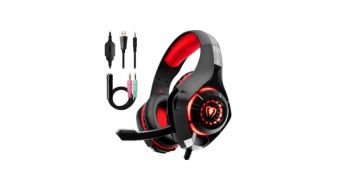 Beexcellent Comfort Noise gaming headset
£21.99
With a massive 8% off, this gaming headset is likely to become your best friend in next to no time. Featuring 360 degree stereo sound and a one-touch mute button, this offering is a handy little addition to any setup.
View now on Amazon
20% off with code: PRIZE20 Just Dance 2019 for PS4
£21.85
If you're looking to burn off that Christmas turkey before the Boxing Day onslaught begins, look no further than Just Dance 2019. Guaranteed to get even the drunkest of uncles up on their feet, this is a fun addition for all the family.
View now on eBay
20% off with code PRIZE20 PlayStation Plus 12 Month Membership PS4
£56.99
For those with a PS4 console who are looking to add a PlayStation Plus membership to their armoury, look no further than this 12 month membership that currently has 20% off. What's that I hear you cry? It entitles you to receive top-rated games every month, alongside other features like online multiplayer modes.
View now on eBay