ShortList is supported by you, our amazing readers. When you click through the links on our site and make a purchase we may earn a commission.
Learn more
You'd be forgiven for thinking that once you've seen one desk lamp, you've seen them all. But these days there's so much variety to choose from and you'll find lamps that are packed with features through to those that are sleek and simplistic.
A good light source is essential if you're working from home to avoid everything from eye strain and headaches to low productivity and fatigue.
However, in our round-up of the best desk lamps below you'll see there's much more to a desk lamp than just providing light. Some come with added adjustments, others have smart bulbs that change colour and others double as charging docks, Bluetooth speakers and more.
Best desk lamps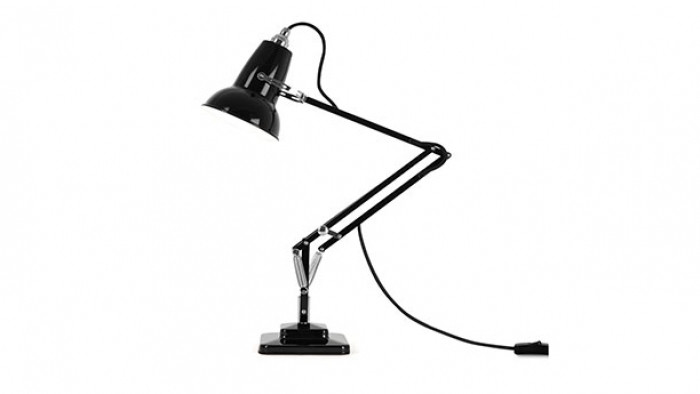 Yes, this is definitely one of the priciest lamps on this list but Anglepoise is all about creating high-quality products that last. This is one of the British brand's most iconic designs with a braided fabric cable, glossy finish and aluminium arms. Anglepoise's constant tension spring technology also gives the lamp an 'unrivalled' smooth movement and flexibility. We're big fans of Anglepoise lamps and this is one of the cheaper ones you can get. The lamp showcases 80 years of craftmanship, offering a classic British design that will suit any office. This is a modern version of the classic 75 and it still looks good after all these years. Something about its design just shouts: FOCUS.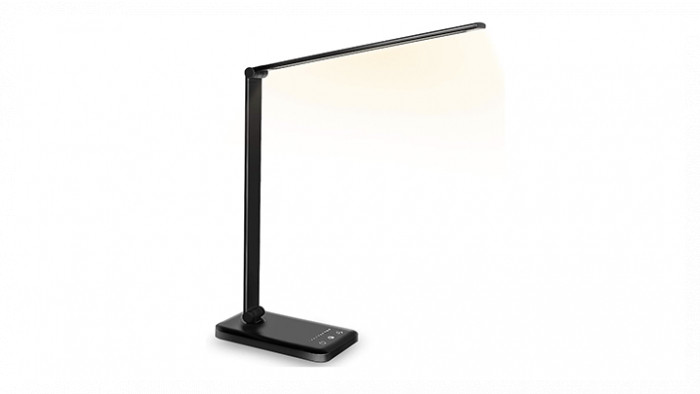 A budget lamp that's good great reviews on Amazon, this super simple lamp from SLATOR has a flexible arm design that can be adjusted to all kinds of angles. It's made to create no flicker to prevent eye fatigue and has a soft light that means there's little glare too. There are five brightness levels and ten lighting modes, which is a decent amount of customisation for a dirt cheap lamp.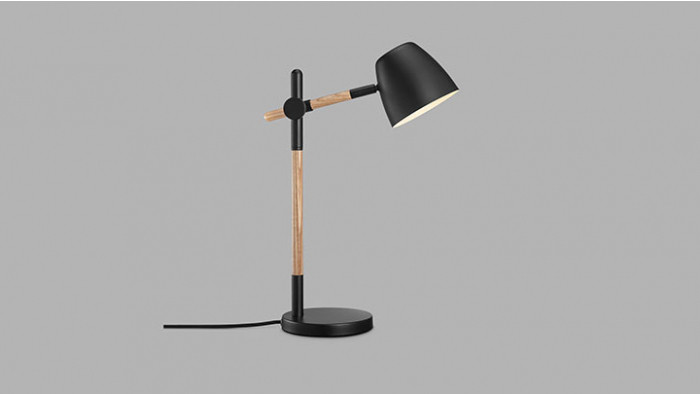 If you're less interested in the cool tech and light adjustment features of the other best desk lamps in our guide and instead just want a light that looks good, then take a look at the Nordlux Theo Desk Lamp. It's made with a combination of ash wood and metal and has a flexible head to direct the light where you need it. If you're going for the minimal, Scandi aesthetic, this lamp can't be beaten.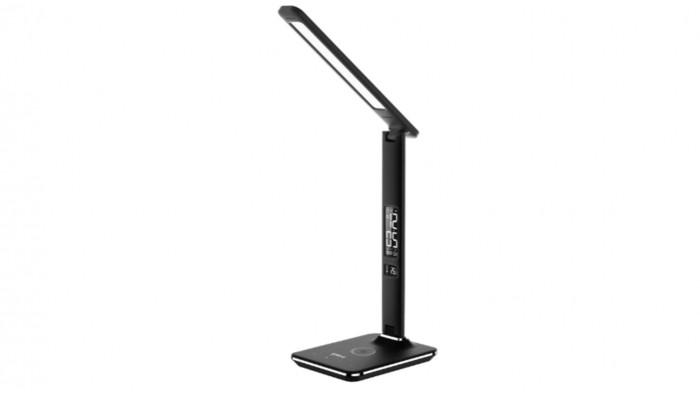 This lamp not only has three light modes, five brightness levels and a dimmer function but also offers wireless charging and has a digital display that shows the time, date and temperature. You can also set alarms with eight different musical tunes on offer.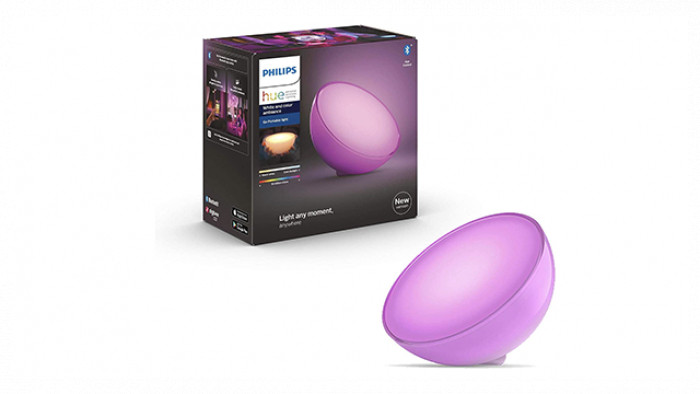 Not your typical desk lamp, we've included the Philips Hue Go for those looking for something a little different. This beautiful smart lamp (seriously, it looks like a bowl of light) can be controlled with your phone and you can select from literally millions of colours and a bunch of brightness levels. Charge it up and you can use it anywhere. We think this is a solid option if you want a colourful light or if you tend to work in different spots around your home.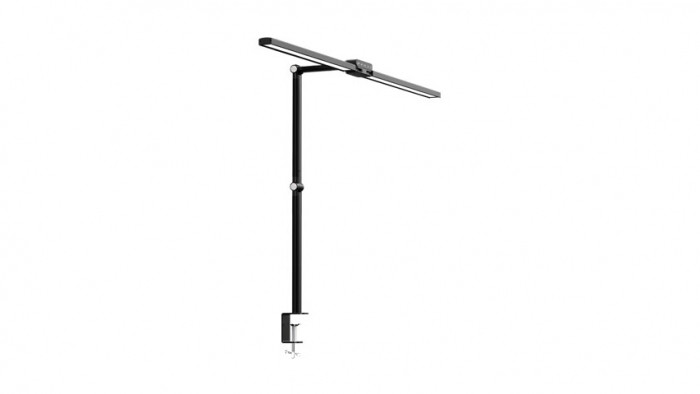 This desk lamp might not look much, but it's a really smart design measuring 78cm across for those with multiple screens and a whole lot of desk space that needs to be illuminated. It clamps onto the back of your desk and includes five dimming levels and adjustable five colour temperatures modes – ideal for warming up the light as you head into the evening.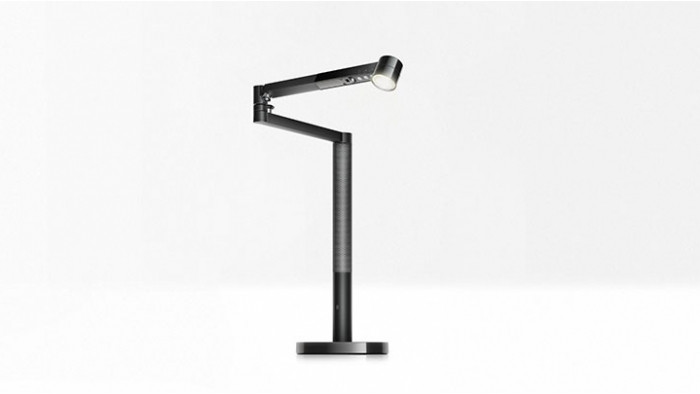 If you're looking for a luxe desk lamp and have the budget to match, then we highly recommend the Dyson Solarcycle Morph Desk Lamp. This simple and futuristic-looking lamp tracks your local daylight and makes colour temperature and brightness adjustments accordingly to reduce eye strain. It syncs up to an app, which lets you make even more customisations. This is a very expensive desk lamp, but it's one that's packed with features and Dyson promises it'll last 60 years.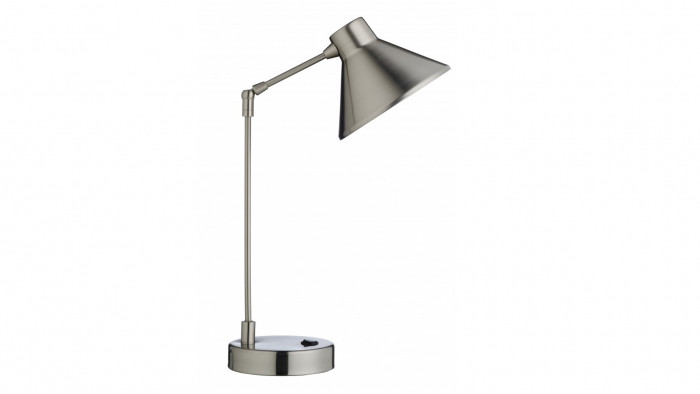 This is a seriously great lamp for anyone on a budget. Design wise, there's a single jointed slim stem and adjustable head on the thing that allows light to be directed where required. And, well, that's pretty much it but if you are looking for a reliable lamp that won't break the bank, then this is definitely one we would recommend.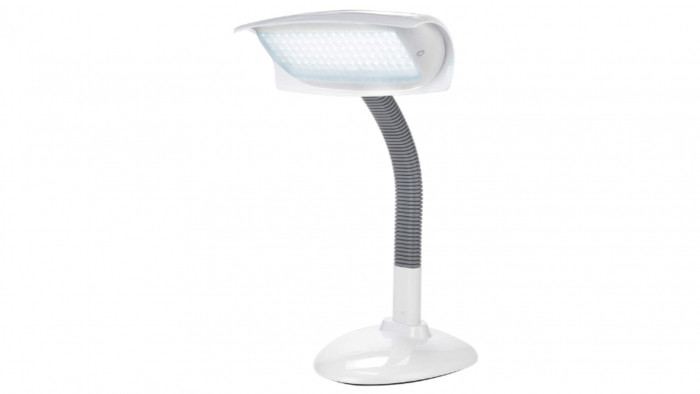 This lamp may look a little like it wouldn't be out of place in a dentist's office, but Lumie is a trusted brand when it comes to light therapy lamps. Their desk lamp provides reading light from blue-enriched white LEDs to help tackle SAD (Seasonal Affective Disorder) while you work. It has touch controls for the light levels and the LEDs are also said to boost concentration.
Related Reviews and Shortlists