If you spend a lot of time sitting at a desk or in front of a computer you shouldn't underestimate the importance of a good office chair.
Experts believe one of the best office chairs could make all the difference when it comes to back ache, muscle tension and even stress and headaches. A chair that's too simple, lacking in support or just worn out won't cut it. Speaking from experience, we also know an ergonomic office chair built with support in mind can improve your mood and attitude to work exponentially.
The Herman Miller range of office chairs consistently comes out on top (and has done for decades). Both the Aeron and Sayl chairs from Herman Miller make our best office chairs list. That's because the quality is fantastic, the chairs are supportive yet comfortable and most come with a 12-year warranty.
However, although Herman Miller and similar high-end chairs are, in our books, the best options for your back, not everyone can afford such an expensive buy. Not only that, finding the right office chair for you can be highly subjective. Some people don't like high backs, others are annoyed by arms, and your requirements will be completely different if you only plan to use your chair for an hour or two each day compared to 8+ hours at a time.
That means, for some people, a cheap and cheerful chair with some support might be worth it over one that'll cost a small fortune. Similarly, if you care about the style of your office space, there's no point going for a bulky one, no matter how much better it might be for your posture. With that in mind, we've included some of our favourite chairs in this list of the best office chairs 2019, but have been sure to add those for different budgets, different styles and different types of workers.
If we haven't included your favourite office chair that you swear by, or the dreamy model you've had your eye on for ages, then tell us in comments below.
Best office chairs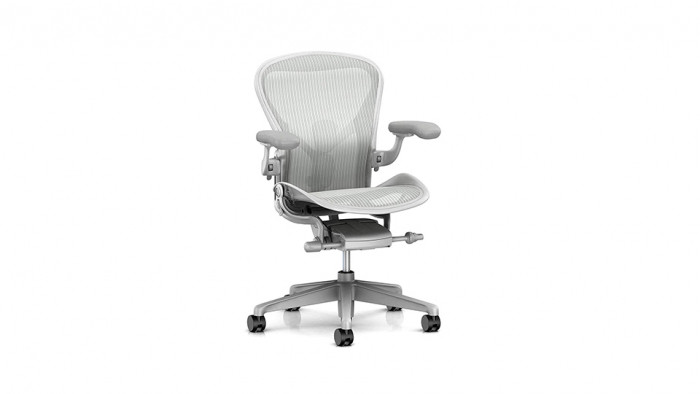 Considered to be one of the best office chairs in the world, the Aeron tops best office chair lists and design lists all over the internet. The Herman Miller Aeron chair is such an iconic, comfortable and successful design it's featured in the Museum of Modern Art in New York.
What makes it so special? Everything. The designers of the chair (which has been consistently tweaked for decades) have researched sitting, posture and different bodies in depth to create a chair that's highly supportive but extremely comfortable.
Almost every element of the chair can be customised before you buy it and then can be adjusted once it's in your home and office, including the height, arm rests, lumbar support and more. Before buying an Aeron, be sure to check with size you need depending on your height and weight, there are three available: A, B and C. Of course pay an eye-watering premium for the Aeron, but what do you expect for one of the most iconic designs on the planet?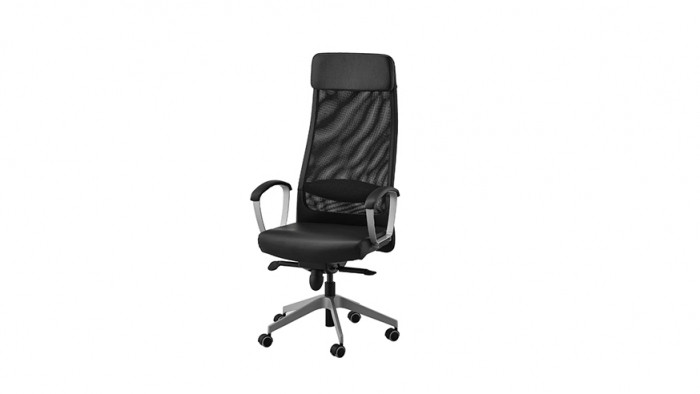 One of our favourite budget option chairs, the Markus from IKEA is a firm favourite for those who can't afford to spend a fortune on an office chair but want decent support and comfort for long periods of time.
You can adjust the height and angle of this chair then lock it into place for added stability and control whether you're leaning back to read (or nap) or leaning forward during an intense typing session. Its high back is great for added support, which makes it a firm favourite for those with back problems.
Its mesh back is also great for the summer months because it'll keep you cool. Sure it may not be the best-looking on the list, but it's fairly minimal and comes with a 10-year warranty, which makes it a winner in our books.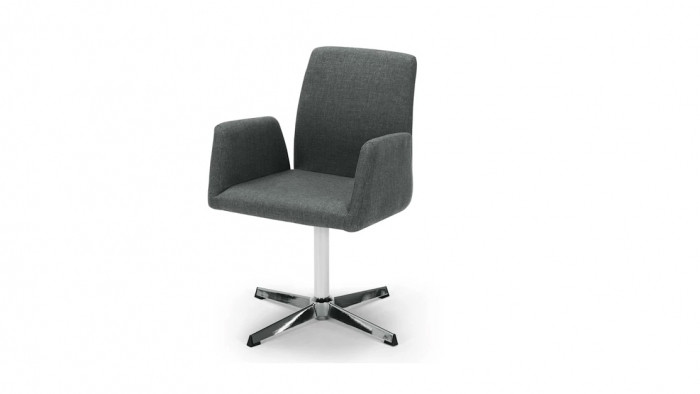 If you're desperate for a chair that provides support but doesn't look so obviously like an office chair, this is the one for you.
MADE is one of the most popular furniture brands around at the moment for style at a (fairly) affordable price. The Grant chair is a lovely-looking desk chair upholstered in comfy polyester with a sleek design and supportive back and arm rests.
If you love to tweak your desk set-up, you might be disappointed by the lack of adjustment options here, but it's our favourite for style, support and comfort, all for under £100.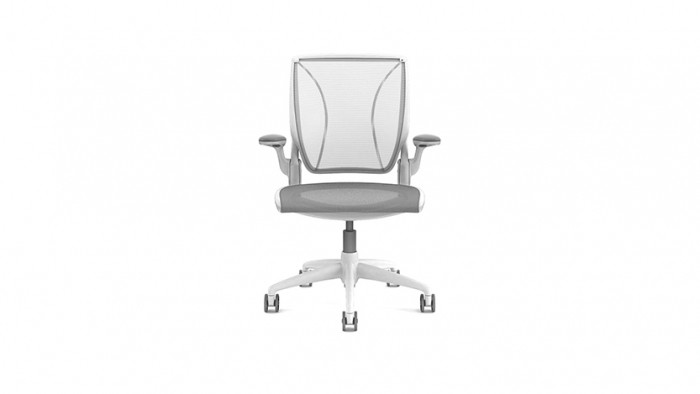 Yes, you're reading that right. Humanscale has a range of chairs called Diffrient and there are a few models to choose from. The Diffrient World is a minimal mesh task chair, which means it's created for long-ish stints, but might not provide the support you need if you're going to be sat at it for 8+ hours a day.
However, it does provide lumbar support, has adjustable height and arm rests and is able to adjust to your body weight, meaning it provides the perfect recline for whoever sits in it. One of the things we love most about this chair is it provides good support and looks great too – it's not too bulky and the lighter colour option is one of the most stylish on the list.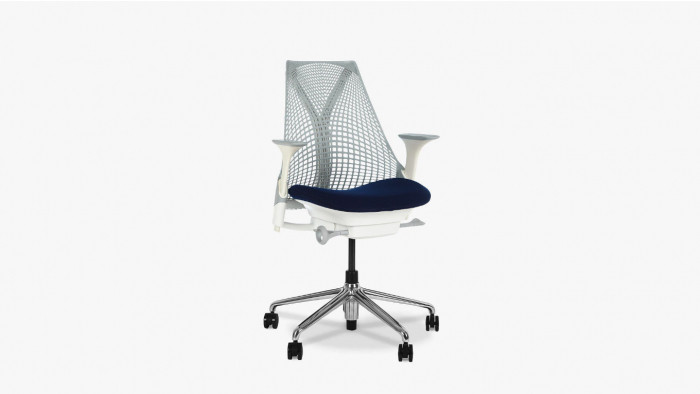 There are many fantastic Herman Miller chairs to choose from. It's not all about the Aeron.
The Mirra is one of our favourites, but the Sayl is very popular too. This new-ish ( est. 2010) chair from Herman Miller is a kinda quirky, kinda beautiful design, which is apparently based on the way suspension bridges are structured.
It's specially designed for those who want added support but like movement and flexibility too. This is ideal for those who spend a lot of time sat down, but like to change positions, move about and get up often. It doesn't have the best-in-class lumbar support of the Aeron or the full-back lumbar support of the Markus, but it's a daring option if you want something a little different. We can see this fitting in very well at design studios. What a stunner.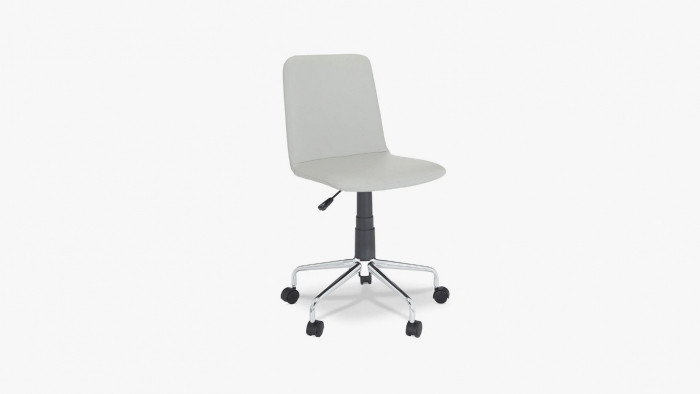 The Nova chair from John Lewis isn't going to provide the level of comfort and support of the other chairs on this list, but if you're looking for a budget option from a trusted brand, this is for you.
It's a simple chair with no arm rests, adjustable height and a simple design. Its minimal aesthetic and lack of rests make it perfect for an at-home desk you'll sit at for an hour or two at a time.
We prefer arm rests ourselves, but this chair has a lot of great reviews on the John Lewis website, with many people applauding the quality – especially considering the sub-£100 price.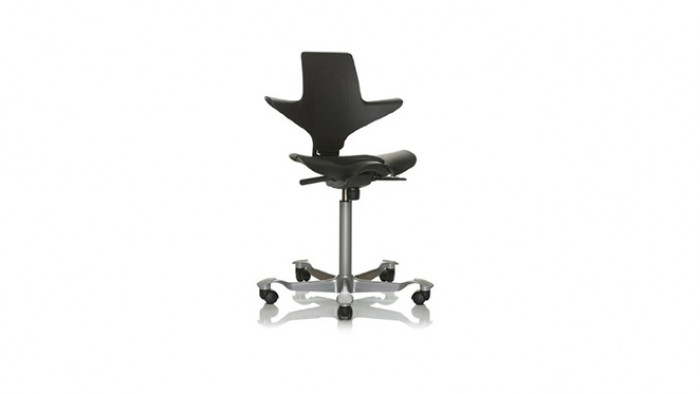 This quirky-looking office chair consistently makes best office chairs lists and has great reviews online. It's designed specially for improving your posture and the design has been inspired by the act of sitting on a saddle – horse riders always sit up very straight, after all.
It offers support and plenty of adjustments. Although it may not be the most comfy-looking chair on the list, it's ideal if you're dealing with back problems and really want to prioritise your health. Another added bonus is that the HÅG Capisco chairs are all made from recycled car bumpers and waste household plastic packaging.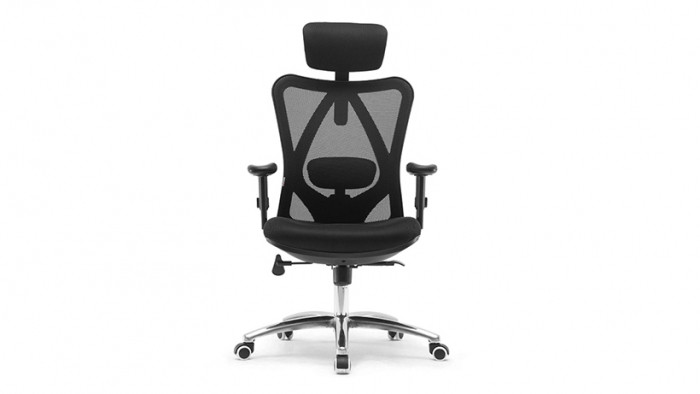 Similar to the Markus, the appeal of this ergonomic office chair from SIHOO is that it provides support for your whole back – ideal for those who find it hard to sit up straight without it.
It might not be a great-looking chair, but it offers many ways to adjust the position to suit you, as well as a breathable mesh fabric to keep you cool. Unlike other chairs on this list, you will need to construct this one yourself but, according to online reviews, it won't take you long.