ShortList is supported by you, our amazing readers. When you click through the links on our site and make a purchase we may earn a commission.
Learn more
Best office chair UK in 2023: top ergonomic home office chairs tested
Our pick of the best office chairs to make working at home less of a chore.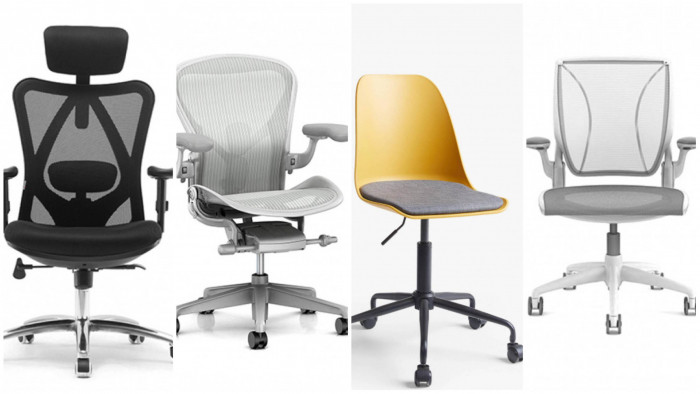 A good office chair is something home workers should get sorted ahead of standing desks, balance boards and fancy water bottles.
It can mean the difference between a bad back and, well, being able to live pain-free. We all spend so long working, you don't want to make do with a chair that will encourage bad posture.
You can spend as little or as much as you want on an office chair, and the upper limit is quite intimidating. Shop with some of the biggest brands, like Herman Miller and Steelcase, and you can easily spend £1000/$1000 or more without even going for upgrades like leather upholstery and higher-grade adjustability.
Not only that, but finding the right office chair in the UK for you can be highly subjective. Some people don't like high backs, others are annoyed by arms, some want a chair that'll look stylish when it''s not being used, and your requirements are likely to be completely different if you only plan to use your chair for an hour or two each day compared to 8+ hours at a time.
For some people, a cheap and cheerful chair with minimal support can be a great option and be worth it over one that'll cost a small fortune. Similarly, if you care about the style of your office space, there's no point going for a bulky one. No matter how much better it might be for your posture you don't want to wince every time you look at it because it's a comfy monstrosity.
If we haven't included your favourite office chair that you swear by, or the dreamy model you've had your eye on for ages, let us know in the comments below.
---
How to buy an office chair
5 tips to make sure you get the right office chair for you <
Welcome to the wonderful (and sometimes frustrating) experience of buying an office chair. Making sure you have the best office chair for you is vital as it needs to do a number of things.
It needs to be the right fit for your office (or wherever you want it), it has to be long lasting and, most importantly, comfortable for you. If you are going to be working from home for the foreseeable, then you need to be damn comfy doing it. Here are five things to look out for:
1. Choose the right material
An office chair is often made from a number of key materials. Leather is one of the most popular materials (or leather look, which has been given the brilliant rebrand of vegan leather). This offers extreme comfort and is usually found in executive chairs.
A mesh seat and back is another popular choice, which is the most breathable choice, so if you see yourself sitting down for long periods of them, then this could be a good fit for you.
Then there are fabric-based chairs. These are usually the cheapest, but are simple and, above all, comfortable.
2. Think about the ergonomic features
While the way a chair looks is important, you should also think about how it might feel to sit in it for hours at a time.
An office chair will usually be adjustable to a point and the amount you can adjust it will usually up the price. But there are some essential adjustments you need to be able to make. We recommend looking for a backrest tilt, which will change the angle of the chair and take the pressure off your back.
An adjustable seat is important as you need to make sure that both your feet are on the ground when sitting at a desk. Also look for adjustable height options, and the ability to shift your headrest.
Other things to consider are armrests that help with back support, as well as good lumbar support.
3. Think about the type of chair you want
Yes, it's an office (or at least a makeshift one) but is a huge executive chair really going to fit the look? Maybe, but it might be that a gaming chair fits the vibe of your room better or a swivel chair will help you feel like you're back in the office. It might be that you're happy with a fixed chair and that's what you want. Understanding the type of chair you like and that suits your space will help focus your buying.
4. Have a price in mind
We would love a Herman Miller, too, but if your budget doesn't stretch then you have to think realistically about the type of office chair that you want. You can get a decent chair for under £100 if that's what you are looking for – add another hundred to the price and it really does open up your options. You can't spend too much on an office chair, as you'll be paying for style and brand but just make sure it's what you need before you splash the cash.
5. Ask yourself how lazy you are
If you're really lazy, then make sure that you go and get a self-assembled chair. It will be a pain to try and fit it into your room, but it does mean that the thing is ready to use right away. If you're happy to spend a little bit of time putting things together then you'll find that there are far more office chairs available to you.
Related Reviews and Shortlists