ShortList is supported by you, our amazing readers. When you click through the links on our site and make a purchase we may earn a commission.
Learn more
You don't need to be a doctor to know that sitting for long periods isn't great for your health; that's why buying the best standing desk just make sense.

There are plenty of options around, from manual to motorised desk. Alternatively, you can opt for a converter or riser, which goes on top of a standard desk or table to create a raised surface. You can even buy the legs on their own and fit a desk surface on the top that matches your interior.

UPDATE: There has never been a better time to get a standing desk. With many of us working from home right now, a standing desk has myriad health benefits. The best standing desks we have chosen hit all the price brackets, so hopefully you will find one that's for you.

If you're an office-based employee and back health is important to you, it isn't just your concern - employers have their part to play too. Apple's Tim Cook even went so far as to call sitting the 'new cancer' after having kitted out Apple's California headquarters with standing desks.


Standing desks aren't just for offices though. Flexible working is on the rise, so people are working from home more than ever. Many spend that time on the couch or at a counter slouched over a laptop.

If that all sounds familiar, we've tested out five of the best rated standing desks around for home use, from the incredibly affordable Deskmate Standing Desk Converter, costing £29.90 through to the sleek, handsome looking, electric Jarvis Bamboo Adjustable Standing Desk, which climbs up to 125cm and £700+.


If you're thinking about a riser, we have two options that couldn't be more different, the Oploft, and the The Varidesk Pro Plus 48, one clean and transportable, the other stationed and build for serious productivity.


Finally, there's the Ikea Skarska, a desk you can crank up and down with much of the functionality of the Jarvis Bamboo, but a much more clinical look and feel.





Best standing desk for value and best overall

View now on Wayfair

View now at Amazon




Upgrade your home office without spending a fortune with the best budget laptops.
---
10
Standing Desks considered
The Best Standing Desk: The Shortlist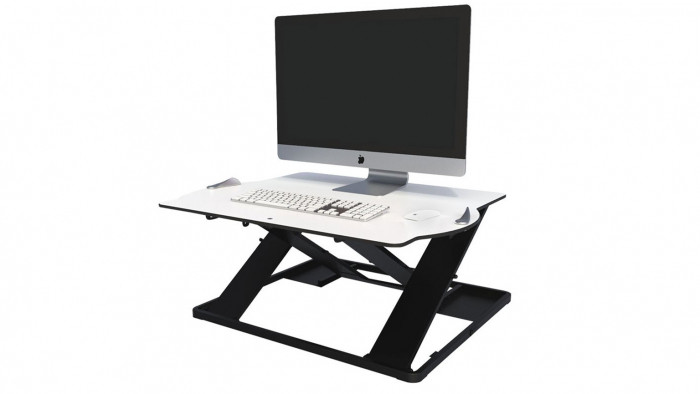 If you're concerned about design and want a light, sleek solution, the Oploft riser is a top choice. It's an easy-to-move converter. The Oploft looks like a sliver of a surface when closed, as ergonomic levers on either side are the only interruptions to its clean aesthetic.
Use them to unlatch it, and the top surface rises up by 42cm, through 14 height-adjustable positions. It can carry a maximum load of 14kg too, so is sturdy enough to support a large monitor and a laptop. It's just a surface - no keyboard trays in sight, so you'll definitely want a taller monitor stand for perfect ergonomics. But what the Oploft lacks in terms of bells and whistles, it makes up for with its clean look. And the winner of the most low-tech standing desk in our roundup is… a slab of cardboard, aka the Deskmate Standing Desk Converter. This £29.99 craft project is a genius concept, can hold up to 10KG, and is over 50cm tall. While we might not trust it with a monitor in humid conditions, despite the fact it can technically support one, it's an ideal option for laptop workers with Bluetooth keyboards, is quick to construct and comes in a range of colours and off the wall patterns.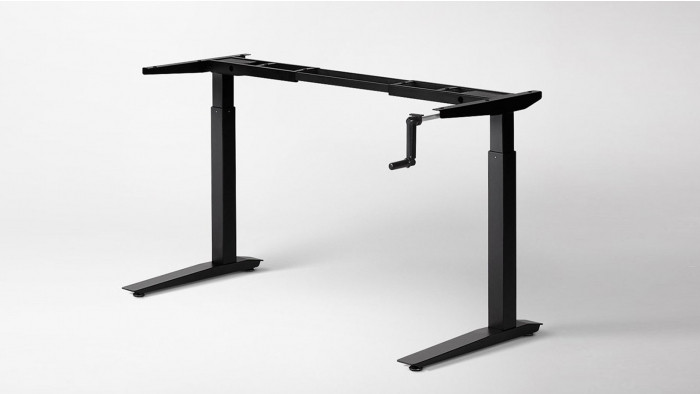 If none of the pre-made solutions are to your taste, but you want a standing desk, you could always opt for a Jarvis Crank Frame. For £279, you get legs that you can be combined with a desk surface of your choosing, like the IKEA Gerton, for example. This manual standing desk is sturdy, taking a maximum weight of 68KG (including the desk surface), comes in black or silver and features a crank so you can raise and lower the desk from 68cm-117cm. If you need a complete desk solution and aren't on a tight budget, the Jarvis Bamboo standing desk is a warm and inviting-looking electric option. Its sustainable bamboo is less clinical than IKEA's Skarsta, while also offering a bit more versatility in terms of height.
The Jarvis Bamboo rises from 60cm through to 120cm if you opt for the extended version. It's available in two heights and three sizes, and the desk surface also features an optional ergonomic curve. You can mix and match sizes and finishes to create the perfect standing desk for you.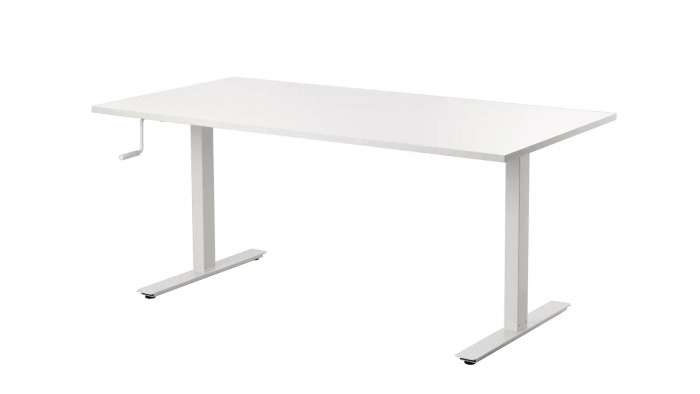 No desk? No problem. The Ikea Skarsta is an all-in-one desk solution, and an affordable one no less. It undercuts most of the risers and converters in our list.
It's crank-adjustable, raised and lowered manually. This means it has virtually unlimited height positions between 70cm and up to 120cm, if you opt for the taller option. With a maximum load of 50kg, it's sturdy too, though as with most things IKEA, there's a fair bit of assembly required to turn this flatpack into a finished piece of office furniture.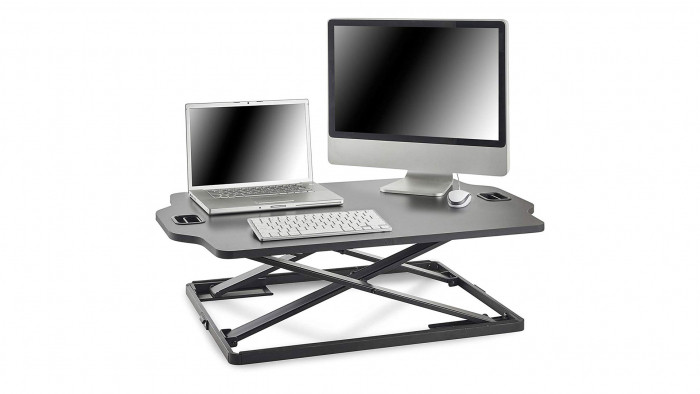 Think of the VonHaus X-Frame as the Oploft on a budget. This riser isn't quite as sleek, features 12 height settings versus the Oploft's 14, and rises up to 40cm by contrast to the Oploft, which reaches heights of 42cm.
Perhaps the biggest difference from a specs point of view: its maximum weight load is 10kg, to the Oploft's 14kg. At under a third of the price though, it's an excellent value riser and could be a good entry point into the world of standing desks.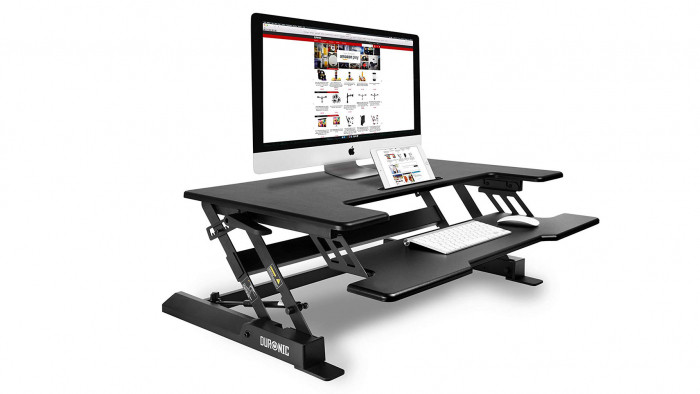 If you don't mind something a bit bulkier, you can opt for a significantly cheaper converter. The Duronic Sit Stand Desk is a cost-effective way to get standing, rising up to 41.5cm.
It can hold up to 15kg, so you'll be able to get a decent-sized monitor and a laptop on it. The DM05D1 also comes ready assembled, so once you set your height, you can forget about it and crack on with work until you need to lower it for some sit-down time.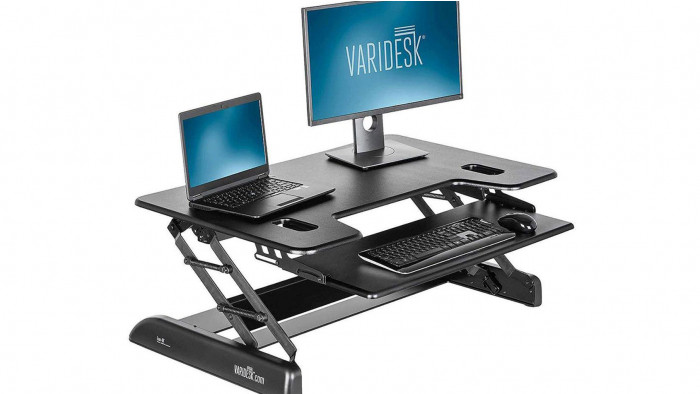 The Varidesk Exec 40 is the priciest converter on-test, but is the best if you're over 6'1. It was designed with users as tall as 6'7 in mind.
This converter sits on top of a table or desk, can fit two 27-inch monitors, and it features nine height adjustment settings. The Varidesk Exec 40 also offers a fair bit of room for notepads and phone cradles too, which isn't always a given. And as it comes fully assembled, you can get it in position, loaded up with your tech and working in minutes.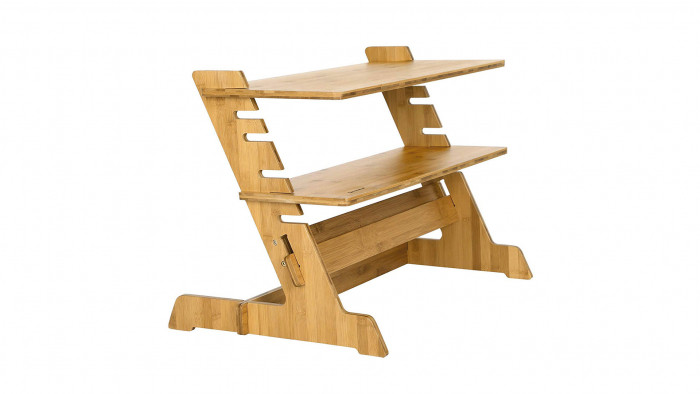 Not quite the most low-fi product in our list, but definitely the runner up, the Songmics Bamboo desk wouldn't look out of place in a nursery. Don't let its charming and disarming rounded corners and bamboo body fool you - this converter means business.
Each deck has a maximum load capacity of 10kg, the body is made of renewable materials, weighs just 4kg and is 45cm tall. Featuring three height options for the monitor surface and three for the keyboard surface, there's also a degree of versatility, and it's easy to assemble. It needs just four screws. The Yo-Yo Desk is a converter, so it sits on top of a traditional desk or table to give it a lift. It's available in three sizes, 68cm, 90cm and 120cm, and the Yo-Yo Desk also has 15 height adjustment settings from sitting to standing.
Premium grade aluminium gas springs ensure smooth height adjustment, and it can be picked up in black or white, with a three-year warranty. In its largest guise, 120cm, you can fit as many as three monitors on it, making it incredibly versatile.
Best standing desk: How we chose the ones to test

There are so many standing desks available right now, that it is something of a daunting task to whittle them down. But that's exactly what we did by considering a handful of options for each price point and even looking at standing desk add-ons to see if they matched the dedicated versions.
We also took a number of factors into consideration - including budget and value for money (these aren't the same thing).
The most expensive standing desk we trialled was around the £500 mark but we also considered a an add-on standing desk option that was under £50.
It is worth noting that the Shortlist above takes into consideration 10 desks - all of which have their plus and minus points. For the sake of this test, we shortlisted the Shortlist to five desks:IKEA Skarsta, Deskmate Standing Desk Converter, Oploft, Jarvis Bamboo Adjustable Standing Desk and the The Varidesk Pro.
Best standing desk: how we tested
Given writing and reviewing is our full-time job, the best way to review the desks was actually do our work on them! This means trialling them all in a standing and sitting position. We also considered the overall size of the desks and whether or not they were built for single monitor or dual monitor displays.
Durability was also a big factor - when moving the desks from their sitting to standing positions, we checked to see how easy this was and if there was any noticeable wear and tear. We gave each desk the same allotted time and took into consideration comfort and one of the biggest factors was ease of use, as well as how easy it was to put together.
Best standing desk: test results
The underdog of this shortlist is the Deskmate, but despite being made of recyclable cardboard, we love what it does and what it stands for. The fact it's got a stepped design means your keyboard is in a well-suited position for standing and typing with elbows at right angles - similar to the Varidesk. Converting your space back to a sitting desk isn't particularly elegant, it's simply a case of picking up the Deskmate and moving it, but if you're okay with that, then this £29.90 investment is worth every penny, even if we don't see it as an ideal long-term option.
In our opinion, the Varidesk range isn't attractive; in fact, it's pretty ugly, but it's not designed with looks first, it's primarily about ergonomics and in that department, it's our winner.
The
Varidesk
ProPlus's build quality can't be faulted thanks to incredibly solid, robust construction - once you put it down on a surface, it isn't going anywhere. As for the keyboard tray, it sits below the main portion, putting you in the perfect standing position to type with your arms at a right angle - as with the
Deskmate
, only better. Its transforming motion is also super smooth - easy up, easy down - and it worked like a dream for a 5'6 and a 6'4 reviewer alike.
The IKEA Skarsta is probably the right choice for an office on a budget in need of something more robust than the
Deskmate
, while the
Jarvis Bamboo
Adjustable Standing Desk is the best looking, performing complete desk solution we've ever used. It isn't cheap, but it wouldn't look out of place in a corner of a photography studio, with the rising motion being so smooth, it could replace a vertical videography slider.
Finally, the
Oploft
is the best looking small-scale solution available in our opinion, and its build quality and weight were both reassuring. That said, it's a bit too heavy to be truly portable, so is ideally suited to permanent cubicle use at an office, or home unless you're comfortable carrying a 12KG slab from room to room.
Best standing desk: overall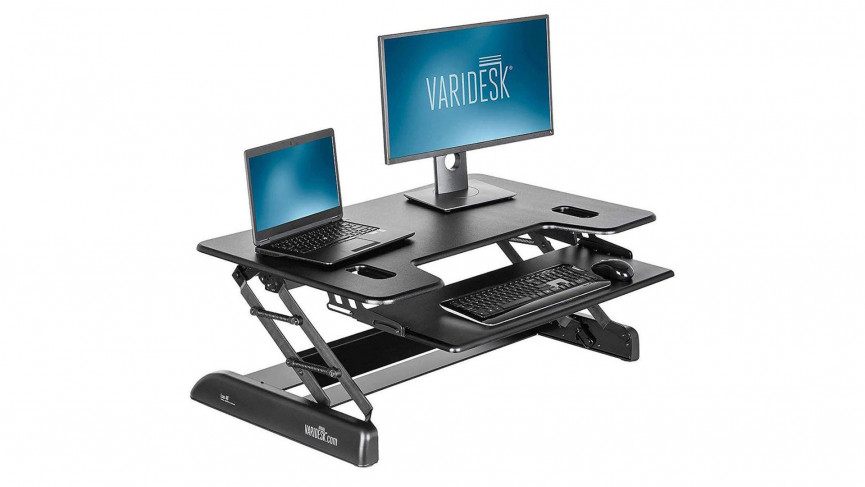 While our design winner is without a doubt the Jarvis Bamboo - it's absolutely beautiful and seeing it go up and down by itself never gets old, if you're looking for a desk that will guarantee you the best posture, that award goes to the Varidesk ProPlus 48, which, despite being comparatively ugly, left us noticeably more limber after just a few days of use.
Best standing desk: for value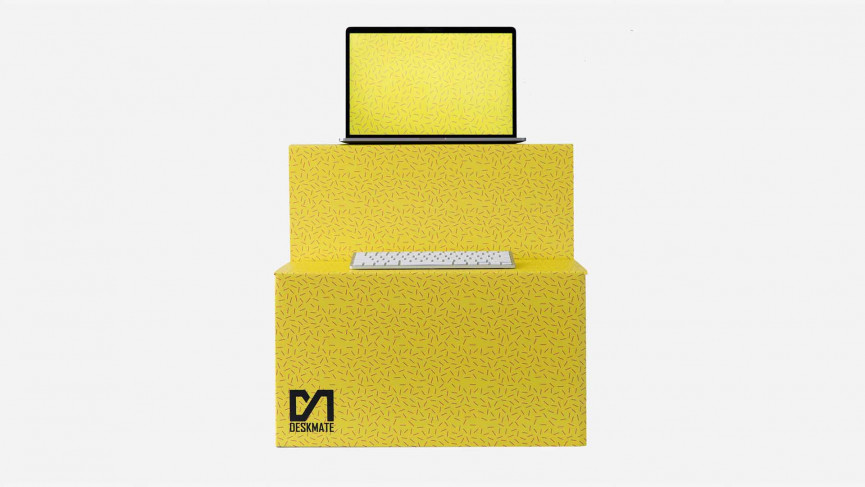 The Deskmate desk converter took us by surprise. This thing is made of cardboard, costs less than £30 and can't get wet or it will disintegrate, and we always have coffee on our desk - high risk zone! Almost a month in though, and ours is in a great state save for a couple of bumps, and while we wouldn't use it forever, we're pretty confident it could see you through at least three months of stand-up working, until you're ready to upgrade to something more permanent that is.
Related Reviews and Shortlists