ShortList is supported by you, our amazing readers. When you click through the links on our site and make a purchase we may earn a commission.
Learn more
Timothée Chalamet on grappling with rebellion, addiction and speaking out
The 22-year-old actor discusses his next step Timothée Chalamet would like to apologise for breaking your heart last year; for making you cry fat, salty tears while you watched him cry fat, salty tears at the end of his Oscar-nominated turn in Call Me By Your Name.
He is sorry that his depiction of Elio Perlman and his sexual awakening, set against the humid haze of a lazy summer in north Italy, was so devastating that people still come up to him with one hand clutched to their chest, gasping at the mere sight of him. He's nothing short of grateful that so many people found the peach scene – that peach scene – intense, and kind of beautiful and, really, who cares if the best sex scene of 2017 was between a young man and the soft flesh of a prunus persica when said scene was so moving? Men, women, everyone needs to up their game, because Timothée Chalamet fucked a peach last year, and it was good.
But all that – the dreamy months hanging out with Armie Hammer, the bike rides, frolicking in alleyways and bonding so tightly with someone that the only thing you can compare it to is actual, soul-binding love – is in the past. "I don't think I'll have an acting experience as immersive as that," he says. "I came of age as an actor during my time with Armie. The relationship that blossomed out of it is the most precious gift."
It's hard to talk about Chalamet without talking about Call Me By Your Name – because, at 22, he's already earned the kind of cult role that could eclipse his entire career. Luckily, his next phase kicks off with an against-type turn as an edgy, misunderstood musician in Greta Gerwig's Lady Bird, then a meth addict opposite Steve Carell in Beautiful Boy.
And, crucially, last month he pledged to donate his earnings from the upcoming Woody Allen film A Rainy Day In New York to the legal defence fund of the Time's Up movement, marking him out as one of only a few male actors to publicly speak out against the director.
Chalamet's meteoric rise, following a year in which Hollywood was tipped on its head, makes him one of the most interesting young men of 2018; remaining a powerful ally to the LGBT community, being vocal when men three times his age are silent; becoming the youngest Best Actor nominee at the Oscars since 1944 and knowing all the lyrics to Bodak Yellow. All of which we'll get to, just as soon as he's back from the doctors.
"Please, don't hate me," he says, in his car, during one of our conversations. We've been talking about the best bagels in New York – Tompkins Square Bagels, FYI – when Chalamet breaks the news that he needs to go for a physical. Like, now. "Are you going to kill me? I won't be long! Promise. I'm really looking forward to continuing our cross-pond conversation. I mean it."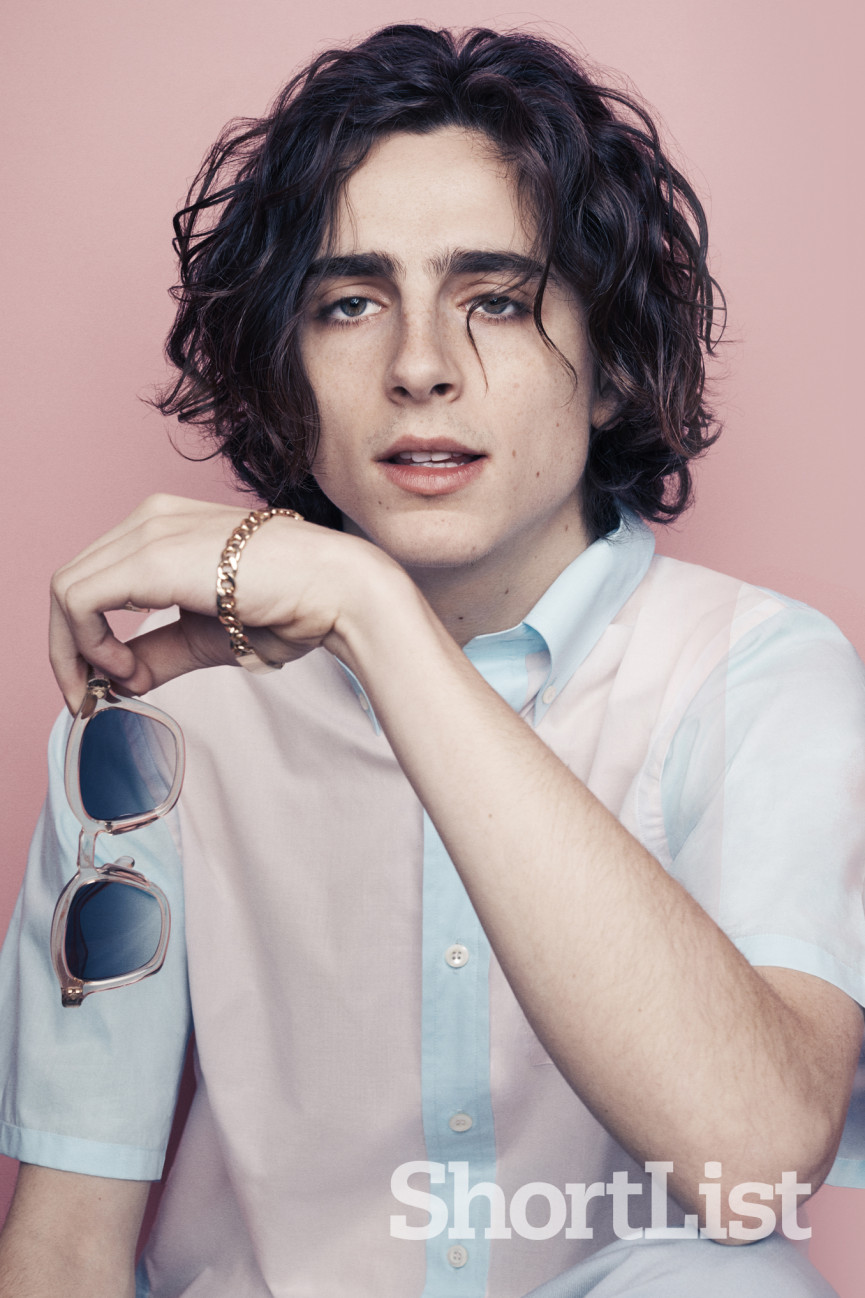 A week earlier, in London, and Chalamet is sitting on the floor, looking up and howling like an abandoned wolf. On set at his ShortList cover shoot, he has curated the playlist – Young Thug, Lil Pump, Kid Cudi. When Frank Ocean's Nikes comes on – that doleful ode to anguish – he imitates the singer, eyes closed and crooning. Later he'll mosh, spit out the lyrics to Lil Pump's Gucci Gang and lose his shit during Ocean's Pyramids. Noting the red soles of his sneakers, he bursts into Cardi B ("These is bloody shoes") – and he even has a reflective moment for Dido by way of Eminem's Stan. "Where is she now?" he wonders. Nobody knows.
"I once took a 12-hour train to Montreal to see Cudi – I missed his New York show but I was so desperate to see him," he says, brimming. His hair is so dense and iron-willed that each side of his curtained fringe has the drape and curl of a treble clef with a stiff kink that makes it tricky to get out of his face. Blowing a strand out the way? Futile. Tucking it out the way is fine if you want to waste four seconds of your time – but Chalamet has no time to waste. Tonight, he is receiving an award at a critics' dinner in Mayfair, then hopping on a plane to return to Crema, Italy, for Call Me's homecoming press tour. This is after Paris, Rome and Los Angeles, and before he's back in London for the Baftas and LA again for the Oscars. You'd keep your hair hanging in front of your eyes, too.
But Kyle, Chalamet's character in Lady Bird, is almost the anti-Elio: a pretentious, jumped-up rich kid who smokes roll-ups and corrects your French. Chalamet says it's a little more complicated than that. "There's a good deal of posturing going on, he's both self-observant and self-loathing," he explains. "Any mannerism that does feel gestured – the books he likes to be seen reading, his occasional French, even him saying something is 'hella tight' – it all comes out of nowhere, which isn't necessarily a bad thing."
This is the key to Chalamet's Phase Two: a wink and a nod, because his unabashed, theatre-kid flair mostly demonstrated on his Instagram account hasn't so far translated to his roles on screen (playing a meth addict in the aforementioned Beautiful Boy will not, it is fair to assume, be a barrel of laughs). He says it felt good to do something different. "Kyle's not a bad guy, really, but there's some legit paranoia to him. And it's a funny [film], you can't take the performance that seriously."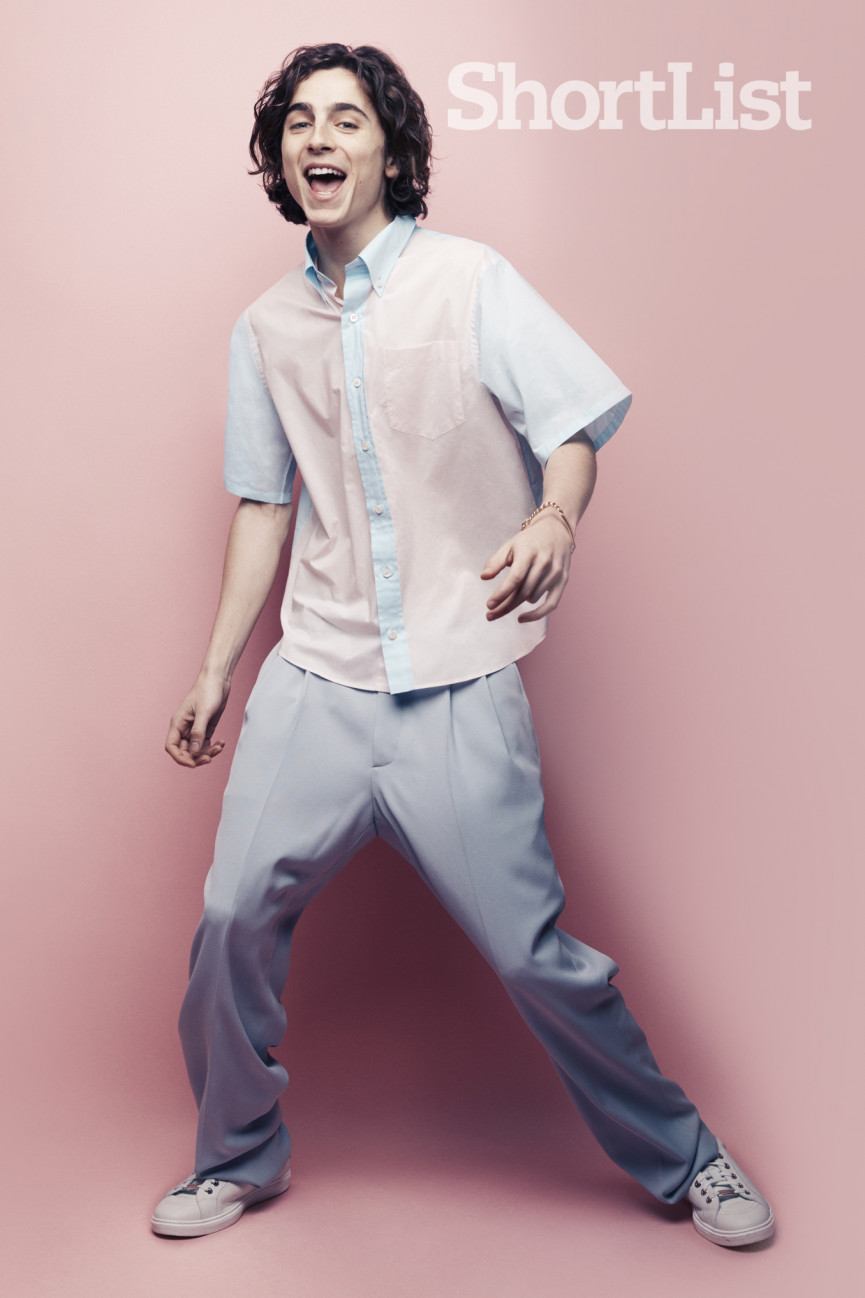 A week later. It's late. My phone rings. "Umm, hey," he says. "I thought you might be asleep by now. No, I'm kidding. So, I have a good bill of health… I was getting a kind of regimen in order for a project. Just getting a bit of a head start. I'm back, so ask me anything."
Anything? OK, what's on his reading list at the moment? He thinks. "Hmm. What can I not put down… hang on." He sets the phone aside and I can hear his footsteps thump around the house. "Hello? I have one. It's called Turn Up The Heat: Unlock The Fat-Burning Power Of Your Metabolism."
I'm not sure what to say.
"But here's the thing, during intense periods of production it can be hard watching and engaging with acting in other films and TV shows, period. I watch documentaries and cartoons. Maybe the deep narratives that comprise most books are really daunting." It's one of the best excuses for not reading that I've heard, I say. "I guess these are all shitty excuses, huh? I need a good book."
He grew up in Hell's Kitchen, Manhattan, in a 33rd-floor high-rise so close to the clouds that "it felt like we were literally floating in the sky". Chalamet went to Laguardia (the performing arts school from Fame; notable alumni include Nicki Minaj and Ansel Elgort) and later Columbia University, though he dropped out in his first year.
He blames the eye-opening experience of making Interstellar in Canada with Matthew McConaughey, which he did for a month and a half before term started. They bonded over 5.30am starts – there was a river adjacent to the set, and McConaughey could be found swimming among the rocks before he started work. "Oh my gosh," Chalamet says, wistfully. "He embodies the idea that your career is a marathon, not a sprint. His career is so awe-inspiring. He navigated long periods for demand for honest and truthful acting." The idea of returning to the structured world of college felt stifling to Chalamet. So he left.
When he was younger, Chalamet would visit his father's side of the family in La Chambon-sur-Lignon and Saint-Agrève in France – his first job was coaching a kids' football team out there.
"It led to an identity crisis, of sorts. I think it really helped with my acting, but it was a destabilisation, spending eight to nine months in Manhattan and then absconding for a few months a year to a small village in France."
He thinks that this cultural dissociation helped him nail Elio in Call Me By Your Name.
"Your personality changes when you're using a second language. Certainly for me, my command of the language wasn't as strong [as my English], it doesn't come to me so easily. And by the nature of it, I think, the way people carry themselves in France, compared to New York, I became a little more deferential. I would have to search a little more."
During one of our earlier talks, Chalamet stressed that the first dream as an actor was "economic sustainability", with the critical acclaim coming a close second. "Every actor dreams of being economically sustainable," he insists. I worked with John Goodman on a movie, and he said he felt like he'd made it when he could sustain himself."
I ask how much it takes to sustain yourself as an actor, but he laughs, because I've effectively asked how much money he wants to make. "No, that's a really great question, it reminds me of that scene in Birdman, 'I'm just waiting for someone to tell me I've made it.' Something I'm realising – doing these awards shows, meeting my heroes, if I'm winging it, then we're all winging it. We're all freelancers. That thirst is always there. I have to tell myself: hey man, don't worry about the project you didn't get. You still need to pinch yourself. This is all great."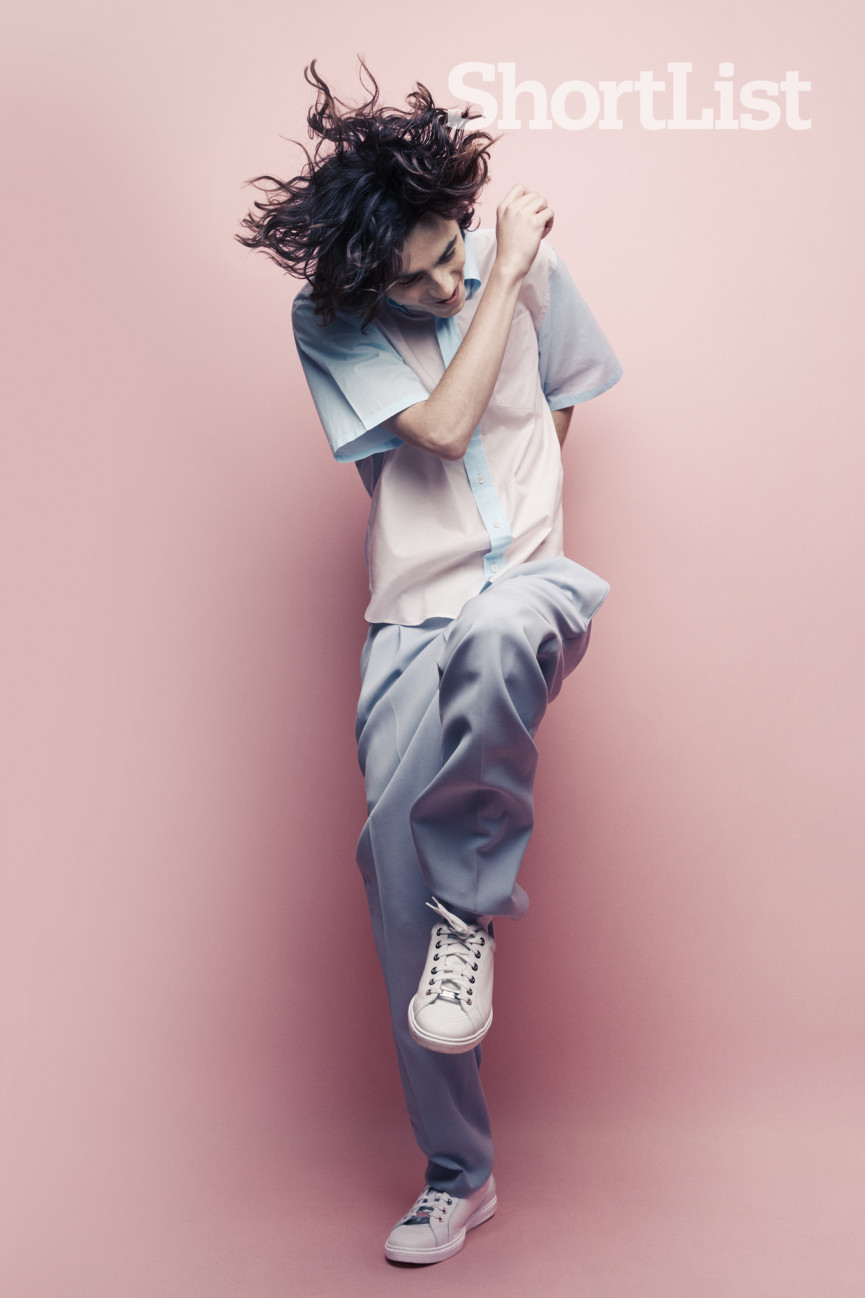 I ask him if he was surprised at the reaction to him promising to donate his fee for Allen's A Rainy Day In New York; in a statement, he simply said he didn't want to profit from his work on the film. The money will be split between the Time's Up movement, The LGBT Centre in New York and RAINN, the largest anti-sexual violence organisation in the US. "It's not lost on me that something good can come of this," he explains. "I had an opportunity."
In the same statement, he cites contractual obligations preventing him from elaborating too much. But what he will say is that supporting those causes can only happen from the work he puts into his career. "Ultimately, the goal is to focus on the work," he says. "To create the best art, to make something that is fresh and relevant and important. I realised: the platform I have exists because of the work. With the work comes more opportunities. But those opportunities bring a sense of responsibility, too. It was just important to me, as someone young, coming into this industry, to do something good."
Does he feel, as a 22-year-old in the industry, that his generation is expected to be more emotionally intelligent than those before him? Is there something about the way he is constantly documented, and adored around the clock, that forms a kind of pressure?
"Absolutely, I was the MySpace generation," he says.
"We were the guinea pigs for that first wave of social media. There comes a process of self-evaluation and self-recognition that is comparable to a mirror being put in front of you. Generations past never had to do that kind of critical assessment, what does my MySpace font and layout say about me?
"But we are absolutely expected to be more intelligent, emotionally, and to have a heightened understanding of the world around us. I don't know what the effect is, broadly, but did you see those cringe videos of me rapping from high school? They went viral, I guess. But they never resurfaced from ages ago, they've always been on YouTube. Clips of me sitting in class goofing off are on Vine. My life has always been on there. Eventually you just develop a kind of numbness to it."
Lady Bird is at cinemas nationwide from 23 Feb

Related Reviews and Shortlists