ShortList is supported by you, our amazing readers. When you click through the links on our site and make a purchase we may earn a commission.
Learn more
Tesla's new bulletproof 'Cybertruck' is Mad Max in real life
People are... not that impressed, to be honest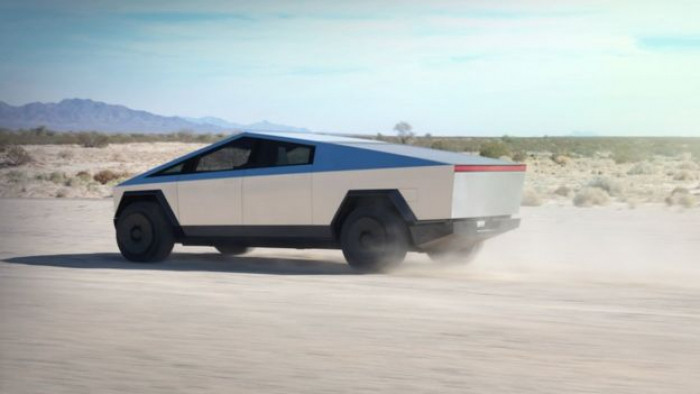 Controversial tech company Tesla has unveiled its new 'Cybertruck' – but the launch didn't quite go to plan.
Founder Elon Musk was left somewhat embarrassed after the "unbreakable" windows were smashed during a presentation. "Room for improvement," he laughed. Awkward.
YOO Elon Musk was talking about how durable the new Tesla truck is and they decided to do a testpic.twitter.com/TjYJXsJfqE
— Corey Hommel (@Corey_Hommel1) November 22, 2019
The design of the truck was also a talking point – it's big, it's bold and it's really, really pointy.
why the new tesla truck look like it on the PS1 pic.twitter.com/IMh09AsvXH
— Buns but louder (@SuperButterBuns) November 22, 2019
Tesla truck is built like a Porygon #Teslapic.twitter.com/bDfL9BMueB
— eziquio (@_eziquio) November 22, 2019
#Teslatruck owners be like pic.twitter.com/DB94iiggCe
— thatfalloutguy784 (@thatfalloutguy7) November 22, 2019
With all the jokes, the specs of the truck have gone somewhat unnoticed – but they're not unimpressive. There'll be three versions – 250 mile range, 300 mile range and 500 mile range – all of which can seat six adults. There's also a 3,500-pound capacity and 100 cubic feet of storage space, both pretty impressive.
The truck should be out next year – but given Tesla's reputation for delays, we wouldn't count on it.
Fancy watching Mad Max or Back to the Future now you've seen the Tesla truck? Check out our pick of the best 80s movies for some of the most iconic
Related Reviews and Shortlists