ShortList is supported by you, our amazing readers. When you click through the links on our site and make a purchase we may earn a commission.
Learn more
Talisker's new ice-fractured 'wild' whisky harnesses the power of nature
The brand ventured to the ice-fields of Canada in search of a truly unique dram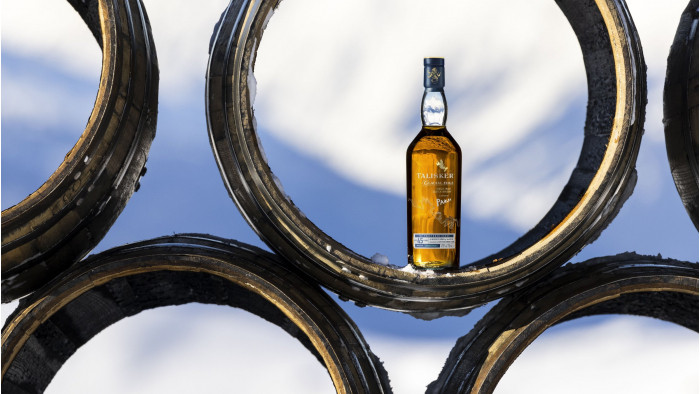 In 2023, it feels as though the battle to create the most innovative whiskey ever is well and truly under way, with Talisker's latest ice-fractured offering no exception.
Not satisfied with the innovative development of 'molecular whiskey' which resurrects historic flavours, Talisker has embarked on a sub-zero whiskey expedition.
Talisker Glacial Edge 45-Year-Old
marks the final offering as part of the brand's 'wild' whisky-making series, with the brand venturing to the Canadian ice fields of Canada in a bid to create a truly unique dram.
A brand new experiment that is a first for the whiskey industry, the Diageo owned brand took 12 of its charred American Oak casks out to the desolate and sub-zero region in a bid to create a groundbreaking flavour.
Venturing to the remote heartlands of the Northern Hemisphere before a specialist cooper removed the ends of the barrels, 96 hours of sub-zero exposure has a dramatic effect on the whiskey.
In the simplest sense, exposing the barrels to the Arctic blast creates deep fractures in the wood making up the casks.
A process which increases the surface area of the casks and allows for increased interaction between the liquid and deeper, previously unexposed sections of wood, the resulting flavour is truly unique and spice riddled.
A whiskey industry first, the finish following a period of rest in Scotland is truly mouthwatering. On the nose, a light peppery prickle can be detected, with a saltiness and hints of seaweed shining through.

On the palate, sippers will be able to detect a smoothe and delectable mouthfeel, transitioning from warm, sweet hints of toffee into a decidedly salty affair.
A Finish that captures chili pepper effect and a trace of candle-wax; this grows in the aftertaste, in which both saltiness and pepper also persist. Saltier if water is added, with less pepper and faint scented smoke.
This single malt Scotch is described by the brand as whiskey which serves up "unexplored richness, complexity and a unique untamed flavour"
Complete with "spicier and sweeter aromas" compared to other American Oak barrel offerings, the finish on these ex-Bourbon barrels really adds a je ne sais quoi. Created in partnership with environmental organisation Parley For the Oceans, Talisker ventured to the icy plains of Canada alongside glacier scientist Dr Alison Criscitiello and Parley ambassador and surfer Greg Long.
Raising awareness around the importance of marine ecosystems and their preservation, a portion of profits from each bottle will go to support the cause.
According to Long: "I have spent nearly my entire life immersed in the ocean and, in that time, I have come to realise just how intimately connected the mountains and ocean truly are.
"The mountains play a vital role in regulating climate patterns, influencing rainfall patterns and temperature variations that directly impact the health of the ocean.
"Protecting and preserving both is essential to maintain the delicate balance of these ecosystems and ensure the well-being of countless species, including humans, who rely on them for sustenance, climate regulation, and recreation."
Presented at cask strength, this one-of-a-kind Talisker is limited to just 2,455 bottles. Needless to say, it has a price point to match.

Retailing for £4,500.00, it's a truly unique whiskey created in an environment that will likely not be around for an awful lot longer.
Related Reviews and Shortlists