ShortList is supported by you, our amazing readers. When you click through the links on our site and make a purchase we may earn a commission.
Learn more
Sky Live arrives, turns Sky Glass into the ultimate workout companion
Sky's new smart cam turns Sky Glass into an even smarter TV.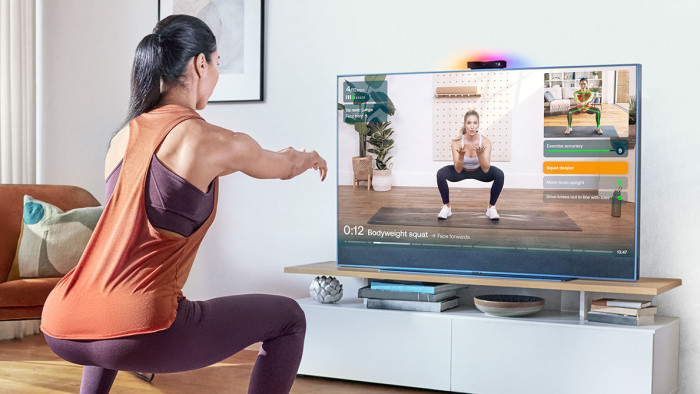 Sky has revealed its latest innovation Sky Live, an interactive camera which attaches to Sky Glass to unlock a whole host of hands-free entertainment.
The smart camera is packed with tech. It's got a 12MP HDR capable smart camera with 106° wide field of view with speakers on top and a dedicated button that will cut off audio and video for privacy sake. It connects to Sky Glass by magnets and is powered straight from the TV.
It's an impressive bit of kit but it's not the tech specs that wowed us when we saw it in action, but the features that it unlocks. Sky Live allows you to do four things with your Sky Glass: play motion-controlled games, watch movies and shows with friends wherever they are, take Zoom calls and track your workouts. We were given a number of demos of Sky Live and the tech is incredibly easy to use. Once installed, the technology is pretty seamless - we played a number of motion-controlled games and your body is detected in seconds.
The games we tried out were the classic Fruit Ninja and the brilliant Starri, a rhythm game that's a lot of fun. Both games are motion-controlled so you wave your arms to play - when it came to latency, it looked pretty spot-on to us. There are also a number of games that are geared towards a younger audience using well-known IP - including a Peppa Pig game, which is coming soon, and a PAW Patrol game.
The games are a mixture of solo play and multiplayer (we also tried out Monopoly) and there are other fun interactive elements, including a karaoke game and video booth.
Fitness focus
The biggest jaw-dropper for us was the fitness features on offer through Sky Live. Sky has teamed up exclusively with the Mvmnt fitness app. Through the app you can choose from over 130 interactive workouts - whether you are looking to keep mobile of strengthen. There are also Pilates and yoga classes available.
While this is all well and good, the most impressive thing is that there is built-in body tracking technology improves your technique by analysing your form. It also provides real-time feedback as you move and count your reps.
After your workout, you will also get a run down on what you did well and what you can improve. While these aren't live workouts like you get with Peloton, the body tracking means that you are getting very detailed feedback about your own body and that is really impressive.
Add to this the Zoom calling functionality and the aforementioned Watch Together feature, which we can see working really well for live sports (although the caveat is you need Sky Glass, Sky Live and a subscription to the same channel to use this feature), and what you have a is a feature-packed add-on to Sky Glass.
Also, this feels like just the beginning of what the camera will offer, with Sky telling us that it will be updating and adding to the features available over time.
Sky Live is available to buy now, or £6 per month on a 48-month contract or £12 per month on a 24-month contract. If you want to buy it outright then it costs £290.
Related Reviews and Shortlists