ShortList is supported by you, our amazing readers. When you click through the links on our site and make a purchase we may earn a commission.
Learn more
Netflix has a new number-one movie - just don't look at the reviews
It's a huge hit for the streaming site but critics are convinced...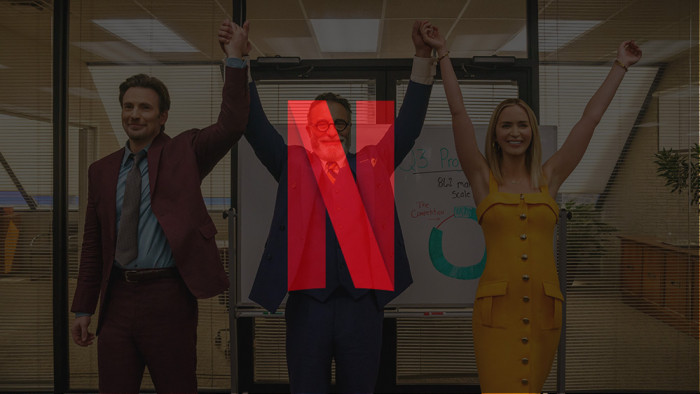 It's all change at the top when it comes to Netflix's movie charts right now, with recent release Pain Hustlers jumping straight to number one.
The movie is a star-studded affair, with Emily Blunt, Andy Garcia and Chris Evans (who is swapping superheroes for pharmaceuticals) all starring.
The movie is directed by David Yates who has spent what feels like an eternity directing the Harry Potter franchise and its spin-off Fantastic Beasts.
Before he was a Potter head, Yates had directed more adult material, such as State of Play, so it's great to see him on board this tale of a pharma start-up that isn't exactly staying on the right side of the law. Unfortunately, despite the cast and director impressing, critics have not been kind to the movie, which is languishing with a dreary 24% on Rotten Tomatoes.
The Associated Press notes: "Pain Hustlers feels like a retreading of the same ground covered in other recent works, bringing nothing especially new to the table and, in splitting the stylistic difference between slick/breezy and poignant/authentic, succeeding fully at neither."
Ready Steady Cut reckons it's a bit of a Wolf Of Wall Street rip-off, noting: "If Scorsese hadn't done it first, then this style wouldn't have come to the mind of Yates. It's unfair to compare films and filmmakers, but when the style is so blatantly copied it feels unoriginal."
Digital Spy agrees, explaining in its review: "It aims to be a Wolf of Wall Street for the opioid crisis, but ultimately just ends up an entertaining, but empty, watch."
The Atlantic writes: "In the end, the movie acts much like its characters: It diverts the viewer's attention with gaudy visuals and melodramatic plot points instead of ever coming close to telling a single uncomfortable truth."
While Rolling Stone opines: "It does want you to feel horrible about the loss of life while presenting it through the filter of a warped, irony-saturated Horatio Alger story, however, and that's where the wild ride of it all gets too bumpy for its own good."
There are a couple of decent reviews with Entertainment Weekly reckoning that Pain Hustlers is "plenty entertaining, but not particularly thoughtful — just enough depth to fill a prescription pad, not a whole book."
The New York Times warmed to it some of the time, writing: "The movie is constrained by its own conscience, thriving when Evans's marvelously feral Pete is unleashed to dress like a Lonafen spray and rap about sales commissions, only to pivot apologetically from corporate bacchanals to suffering victims."
Interestingly, the audience score is a much more palatable 70% on Rotten Tomatoes and it's certainly been a hit from that point of view for Netflix.
While the official stats are yet to be updated, FlixPatrol currently has Pain Killers at number one and a way ahead of second place Burning Portrayal.
Here is the full global Netflix movie top 10 right now...
1. Pain Hustlers
2. Burning Betrayal
3. Sister Death
4. Old Dads
5. Monster High: The Movie
6. Cold Pursuit
7. Alvin and the Chipmunks: Chipwrecked
8. Iraivan
9. Soltera, casada, viuda, divorciada
10. The Quake
For an up-to-date look at what is on Netflix and beyond, then head to ShortList's What To Watch guide.
Related Reviews and Shortlists