ShortList is supported by you, our amazing readers. When you click through the links on our site and make a purchase we may earn a commission.
Learn more
Guardians Of The Galaxy 3 early reactions are in - what the critics are saying
Is the final GOTG a fitting end?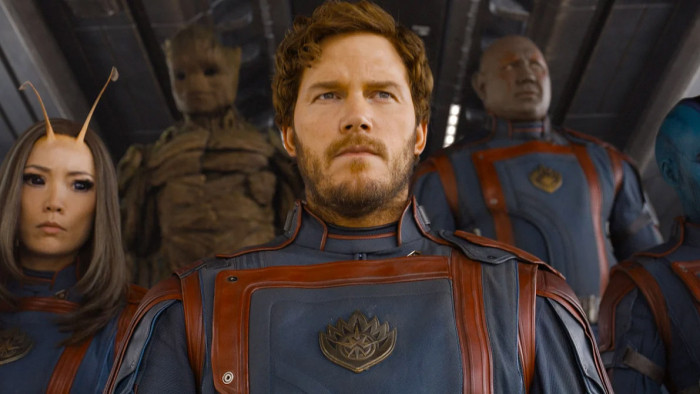 Guardians of the Galaxy Vol. 3 is that rare thing in the world of Marvel - it's an ending. It's the end of the trilogy for the GOTG crew and also the end of James Gunn's time in the Mouse House. He is, of course, already heading up DC Studios.
The third and final Guardians of the Galaxy plot is as follows: "Still reeling from the loss of Gamora, Peter Quill must rally his team to defend the universe and protect one of their own. If the mission is not completely successful, it could possibly lead to the end of the Guardians as we know them."
While a new Marvel movie used to bring with it guaranteed box office and critical acclaim there have been wobbles from the studio of late.

Ant-Man and the Wasp: Quantumania had the biggest drop from a Marvel movie week on week and the critics were not kind. Thor: Love And Thunder had similar muted reviews. Thankfully Wakanda Forever was more of a bright spot.
With Guardians of the Galaxy Vol. 3 on the big screen 5 May, some critics have seen the film and their social media reactions have landed. This is what the critics are saying...
---
After seeing it twice I can safely say #GuardiansOfTheGalaxyVol3 completes the perfect MCU trilogy.

It's heartbreaking and hilarious and I've loved this team from the first ooga shaka. A blast for 10 years
— Emil Franchi (@emil_franchi) April 22, 2023
#GuardiansOfTheGalaxyVol3 is, more than ever, Star Wars as a stoner comedy. Lovable weirdos, big Marvel action and goofy jokes. But nothing can prepare you for all the emotions. Rocket Raccoon's origin story is beautiful and heart-wrenching.
— Alexander Kardelo (@dunerfors) April 22, 2023
This movie... my heart is full and broken at the same time, it was a LOT to process, a very complex story but it left me feeling awesome#GotGVol3#GuardiansOfTheGalaxyVol3pic.twitter.com/ANahOaLlgk
— Lily la Fourmi (@FourmiLily) April 22, 2023
Guardians of the Galaxy Vol 3 is a brilliant end to a brilliant trilogy. It's very funny, emotional and everybody gets their stand-out moment. Will Poulter's Warlock is a terrific addition, yet the focus is rightly on telling a satisfying end for the Guardians. Gonna miss them. pic.twitter.com/ot6L67Q9Cf
— Ian Sandwell (@ian_sandwell) April 22, 2023
So, Guardians of the Galaxy Vol. 3 is as good as so many of us want and need it to be.

First reactions are calling it the best of the trilogy and best since Endgame. https://t.co/ENIMOY21Rdpic.twitter.com/KA4WLUqE53
— BD (@BrandonDavisBD) April 22, 2023
Can confirm that I shed a tear during #GuardiansOfTheGalaxyVol3 . And that I would very happily watch an Adam Warlock solo movie. Full review (and interviews with the cast) coming very soon. pic.twitter.com/JqzoybOHQx
— Rory Cashin (@roarEcashin) April 22, 2023
Related Reviews and Shortlists