ShortList is supported by you, our amazing readers. When you click through the links on our site and make a purchase we may earn a commission.
Learn more
Er, there's going to be a Barbenheimer movie
A slice of pure B-movie badness awaits, coming to Prime Video.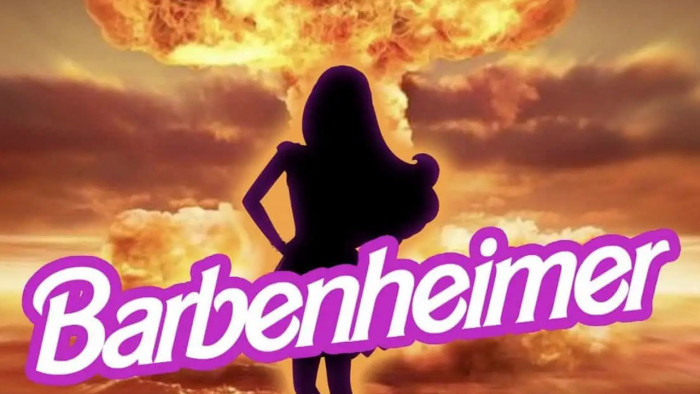 Remember the whole Barbenheimer thing? They're making a movie based on it.
In case you missed the cultural phenomenon of the summer, Barbenheimer played off the unusual movie release date collision of the ultra-serious Oppenheimer and the ultra-pink Barbie. Seeing both in one day became a cinematic goal.
The unlikely double bill is believed to have helped the box office of both films, and that idea is being stretched to the max with Barbenheimer the movie.
While this sounds like the joke of a social media troll, as first reported by i09, it appears to be the real deal.
According to IMDb, Barbenheimer is attached to production company Full Moon. It has as good a chance of making the film as any.
Full Moon creates super low budget B-movies, most of which have extremely low IMDb scores. And, err, the occasional nudie flick, including 2018's Real Naughty Housewives 2.
Other genre movies it has produced recently include Demonic Toys: Jack-Attack, Piranha Women and Evil Bong 888. If you like the sound of these then you will be right at home with our best B-Movies list.
What is Barbenheimer?
Barbenheimer's tagline is "D-Cup, A-Bomb" (we see what you did there) and there's a synopsis for the movie, which is currently in pre-production.
"Deep within Dollsville, a group of fed-up female dolls, led by the brilliant Dr. Barbenheimer build an atomic bomb. Their mission? To bring down the patriarchy once and for all," the summary reads.
While no director or writer has been announced as yet, Barbenheimer is set to go into production in October, with target release date before the end of the year.
It will arrive on Prime Video and Full Moon Features's own streaming service. £4 a month gets you access to an expansive library of b-movie badness, and Amazon offers Full Moon as a subscription add-on.
While it may be easy to look down on quick and rough B-movie productions like Barbenheimer, it does come with links to one of the luminaries of the genre.
Its production company was founded by Charles Band, producer of genre cult classics like Ghoulies, Puppet Master and Castle Freak.
Let's just hope it doesn't stumble into any Mattel or Warner Bros. copyright or trademark issues, as this one has real bad movie night potential.
Related Reviews and Shortlists