ShortList is supported by you, our amazing readers. When you click through the links on our site and make a purchase we may earn a commission.
Learn more
Burger King is taunting McDonalds with its range of 'Not Big Macs'
McDonalds loses the Big Mac trademark, and Burger King twists the knife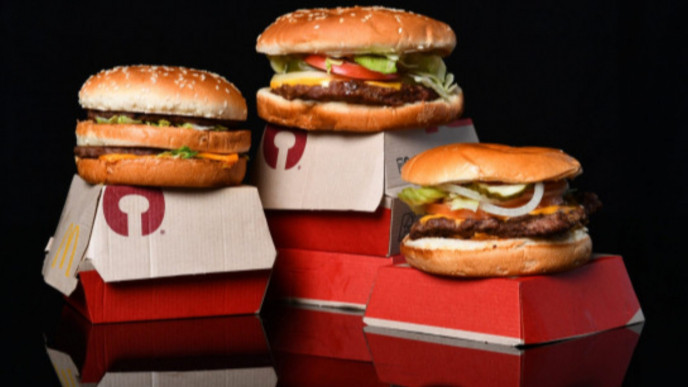 Finally, a feud we care about is unfolding in 2019. Forget who's to blame for Fyre festival, forget the B word, forget the Democrats versus the Republicans: two other giants are squaring up for the fight of fights, the dispute of our time, it is of course, McDonalds versus Burger King.
You might know that last year the EU ruled that McDonalds no longer has the sole rights to the term Big Mac, after Irish burger chain Supermacs went up against the fast food giant after the US giant claimed that they should be not be able to use their trademarked phrase across the EU. Instead of ruling with Maccy's, the (relatively) little guy won and Ronald's gang lost the trademark!
No big deal right? Wrong, Burger King has released an ad showing a range of Not Big Macs to taunt their rivals, this (quite frankly brilliantly bitchy) advert shows customers ordering from the new menu at a Burger King branch in Sweden.
Wow. Saucer of milk for Burger King. You can't help but admire their gumption though. Iwo Zakowski, CEO of Burger King Sweden, commented:
"McDonald's just lost its trademark for the Big Mac for suing a much smaller player. It's too much fun for us to stay away."
In fairness, Not A Big Mac isn't too harsh, but they've really gone for it with Anything but a Big Mac and Kind of Like a Big Mac But Bigger and Tastier. Wow. As someone who knows that Burger King is probably better quality and yes, the meat actually is flame grilled (as demonstrated by the Big Mac-ish but Flame Grilled Of Course) but ultimately prefers McDonalds with their soggy, over-salted chips and sweaty, flat burgers - this hurts. Could my beloved 'Donald's perhaps buy the patent on a paper crown to troll them back? It seems unlikely.
Before you start stockpiling real Big Macs you can stop panicking, it seems this was just a stunt, and the Not Big Mac menu won't actually be available in real branches. Which does make me a little bit sad.
Nevertheless, your move McDonalds, probably best to act now, whilst you're still called that.
(Image: Getty)
Related Reviews and Shortlists