ShortList is supported by you, our amazing readers. When you click through the links on our site and make a purchase we may earn a commission.
Learn more
Best cordless lawn mower in 2021: electric mowers for all lawn sizes
Save hours, and your back, with an electric mower - as your grass is looking rather shabby right now.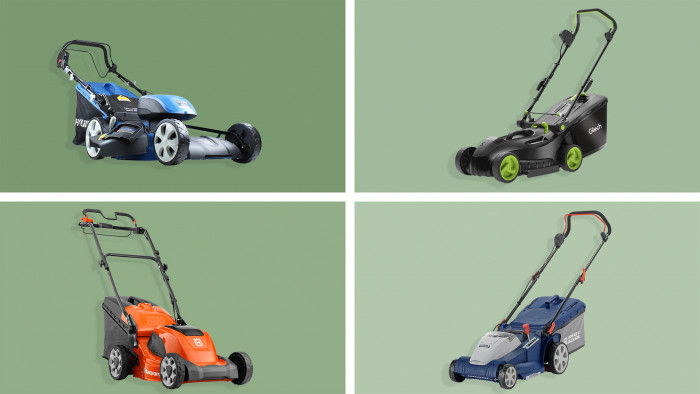 The best cordless lawn mower is a must for green-fingered garden enthusiasts. They are also great for the rest of us who simply want to enjoy a neat view while lounging on the patio. Invest in a fast and reliable cordless lithium-ion battery mower and it's easy to keep your lawn looking lush all year round.
UPDATE: We've been busy in the garden once more and have come up with the best garden tools guide. In it we take a look at 10 garden gadgets that will turn your fingers green with envy. Whether you are looking for something to rid your garden of weeds, or a new sprinkler system the list is for you - once you've picked the best cordless lawnmower for you, that is.
We've donned our garden overalls and got to work mowing, lifting, trimming and, quite literally, bending over backwards to find the best cordless lawn mower. With one of these top 10 battery-powered mowers you can glide through the grass in style.
The Stihl RMA 235 Compact cordless lawn mower is our best value choice due to its low weight, slim and fuss-free design, which can be steered effectively to cut a range of tall and short grass.
Bosch's Rotak 37-36 Li Ergo cordless lawn mower is our best overall buy. While not the cheapest lawn mower you can find, we think it has great features to stand you in good stead throughout the seasons.
Best value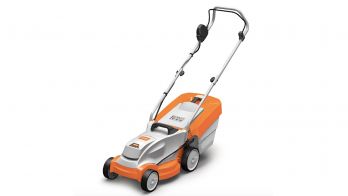 Stihl RMA 235 Compact
£379.99
The Stihl RMA 235 has narrower mow width than most, but this makes it easy to steer around irregular-shaped gardens.
View now at eBay
With a sound power level of just 89db, the Stihl RMA 235 cordless lawn mower was one of the quietest mowers in our round up. It's a slim design with a cutting width of 33cm, which makes it easy to steer around tight corners and narrow paths. It's aimed at smaller gardens, but its AK20 36V lithium-ion battery will cut around 200m² of lawn, which makes it an ample choice for medium sized lawns too.

Best overall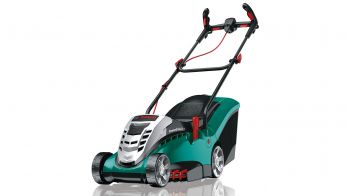 Bosch Rotak 37-36 Li Ergo
£445.00
Great battery life, ease of setup and solid versaility make the Bosch a good all-round choice.
View now at Amazon
With eight different grip positions, the Bosch Rotak 37-36 Li Ergo is designed to be easy to operate with your left, right or both hands. At 13.2kg, it's one of the lighter models in our test and is good at turning corners and gliding over uneven surfaces. It can cut a range of grass lengths from 20mm through to 70mm. It has recently been superseded by the Bosch Rotak 430 LI Cordless, so you may find it hard to buy at the moment. If this is the case, then the 430 is a more than competent lawnmower with many of the same features as the one we tested.
The shortlist: best cordless lawn mower


How we selected the best cordless lawn mowers to test

We decided to test cordless battery-powered lawn mowers as we love the flexibility they give you in large and small gardens alike. Many of the latest models offer power and performance as impressive as petrol or cabled lawn mowers. And unlike petrol alternatives, you don't need to worry about emissions.

The lack of petrol can make cordless lawn mowers lighter too, and easier to steer around your lawn. And, the part we appreciate most, you do not have to deal with the power cables of a plugged-in mower.

Google "cordless lawn mowers" and you're spoilt for choice. Stihl, Husqvarna, Hyundai and others sell models that promise to be intuitive, powerful and versatile. A further search on Amazon flags up brands such as Bosch and Flymo. When we looked further afield in DIY stores such as Wickes and B&Q we found less-obvious brands with their own distinct plus points.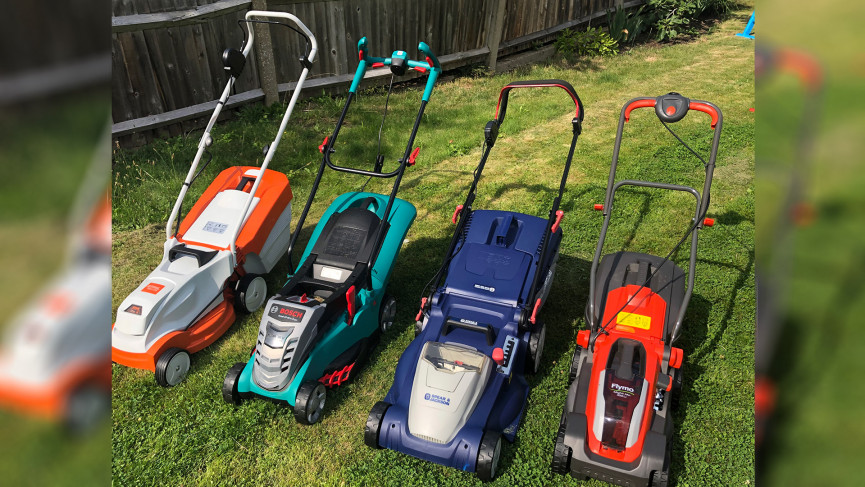 We have chosen a selection across the board, 10 popular lawn mowers to suit a range of budgets – from the basic sub-£100 Einhell model from Wickes, to the £510 self-propelling Husqvarna LC 141i with rear wheel drive.
How to buy a cordless mower
To find out what we should be looking for when buying a cordless lawn mower we consulted the experts.
"When I choose a lawn mower I look for a machine that is easy to use and adjust, a good quality cut with, ideally, a mulching option and something that is manoeuvrable and light enough that you don't need to be a bodybuilder to operate," says celebrity garden designer and Gardener's Question Time panellist Matthew Wilson.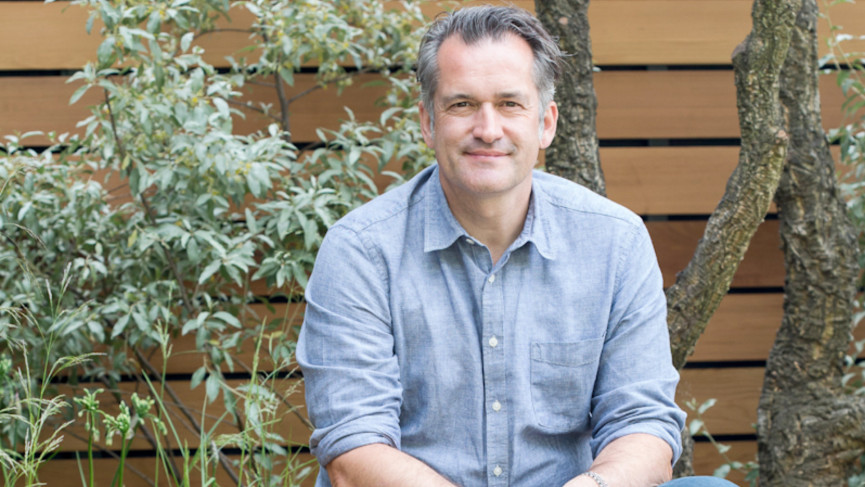 "I find mowing regularly - twice a week in summer - on a higher setting is much better than scalping the lawn once a week. In dry conditions I switch from collecting the clippings to mulching them back into the lawn to help improve the moisture levels."
Read on to find out how we tested the best cordless lawn mowers.
How we tested the cordless lawn mowers

To get your grass looking flower-show ready, it's recommended you water it no more than twice a week. "Longer watering once a week is better than for short times, five times a week," says Paul Hicks, product manager at Stihl.
"When it's really hot, you should allow your grass to grow up to 5cm to make it more resistant to heat, with 3-5.5cm long an acceptable length to avoid scalping the lawn. For best results you should only take a third of the grass length off with each cut as cutting more can damage it."
With this in mind, one of the top priorities in our test was to find a cordless lawn mower that would give us the flexibility to trim just enough off the grass to leave it looking lush for longer. And with the help of self-confessed lawn mower enthusiast and dad-of-two Paul Hutchinson, we got to grips with the latest mowers in a suburban 5 x 9 metre Surrey garden. For each mower, we assessed it on the following criteria:

ERGONOMICS AND DESIGN: As we got the mowers out of the box and set about piecing them together, we noted how user-friendly each was to set up. We took into consideration how fuss-free the handles were to attach to the main body, and how simply the grass catcher compartment fitted. We noted how easy it was to start the machine and manually change the cutting height.
We looked at how comfortable the mowers were to hold and push – self-propelled or hand propelled? And how easy is it to start?
We tested how easy each lawn mower was to steer and noted if it felt heavy and clunky, or smooth and light. How well did it cut the grass, including over the more uneven terrain? How well did it mow when the grass was very dry or a little dewy? And, finally, how noisy did it get?
Battery powered mowers are generally quieter than petrol ones, but some are quieter than others.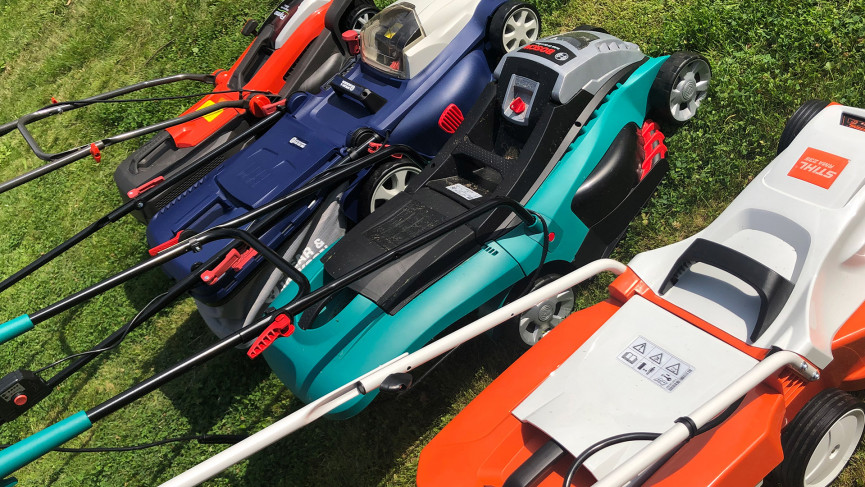 We commented on the material the mower is made from. Did it feel luxurious and well put-together or a little cheap? We also considered whether it had height-adjustable handles to suit both tall and shorter users.
We noted how powerful the machine felt and whether it had useful features such as a "grassbox full" indicator to tell you when to change the grass catcher compartment. In our test all the models have safety keys, which is particularly important if you have kids.

BATTERY LIFE: We wanted to know how long the battery would last on average after a single charge. We decided to include a range of mowers in our test run, from 18V to 120V, which indicate cutting power.
Some manufacturers don't like to give a set figure as to how long the battery lasts as battery life can depend on the grass length you are cutting and how fast or slow you are going, but we tried to pin point manufacturers for a figure where possible.
We took note of any eco modes that save on battery life and whether you can fit two batteries at the same time to mow for longer. We also wanted to know if the battery the machine came with could be used in other tools in that particular manufacturer's collection. Mowers with indicator lights to tell you how much charge is left earn brownie points too.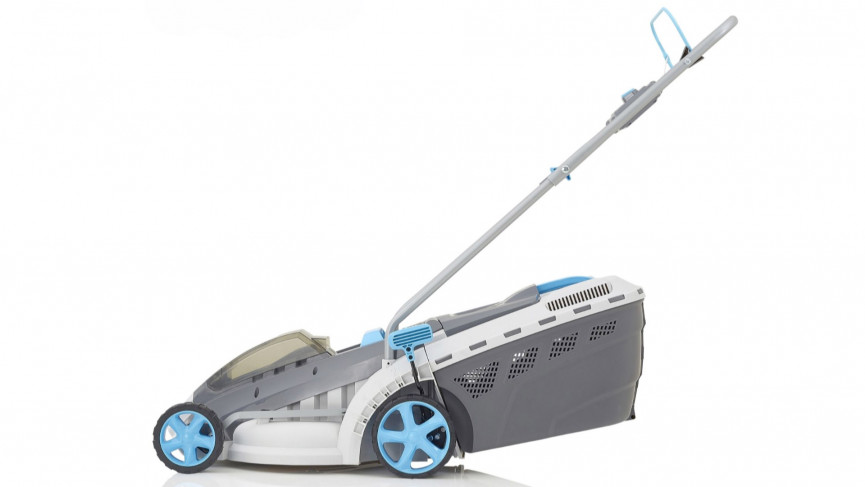 CUTTING WIDTH, HEIGHT AND GRASS CONTAINER SIZE: For each model we considered how wide the cutting width was. We noted how many cutting height settings you get on each lawn mower and monitored how easily interchangeable these cutting settings were using the lever.

We also looked at grass cutting box capacities and whether we get a mulching feature – one that shreds the grass cuttings and distributes it directly onto the lawn to help fertilise it.
VALUE FOR MONEY: For each mower we considered the price in comparison to what came in the box and whether we thought it represents good value for money.
We asked how much flexibility the model gave you in terms of cuttings settings available and whether the machine had any stand-out features worth paying extra for.

Cordless lawn mowers reviewed: The results

Every cordless mower tested has highs and lows. You need to find the one with features you'll find useful. We found the Stihl RMA 235 Compact and Flymo Mighti-Mo 300 the easiest to assemble – both the handlebars and grass bins are very simple to attach. In comparison, the Swift 40V Wide's handlebars were a little tricky to put together and tighten. We fiddled about for ages.
It took us a while to work out how to assemble the Erbauer ELM18-Li too. The metal has to somehow be stretched to fit over the locking pins. It's worth considering if you'll need to disassemble regularly to save space.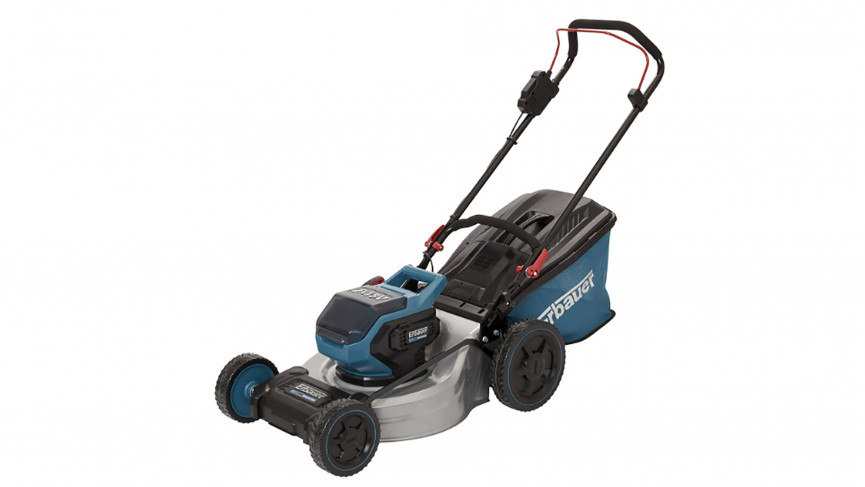 The Gtech Cordless Lawnmower 2.0's handlebar cable is a little fiddly to screw on, but once we had it attached all was quickly forgiven.
The majority of the machines in our test took a little exploring before we had mastered the art of starting them quickly – generally speaking a push of the button and clutch of the handle bar starts the mowers. All the lawn mowers in our test also come with safety keys.
We found the Ergoflex handlebar system of the Bosch Rotak 37-36 Li Ergo particularly comfortable. And it offers you eight different grip positions, but we were disappointed with the flimsy feel of the cheaper Einhell GE-CM 18/30 Li.
We found the models with completely hard grass bins such as the Stihl or Bosch models easier to fit onto the main body of the mowers than those with a hard top and fabric lining. The Hyundai HYM120LI510 and Husqvarna LC 141iuse this style of bin.
The Hyundai holds the greatest volume of cuttings thanks to its huge 65L capacity bin. But bear in mind this makes the mower heavier to push as you go. Not that we're lazy or anything, but we didn't want to push around a full grass box heavier than a 30 litre capacity, such as those offered by the Stihl RMA 235 and Flymo Mighti-Mo 300.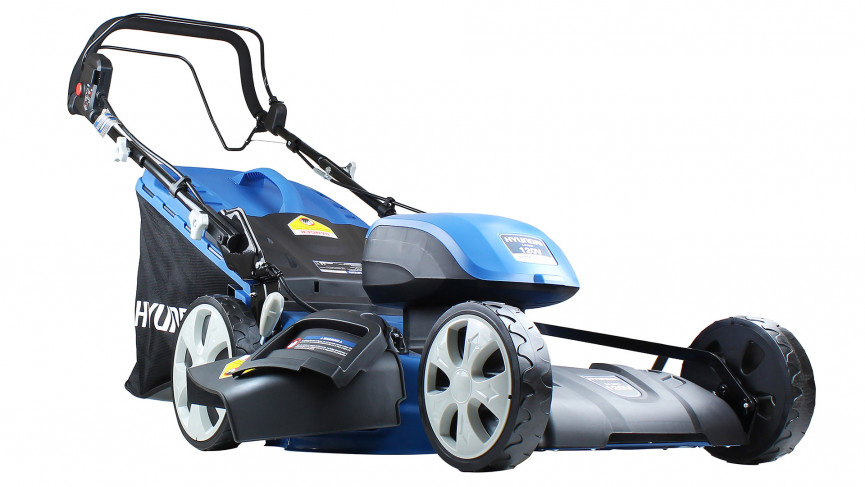 There's less variation in handle height adjustment. Most only offer around 25cm of customisation, which you have to manually unscrew and fix to change. If you're petite you may want to pick a lighter mower such as the Flymo or the Bosch models. But if you're well built you could take on a heavier designs like the Hyundai HYM120LI510 or Husqvarna LC 141i.
We found the relatively petite Stihl RMA 235 cordless lawn mower very comfortable to push around the lawn, and it weighs just 14kg. The Spear & Jackson and Bosch models impressed when used over rougher terrains with longer weeds too.
If you have a particularly large lawn however, you'll probably prefer the 'we mean business' feel and robust wheels of a sturdier self-propelled lawn mower such the Husqvarna, which weighs a whopping 23kg, or the Hyundai, which weighs 27.4kg. We found ourselves struggling to lift the latter of these to store after use, however, which is worth bearing in mind if your elbow grease reserves only last so long.
Thanks to the good old traditional English summer's mix of rain and sunshine, the grass was somewhat overgrown when we tested these lawn mowers. The design that offered the best selection of cutting height settings was the Hyundai HYM120LI510, which ranges from 30-90mm in 10 increments.
This was closely followed by theHusqvarna LC 141i, which ranges from 25mm to 75mm, also in 10 steps.
However, we found the Stihl RMA 235 Compact's five settings between 25mm to 65mm ample. The majority of designs in our test have cutting height adjustable levers well positioned to the side of the main body. But manufacturers miss a trick by not incorporating these into the handles themselves. We found all the levers in our test a little clunky to operate and they all felt a little on the budget side - particularly the Bosch Rotak 37-36 Li Ergo design.
However, the Bosch has the best battery life. It lasts for 90 minutes on a single 140-minute charge. Thanks to its double battery pack, the Spear & Jackson is not a bad shout either, although if we're being honest we're not sure we'd want to be mowing for longer than half an hour on a Sunday morning!

The best cordless lawn mower reviewed:
Bosch Rotak 37-36 Li Ergo cordless lawn mower (superseded by the Bosch Rotak 430 LI Cordless)
UPDATED: you may find it difficult to find the Bosch Rotak 37-36 Li Ergo on sale now, as it has been discontinued by Bosch. However, the Bosch Rotak 430 LI Cordless is the latest by Bosch and has many of the same characteristics as the mower we reviewed.
Versatility is what we like most about the Bosch Rotak 37-36 Li Ergo. It's a good value hand-propelled lawn mower that gives you all the necessary tools for the job including a mulching function.
While at 36V the mower doesn't have the highest battery power in our test, we felt it gave a satisfyingly powerful mow and its battery can run up to decent 90 minutes on a 140 minute charge. If you're already a Bosch tool user, you can use its 36V/4.0Ah lithium-ion battery with other Bosch tools from the garden range.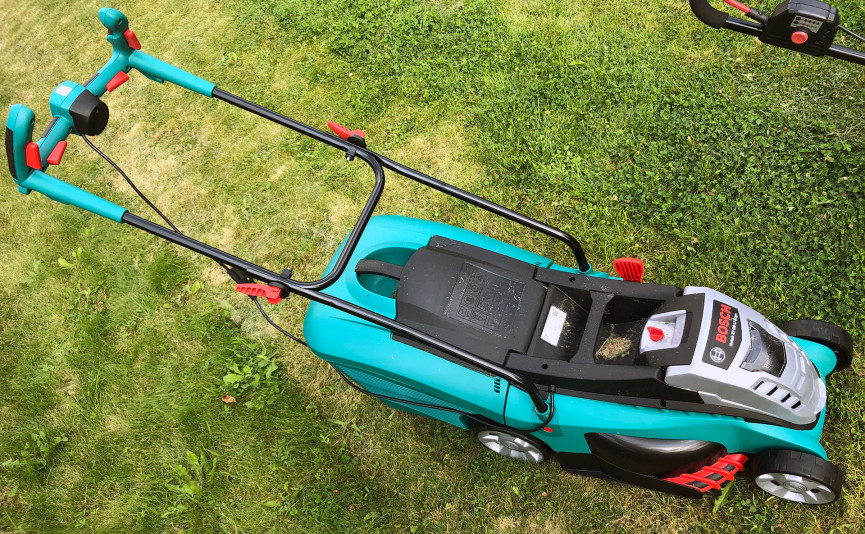 It has a larger than average cutting width size of 37cm, which makes it good for medium sized gardens. You have choice of six different height cut positions, and its grass combs help mow the lawn evenly.
Meanwhile, the rear roller helps give your lawn that regal, striped appearance — we noticed this most with a longer grass-cutting setting. We also found it very effective when mowing right up to the edges - it mounted the flowerbed edge smoothly.
It was one of the simplest models to put together in our test too. The QuickClick handle system makes assembling its Ergoflex handlebar a tool-free job. The mulitple red push buttons make it easy to start, and are a good fit for left and right-handed users. We had a go at mowing one-handed and the body was evenly distributed enough so we felt like we had control.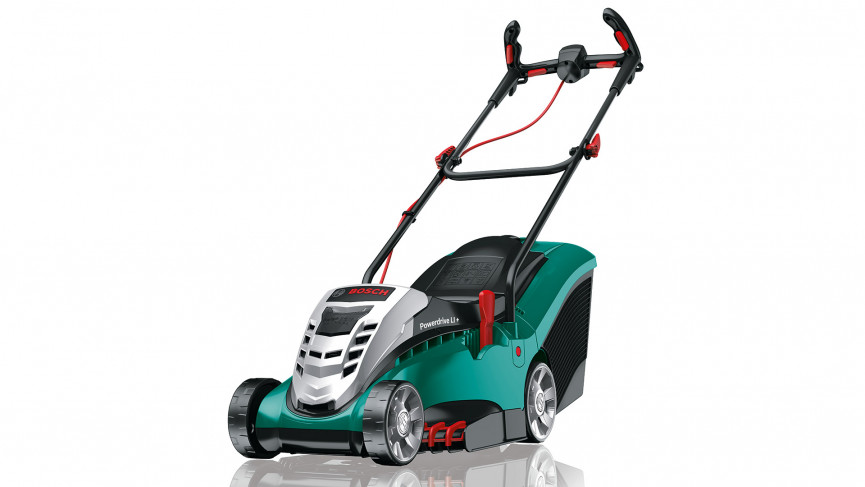 The mower features a Powerdrive LI + motor system, which claims to make it reliable in use under difficult conditions and its hardened steel blades with 'innovative airflow technology' that claims to improve debris collection.
In use, we were impressed that the design didn't cut out when we used on overgrown and damper areas. While it may not have the highest voltage in our test, we found it to be one of the most robust mowers, and good for use on rougher patches of grass.

The Bosch Rotak 37-36 Li Ergo also has a large grass box with a capacity of up to 40 litres, which is great if you have a large lawn and don't want to have to faff around stopping to empty the cuttings. On the downside however, it did make it a little heavy after a while. The machine started to feel a little clunky, with the grass box bumping a little as we pushed, so you may want to empty it before you reach its full capacity.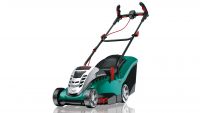 View now at Amazon

The best value cordless lawn mower reviewed:
Stihl RMA 235 Compact cordless lawn mower, £379.99
Everything about the Stihl RMA 235 Compact is subtle. Its cutting-height adjustment lever sits just above the wheels, its flow optimised blade is well hidden in the body, and at 89db it isn't very noisy.

It's light at 14kg too and the 33cm cutting width allows for a smaller frame. What we really like about this design is how easy it is to put together. In particular, its hard plastic grass catcher box was really easy to slot into place, unlike some of the fabric boxes in our test. It is well thought-out too, with vents in the bin that face downward so you don't get covered in dirt and grass clippings when mowing.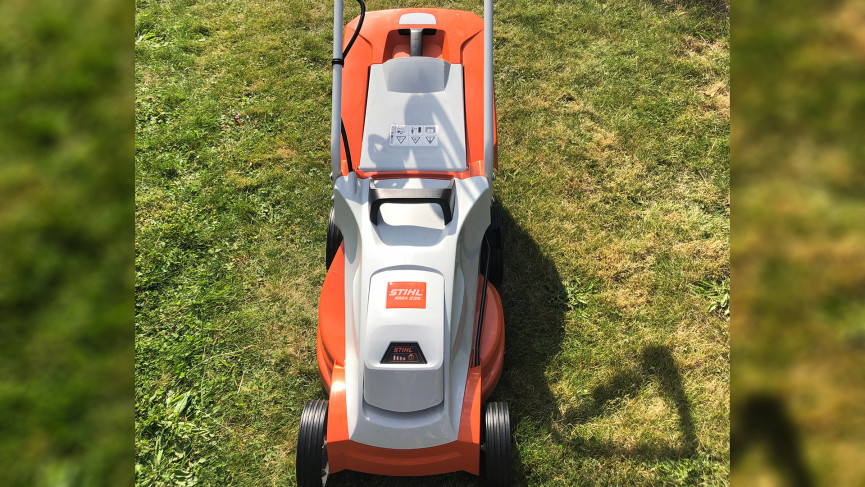 At first glance we could tell the body is made from high-quality material. The plastic housing feels light to push, yet the individual parts feel sturdy and well put together.
The Stihl RMA 235 wheels have a traction and tread pattern, and while they are on the smaller side compared to some of the impressively built mowers we tried, they did make for a nice push. They felt suitably balanced and in proportion to the rest of the mower, unlike some of the larger models tested.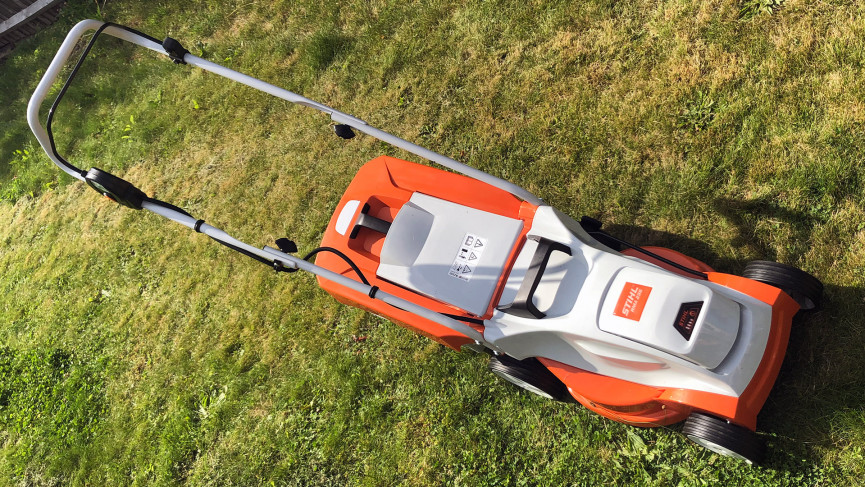 The handlebar has two height settings that need to be manually adjusted and fixed, although we don't think will give everyone enough of a height difference.
The bar can be folded down, so we could neatly store it in the garage. The only feature we think this mower lacks is a mulching function. But with such an ergonomic design and a good range of cutting height settings, we don't think it is too much of a loss.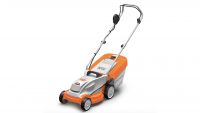 View now at Amazon (body only)

Comparing the rest on test
If the best overall and best value lawn mower don't seem quite right for your lawn, consider the other eight mowers in our test here.
The Husqvarna LC 141ilooks and feels powerful. It has a large 170mm front and 203 mm rear wheels, and a "Drive" feature that automatically increases the speed when cutting long or damp grass.
It has a wide cutting area of 41cm, which helped us mow faster compared to the slimmer models on test. The battery, however, will only last you 25 minutes on a 2 hour 10 charge. But the company does sell a quick charger that reduces charging time to 40 minutes. The savE mode increases the running time too, although this is best used on shorter grass.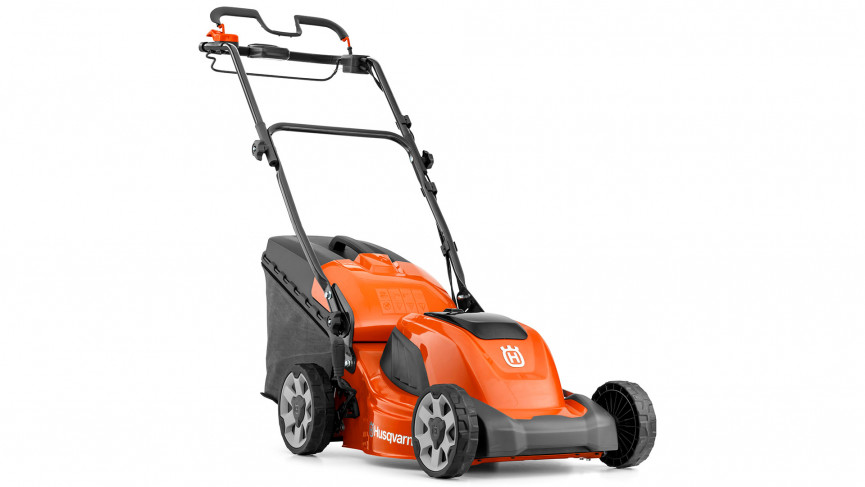 If you have a large lawn, take a look at the self-propelled Hyundai HYM120LI510 120V cordless mower. It has a vast 65 litre cutting collection box and a large 51cm cutting width. This self-propelled machine is quite a beast and has a very sporty look. We enjoyed using the mulching feature and although it will only give you an average of 35 minutes on a single 90-minute charge, we found that plenty.

At 27.4kg however, it is one of the heaviest mowers. Taking it out of the box and storing it back again is a tiring chore.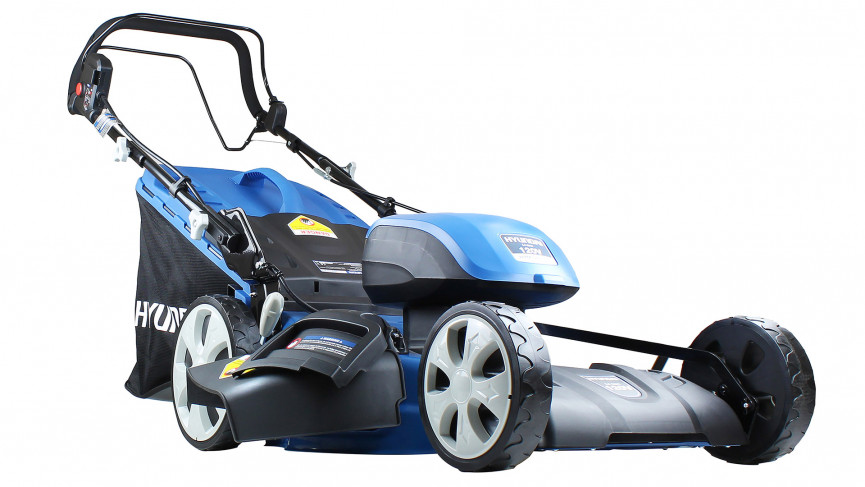 If you have limited storage, invest in a compact design like the Gtech Cordless Lawnmower 2.0. Although it wasn't the longest-lasting on test - running for 40 minutes on a 1 hour charge – this mower felt satisfyingly comfortable to grip, its wheels rolled over the grass effectively and its lever felt sturdy when we tried to change between grass cutting heights.
We particularly like the way the handles easily attach to the body for a quick set up, and how it neatly packed away with convenient carry handle and grass box housed on top.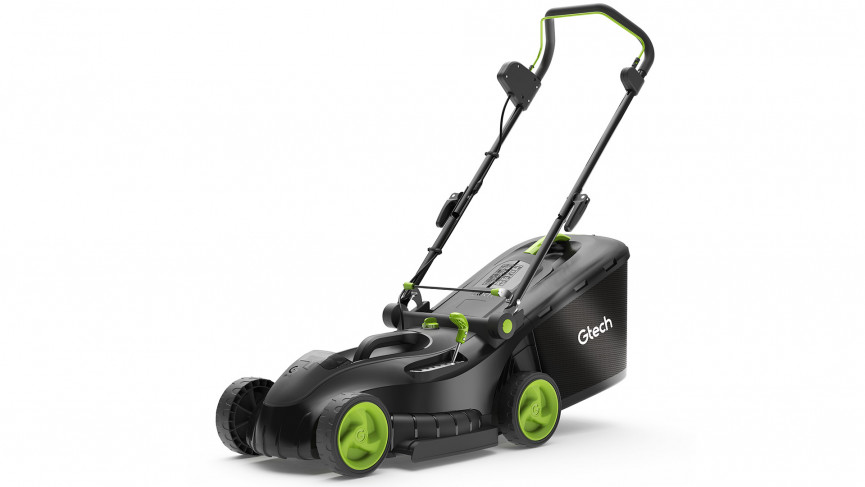 For a time saving solution you could choose the Spear & Jackson S4042X2CR. It comes with two batteries – we were able to use one for up to 55 minutes while the other was on charge. It has RunBoost technology that increases the power during tougher cutting conditions, so we tested it over a rougher and longer grass – while it did the trick, we weren't too keen on its uncomfortable increase in volume.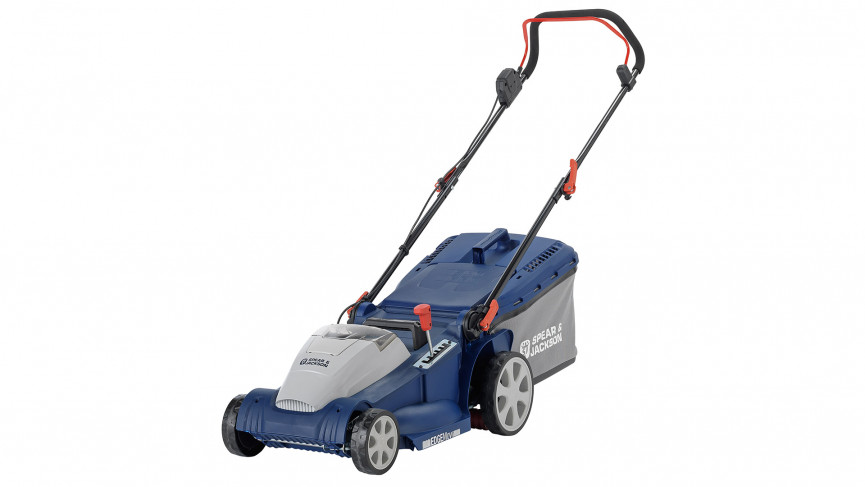 If you suffer with a bad back and mobility is an issue, consider Flymo's Mighti-Mo. At 9.94kg it's the lightest cordless mower in our test so it's easy to pick up and store and it claims to cut up to 250m2 on a full 120-minute charge – which is the size of an average tennis court.
While we didn't get a chance to test this out in Wimbledon, we were impressed by how smooth it was to push around the lawn. The cutting height lever felt a little clunky to adjust, but we found the machine's narrow 30cm cutting width just the right size for tackling unruly grass weeds around the flower beds.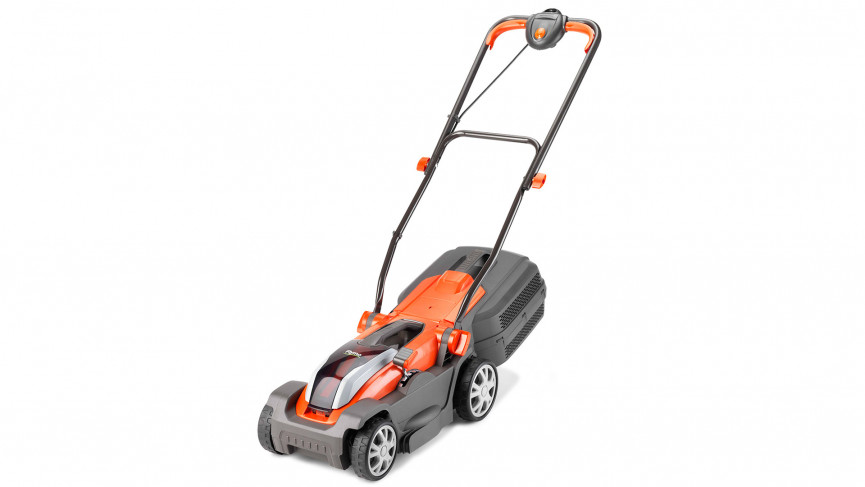 For a sub-£100 model, try the Einhell GE-CM 18/30 Li cordless lawn mower. While it isn't the most attractive design in our test, it's a good option for lawns up to 150 m². Unfortunately, it was our least favourite mower of the 10.
Its flimsy grass box was awkward to attach and the cheap appearance lets it down. But it is light can collect up to 25 litres of grass cuttings at a time.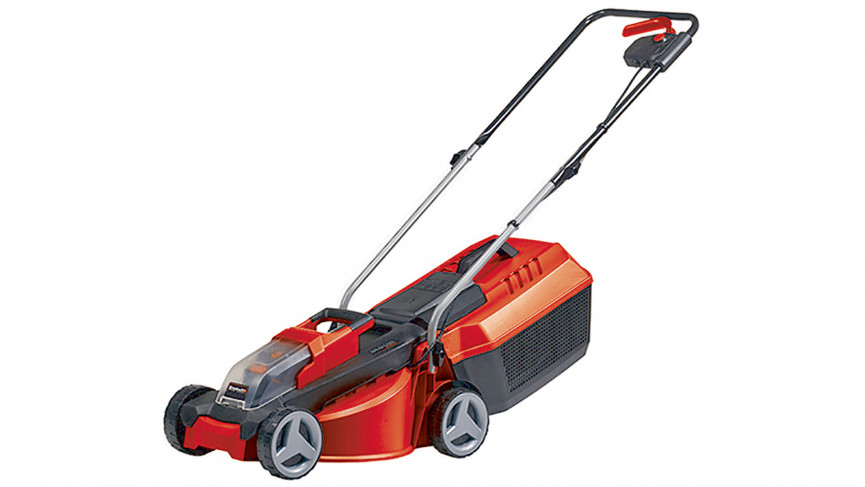 Pay a little more and you can get your hand on the Swift 40V Wide cordless lawn mower, which gives you a lot more power than the 18V Einhell model.
Although we found the handle tricky to set up, it does fold well and features a lifting handle on its shell, which makes it easy to carry and store.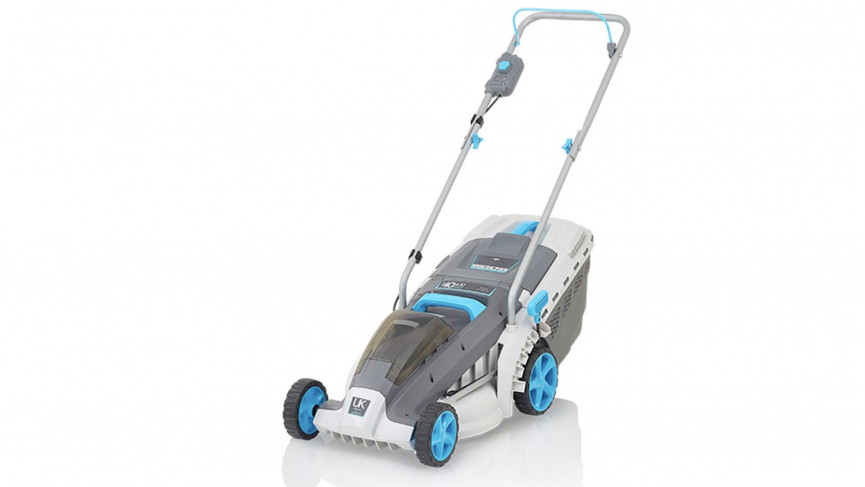 Like the Spear & Jackson and Gtech models, the Erbauer ELM18-Li reaches its full charge in one hour. While run times vary depending on the grass length and conditions, the Erbauer lawn mower can mow an ample 650m2 on a single charge.
Its design is unique. The battery casing protrudes from the steel deck, which we think makes it look a little dated. But its comfortable handles, quiet brushless motor and power that adjusts to grass conditions make up for this.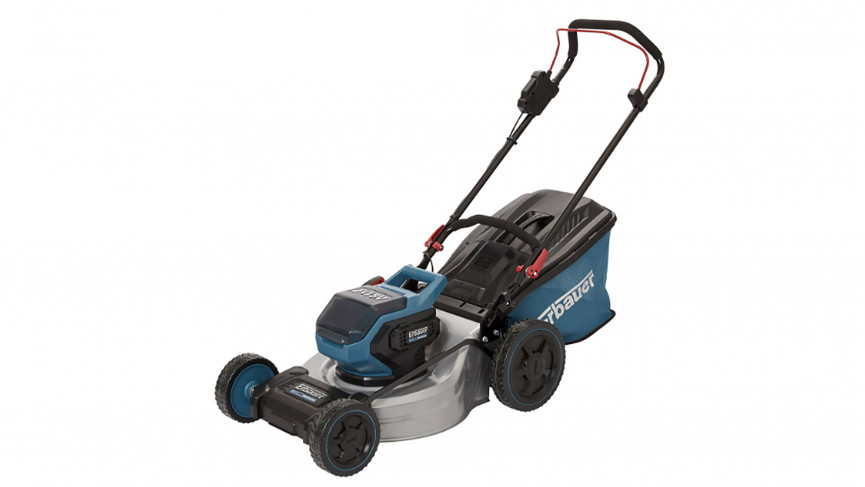 Any cordless lawn mowers to avoid?
All the mowers in our test have their USPs and we didn't think one particular lawn mower was worth avoiding. But if you have the budget we'd recommend investing at least a few hundreds pounds to see you in good stead.
And when you come to buy a cordless mower for your lawn, remember to think about what you expect from it. For example, if you are tall, it's a good idea to go with larger mower that is height adjustable so you don't put your back out while you mow.
Or, if you have a very small garden, there's no point paying extra for a lawn mower with a super-powerful high capacity battery. Likewise, if you have a large garden consider opting for a self-propelled lawn mower with a large cutting width, which will save you time.
Related Reviews and Shortlists