ShortList is supported by you, our amazing readers. When you click through the links on our site and make a purchase we may earn a commission.
Learn more
Amazon Prime Day 2020: Day 2 - the best Prime Day deals
Amazon Prime Day 2020 is here. Here's what you need to know.
July came and went and something was missing - and for good reason. Usually, Amazon earmarks July for its big bargain blowout or, to give it its official title, Amazon Prime Day.
UPDATE: Day two ofAmazon Prime Day 2020 is here. We have updated our guide with hundreds of the best bargains available.
The reason Amazon Prime Day 2020 never happened was, unofficially, because the world was in a bit of a crisis with Covid-19 and not really up for bagging a bargain. Well, the world isn't exactly in the best shape right now but we are still getting Amazon Prime Day 2020.
It is taking place 13-14 October and this year is something of a discounted dream.
The best Amazon Prime Day deals on offer here are some bargains to be had. In this guide we have all the deals you need to know about Amazon Prime Day - so bookmark this page as we will be updating it constantly with new deals as and when they come in.
That's the problem with Amazon Prime Day: there's so many things discounted that you need a guide to cut through the noise and deliver the discounts on the things you'll actually want to buy. Shortlist is that guide.
We have trawled through Amazon so you don't have to, sniffing out deals like a pig snuffling for truffles. The deals will be focused on the categories that you really care about: tech, food and drink, entertainment, fitness and home stuff.
Here are the best Amazon Prime Day 2020 deals available now!
---
---
Top US Amazon Prime Day 2020 deals revealed
---
The best Amazon device deals

Amazon has brought massive discounts to its Echo, Kindle and Fire tablet range - here's our choice...
save £40! Kindle Paperwhite
£79.99 - Was £119.99
The Kindle Paperwhite is one of the best e-readers on the market so seeing £40 off of it makes this an essential purchase. You get 8GB of storage and a battery life that lasts for weeks.
View now at Amazon
Half price deal!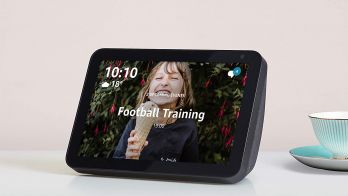 Echo Show 8
£59.99 - Was £119
The 8-inch version of the Echo Show is an absolute steal at £59.99 - that's half price for a video-enabled Echo that you can use for watching movies, getting recipes and video calling.
View now at amazon
The best gaming deals

It's game on with these cracking gaming deals - whether it's consoles or headsets, we have them below...
The best coffee machine deals
The best TV deals

There's some fantastic TVs discounted here - whether you are up for a bargain big screen or something smaller...
The best headphone deals

There are some fantastic cut-price headphones here - from noise cancelling to in-ear buds...
The best camera deals

Whether you are after a DSLR, a compact or something in between - these are the best camera deals...
£37.89 (27%) off! Polaroid Originals 9015 OneStep + White
£102.10 - Was £139.99
If you want to go old school, then this Polaroid Original offers up the original Polaroid format. There's 60 days battery life, a powerful flash and self-timer. There's an app that goes with it, too.
Buy now from Amazon
Save £270 Sony RX10 III - Advanced Premium Compact Camera
£829 - was £1099
We've seen this camera at this price before - a whole year ago, last Black Friday. It's usually goes for around £1100, so this is a decent discount for a premium compact with a Zeiss lens.
View now at Amazon
Save £160 Sony RX100 VI - Advanced Premium Compact Camera
£739 - was £1,150
This camera is consistently priced around the £900 mark, so this is a decent deal with a £160 saving for a compact with 4K video capability.
View now at Amazon
19% off Sony DSC-WX500 Digital Compact High Zoom Travel Camera
£199
A decent saving on this compact with a built in tiltable LCD screen. Price wise, it rarely drops this low, so this is a good deal if you're keen on that screen feature.
View now at Amazon
£200.00 (27%) off! Fujifilm X-T200 Mirrorless Digital Camera
£549 - Was £749
Great price for a fantastic camera. The X-T00 has a 24.2MP APS-C CMOS image sensor, 4K video recording and looks fantastic. You get a Fujinon XC15-45 mm Optical Image Stabilisation Power Zoom with the camera.
Buy now at Amazon
The best smart home deals

Make your home smarter with our choice of smart lights and bulbs for the home...
The best computing deals

It's all about Chromebooks this year, as well as some great gaming laptops
The best wearable deals

Everything from Fitbit to Garmin has been discounted by Amazon - there's some fantastic wearable deals this year...
The best speaker deals

Audio goodness await, thanks to these brilliant speaker deals...
The best gin deals

Gin! The ultimate gin deals are below - some of our favourite brands have been given a big cut price discount...
The best whisky deals
Speyside, bourbon and peaty goodness awaits in the best whisky deals...
Best Amazon Prime Day rum deals
Best Amazon Prime Day vodka deals
Other booze deals
The best mattress deals
Do not take these deals lying down - they are the ultimate mattress discounts this Amazon Prime Day...
The best grooming deals

From electric toothbrushes to beard trimmers, these are the ultimate grooming product deals...
Save £40 Philips Series 7000 Beard and Stubble Less Mess Vacuum Trimmer
£40 - was £80
Beard trimming is often a messy business, which is why this Series 7000, which comes with a built in vacuum and catches 90% of hair you trim, sounds like a great idea. This is the cheapest it's been since last year.
View now at Amazon
Save £33 Oral-B Smart 6 6000N CrossAction Electric Toothbrush
£54.99 - was £88
Electric toothbrushes are often on offer. What's good about this one is that it's bluetooth connected, comes with 3 heads and travel case. It's got everything you need, and the cheapest price we've seen before is £60. Bargain.
View now at Amazon
Save £10 Philips Sonicare DiamondClean Rechargeable Electric Toothbrush
£89.99 - was £100
It might just be the fanciest looking electric toothbrush in the world, It usually sells for around £100 so this isn't a massive saving, but it's rare to see it any cheaper.
View now at Amazon
Best Amazon Prime Day LEGO deals

---
Amazon Prime Day: Q&A

What actually is Amazon Prime Day 2020?
It's that time of the year when Amazon Prime members get a treasure trove of discounts, thanks to their membership.

Is Amazon Prime Day actually just a day?
Don't be silly - it's 48 hours long, with many a deal to be had.

When is Amazon Prime Day?
Amazon Prime Day 2020, if it followed the lead of previous Amazon Prime Days should have taken place in July. This isn't the case this year, though, thanks to that pesky thing called Covid-19.
Amazon has announced that Prime Day will take place 13-14 October, although there are a number of Prime Day deals available right now.
Do I have to be an Amazon Prime member?
Yep, to get Amazon Prime Member deals you do need a membership. There is the 30-days' free sign-up, though, which is always a good option if you are unsure whether to sign up forever.

What deals did we see in 2019?
Well, we are glad you have asked: below are a sample of some of the brilliant deals that were available last year. We have kept them in this article so you can get an idea of the deals on show.
Do bookmark this page, though, as it will be the best source for Amazon Prime Deals with our deal hunters sniffing out bargains all through Amazon Prime Day 2020.
Related Reviews and Shortlists