ShortList is supported by you, our amazing readers. When you click through the links on our site and make a purchase we may earn a commission.
Learn more
5 amazing new gadgets Apple just announced
New watches, phones and more - here's what you need to know...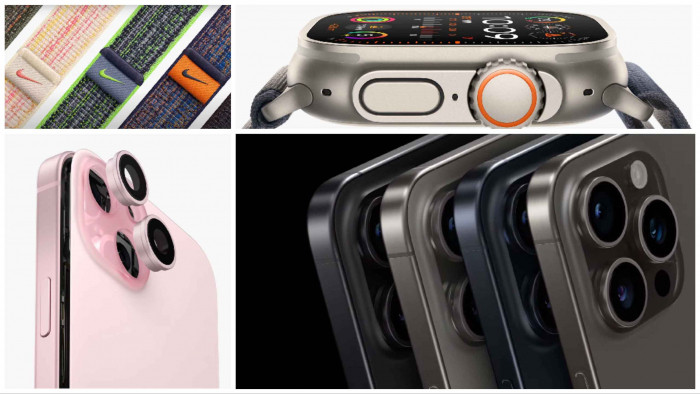 Apple hosted its big annual reveal event today, this year with the title, 'Wonderlust'.
What did that mean? In short, a slate of new predictably desirable new iPhones and the next generation of the Apple Watch, as well as its rugged cousin. In previous years we might have seen a lot more devices on show, but Apple's likes to split these events up more now, and the focus on iPhone and Watch meant we could more easily, well, focus on them.
And focus we did, and all for your benefit. Read on for all you need to know about each of the shiny new iThings soon to be competing for your hard-earned...
---
1. iPhone 15 Apple's iPhone 15 Pro might be its sexiest handset, but the iPhone 15 will almost certainly be its most popular. The standard iPhone is often playing catch-up on the Pro devices from years gone by, but this year's model is seriously well-specced. The most significant addition is probably the 48MP main camera, which is a pretty considerable upgrade on the 12MP snapper found on the iPhone 14. You also get a 12MP ultrawide lens that can act as a telephoto camera, and a better night mode. And thanks to the larger battery, you can snap away for even longer.
Beyond the camera, the iPhone 15 ditches the notch for the Dynamic Island that replaced it on last year's iPhone 14 line. The pill-shaped cutout pops open when you long press it to show handy information on apps running in the background, and we're impressed to see it come to the entry-level iPhone so quickly. Factor in a much brighter OLED display and USB-C charging (which it feels like we've been waiting for forever) and you've got an iPhone you'll be proud to slap on the table when out with your Pro-owning pals.
The iPhone 15 starts at $799 / £799 / AU$1,499.
Pre-orders begin on September 15, 2023, out 22 September, 2023
2. iPhone 15 Pro

The word on the (web-based) street was that this year's Pro iPhone might look very different this year. In reality, that's not really how it went down, but pick up an iPhone 15 Pro and you'll definitely notice the difference, as it's made of titanium for the first time, which makes for both a lighter and stronger Pro-focused iPhone than we've had before.
At first glance you might also not notice the new Action button, which replaces the ring-silent switch that used to sit above the volume up/down buttons and can be customised to perform different actions when pressed. It has nifty haptics too.
The 48MP main camera is better than ever, performing better in low light and allowing you to shoot at three different focal lengths. The iPhone 15 Pro Max has 5x optical zoom for the first time and you can shoot 4K ProRes video straight onto an external device thanks to the introduction of USB-C.
Apple reckons its A17 Pro chip and redesigned GPU makes the iPhone 15 Pro a formidable gaming phone too, showing off Capcom's amazing Resident Evil 4 remake running on the phone without it breaking a sweat.
The iPhone Pro starts at $999 / £999 / AU$1,849
Pre-orders begin on September 15, 2023, out 22 September, 2023
3. Apple Watch Series 9 If you upgrade your Apple Watch this year you can look forward to an upgraded S9 processor, a brighter display, on-device Siri functionality and a futuristic double-tap feature that lets you control the wearable just by tapping the index finger and thumb of your watch-wearing hand together. No need to touch the watch at all. This is possible thanks to the wizardry of the Apple Watch Series 9's Neural Engine and will let you take calls, control music or start a timer far more easily when you're on the move.
Apple is also rightly proud to call the Apple Watch Series 9 its first carbon neutral product, with the option available on any Apple Watch at checkout.
The Apple Watch Series 9 starts at $399 / £399 / AU$649
Pre-orders begin on September 15, 2023, out 22 September, 2023
4. Apple Watch Ultra 2 Apple's second-generation rugged Apple Watch gets most of the Series 9's upgrades, including the S9 processor and the double-tap gesture control that it unlocks. It has an improved 3,000-nit Always-On display, up to 72 hours of battery life and dual frequency GPS. And like its predecessor, it's hard-as-nails. As with the Apple Watch S9, you can make the Ultra 2 carbon neutral.
The Apple Watch Series 9 starts at $799 / £799
Pre-orders begin on September 15, 2023, out 22 September, 2023
5. New Apple Watch bands As part of its carbon neutral mission, Apple is introducing a new style of bands for its wearables that ditch leather. Called FineWoven, it's made from 68% post-consumer recycled content, has a suedelike feel, and has much lower carbon emissions compared to the leather Apple is leaving behind. Apple has also redesigned its Sport Loop band to include 82% recycled yarn, which also get the carbon neutral tick of approval.
Apple has worked with both Nike and Hermes on its environmentally friendly new watch bands, so you don't have to compromise on style.
Now read: iPhone 15 revealed: 5 things to know about Apple's latest phone
Related Reviews and Shortlists