ShortList is supported by you, our amazing readers. When you click through the links on our site and make a purchase we may earn a commission.
Learn more
iPhone 15 revealed: 5 things to know about Apple's latest phone
From USB-C to new buttons - this is what you need to know...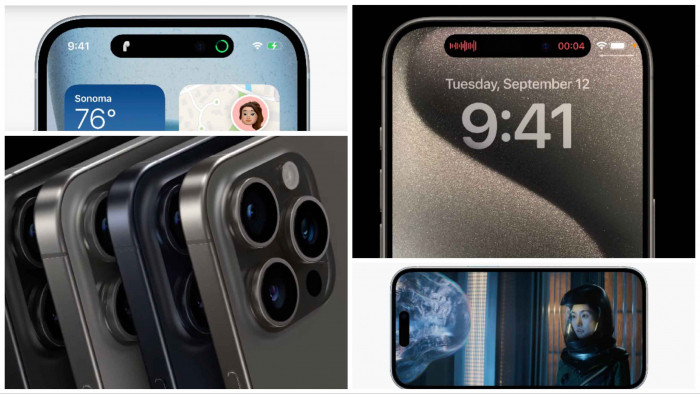 It's iPhone day, and as you'd expect on iPhone day, Apple has unveiled a suite of new iPhones to tempt you into an upgrade.
The rumoured grand redesign on the iPhone 15 Pro didn't materialise, but Apple's most powerful iPhone does have a new button, an even faster chip, a lightweight titanium frame and an incredibly versatile camera system. It's being dubbed a gaming powerhouse too, with Apple showing off footage of the remake of Resident Evil 4 on its flagship blower.
The entry-level iPhone 15, meanwhile, pinches the Dynamic Island cutout from last year's Pro line and has a much brighter display.
Regardless of which iPhone 15 you choose, you can finally charge it using the billions of USB-C cables you already own, with Apple ditching its Lightning standard to align with new European Union rules.
Here are five things you need to know about iPhone 15...
---
1. The standard iPhone levels up As is often the way, Apple's everyman iPhone this year is playing catch-up with the Pro models from last year, but the iPhone 15 is a pretty sizeable upgrade on its predecessor. You're getting a significantly improved 48MP main camera formerly reserved for the iPhone 14 Pro, which uses pixel binning to merge images into a 24MP image that looks superbly high-res, as well as a 2x 12MP telephoto camera.
And it isn't just the cameras that have had a glow-up. The iPhone 14 Pro's notch-killing Dynamic Island cutout has also made its way to the entry-level iPhone 15, with the expandable pill now offering additional information such as information about the flight you're hopefully not going to miss. Everything is powered by a blazingly fast A16 Bionic chip. You also get a larger battery that Apple says delivers all-day battery life.
The iPhone 15 comes in two sizes. The standard iPhone 15 has a 15in Super Retina XDR display, while the 15 Plus is a jumbo 6.7in pocket-filler. Both phones are available in a variety of colours, and charge via USB-C for the first time. Hallelujah.
2. The iPhone 15 Pro is lighter in the hand If you've been concerned that iPhones keep getting heavier, you'll be happy to know that the iPhone 15 Pro features a titanium frame for the first time. Not only does this make the phone more durable and repairable, but it also makes it the lightest Pro model to date. Of course, you're still going to feel the extra weight of the 6.7in iPhone 15 Pro Max if you go for the larger model, but it's less bricklike than last year's 14 Pro.
The bezels have also been slimmed down too, resulting in a premium iPhone that is both nicer to hold and to look at, even if at first glance it isn't dramatically changed from the 14 Pro before it.
3. The iPhone 15 Pro has a brand new button Last year it was Dynamic Island grabbing all the headlines. This year it's the slightly less exciting but potentially even more useful Action button, which replaces the switch previous iPhones used to toggling between ring and silent.
The new button still performs that function by default, but you can also program it to, say, quickly summon the camera or torch, or activate voice memos. It features haptic feedback and is paired with the Dynamic Island, which will display visual cues when you press the button to ensure it's doing what you wanted it to do. xxx
4. The cameras are even better It might be one device, but Apple says the iPhone 15 Pro and 15 Pro Max cameras pack the equivalent of seven pro lenses performing different roles. The centrepiece is an upgraded 48MP main camera which takes better low light photos and can switch between three different focal lengths: 24mm, 28mm and 35mm.
Mega high-res 24MP shots come as standard, while depth information is captured automatically so you no longer need to switch to portrait mode to grab your snazziest shots. Also new is a 5x telephoto lens on the iPhone 15 Pro Max, which is the longest optical zoom on any iPhone to date. 15 Pro owners settle for 3x optical zoom here.
As for video, Apple is gearing up for the launch of its Vision Pro headset by letting you shoot spatial videos, which utilise both the main and wide-angle cameras to create 3D content that you'll later be able to view on the terrifyingly pricey device when it launches next year. You'll also be able to shoot 4K60 ProRes footage that is recorded directly to external storage via USB-C.
5. There's a helluva lot of specs appeal These are the key specs for iPhone 15:
6.1 or 6.7in Super Retina XDR display with 1600 nits peak HDR brightness and 2000 nits peak outdoor brightness (twice as bright as before)
Dynamic Island
USB-C charging
48MP main camera with 2x telephoto
A16 Bionic chip
These are the key specs for iPhone 15 Pro and Pro Max
6.1in or 6.7in Super Retina XDR display with Always-On and ProMotion
Action button
Titanium design
USB-C charging
Improved 48MP main camera with three focal lengths and up to 5x optical zoom
Spatial video for Apple Vision Pro (later this year)
Flagship A17 Pro Chip with much improved gaming performance.
The iPhone 15 starts at £799 / $799, the 15 Plus at £899 / $899 for the 128GB model with pre-orders from September 15. On sale September 22.

The iPhone 15 Pro starts at £999 / $999, the 15 Pro Max at £1199 / $1199 for the 128GB model with pre-orders from September 15. On sale September 22.

Related Reviews and Shortlists