ShortList is supported by you, our amazing readers. When you click through the links on our site and make a purchase we may earn a commission.
Learn more
EXCLUSIVE: Ice cream overlords Ben & Jerry unveil their favourite lost flavours
Interview: From humble beginnings to Chweddy Balls, every mouthful is full of flavour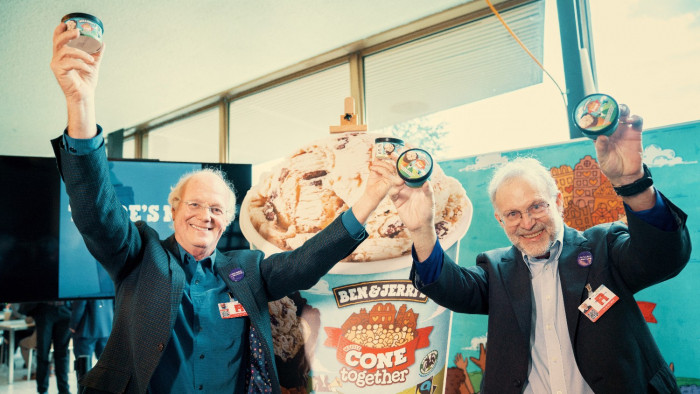 When you think of ice cream, chances are the name Ben & Jerry's comes to mind. From humble beginnings in the chilly climes of Vermont to world ice cream domination, the US brand has transformed the supermarket frozen aisle and become known for its experimental scoops, punny names and fantastical flavours.
"I find it quite astonishing. Looking back, I don't think we anticipated that Ben & Jerry's would be able to have an impact on this scale, with this sort of reach and visibility," remarks Jerry Greenfield, one half of the renowned ice cream duo.
It's a story that began when school friends Ben Cohen and Jerry Greenfield joined forces in New York. Their first joint venture was a toss-up between bagels and ice cream - with the idea being to bring a food popularised in cities to smaller college towns up and down the country.
The pair couldn't cough up the funds for bagel making equipment, so ice cream it was.
Four decades on, that in-between job has evolved into a brand brimming with mouthwatering (and sometimes unconventional) flavour combinations. Recall their Schweddy Balls flavour, anyone? That gem (alongside a host of other flavours including Vermonty Python and Turtle Soup) continue to live on in the Ben & Jerry's Flavour Graveyard.
Yes, there is a physical graveyard filled with defunct ice cream flavours. And, yes, you can visit it - well, if you fancy flying out to the quaint village of Waterbury, Vermont, that is. "The fun is only the half of it," notes Jerry of the pair's journey. "Ben and I started our ice cream shop in a very cold climate during the middle of the winter and the first year was very, very slow."
"We didn't really know if we were going to stay in business or not and we made a pledge that if we were still in business after a year, we would celebrate by giving out free ice-cream to everybody. Sure enough, we were still open after a year and we decided to create Free Cone Day. And the way we publicised it was to put up posters around town."
"The posters had one quote from Ben and one quote from Jerry - and the quote from Jerry was 'If it's not fun, why do it?' But the more important quote was from Ben, which said 'business has a responsibility to give back to the community from which you gained the support."
In many ways, Ben and Jerry created a social enterprise before the term had even been coined - building a business that gave back to the very community that had invested in them. That sense of social responsibility remains at the very core (excuse the pun) of the modern day Ben & Jerry's brand.
It's precisely how the pair recently found themselves in Geneva at the first-ever UN Global Refugee Forum. Supported by Refugee Action, Sea Watch, Red Acoge and a number of other prominent charities, the pair are hoping to further the rights of refugees using funds raised from their new flavour, Cone Together. "We want to use the voice of business to change the conversation," notes Jerry. "Ultimately, the goal is to get political leaders, who in reality have the ability to change policies and change how policies are enacted and implemented, to do a lot better."

"Ben's been talking about how there are certain politicians and certain leaders that appeal to people's fears. Well, we can do better by appealing to the other side, to people's aspirations and love and compassion."
Made using fair-trade vanilla ice cream, chocolate covered waffle cone pieces and salted caramel, it's one flavour the pair hopes doesn't find itself resigned to the Flavour Graveyard.
"I think often people have their own idea of what the perfect ratio and proportions of ingredients are - but Ben actually knows best. The reason some of the flavours disappeared was even though Ben knows best, people just didn't appreciate Ben's fine understanding," jokes Jerry.
Which is precisely why Shortlist thought it only too appropriate to let the two ice cream aficionados reveal the now-defunct flavours they thought should continue to live on from beyond the grave.
Feeling inspired? Try your hand at a bit of DIY and discover the best ice cream makers around.
---
1- Mocha walnut (1981) "Coffee, chocolate and walnuts - all my favourite things. But when we packed it in pints it turned out to be our all-time worst-selling ice cream.
"The beautiful thing about Mocha walnut was that it wasn't too sweet, because you had the bitter coffee balancing out the sweet chocolate - and then you had the walnuts. Some of the flavours were for a very sophisticated palate. Being one of our favourites wasn't enough to keep this one around."
2 - White Russian "The beautiful thing about White Russian was that it had Kahlua in it. There was some kind of effect that the Kahlua had on the ice crea in general that made it so incredibly smooth and creamy and slightly alcoholic. This one was special because it had coffee ice cream and Kahlua"
3 - Coconut-almond fudge chip "Exactly what it sounds like, what's not to like? Coconut, almond and fudge are just a great combination."
4 - Coffee almond fudge "The third coffee flavour, can you see a pattern yet? It wasn't too sweet on account of the coffee. It's a tricky combination, what ratio of coffee and chocolate go together to bring out the best and not overpower each other?"
5 - Cool Britannia "This was a flavour just for the Brits with strawberries and chocolate covered shortbread cookies, sadly this wasn't around long. It was great - I think it was a little ahead of its time."
Latest
Related Reviews and Shortlists